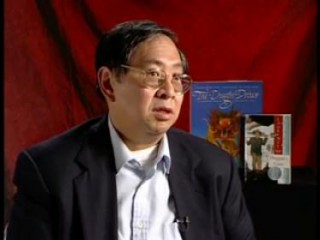 Laurence Yep biography
Date of birth : 1948-06-14
Date of death : -
Birthplace : San Francisco, California, U.S.
Nationality : American
Category : Famous Figures
Last modified : 2010-09-10
Credited as : Novelist and playwright, short-story writer and reteller of folktales, The "Tiger's Apprentice Trilogy"
"Sidelights"
The author of such award-winning novels as
Dragonwings, Child of the Owl, Sea Glass
and
Dragon Steel
, as well as of illustrated stories for younger readers, novelist and playwright
Laurence Yep
is noted for penning fiction that brings the history and culture of Chinese Americans into realistic view. In his books, Yep exchanges the exaggerated, stereotyped images of characters such as Dr. Fu Manchu and Charlie Chan for portraits of the real-life Chinese-American men and women who have enriched North America with both their labor and their willingness to share their cultural heritage. As essayist Joe Stines noted in the Dictionary of Literary Biography, "Yep provides the reader with a new way of viewing Chinese-Americans, not as yellow men [and women] living in white society but as ordinary as well as extraordinary people." Best known for his stories featuring children from multi-cultural backgrounds, Yep claims that writing has aided him in his own search for cultural identity. As he once explained, "In a sense I have no one culture to call my own since I exist peripherally in several. However, in my writing I can create my own."
Born in San Francisco, California, in 1948, Yep was raised in an African-American neighborhood and attended a bilingual school in the city's Chinatown. Despite being of Chinese descent, he fulfilled diverse cultural roles during his childhood. Within his family, he learned both about Chinese culture and about the American society that was now his home. Describing his family's approach to living in a new land, Yep once commented in Horn Book that "my mother's family's solution was to juggle elements of both cultures. Though they stayed Chinese in some central core, they also developed a curiosity and open-mindedness about the larger white culture around them." Outside the family home was another story. As Yep once explained in Literature for Today's Young Adults: "I was the all-purpose Asian. When [my friends and I] played war, I was the Japanese who got killed; then, when the Korean war came along, I was a North Korean Communist." The fact that Yep did not speak Chinese made it difficult for him to feel totally at home in Chinatown, and he felt equally at sea when he began attending a predominantly white high school.
It was in high school that Yep discovered science fiction, and he began writing stories in the genre and submitting them to magazines. A published sci-fi author by the time he was eighteen years old, Yep would explore the genre further in his later novels. For now, though, it was off to college, first at Marquette University, which Yep attended from 1966 to 1968 and where he became totally immersed in "white" culture. Leaving Marquette, Yep completed his bachelor's degree at the University of California at Santa Cruz in 1970, and went on to earn a Ph.D. at the State University of New York at Buffalo in 1975.
In the midst of his academic studies in New York, Yep took the advice of a friend regarding his writing, and that advice would change his life. "A friend of mine who had gone to work at Harper's asked me to think about writing a science-fiction book for children," Yep recalled to WNYC radio interviewer Barbara Rollock, "and Sweetwater was the result."
Sweetwater, published in 1973 while its author was still a student at SUNY Buffalo, focuses on Tyree, a young man who belongs to a group of transplanted colonists called Argans. While among the first groups to settle the planet Harmony, the Argans are now a racial minority within the planet's growing population, and Tyree and his fellow Silkies--half earth-dweller, half amphibian--must scavenge in order to survive. Their struggle for survival in a frequently hostile environment forms the themes of family bonds, individual freedom, cultural traditions, and racism featured in the novel. Sweetwater received positive reviews from critics, many of whom concurred with Vector 78 contributor Brian Stableford that Yep's debut "has one powerful thing going for it, and that is the fact that its writing is, in every sense of the word, beautiful." Praising Sweetwater for its concentration upon planetary ecology as well as its discussion of moral choices, Francis J. Molson added in Twentieth-Century Science-Fiction Writers that "thematic complexity and verbal richness ... make Sweetwater superior."
In Yep's second novel, Dragonwings, he deals directly with his Chinese-American heritage. In preparation for writing the book, he spent six years researching Chinese-American history, uncovering much factual information but little that reflected how immigrant families and individuals actually felt upon being confronted by the alien culture of America. His study of immigrant culture included the bachelor societies that provided a social interchange for Chinese men working to provide for families back in China and planning one day to return to Asia. In the course of Yep's research, he discovered two brief newspaper articles from the year 1909, detailing the efforts of a Chinese American bachelor named Fung Joe Guey to build and fly a flying machine. Seeing in Guey's story the basis of a novel, Yep filled in the blanks with his research, creating a rich human story around the newspaper reports.
Published in 1975 and reissued in a twenty-fifth anniversary edition in 2000, Dragonwings tells the story of eight-year-old Moon Shadow, a young boy who leaves his mother in China's Middle Kingdom to join his father in the bachelor society of turn-of-the-twentieth-century San Francisco. Moon Shadow's father, Windrider, a kite builder, came to the United States to earn money for his family, but also to explore unknown frontiers. Together father and son fulfill Windrider's dream of flying his own plane. In recounting the adventures and discoveries of father and son, Yep reveals a slice of Chinese-American history. "The story is narrated with humor and detail," Stines summarized in the Dictionary of Literary Biography, "blending Chinese folklore, myths, and legends with historical facts, such as the great San Francisco earthquake, the Chinese bachelor community of Chinatown, and the daring biplane flight of Fung Joe Guey." Critics applauded the complexity of Yep's characters and his sensitive portrayal of the prejudice they faced in the United States, Ruth H. Pelmas writing in the New York Times Book Review that, "as an exquisitely written poem of praise to the courage and industry of the Chinese-American people, [Dragonwings ] is a triumph."
Dragonwings is the first volume in the "Gold Mountain Chronicles," a loose-knit novel series following seven generations of the Yep family across one-and-a-half centuries of history that also includes The Serpent's Children, Mountain Light, Child of the Owl, Sea Glass, Dragon's Gate, Thief of Hearts, and The Traitor. As Claire Rosser noted in Kliatt, although each novel can be enjoyed independently, "considering them ... as a family chronicle that parallels the experiences of many Chinese immigrants to the West Coast adds a great dimension to Yep's work." In his acceptance speech for the 2005 Laura Ingalls Wilder Medal, Yep noted of the series that "America changed the first Chinese who came here as much as they changed their new country; and America has continued transforming their descendants in ways that I'm still trying to comprehend. And along the way, I have encountered true stories buried by time that were real treasures. A cook in a Montana stagecoach station may turn out to be a circus juggler. A Chinese American grocer may once have been a professional basketball player."
The Serpent's Children, is set in nineteenth-century China amid the Taiping Rebellion. In its pages readers meet Cassia, a young girl who, along with her family, joins a revolutionary brotherhood working to eliminate the corruption brought by the ruling Manchu dynasty and the wealthy landowners in their now-impoverished Kwangtung Province. Mountain Light follows Cassia and her father as they return from a trip through China's Middle Kingdom, joined by another traveler, a young man named Squeaky Lau. On the eventful trip, taken on behalf of the revolution, the clownish Squeaky finds that he possesses his own inner strength and is able to bring out good in others. Although he and Cassia fall in love, Squeaky joins the mass migration to the western United States, "land of the Golden Mountain," where he faces the chaos brought about by the California gold rush. Dragon's Gate continues the story of the revolutionary family as Otter, Cassia's fourteen-year-old adopted son, also travels to America and works on the Transcontinental Railroad as part of a Chinese work crew carving a tunnel through the Sierra Nevadas during the 1860s. Readers experience firsthand this often-overlooked period in history, as Otter confronts "racial prejudice, cold, starvation, the foreman's whip, and the dangers of frostbite and avalanche while trying to reconcile his ideals and dreams with harsh reality," according to Margaret A. Chang in her appraisal of Dragon's Gate for School Library Journal. In Booklist Ilene Cooper praised Mountain Light for its "rich blend of action, moral lessons, and complex characterizations."
A winner of the Boston Globe-Horn Book Award, Child of the Owl is, like Dragonwings, set in San Francisco's Chinatown, but this time the year is 1960, as a young girl raised by a gambling father and then a suburban uncle is confused by her dual American and Chinese heritage. Having been exposed only to American ways and therefore having no means by which to identify with her Chinese background, Casey finds new options for living opened to her when she is sent to live with her grandmother, Paw-Paw, in Chinatown. Paw-Paw tells Casey a lengthy legend about an owl which symbolizes family unity and tradition and provides the young girl a new way of communicating her feelings.
Continuing the "Golden Mountain Chronicles," Sea Glass focuses on Craig Chin, a boy whose search for acceptance by both whites and Chinese Americans ends in rejection. Moving from his home in San Francisco's Chinatown to a small town, Craig is dubbed "Buddha Man" by his Anglo schoolmates while also being disparaged by a Chinese neighbor for behaving like "the white demons" he attends school with. Pressures from Craig's sports-minded father to try out for the school team do little to help him assimilate into school culture, but finally an uncle provides the teen with the key to self-acceptance.
In The Traitor Yep brings readers to 1885 and the Wyoming Territory, where he introduces Chinese-American Joseph Young--the son of Otter Young of Dragon's Gate--and Michael Purdy, a Caucasian who is looked down on in his rustic coal-mining town because he is illegitimate. Because of their outcast status, the boys become friends, and when racial tensions against Chinese mill workers mount and erupt in the event known as the Rock Springs Massacre, the Purdy family helps Joe and his parents escape from the angry mob. While noting that the novel's length may intimidate some readers, Julie Cummins wrote in Booklist that "readers will become involved through the first-person voices that capture each boy's feelings of being an outsider and a traitor." Like each volume in the series, The Traitor includes an afterword that delves into the historical epoch framing Yep's story, a fact that drew additional praise from a Kirkus Reviews writer, who dubbed The Traitor "essential reading for all students of America's complex history and culture."
Also with roots in Yep's personal history, The Star Fisher and sequel Dream Soul are based on the author's parents' life. The Star Fisher finds fifteen-year-old Joan Chen moving from the Midwest to a small Southern town in the late 1920s. As the first and only Chinese-American family to arrive in Clarksburg, West Virginia, Joan finds that she must take the first step in building bridges of understanding in her new community, and gradually helps her more traditional parents find a way to assimilate into a community that contains both friends and others whose ignorance makes them bigoted. In Dream Soul Joan is now fifteen. The illness of her strict father causes her to rethink the value of her Chinese heritage, as well as its legends, and when her responsibility for the family increases, Joan is able to deal with a family crisis with wisdom and maturity. "Joan's story will appeal to any reader who has ever felt excluded," noted School Library Journal contributor Carla Kozak in a review of The Star Fisher, the critic adding that the "resilience and humor" of Yep's mother and her family "shine through." Finding the novel an equally praiseworthy effort, Alice Phoebe Naylor concluded in her New York Times Book Review appraisal that The Star Fisher "is a thought-provoking, engaging novel about a fundamental human drama--immigration and cultural isolation." Reviewing Dream Soul, Horn Book contributor Mary M. Burns wrote that Yep's novel presents an "appealing family story" that mixes "humor with charm in a manner reminiscent of Laura Ingalls Wilder."
Apart from his family's history, Yep also returns readers to the Chinese-American past in books such as Hiroshima: A Novella, When the Circus Came to Town, and The Earth Dragon Awakes: The San Francisco Earthquake of 1906, as well as installments in several historical fiction series. In Hiroshima Yep paints a portrait of the events surrounding the U.S. government's decision to drop an atomic bomb on Hiroshima, Japan, on August 6, 1945, thereby accelerating the end of World War II. Focusing on one of the "Hiroshima Maidens"--girls and women who survived the bombing and who were eventually sent to the United States for reconstructive surgery--Yep describes both the actual bombing and its tragic and devastating long-term aftermath. Praising Yep for composing his factual story using "unadorned prose suiting its somber subject matter," Washington Post Book World contributor Elizabeth Hand wrote that Hiroshima "should be required reading in every classroom in [the United States] and beyond."
Through the experiences of nine-year-old Chin and eight-year-old Henry Travis on April 7, 1906, the day their San Francisco community was turned to rubble, in The Earth Dragon Awakes Yep shares with readers "a timely reminder of a historical disaster that turned over 2000 acres of city into a wasteland," as a Kirkus Reviews contributor explained. Henry is the son of an affluent banker, while Chin, son of the Travis's houseboy, lives with his immigrant family in a lower-class tenement; despite the differences in their family's affluence, the earthquake affected both their lives in dramatic ways. Calling the author's research into the period "exhaustive," Catherine Threadgill also noted in her School Library Journal review that because he "peppers the story with interesting true-to-life anecdotes," the novel "should appeal to reluctant readers." While the Kirkus Reviews critic praised The Earth Dragon Awakes as "solid historical fiction," in Booklist Linda Perkins benefits from the boys' dual narration because Yep's text "provides a 'you are there' sense of immediacy" that will attract fans of "action-packed survival stories."
Also based on an actual event--this time taking place at the turn of the twentieth century--When the Circus Came to Town introduces ten-year-old Ursula, an imaginative girl who lives with her family at a Montana stagecoach station. Fortunate to survive a smallpox epidemic, Ursula is left with a face so disfigured that she fears being seen by others, and refuses to leave her room and help her father in the kitchen. When a Chinese cook named Ah Sam is hired to replace the girl, Ursula befriends the man, and the two realize that they share a love for the circus. When a racist traveler breaks Ah Sam's spirit, Ursula braves the stares of the public to reunite him with his relatives. Praising the story as a "moving parable" about the willingness of people to help others through bad times, a Kirkus Reviews writer added that Yep successfully uses "believable characterizations to discuss deceptively complex emotions and issues," while Kay Weisman deemed the story "direct, humorous, and poignant" in her Booklist review.
In addition to realistic fiction, Yep has also written fantasies and mysteries, as well as a number of novels featuring modern-day children in typical modern-day predicaments. His mystery novels The Mark Twain Murders and The Tom Sawyer Fires feature nineteenth-century writer Mark Twain as a young reporter in San Francisco who turns sleuth in response to a series of odd occurrences. Mystery again figures in The Case of the Goblin Pearls, one of a series of books--"The Chinatown Mysteries"--featuring a group of pre-teens who solve mysteries within their Chinese-American communities while also learning about their varied cultural heritage. In The Case of the Goblin Pearls, Lily Lew and her flamboyant actress aunt go in search of a set of priceless pearls stolen from a local sweatshop owner by a masked robber. Praising the novel's "snappy dialogue, realistic characterizations and a plot with lots of action," a Publishers Weekly contributor added that Yep's spunky protagonist gains a "growing realization of the complexities of her Chinese heritage." Yep has also reached out to younger audiences in books like Cockroach Cooties, Skunk Scout and Later, Gator, all which focus on a young boy named Teddy. In Later Gator the boy's prank gift of a creepy-looking alligator backfires when he realizes that his younger brother actually takes a shine to his new pet, unaware that it will not live long in captivity, while Skunk Scout finds him joining his brother on a camping trip that challenges both the resources and the resilience of the likeable young boys.
The first of several fantasy series penned by the author, Yep's volume "Dragon" novel series was praised by St. James Guide to Fantasy Writers essayist Gary Westfahl as "a noteworthy achievement" in the realm of fantasy literature due to the use of Chinese, rather than European, legend as its basis. The series, which begins with Dragon of the Lost Sea, introduces readers to Shimmer, a dragon princess who has been exiled from the dragon kingdom of Sambar as punishment for stealing a pearl symbolic of dragon clan leadership. Now disguised as a beggar woman, Shimmer sets out with a young human orphan named Thorn and a monkey wizard called Master of Seventy-two Transformations. Together they attempt to restore the Inland Sea, the dragon clan's ancestral home, which was destroyed when the witch Civet stole the sea's water. In Dragon Steel, Shimmer and Thorn are joined by several more companions, including a girl named Indigo, in their attempt to steal a magic cauldron that will allow them to restore the Inland Sea's waters to their proper location. Meanwhile, Shimmer attempts to settle her own accounts to rights when she petitions her uncle, the High King of Sambar, for re-admittance to the kingdom, offering Civet as restitution for Shimmer's own thievery.
The third installment of the "Dragon" series finds Shimmer once again in search of a way to restore the Inland Sea. In Dragon Cauldron the magic cauldron has been recovered, but it is cracked, and the only ones able to repair such damage are the Snail Woman and the Smith. Despite numerous obstacles, including an evil magician and a troop of soldiers determined to stop the group, Shimmer and company repair the cauldron, only to lose it again during a flood. It is only in Dragon War, the last volume in the series, that the group recovers the cauldron from the hands of the evil Boneless King, who had used it to destroy the dragon clan. Escaping the king's clutches, the group rallies an army of Shimmer's dragon allies and, with the use of shape-changing courtesy of the monkey wizard, defeats the Boneless King and his minions, restoring the Inland Sea in the process.
Reviewers applauded Yep's characters and their comical bantering, his accounts of high adventure, and the ability of each novel in the "Dragon" series to stand independently and be understood by readers unfamiliar with the rest of the saga. Calling the four-volume work "an allegory of perseverance and loyalty," Voice of Youth Advocates reviewer Frank Perry added that "the variety of characters, continuity of plot, and incongruence of dragons [disguised] as humans hold fast the reader's attention." In the Washington Post Book World, Jane Yolen noted that Yep's "adventures are full of imagination and there is a kind of breezy zestiness ... that will appeal to younger young adults." In his Dictionary of Literary Biography essay, Stines concluded that, "thematically," the "Dragon" series "is characteristic of Yep's writing in its exploration of the ideas of identity, good versus evil, friendship, and loyalty."
The first volume in a trilogy for middle-grade readers that includes Tiger's Blood and Tiger Magic, The Tiger's Apprentice introduces a network of ancient Chinese characters that, inspired by the Chinese zodiac and ancient Chinese legends, secretly exist on Earth. Introduced to this network by his elderly grandmother, Mistress Lee, whose cluttered antique store holds the secrets of the Lore, eighth-grader Tom Lee finds his destiny is woven into this network when he learns that his grandmother is a Guardian. After Mistress Lee is killed by a creature who robs her home of a beautiful artifact, Tom takes her place: he agrees to help retrieve the artifact, which turns out to be an egg. Not just any egg, however: this special egg is that of the phoenix, a magical bird that has will only hatch into a world that has achieved total peace. In his task Tom accepts the guidance of a shapeshifting tiger known as Mr. Hu, another guardian of the egg. Other new friends, who include the dragon Mistral, a golden rat, and a flying monkey, join Tom in his battle against Vatten and his evil Clan of Nine, who hopes, by possessing the egg, to harness its power for apocalyptic purposes. Calling the fantasy novel "enticing," Booklist contributor Linda Perkins added that by weaving "elements of Chinese mythology and culture" into his story, Yep imbues his tale with "a distinctively Asian perspective." Enhanced by "nuggets of wisdom.... and often elegant prose," The Tiger's Apprentice instills in readers "a sense of wonder," according to a Publishers Weekly contributor.
The "Tiger's Apprentice" series continues with Tiger's Blood, which finds the two guardians of the egg leaving San Francisco for the subterranean safety of the Dragon Kingdom. Recognizing Mr. Hu's failing health, Tom becomes a diligent apprentice, and sets about learning the lore of dragons. When the egg is stolen, Tom fears that Mistral may have been involved, until the dragon proves her loyalty by helping Tom defend his friends from the Clan of Nine. The saga culminates in Tiger Magic, as Tom accepts his destiny as both a tiger and "parent" to the recently hatched phoenix. Now he must confront Vatten and his minions. Although he could draw power from the phoenix as well, Tom realizes that such power could ultimately corrupt his good purposes. Noting that Tiger's Blood may overwhelm some readers not already familiar with the series, in School Library Journal Ginny Collier wrote that "intrigue abounds" in the second novel of the trilogy, "and the descriptions of the dragons' palace will have readers wishing they could visit it themselves." While a Kirkus Reviews writer noted that Tiger's Blood lacks the action of The Tiger's Apprentice, another reviewer for the same periodical wrote that, with its "factual" battle scenes and philosophical ponderings, Tiger Magic is "a nice choice for sensitive readers." In Booklist Jennifer Mattson wrote that Yep's "epic dust-ups will thrill action-addicted" fantasy fans.
In addition to full-length fiction, Yep has also compiled several volumes of short stories based on folktales and legends of China. The Rainbow People includes twenty stories adapted from the recollections of Chinese immigrants living in Oakland, California's Chinatown that were recorded by a U.S. government-sponsored program during the 1930s. Many of the stories, which Yep divides into sections according to their theme, have their origins in southern China, the birthplace of many of Oakland's immigrant Chinese. Another story collection, Tongues of Jade, includes both stories and background information that puts each tale, whether it be a ghost story or a love story, into sociological and historical perspective. Including such titles as "The Little Emperor" and "The Rat in the Wall," Yep's retellings "are liberally dosed with magic, and all praise the qualities ... necessary to succeed in a foreign and often hostile land," according to a Publishers Weekly contributor.
Although Yep worked as a teacher early in his career, with the success of Dragonwings he was able to leave academia and pursue his writing full time. Although Yep devotes most of his time to his fiction, he has returned to the college environment on occasion. While at the University of California, he noted the lack of anthologies featuring writing appropriate to the multicultural course he was teaching, and in 1993 he published his own: American Dragons: Twenty-five Asian American Voices. Including stories, essays, and verse, the anthology features works by such well-known authors as Maxine Hong Kingston and William F. Wu that are grouped according to themes such as the search for identity, the Japanese experience during World War II, and relationships with Asian-born parents and grandparents. In the book Yep focuses in particular on works relevant to young people attempting to live between two cultures.
While occasionally writing for adult readers, Yep remains an avid proponent of the power of children's literature. "I enjoy writing for children because you can get back to old-fashioned storytelling rather than inflating a text with material about existential crises and whatever are the latest aesthetic and philosophical fads," he once noted in Twentieth-Century Children's Writers. "Stories have to be told in concrete, vivid terms and relationships between characters are basic human bonds and therefore more universal." Calling Yep a "bridge builder," Karen Ferris Morgan concluded in her essay for Twentieth-Century Young-Adult Writers that, through his novels and short stories, he enables young readers to "look ... through a window to greater understandings of the worlds of differences and similarities that co-exist in life. Vivid images, complex characters, and well-plotted action" continue to be trademarks of Yep's unique fiction.
PERSONAL INFORMATION
Born June 14, 1948, in San Francisco, CA; son of Thomas Gim (a postal clerk) and Franche (a homemaker) Yep; married Joanne Ryder. Education: Attended Marquette University, 1966-68; University of California, Santa Cruz, B.A., 1970; State University of New York at Buffalo, Ph.D., 1975. Memberships: Science Fiction Writers of America, Society of Children's Book Writers and Illustrators.
AWARDS
Newbery Honor Book award, Children's Book Award from American Library Association, International Reading Association award, and Carter A. Woodson Award from National Council of Social Studies, all 1976, Lewis Carroll Shelf Award, 1979, Friend of Children and Literature award, 1984, and Phoenix Award, 1995, all for Dragonwings; Boston Globe/Horn Book award, 1977, for Child of the Owl, and 1989, for The Rainbow People; Jane Addams Award, Women's International League for Peace and Freedom, 1978, for Child of the Owl; Silver Medal, Commonwealth Club of California, 1979, for Sea Glass; National Endowment for the Arts fellowship, 1990; Laura Ingalls Wilder Medal, 2005, for contributions to children's literature.
CAREER
Writer. Part-time instructor of English at Foothill College, Mountain View, CA, 1975, and San Jose City College, San Jose, CA, 1975-76; University of California, Berkeley, visiting lecturer in Asian-American studies, 1987-89, University of California, Santa Barbara, writer-in-residence, 1990. Writer of software for Spinnaker, including Alice in Wonderland, 1985, and Jungle Book, 1986.
WRITINGS:
FOR CHILDREN AND YOUNG ADULTS
* Sweetwater, illustrated by Julia Noonan, Harper (New York, NY), 1973, reprinted, 2004.
* Kind Hearts and Gentle Monsters, Harper (New York, NY), 1982.
* The Mark Twain Murders, Four Winds Press (New York, NY), 1982.
* Dragon of the Lost Sea, Harper (New York, NY), 1982.
* Liar, Liar, Morrow (New York, NY), 1983.
* The Tom Sawyer Fires, Morrow (New York, NY), 1984.
* Dragon Steel, Harper (New York, NY), 1985.
* The Curse of the Squirrel, illustrated by Dirk Zimmer, Random House (New York, NY), 1987.
* Age of Wonders (play), produced in San Francisco, 1987.
* (Reteller) The Rainbow People (folk tales), illustrated by David Wiesner, Harper (New York, NY), 1989.
* Dragon Cauldron, HarperCollins (New York, NY), 1991.
* The Lost Garden, Messner (Englewood Cliffs, NJ), 1991.
* The Star Fisher (also see below), Morrow (New York, NY), 1991.
* Tongues of Jade (short stories), HarperCollins (New York, NY), 1991.
* Dragon War, HarperCollins (New York, NY), 1992.
* (Editor) American Dragons: A Collection of Asian-American Voices, HarperCollins (New York, NY), 1992.
* Butterfly Boy, Farrar, Strauss (New York, NY), 1993.
* The Shell Woman and the King, Dial Books (New York, NY), 1993.
* The Man Who Tricked a Ghost, Troll Associates (Mahwah, NJ), 1993.
* Ghost Fox, Scholastic (New York, NY), 1994.
* The Tiger Woman, Troll Associates (Mahwah, NJ), 1994.
* The Boy Who Swallowed Snakes, Scholastic (New York, NY), 1994.
* The Junior Thunder Lord, Troll Associates (Mahwah, NJ), 1994.
* Hiroshima: A Novella, Scholastic (New York, NY), 1995.
* Later, Gator, Hyperion (New York, NY), 1995.
* Tree of Dreams: Ten Tales from the Garden of Night, illustrated by Isadore Seltzer, BridgeWater Books (Mahwah, NJ), 1995.
* City of Dragons, illustrated by Jean and Mou-Sien Tseng, Scholastic (New York, NY), 1995.
* Ribbons, Putnam's (New York, NY), 1996.
* The Khan's Daughter: A Mongolian Folktale, illustrated by Jean and Mou-Sien Tseng, Scholastic (New York, NY), 1997.
* The Dragon Prince: A Chinese Beauty and the Beast Tale, HarperCollins (New York, NY), 1997.
* The Imp That Ate My Homework, illustrated by Benrei Huang, HarperCollins (New York, NY), 1998.
* The Cook's Family (also see below), Putnam (New York, NY), 1998.
* The Amah, Putnam (New York, NY), 1999.
* The Journal of Wong Ming-Chung: A Chinese Miner: California, 1852, Scholastic (New York, NY), 2000.
* The Magic Paintbrush, illustrated by Suling Wang, HarperCollins (New York, NY), 2000.
* Cockroach Cooties, Hyperion (New York, NY), 2000.
* Dream Soul (sequel to The Star Fisher ), HarperCollins (New York, NY), 2000.
* Angelfish (sequel to The Cook's Family), Putnam's (New York, NY), 2001.
* Lady of Chiao Kuo: Warrior of the South, Scholastic (New York, NY), 2001.
* Spring Pear: The Last Flower (in "Girls of Many Lands" series), Pleasant Company (Middleton, WI), 2002.
* When the Circus Came to Town, illustrated by Suling Wang, HarperCollins (New York, NY), 2002.
* Skunk Scout, Hyperion (New York, NY), 2003.
* The Earth Dragon Awakes: The San Francisco Earthquake, HarperCollins (New York, NY), 2006.
* Auntie Tiger, illustrated by Insu Lee, HarperCollins (New York, NY), 2008.
"GOLDEN MOUNTAIN CHRONICLES" FOR CHILDREN
* Dragonwings, Harper (New York, NY), 1975, twenty-fifth anniversary edition, 2000.
* Child of the Owl, Harper (New York, NY), 1977.
* Sea Glass, Harper (New York, NY), 1979, reprinted, 2002.
* The Serpent's Children, Harper (New York, NY), 1984.
* Mountain Light (sequel to The Serpent's Children), Harper (New York, NY), 1985.
* Dragon's Gate, HarperCollins (New York, NY), 1993.
* Thief of Hearts, HarperCollins (New York, NY), 1995.
* The Traitor, HarperCollins (New York, NY), 2003.
"CHINATOWN MYSTERY" SERIES; FOR CHILDREN
* The Case of the Goblin Pearls, HarperCollins (New York, NY), 1997.
* The Case of the Lion Dance, HarperCollins (New York, NY), 1998.
* The Case of the Firecrackers, HarperCollins (New York, NY), 1999.
"TIGER'S APPRENTICE" SERIES; FOR CHILDREN
* The Tiger's Apprentice, HarperCollins (New York, NY), 2003.
* Tiger's Blood, HarperCollins (New York, NY), 2005.
* Tiger Magic, HarperCollins (New York, NY), 2006.
FOR ADULTS
* Seademons, Harper (New York, NY), 1977.
* Shadow Lord, Harper (New York, NY), 1985.
* Monster Makers, Inc., Arbor House (New York, NY), 1986.
* Pay the Chinaman (one-act play; produced in San Francisco, CA, 1987), published in Between Worlds,edited by M. Berson, Theatre Communications Group (New York, NY), 1990.
* Fairy Bones (one-act play), produced in San Francisco, CA, 1987.
Work represented in anthologies, including World's Best Science Fiction of 1969, edited by Donald A. Wollheim and Terry Carr, Ace, 1969; Quark #2, edited by Samuel Delaney and Marilyn Hacker, Paperback Library, 1971; Protostars, edited by David Gerrold, Ballantine, 1971; The Demon Children, Avon, 1973; Strange Bedfellows: Sex and Science Fiction, edited by Thomas N. Scortia, Random House, 1973; Last Dangerous Visions, edited by Harlan Ellison, Harper, 1975; and Between Worlds, Theater Communication Group, 1990. Contributor of short stories to periodicals, including Worlds of If and Galaxy. Also author of theatrical adaptation of Dragonwings, 1991.
MEDIA ADAPTATIONS
Dragonwings
was adapted as a filmstrip with record or cassette, Miller-Brody, 1979;
The Curse of the Squirrel
was adapted for audiocassette,
Random House
, 1989.
Sweetwater
was adapted for audiocassette and produced in Braille.
The "Tiger's Apprentice Trilogy"
was adapted for film by David Magee and produced by Miramax.
Read more
Latest headlines