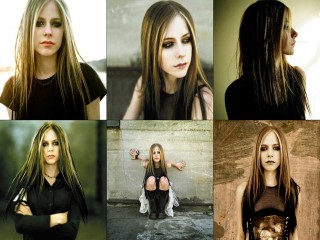 Avril Lavigne biography
Date of birth : 1984-11-27
Date of death : -
Birthplace : Belleville, Ontario, Canada
Nationality : Canadian
Category : Arts and Entertainment
Last modified : 2010-03-30
Credited as : Pop singer and songwriter, Almost Alice, skater-punk
In 2002 an eighteen-year-old Canadian newcomer named Avril Lavigne swept on to the U.S. music scene with her debut disc, Let Go. By the end of the year, three singles from the album, including "Complicated," broke into the top ten of the Billboard charts, and Let Go was the second best-selling CD of the year. Lavigne's music scored high with fans and critics, but so did her personal style, which consisted of wearing loose pants, tank tops, and neckties. As a result, she sparked a fashion trend and was heralded in the press as a "skater-punk," an alternative to pop princesses, like Britney Spears (1981–), whose look and videos had started to become increasingly more provocative. In May 2004 Lavigne released her second album, Under My Skin, which debuted at number one not only in the United States, but also in many other countries, including Germany, Spain, and Japan. By the end of 2005 Avrilmania was showing no signs of slowing—Lavigne was performing to sold-out crowds on an extended concert tour and in April she took home top honors at the Juno Awards, which are considered to be the Canadian equivalent of the U.S. Grammy Awards.
Not a girlie-girl
Avril Ramona Lavigne
was born on September 27, 1984, in Belleville, a small city in the eastern part of the province of Ontario, Canada. The second of three children, her father, John, was a technician for Bell Canada; mother Judy was a stay-at-home mom. When Lavigne was five, the family moved to Napanee, a farming town even smaller than Belleville with a total population of only five thousand. From the time she was a toddler Lavigne idolized her older brother, Matt, and insisted on trying to do anything he could do. As she explained to Chris Willman of Entertainment Weekly, "Ifhe played hockey, I had to play hockey. He played baseball, I wanted to." In fact, when Lavigne was ten she played in the Napanee boy's hockey league; she also became known as quite a baseball pitcher.
As she grew older Lavigne gained a reputation as a tomboy who preferred family outings like dirt biking or camping over dating. And in the tenth grade she discovered skateboarding, which became a particular passion. "I'm just not a girlie-girl," Lavigne laughingly told Willman. When not playing sports, however, she did pursue another interest—singing. The Lavignes were devout Christians and attended Evangel Temple in Napanee, where young Avril sang in the choir beginning at age ten. Soon she branched out and began singing at all types of venues, including county fairs, hockey games, and company parties. She primarily sang covers of songs made popular by
"Why should I care what other people think of me? I am who I am. And who I wanna be."
country singers Martina McBride (1966–) and Faith Hill (1967–). Lavigne's parents bought her a sound machine to sing along with, and she practiced in front of a mirror at home for hours.
In 1998, when she was fourteen years old, Lavigne's first manager, Cliff Fabri, discovered her singing at a small performance in a local bookstore. When talking to Willman, Fabri described the young girl as a "frizzy-haired waif." But he liked Lavigne's voice, and he was especially impressed by her confident attitude. That same year, such confidence helped her win a contest to sing a duet with fellow Canadian Shania Twain (1965–) at the jam-packed Corel Centre in Ottawa. Even though it was her first time performing in front of twenty thousand people, Lavigne was fearless. As she told Willman, "I thought, 'This is what I'm going to do with my life."'
Lavigne lets go
Two years later, when she was sixteen, Fabri arranged for Lavigne to audition for L.A. Reid, head of Arista Records in New York City. After a fifteen-minute tryout Reid signed Lavigne to an amazing two-record, $1.25 million contract. The sixteen year old immediately dropped out of high school to devote herselfto working on her first album. At first producers offered Lavigne new country tunes to sing, but after six months the team was unable to write any actual songs, and it became apparent that things were not clicking. Reid then sent the singer to Los Angeles to work with a team of producers and writers known as The Matrix. When Lavigne arrived in L.A. Matrix producer Lauren Christy asked Lavigne what style she had in mind. As Christy relayed to Chris Willman, Lavigne had responded, "I'm 16. I want to rock out." That same day Lavigne and Matrix writers penned the first song for her album,
"Complicated"
.
Lavigne's debut album,
Let Go
was released on June 4, 2002, and within six weeks it had gone platinum, meaning over a million copies were sold. The single "Complicated," which received a great deal of radio airplay, reached number one on the adult Billboard charts; "I'm With You" also reached number one on the adult charts; and the catchy pop tune "Sk8er Boi" was a top-requested video on MTV and made it in the top ten of the Billboard Hot 100.
To promote the album Lavigne set out on a whirlwind publicity tour, making appearances on talk shows such as Late Night with David Letterman, and giving a series of concerts in Europe with her newly formed band, which was put together by her new management firm, Nettwerk. Most inexperienced singers are backed by seasoned musicians, but Nettwerk chose to go with young performers who were up and coming in the Canadian punk-rock scene. As Nettwerk manager Shauna Gold told Shanda Deziel of Maclean's, "[Lavigne] is young, her music's young, we needed a band that would fit well with who she is as a person."
And, after being away from her small-town home in Canada, Lavignewas beginning to form her own personal style. Initially publicists tried to market her like other teen pop stars, but Lavigne rebelled. "IfI was made up by the record label," she remarked to Lorraine Ali of Newsweek, "I'd have bleached-blonde hair and I'd probably be wearing a bra for a shirt." Instead, the singer-songwriter opted for a skater-punk look, which consisted of cut-off plaid pants, steel-toed Doc Martens, and tank tops worn with neckties. According to Ali, the five-foot-one tomboy "spawned a prepubescent army of Lavignettes" who snatched up her records and faithfully copied her outfits.
Finds independence with Under My Skin
By the end of 2002 Let Go had sold 4.9 million copies and was the second best-seller of the year just behind The Eminem Show. (By 2005 worldwide sales topped over fourteen million.) As 2003 progressed Lavigne continued to gather more fame and more accolades. She performed to sold-out crowds at her first North American concert tour; nabbed 5 Grammy nominations, including Song of the Year for "I'm With You"; and was named
Best New Artist
at the MTV Video Music Awards. In Canada Lavigne received six Juno nominations, winning four, including
Best New Artist
and
Best Pop Album.
In the press Lavigne was deemed the leader of the pack of a new group of edgy, female singer-songwriters, which included Pink (1979–) and Michelle Branch (1983–). She also endured being called the "anti-Britney," referring to Britney Spears. In interviews Lavigne expressed her distaste for the label. "I don't like that term," she told Chris Willman. "It's stupid. She's a human being. God, leave her alone." But, in the same interview radio programmer Tom Poleman explained to Willman that Lavigne's popularity was partly thanks to her "anti-Britney" style. "Avril is much more the regular kid," Poleman commented. "For boys, she seems more attainable; girls can see themselves living more like her, dressing the same, being attracted to the same boys."
Despite her hectic schedule Lavigne returned to the studio in 2003 to record her second album, which she was determined to make her own way. Although Lavigne did write several of the songs on Let Go, she did so with the help of a slew of producers. This time she flew to Los Angeles to work privately with Canadian singer-songwriter Chantal Kreviazuk (1973–); she also cowrote one song with guitarist Ben Moody (1980–) of the band Evanescence. Lavigne's record label, Arista, did not hear a single track until the newly independent singer was finished."There was no way I was gonna write songs and send them to people to rewrite them like I did last time," Lavigne explained to Lorraine Ali. "I need to feel I'm doing this on my own."
Lavigne's second album, Under My Skin, was released on May 25, 2004, and debuted at number one on Billboard's U.S. album chart. It also sparked several popular singles, including "Don't Tell Me" and "My Happy Ending." Critics were consistently kind in their reviews, with Chuck Arnold of People applauding Lavigne for her "artistic independence" and praising her "rebellious spirit, racing rhythms, and tough-talking lyrics." Lorraine Ali pointed out that fans were seeing a more mature Lavigne, claiming her new songs "are rougher and darker" and her voice had lost some of its "girly high pitch." One song, in particular, received a good deal of attention—the emotional ballad "Slipped Away," which Lavigne wrote about the death of her grandfather.
Canadian Punk Rockers: Sum 41
In June 2005 Avril Lavigne became engaged to her boyfriend of a year, Deryck Whibley (1980–), the lead singer of Canadian punk-pop group called Sum 41, whose members are known for their quick, catchy rock tunes and their highly energized live performances.
Sum 41 is composed of four musicians: drummer Steve "Stevo" Jocz, lead vocalist Deryck "Bizzy D" Whibley, lead guitarist Dave "Brownsound" Baksh, and bass player Jason "Cone" McCaslin. All four attended the same high school in Ajax, Ontario, and all played in various high school bands that performed in and around Toronto. In 1996, during the summer of their junior year, Jocz and Whibley decided to join forces and form their own band; they called it Sum 41 since the group was founded on the forty-first day of summer vacation. Jocz and Whibley tried out a number of bass players and guitarists before asking Baksh and McClasin to join the band. By 1999 the group was cemented and they began to create a unique sound that borrowed from all kinds of music, including hiphop, heavy metal, and alternative rock.
By late 1999 the foursome had created their own press kit, which included a ten-minute video featuring some of their musical numbers interspersed with clips of the band mates pulling pranks. They sent the kit off to several major record labels, and within a week Sum 41 was signed by Island Records. The band's first album, Half Hour of Power (2000), attracted little attention, but with 2001's All Killer No Filler Sum 41 began to reach an international fan base, especially because of the hit single "Fat Lip," which reached number sixty-six on the U.S. Billboard charts. The band attracted a loyal fol-lowing (who called themselves the Bomb Squad) particularly because of their on-stage antics. During Sum 41's 2001 Tour of the Rising Sun they pogo-jumped, participated in mock guitar battles, and urged the audience to join in rock song challenges.
The band released two more albums by the mid-2000s: Does This Look Infected? (2002) and Chuck (2004). The 2004 CD is named after Chuck Pelletier, a United Nations peacekeeper who was instrumental in saving the lives of the band members while they were making a documentary in the Democratic Republic of the Congo (DRC; formerly Zaire). Since the late 1990s the Democratic Republic of Congo had been embroiled in the Second Congo War (1998–2002), a conflict that involved nine African nations, but that was centered in the DRC. Many artists from the United States and Canada have offered humanitarian aid to the citizens of the war-torn country. Although there is tentative peace in the DRC, military threats still exist for civilians. In April 2005 Chuck received the Rock Album of the Year prize at the Juno Awards, which are presented annually in Canada to honor achievement in the music industry.
Avril's "Happy Ending"
Some of the press surrounding Under My Skin came as a result of a twenty-one-city mall tour that Lavigne and her band embarked on just prior to the album's release. As Lavigne explained to Deborah Evans Price of Billboard, "We thought it would be cool to put on a free show and give back to the fans." Armies of Lavignettes turned out to demonstrate their support, and thousands of CDs were pre-sold even before the album's release. To encourage even more sales Lavigne again went out on the road doing nonstop interviews and heading out on a spring 2004 concert tour. According to Jill Kipnis of Billboard, twenty-six of the thirty-one shows sold out completely and the tour grossed over $9 million.
By the end of 2004 the twenty-year-old Lavigne was the one of America's top-selling entertainers. Her face graced the covers of teen magazines like CosmoGIRL!, and she was featured in articles in such national magazines as Time and Newsweek. She also completed her second sold-out concert tour, the Bonez Tour, which was launched in October. Lavigne ended the year by appearing on the soundtracks of two films, The Princess Diaries 2: Royal Engagement and The SpongeBob SquarePants Movie.
In 2005, just three years after her debut album appeared, Lavigne was again the top-honored entertainer at Canada's Juno Awards. She received five nominations and took home three prizes, including the Best Artist award and a second win for Best Pop Album. Lavigne also announced that she would be adventuring more into film by lending her voice to a character in an animated movie called Over the Hedge, scheduled for a 2006 release. Perhaps the biggest bit of personal Lavigne news came in June 2005, when the Canadian "punk princess" became engaged to boyfriend Deryck Whibley (1980–), lead singer of the Canadian punk-rock group Sum 41.
Although she had only two albums under her belt, most music critics predicted that Avril Lavigne had a solid future. As USA Today correspondent Brian Mansfield told Billboard, "Avril's core audience may be a very young one, but she strikes me as the type of artist that a wide range of people respect and hope to see succeed. Those are the kind of artists who have long careers."
The Best Damn Thing
While Lavigne was in the studio in 2006 for her third studio album, Fox Entertainment Group approached her to write a song for the soundtrack to the 2006 fantasy-adventure film Eragon. She wrote and recorded two "ballad-type" songs, one of which "Keep Holding On" ended up being used for the film. Lavigne admitted that writing the song was challenging, making sure it flows along with the film. She, however, noted that "Keep Holding On" was not indicative of what the next album would be. The song, which later appeared on the album, debuted on radio on 20 November 2006, and later released for digital download on 28 November.
Lavigne's third album, The Best Damn Thing, was released on 17 April 2007. Lavigne undertook a small tour to promote the album. Its lead single, "Girlfriend", topped the Billboard Hot 100 the week The Best Damn Thing debuted at number one on the Billboard 200. "Girlfriend" was Lavigne's first single to have reached number one in Billboard. The single was a worldwide hit: it also went to number one in Australia, Canada, Japan, and Italy and number two in the UK and France. The International Federation of the Phonographic Industry ranked "Girlfriend" as 2007's most-downloaded track worldwide, selling 7.3 million copies in eight different languages. In December 2007, Lavigne, with annual earnings of $12 million, was ranked number eight in the Forbes "Top 20 Earners Under 25". "When You're Gone", the second single, went to number three in the UK, the top five in Australia and Italy, the top ten in Canada and was very close to reaching the top twenty in the United States. "Hot" was the third single and has been Lavigne's least successful single in the U.S, charting only at number 95. In Canada it made the top ten, and in Australia the top 20. The album has sold 6 million copies worldwide.
During this era Lavigne won nearly every award she was nominated for, including two World Music Awards for "World's Best-Selling Canadian Artist" and "World's Best Pop/Rock Female Artist" , she took her first two MTV Europe Music Awards, received one Teen Choice Awards for "Summer Single" and was nominated for five Juno Awards.
In March 2008, Lavigne undertook a world tour named "The Best Damn Tour" to support the album. In mid-August 2008, Malaysia's Islamic opposition party, the Pan-Malaysian Islamic Party, attempted to ban Lavigne's show in Kuala Lumpur, judging her stage moves "too sexy". Her concert on 29 August was deemed promoting wrong values ahead of Malaysia's independence day on 31 August. On 21 August 2008, MTV reported that the concert had been approved by the Malaysian government.
The hits "Complicated" and "Girlfriend" also ranked the Hot 100 Singles of the decade at #83 and #94, respectively.
Film career
Lavigne had a cameo in the film Going the Distance and also appeared in an episode of Sabrina, the Teenage Witch, performing "Sk8er Boi" with her band, but her feature film debut was in the 2006 animated film Over the Hedge, which is based on the comic strip of same name. She voiced the character Heather, a Virginia Opossum.
Lavigne acted in the Richard Gere film The Flock, as the girlfriend of a crime suspect, and also appeared in the film Fast Food Nation, based on the book Fast Food Nation: The Dark Side of the All-American Meal.
In August 2006, Canadian Business magazine ranked her the seventh top Canadian actor dominating in Hollywood in their second-annual ranking Celebrity Power List. She is ranked second with the most web hits, and sixth in TV mentions.
Read more
Latest headlines