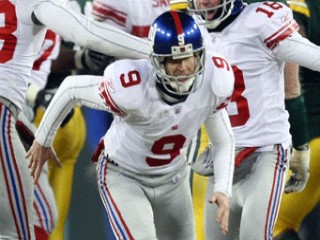 Lawrence Tynes biography
Date of birth : 1978-05-03
Date of death : -
Birthplace : Greenock, Scotland
Nationality : Scotish
Category : Sports
Last modified : 2010-10-04
Credited as : Football player NFL, kicker for the New York Giants, Super Bowl/NFL Draft player
Originally signed by the Kansas City Chiefs as a rookie free agent on April 26, 2001…Released by the Chiefs on Aug. 27, 2001…Signed by the Chiefs on Jan. 16, 2002…Released by the Chiefs on Sept. 1, 2002…Signed by the Ottawa Roughriders (Canadian Football League) on Sept. 5, 2002….Signed by the Chiefs on Feb. 9. 2004…Traded to the Giants on May 22, 2007 for a 7th-round draft choice.
GIANTS NOTES
Tynes
kicked the overtime field in the 2007 NFC Championship Game in Green Bay that put the Giants in Super Bowl XLII…His game-winning 47-yard field goal just 2:35 into overtime that was the longest postseason 3-pointer in Lambeau Field history.
Tynes is the NFL's 1st Scottish-born player. Although raised in Florida, he was born in Greenock, Scotland after his parents met there while his father was a Master Chief in the U.S. Navy.
CAREER HIGHLIGHTS
Tynes has played in 82 regular season games and 6 postseason games…He has made 119 of 147 regular season field goal attempts (81 percent) and 225 of 231 extra point tries (97.4 percent) for 582 points…With both Kansas City and the Giants, Tynes kicked at least 1 field goal in 15 consecutive games. With the Chiefs, the streak began at Denver (12/19/04) and ended vs. Denver (12/4/05). With the Giants, he kicked a field goal in each of the 1st 15 games of the 2009 season, beginning vs. Washington (9/13) and ending at Minnesota (1/3)…He has scored more than 100 points in each full season of his career: 109 in 2004 and 2007, career-high 126 in 2009, 125 in 2005 and 107 in 2006…Twenty nine of 431 career kickoffs have resulted in touchbacks.
In postseason play, Tynes has made 5 of 8 field goal attempts and all 10 of his PATs for 25 points.
In 2009, Tynes played in all 16 games. He led the Giants and was 5th in the NFL in scoring with a career-high 126 points. His previous best was 125 points with Kansas City in 2005. The 126 points tie him with Joe Morris (1985) for 4th place on the Giants' single-season list…Converted 27 of 32 field goal attempts, an 84.4 percentage that was the 6th best in a single season in Giants history…Made all 45 of his extra point attempts…Tynes kicked at least 1 field goal in 15 consecutive games, placing him in a 4-way tie for the 2nd-highest total in Giants history…Tynes attempted a career-high 5 field goals at Dallas (9/20). His previous high was 4, which he did 3 times, most recently for Kansas City vs. Denver on Nov. 23, 2006…Tied his career high with 4 field goals (from 30, 28, 36 and 37 yards) in Dallas. He also booted 4 field goals for the Chiefs vs. New England on Nov. 27, 2005.
Tynes kicked a 52-yard field goal at Denver (11/26), his longest as a Giant and longest since he booted a 52-yarder for Kansas City at San Diego on Dec. 17, 2006. Tynes' career-long is a 53-yarder, vs. the Chargers in Arrowhead Stadium on Oct. 22, 2006.
In 2008, Tynes played in 2 regular season games and the NFC Divisional Playoff Game…Was inactive for 14 games…Playing time was limited due to knee injury suffered in training camp on Aug. 9…Played at Philadelphia (11/9), where he handled kickoff duties and vs. Baltimore (11/16). Made his only field goal attempt (19 yards) and all 3 PATs for 6 points…Also handled the kickoffs in NFC Divisional Playoff Game vs. Philadelphia (1/11).
In his 1st Giants season in 2007, Tynes made 23 of 27 field goal attempts in the regular season, an .852 percentage that tied him with his predecessor, Jay Feely, for 3rd on the Giants' single-season list. Feely succeeded on 23 of 27 field goal tries in 2006. Tynes was 8-for-8 from 40-49 yards, hitting 3 times from a season-long 48 yards…Also connected on 40 of 42 extra point tries and 8 of his 80 kickoffs resulted in touchbacks.
Connected on all 3 field goal attempts good from 44, 48 and 24 yards in his Giants debut at Dallas (9/9)…Was also 2-for-2 on PATs…Was 3-for-3 on field goal attempts at Detroit (11/18), hitting from 28, 40 and 20 yards…Booted 3 field goals in a game for the 3rd time at Philadelphia (12/9), connecting from 19, 23, and 23 yards.
Connected on 3 of 5 field goal attempts at Green Bay in the NFC Championship Game (1/20)…Missed from 43 and 36 yards wide left in the 4th quarter (the latter on the final play of regulation), but succeeded from 29 yards in the 1st quarter and 37 yards in the 2nd quarter before kicking the game-winning 47-yarder with 2:35 elapsed in overtime. It was the 1st overtime 3-pointer of his career. Tynes' latest kick had been a 53-yarder with 6 seconds remaining to give the Kansas City Chiefs a 30-27 victory over San Diego on Oct. 22, 2006…Tynes' game-winner was the longest postseason field goal in Lambeau Field history.
In 2006, played in 16 regular season games and the AFC Wild Card Game for the Chiefs…Made 24 of 31 field goal attempts (77.4 percent) and 35 of 36 PATs for 107 points, which left him 7th among AFC kickers…Made 2 of 4 attempts from 50-plus yards…Placed 56 of his 78 kickoffs inside the 10-yard line and had 5 touchbacks…Also had 1 punt for 33 yards and 2 special teams tackles.
Was named AFC Special Teams Player of the Week for his play at Arizona (10/8), where he kicked field goals of 45, 40 and 19 yards (the latter a game-winner with 1:36 remaining) and added 2 PATs for 11 points.
Kicked field goals of 45, 52 and 24 yards at San Diego (12/17)…Tied a career high with 4 field goals (24, 34, 29 and 21 yards and added a PAT for 13 points vs. Denver (11/23)…Booted a 42-yard field goal, 4 PATs and had a tackle at St. Louis (11/5)…Kicked a game-winning and career-long 53-yard field goal with 6 seconds remaining vs. San Diego (10/22).
In 2005, played in all 16 games…Converted 27 of 33 field goal attempts (81.8 percent) and 44 of 45 of his PATs for a career-high 125 points, the 6th-highest single-season total in Chiefs history…Booted 58 of his 86 kickoffs inside the 10-yard line with 1 touchback…Also had a special teams tackle…His 125 points were 2nd in the AFC and 4th among NFL kickers…Became the 7th player in Chiefs history to register multiple 100-point seasons.
Was named AFC Special Teams Player of the Week after kicking field goals of 30, 51 and 52 yards at Miami to join Nick Lowery as the only players in Chiefs history to produce 2 field goals of 50+ yards in a game.
Converted 39, 24 and 23-yard field goals vs. Cincinnati (1/1)…Kicked a 19-yard field goal at the Giants (12/17)…Hit all 4 of his PATs and missed a 41-yard field goal attempt as time expired to break his streak of 15 consecutive games with at least 1 field goal at Dallas (12/11)… Converted a 34-yard FG vs. Denver (12/4). It was his 15th consecutive game with a field goal, the 2nd-longest streak in Chiefs history…Kicked a career-high 4 field goals (25, 20, 33 and 47 yards) and both of his PATs for a career-high 14 points vs. New England (11/27). Tynes' 4 second-quarter field goals tied an NFL record for the most 3-pointers in a quarter. He became the 7th player in NFL history to accomplish that feat and the 1st since St. Louis' Jeff Wilkins did it in the 4th quarter vs. Baltimore (11/9/03)…Connected on a 35-yard field goal at Buffalo (11/13), but missed 44 and 34-yard attempts, snapping his string of 14 consecutive successes, which tied for the 7th longest streak in team history.
Played in all 16 games in 2004, his 1st NFL season…Connected on 17 of 23 field goal attempts (73.9 percent) and 58 of 60 PATs for a team-high 109 points…His 58 PATs tied the highest single-season total in Chiefs history and his 60 attempts were a team record…Placed 60 of his 94 kickoffs inside the 10-yard line with 7 touchbacks, tying for 6th in the AFC…Ranked 9th among kickers in the AFC with 109 points…Had1 special teams stop…Tyne's 1st NFL field goal was a 50-yarder at Denver (9/12). His initial NFL field goal attempt was a 58-yard try in the first half, the longest attempt by a member of the Chiefs since Nick Lowery made a 58-yarder vs. the LA Raiders (9/12/85) and the longest by a kicker attempting his first FG since Owen Pochman of the Giants tried a 63-yarder at Denver (9/10/01)…Became the 1st NFL kicker to convert his 1st career field goal from 50+ yards since the Rams' Jeff Hall connected on a 50-yarder at the Giants (11/12/00)…Tied a franchise record with 8 PATs vs. Atlanta (10/24)…Hit field goals from 28 and 22 yards and all 4 of his PATs for a season-high 10 points and added 1 special teams tackle at Oakland (12/5)…Connected on a 38-yard game-winning field goal with 22 seconds remaining in a 31-30 victory vs. Oakland (12/25)…Kicked a 50-yard field goal at San Diego (1/2/05) to become the 1st Kansas City kicker to have 2 field goals of 50 yards or more in a season since Pete Stoyanovich in 1998.
CFL (2002-2003)
Played in 26 games for the Ottawa Renegades and connected on 71 of 87 field goals (81.6 percent) and 51 of 51 extra point tries with 11 singles for 275 points.
2003
Played in 18 games for Ottawa and hit 51 of 62 fields goals (82.3 percent) with 36 PATs and 9 singles for 198 points…His 51 made field goals set a team record…Tied for the CFL scoring title with 198 points and led the league with 51 FGs…Became only the 2nd Ottawa player named to the All-CFL team and was selected as the league's all-star kicker…Set a franchise record with 6 field goals on 8 attempts at Hamilton (6/20)…Connected on 4 first-half field goals at British Columbia (7/24)…Had 4 field goals vs. Edmonton (7/31) and 5, including a season-long 50-yarder, vs. Montreal (8/29)…Converted all 4 of his field goal attempts to earn CFL Special Teams Player of the Week honors vs. Calgary (9/26).
2002
Played in 8 games for the Renegades and succeeded on 20 of 25 field goals tries (80.0 percent) and all 15 PATs with 2 singles for 79 points…Joined the Renegades on Sept. 5th…Kicked a 50-yard field goal vs. Calgary (9/22)…Booted 4 field goals, including 3 in the final quarter to account for 14 points in a 26-25 comeback win vs. Montreal (11/3).
NFL EUROPE (2002)
Played in 10 games as the long-distance kicker for the Scottish Claymores…Hit 9 of 12 field goals (75.0 percent) for 27 points, with a long of 49 yards.
COLLEGE
Played 4 seasons at Troy University, where he was a teammate of Osi Umenyiora…Connected on 45 of 62 field goals (72.6 percent) and 127 of 131 extra points…Tynes' 45 field goals set a school record, breaking the mark of 38, set by Ted Clem (1984-87)…Established another mark with 262 points to top the previous record of 252 points for kickers, also held by Clem…All-America selection of the American Football Coaches Association, The Sports Network and AP as a senior, as well as a 1st team All-Southland League choice…Led the club in scoring with 88 points, connecting on 16 of 20 field goals and all 40 PATs…Ranked 1st on the team in scoring with 73 points in '99…Connected on 11 of 15 field goals and 40 of 42 PATs…All-America honorable mention selection by Football Gazette as a sophomore, when he scored a team-high 64 points…Converted 14 of 19 field goal tries and was perfect on 22 PATs…Scored 37 points as a redshirt freshman, making 4 of 8 field goals and 25 of 27 extra points.
OFF FIELD ACTIVITY
Hosts 100 members of Special Olympics of New Jersey every year for a Punt, Pass and Kick competition followed by lunch.
Is a proud supporter of the Mr. Goodcents Foundation for senior independence, which works with communities to provide resources and support services to senior citizens, such as community transportation options and assistance with maintaining their ability to live at home.
Participated in the Shaun O'Hara Foundation Golf Outing, raising money for cystic fibrosis research.
Participated in the Giants Foundation 2009 Golf Outing.
Attended the Muscular Dystrophy Association's Muscle Team fundraiser dinner.
Hosted Giants fans and season ticket holders during the team's Draft Day Party at New Meadowlands Stadium.
Attended the Giants Kickoff Luncheon benefitting St. Vincent's Medical Center.
PERSONAL
Tynes and his wife (Amanda) have twin boys (Caleb and Jaden)…He was born in Greenock, Scotland and is the NFL's 1st Scottish-born player…His parents met in Scotland when his father was a Master Chief in the U.S. Navy…Tynes' mother is a native of Scotland…Moved at age 10 to Milton in the Florida panhandle…Was a standout kicker at Milton High School…Before every collegiate home game he washed his car by hand, a tradition he started as a freshman…Graduated from Troy State with a degree in criminal justice….Born May 3, 1978.
Read more
Latest headlines