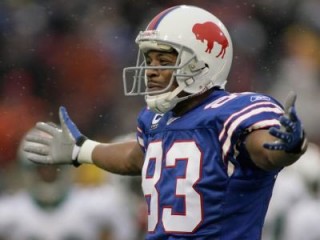 Lee Evans biography
Date of birth : 1981-03-11
Date of death : -
Birthplace : Sandusky, Ohio
Nationality : American
Category : Sports
Last modified : 2010-10-27
Credited as : Football player NFL, wide receiver for the Buffalo Bills, Super Bowl/NFL Draft player
Lee Evans is an American football wide receiver who currently plays for the
Buffalo Bills
of the National Football League. He was drafted by the Bills in the first round (13th overall) of the 2004 NFL Draft. He played collegiately at the University of Wisconsin.
CAREER:

* Voted captain in each of his last four seasons
* Led Bills in touchdowns and touchdown receptions (7) in 2009
* Only Bill with a reception in every game in 2009
* Active consecutive games started streak – 58 games – ranks second among active NFL receivers
* Active consecutive games played streak - 96 games – ranks third among active NFL receivers
* Has six 70-plus yard touchdown receptions. Total is tied for the most in the NFL since 2000 (Terrell Owens)
* Established the team's single-game receiving record with 265 yards at Houston ( 11/19/06)
* Led Bills franchise in receiving touchdowns in the 2000s decade (39)
* 39 TDs and 5,356 receiving yards are the most by a Bills receiver in his first six seasons with the organization
* 39 TD receptions rank third in team history
* 5,356 receiving yards rank third in team history
* 340 receptions ranks fourth in team history
* 13 100-yard receiving games ranks fifth in team history
* First NFL WR since Jerry Rice to average 15.0 yards per reception per season in his first five seasons (2004-2008)
* Bills are 21-10 when Evans scores a touchdown
* Caught touchdown passes from six different quarterbacks in NFL career – Drew Bledsoe, Shane Matthews, JP Losman, Kelly Holcomb, Trent Edwards and Ryan Fitzpatrick
2009:
* At NE (9/14) Posted 25 yards on three receptions. One of his three receptions produced first downs.
* vs. TB (9/20) Made his 300th reception on a 32-yard touchdown reception in the first quarter. His first touchdown of the season. Became the fifth Bill with 300 receptions and the second fastest to accomplish the feat (82 games).
* vs. NO (9/27) Recorded four receptions for 32 yards. Moved into fourth place on the team's all-time reception list with 304.
* at MIA (10/4) Posted two catches for a total of 60 yards. Both receptions resulted in first downs.
* vs. CLE (10/11) Posted two receptions for 11 yards.
* at NYJ (10/18) Posted his second touchdown reception of the season to tie the game at 13-13 in the third quarter. Finished with a game-high four receptions and a game-high 68 yards.
* at CAR (10/25) Finished with a team-high five receptions and 75 receiving yards and one touchdown. Posted a season-high 50-yard reception. Eclisped the 5,000-yard receiving mark in his 87th career game to tie for the second fastest Bills receiver to reach the mark (Elbert Dubenion).
* vs. HOU (11/1) Recorded two receptions for 29 yards.
* at TEN (11/15) Recorded four receptions for 50 yards and two touchdowns. Accounted for his seventh multi-TD game in his career. 10th Bill with seven-plus multi-TD games in his career.
* at JAX (11/22) Recorded one reception for 15 yards.
* vs. MIA (11/29) Posted two receptions for 40 yards. Both of his receptions accounted for first downs.
* vs. NYJ (12/3) Recorded a reception for 38 yards which helped set-up a field goal on the opening drive.
* at KC (12/13) Posted one reception for 11 yards.
* vs. NE (12/20) Recorded three receptions for 35 yards and scored Buffalo's only touchdown in the fourth quarter on an 11-yard reception. Play also marked his first touchdown against New England.
* at ATL (12/27) Led the team with five receptions and 43 yards. Moved into third place on the team's all-time receiving yards list with 5,307.
* vs. IND (1/3) Scored on a 21-yard touchdown reception to provide Buffalo's go-ahead touchdown in the second quarter. Totaled four receptions for 49 yards.
2008:
* Led the Bills in both receptions (63) and receiving yards (1,017)
* Ranked fourth in the AFC with a 16.1 yards per reception average; Ranked 10th in the AFC in receiving yards
* Posted his 10th career 100-yard receiving game vs. Sea. (9/7), catching four passes for team-high 102 yards
* Recorded four catches for 77 yards at Jac. (9/14), all four resulting in first downs… caught a game-long 37-yard reception on a 3rd-down play in the fourth quarter to set up Buffalo's go-ahead score
* Hauled in an 87-yard touchdown reception at Arz. (10/5), a new career-long… finished with 100 yards on two receptions, his 11th 100-plus yard performance and second of the season
* Vs. SD (10/19), became the 10th player in team history with 250 career receptions, tying Peerless Price as the second fastest to reach the mark in 70 games… posted a season-high eight catches for 89 yards and one touchdown
* Notched his third 100-yard performance, gaining 116 yards on a team-high seven catches at Mia. (10/26)
* Did not record a reception vs. Cle. (11/17), breaking a 67-game receiving streak, the third-longest in team history
* Notched his fourth 100-yard game of the season at KC (11/23), hauling in five catches for 110 yards
* Vs. Mia. (12/7), had three catches for 23 yards… with his first reception, gave him 50 receptions on the season and became the 6th WR in team history with three 50+ catch seasons in a career
* Surpassed 1,000 yards for the second season of his career with 63 yards on five receptions vs. NE (12/28)
2007:
* Voted one of the team's offensive captains for the second consecutive season
* Started all 16 games
* Finished with team-high 55 catches for 849 yards and five touchdowns
* Tallied the longest touchdown reception in the AFC in 2007 and fifth longest reception in team history with an 85-yard touchdown from JP Losman at NYJ (10/28)
* Recorded two 100-yard receiving games – @ NYJ (10/28) and vs. Cin. (11/4)
* First Bills receiver with back-to-back 50-reception seasons since Eric Moulds' streak of eight in a row (1998-2005)
* Selected as 2007 Buffalo Bills Walter Payton Man of the Year
* Tallied his sixth career multiple touchdown game vs. Mia (12/9) with two TDs, including a 70-yard strike from Trent Edwards
2006:
* Voted one of the team's offensive captains
* Set team record with 265 receiving yards @ Hou 11/19 (old record: Jerry Butler, 255 yards vs. NYJ, 9/23/79), first NFL receiver to catch two 83-yard passes in a quarter (1st quarter), and was first Bill to catch two 80-plus yard passes in a game … his 205 yards in the first quarter were a club single-quarter record and the most by an NFL receiver since Qadry Ismail's 210 for Baltimore (@ Pit. 12/12/99) … also set a career-high with 11 receptions
* Became the first NFL receiver with 3 TDs receptions above 75 yards in one season since Webster Slaughter in 1989
* Set career highs with 1,292 receiving yards and 82 receptions
* Ranked fourth in the AFC and sixth in the NFL in receiving yards
* Led Bills with eight touchdowns
* Had a four-game TD reception streak in weeks 14-17, tying for the fourth longest in team history
* Finished the season with his seventh career 100-yard receiving game, gaining 145 yards on seven receptions @ Bal. (12/31)
2005:
* Led the Bills with seven touchdown receptions
* Finished second in the NFL with seven receptions of 40+ yards
* Became the eighth player in club history to register a three touchdown game at Mia. (12/4) … scored all three in the first quarter, becoming the only player in team history with three in one quarter
* Tallied 48 receptions for 743 yards
* One of two Bills receivers to catch a pass in all 16 games (Josh Reed)
* Ignited the offense with a 49-yard pass reception in opening drive vs. Mia (10/9); caught three passes for 65 yards and eclipsed the 1,000-yard career receiving mark, becoming the 39th Bill to reach that milestone
* Opened the game with three first quarter touchdown receptions, two over 50 yards, at Mia (12/4) where he also led the Bills with five receptions for 117 yards
* Caught two passes for 17 yards at NYJ (1/1/06); opened game with 39-yard rush, longest Bills rush of the season
2004:
* Led all 2004 NFL rookie receivers and set a Bills rookie record with nine TD receptions
* Tied a club record with a five-game touchdown reception streak in weeks 12-16
* Became the first Bills rookie to post two multi-touchdown games in a season (at Mia. (12/5), at SF (12/26))
* His 48 receptions were four shy of the Bills rookie record (52, Joe Cribbs in 1980)
* Averaged 17.6 yards per catch while compiling 48 receptions for 843 yards
* 79.2 percent of his receptions resulted in a first down
* Just missed the 100-yard receiving mark with 93 yards on four receptions vs. NE (10/3); caught a 55-yard pass on the team's first play from scrimmage, becoming the first Bills rookie with 50-yard catches in back-to-back games since Bobby Crockett in 1966
* Caught his first TD pass on a 46-yard connection with Drew Bledsoe in the fourth quarter at NYJ (10/10); the 46-yard grab was his third straight game with a 40-yard-plus catch, making him the first Bills rookie with such a streak
* Recorded his first multi-TD game and eclipsed the 100-yard receiving mark for the first time at Mia. (12/5), finishing with four receptions for 110 yards and two TDs; first Bills rookie receiver to record a multi-TD game since TE Mark Brammer in 1980; his 69-yard touchdown catch in the third quarter marked the longest reception by a rookie since Mitchell Brookins caught a 70-yarder in 1984
* Recorded 81 total yards on 33 yards receiving and 48 yards rushing vs. Cle (12/12); caught a TD pass in the first quarter from Drew Bledsoe to become only the second rookie in Bills history with TD receptions in three consecutive games
* Posted his second multi-TD game of the season at SF (12/26) with two TDs on a season-high eight receptions for 92 yards; also had one rush for 21 yards…his multi-TD game made him the first Bills rookie receiver ever to post multiple multi-TD games.
COLLEGE:
The first player in Wisconsin history to gain over 1,000 yards receiving in a season, accomplishing that feat twice (2001 and '03)… the first player to catch more than 60 passes in a season (2001 and '03) in school annals…started 38 of 47 games for the Badgers, catching 175 passes for 3,468 yards and 26 touchdowns, breaking the old school career-records of 131 receptions for 2,103 yards by Al Toon (1982-84) and 23 scoring touchdowns by Tony Simmons (1994-97)… in 2003, was a first-team All-Big Ten Conference choice. Recipient of Wisconsin's Jimmy Demetral team Most Valuable Player Award, becoming the first two-time winner of that honor (won in 2001) since Al Toon (1983-84)…led the Big Ten with 1,213 yards on 64 receptions and 13 touchdowns…his 13 touchdown receptions broke a Wisconsin record of nine, he tied in 2001 and Al Toon set in 1984. Became the first player in school history to gain over 200 yards in a game more than once in a career (228 vs. Michigan State in 2001, 258 yards vs. Michigan State 2003)…His five touchdowns (9, 75, 18, 70, 18) vs. Michigan State tied a Big Ten game-record. … Finance major, with a minor in Computer Sciences.
PERSONAL:
An avid bowler – participated in the Professional Bowlers Association's Pro-Am during the Etonic Championships in Buffalo in 2008, 2007 and 2006 … career-high is 279 … attended Bedford (Oh.) High…All-Midwest Top 50 selection by Prep Football Report, Prep Star and Super Prep…First-team All-State pick in his senior year…Also named team MVP and captain …career totals include 38 catches for 984 yards (25.6 avg) and 12 touchdowns …intercepted four passes and blocked three kicks as a senior…averaged 17.7 yards per rush his junior season…finished second at the state track meet in the 300-meter hurdles … married to the former Miranda Farr… couple has one son, Lee Evans IV.
COMMUNITY:
Lee has served as spokesperson from 2006 – 2009 for the "Play 60" Challenge with the Buffalo Public Schools. As spokesperson, he was featured in the "Play 60" PSA, appears on the cover of all of the "Play 60" Materials sent to the Buffalo Public Schools and additional schools throughout Western New York. Lee annually attends the Play 60 Fieldhouse Party where he talks with the students about the importance of staying active and living a healthy lifestyle. The program is done in partnership with the American Heart Association and BlueCross BlueShield of WNY and stresses the importance for children to get active for at least 60 minutes of every day and strive to be physically fit. Lee is also very involved in a spin off program of the Play 60 Challenge called "Fuel Up to Play 60" which targets an older age group of students.
Evans proactively asked to get involved in the "Team Up 4 MS" program. He was featured in a public service announcement to increase awareness of MS in our region and encourage fans to donate to the "Team Up 4 MS" program. Evans annually attends the MS Dinner of Champions and encourages all in attendance to continue to support the cause. This is especially important in WNY because there is a statistically high rate of multiple sclerosis. Evans has also invited guests from the MS Society to sit in his personal suite at Buffalo Bills home games.
In addition to his work with the Play 60 Challenge and the "Team Up 4 MS" program, Lee has volunteered at a number of different community events and programs including the Buffalo Bills and American Red Cross Blood Drive at Ralph Wilson Stadium, The Billieve - Breast Cancer Awareness Campaign, the local Make-A-Wish Foundation and the NFL Grassroots Grant announcement at Riverside Park in Buffalo.
Read more
Latest headlines