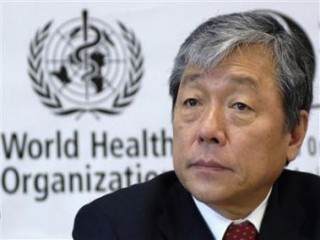 Lee Jong-Wook biography
Date of birth : 1945-04-12
Date of death : 2006-05-22
Birthplace : Seoul, Korea
Nationality : Korean
Category : Science and Technology
Last modified : 2011-10-04
Credited as : Medicine, World Health Organization, Doctor
In 2003, South Korean native Dr. Lee Jong-Wook was named the head of the World Health Organization (WHO), the public health arm of the United Nations (UN). He was the first South Korean to head an agency at the UN. Lee was trained as a physician and was an expert on the treatment of leprosy. He spent much of his professional career at WHO working on a number of health issues such as immunization and disease prevention.
Lee was born in 1945, the son of a civil servant father. The family suffered greatly during the Korean War in the early 1950s. Lee, his two brothers, and his mother had to walk from Seoul to Taegu, approximately 400 miles, around 1950 to meet his father at his post during the early days of the conflict. The 60-day trek gave Lee an understanding of the plight of refugees, which served him well later when he worked for the WHO. After the war, Lee's father held political office, and both of his brothers also became politicians. Lee's mother urged him to become a doctor to have a more stable income, while he thought it would attract the attention of women.
Lee earned his medical degree from Seoul National University's College of Medicine. After graduating, he started training to become a practicing doctor. Though his mother wanted him to become a plastic surgeon to make a good living, Lee was already interested in the disease of leprosy. Even as a medical student, Lee was fascinated with leprosy because it was still very feared by the general public and left a lifetime stigma on those who suffered from it. Lee began working in a leper colony in South Korea. He then decided to switch his focus from a private practice to public health despite the fact that he could have made more money in the former. Lee was attracted to the fact that he could positively affect many more lives in public health.
While working with lepers, he met his wife, a Japanese woman named Reiko, who worked on leprosy in South Korea for a Catholic organization. They later had a son named Tad. In addition to his training in leprosy and related public health issues, Lee also gained expertise in tuberculosis and vaccines in Korea.
Lee and his family left South Korea to continue his education in the United States. In 1981, he earned his master's degree in epidemiology and public health from the University of Hawaii's School of Public Health. While a student there, Lee specialized in tropical diseases and also focused on leprosy. After graduation, he began a preventive medicine residency program because he landed a job with WHO. When he took the job, Lee did not intend for it to be long term, though he ended up spending much of the rest of his career there.
In 1983, Lee was hired by WHO as a consultant on the leprosy control team for the South Pacific. During the week, he visited villages and provided his expertise to them. On the weekends, Lee would enjoy his surroundings and snorkel in the ocean. Three years later, Lee was selected by WHO to be their director of disease prevention and control in its Western Pacific Regional office. There, he served as a regional advisor on chronic diseases. As a manager of others, Lee did not micromanage, but encouraged his underlings to push their own good ideas.
Lee's work was noticed by WHO's home office in Geneva, Switzerland. In 1994, he was selected to head the Global Program on Vaccines and Immunizations, and worked out of WHO's Geneva office. He also was the executive secretary of the Children's Vaccine Initiative. While holding this office, Lee had the goal of increasing access to the basic childhood vaccinations for all children. He also wanted to help eradicate worldwide poliomyelitis (polio) and other childhood diseases that were preventable via vaccines.
Lee made forward progress in these matters. One of his accomplishments was discussing with drug companies what it would take for them to begin to develop vaccines specifically for diseases that primarily affected developing nations. Lee was the first to open such discussions. Previously, organizations such as WHO asked the companies to give what drugs they had for free to such programs or made deals that would allow the companies to make a profit. Lee's work in polio eradication had a positive effect in the western Pacific. The numbers of those affected went from 6,000 cases per year in 1990 to nearly none by 2004.
When Norwegian Dr. Gro Brundtland took office as the head of WHO in 1998, she selected Lee to be a senior policy advisor and her special representative. Lee held both posts until 2000, when Brundtland put Lee in charge of WHO's Stop TB program. As the head of the Stop TB program, Lee was charged with ending the spread of tuberculosis across the globe. When he took over, the program was in disarray. There were big organizational problems in the field as well as much infighting. The program also suffered from a lack of consensus on a comprehensive global strategy.
Lee worked to change these problems. First, he made sure that WHO was at the center of the Stop TB program, but did not dominate. He also helped put into more common practice treatments that were proven to save lives from the disease. These treatments included a health care worker directly observing each patient as he or she takes medication daily for half a year. Lee also supervised the creation of an anti-TB partnership which had 250 members, including government health centers, charities, pharmaceutical companies, and others. Despite his improvements, the coverage for eradicating TB did not reach WHO's goals.
In January of 2003, Lee left his post as the head of the Stop TB program when he was unexpectedly elected the director-general of WHO by an executive committee of the UN. Bruntland's five-year term was ending on July 21, and she did not seek a second term. Lee was one of five candidates for the post, and he was regarded as a dark horse as he was the only one without experience as a minister in a government department or head of a UN agency. Lee was also not expected to win because he was not regarded as politically strong enough to work with heads of state and promoting a world agenda. Lee proved his detractors wrong when he was able to convince 53 members of the U.S. Congress to write letters of support for his bid to Colin Powell and Tommy Thompson, two members of President George W. Bush's cabinet. U.S. Representative Sherrod Brown, an Ohio Democrat, told John Donnelly of the Boston Globe, "He's one of those guys who checks his ego at the door and comes in and listens to the people. He puts the information together and acts skillfully as a result." Lee won the post by a narrow margin, marking the first time a native of South Korea headed an agency at the UN.
For his five-year term, Lee set a number of goals. He wanted to improve the international monitoring of infectious diseases to help control outbreaks of diseases such as SARS (severe acute respiratory syndrome). To that end, he sought more funding from certain countries to make disease monitoring better with additional staff and training. The fight against three specific diseases also important to Lee. To work on the spread of the spread of HIV/AIDS, malaria, and tuberculosis in poor countries, he created a team that focused on improving WHO's role in the fight against these diseases, especially in Africa. Lee also wanted a new plan to be developed for fighting AIDS. He was especially sensitive to such public health issues in underprivileged countries whose health care systems were tenuous at best. He believed in programs that benefited poorer populations because vulnerability to disease was linked to the level of poverty. Lee also had concerns that affected both wealthy and poor countries. He pushed for an anti-tobacco treaty so that tobacco products would have a higher tax and fewer people would use them. In addition, Lee wanted to increase the number of smoke-free areas in the world.
Another priority was working on the Millennium Development Goals set out by the UN in 2000. Among them was reducing childhood malnutrition by half as well as reducing to 15 percent the proportion of the world's population that survived on less than one dollar per day by 2015. Lee was quoted by Gretchen Vogel in Science as saying "The problem is that people setting the goals believe the day of reckoning will never come. We cannot behave like that. There are concrete steps to take to achieve the lofty goals. We need to be accountable."
To that end, Lee also wanted to increase the WHO's relevancy in the world. By 2005, he hoped to get 75 percent of WHO's staff (which numbered about 4,000 when he took over) and resources to be working on regional and country levels. To emphasize such field programs, Lee implemented several new programs including one in which a group of epidemiologists were trained to battle outbreaks of disease. It was based on a program run by the U.S. government's Centers for Disease Control and Prevention and to be called the Epidemic Intelligence Service. Some of its workers would go to worldwide schools of public health, and the health departments of developing countries. They would be specially trained to be able to go out in the field to help countries with epidemics like AIDS and Ebola virus outbreaks.
In addition, Lee also wanted to pay attention not just to the policy experts and health officials, but also organizations based in the community that work with the poor. Lee told Lawrence K. Altman and Alison Langley of New York Times, "Curing someone of tuberculosis is a hollow victory if the person goes on to die of an untreated heart condition or of obstetric complications to which an inadequate health system is unable to respond."
While Lee wanted to continue the reforms of his predecessor, some wondered if he had the ability to be creative with WHO's budget of one to two billion dollars to achieve the goals. There was also some controversy over whether his insider status was good or bad for WHO, and if he could use his position to encourage political change. In addition, Lee had to deal with newly emerging issues of public health, including advances in biotechnology and cloning.
Lee's five-year term as director general of WHO was renewable, but he could only head the organization for a total of ten years. Lee's abilities as a manager were seen as a positive step forward for WHO since he listened to others for a collective clear vision. The dean of the Harvard School of Public Health, Barry R. Bloom, told David Brown of the Washington Post, "Whatever his ego may be, it is under control of a greater commitment to do the right thing and to share the credit with everyone who makes things happen. In a bureaucracy, that is tremendously unusual." Lee himself was quoted in the New York Times as saying, "We have to find ways to unite our strengths as a global community to shape a healthier future."
Read more
Latest headlines