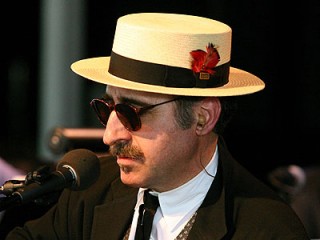 Leon Redbone biography
Date of birth : 1949-08-26
Date of death : -
Birthplace : Canada
Nationality : Canadian
Category : Arts and Entertainment
Last modified : 2012-01-11
Credited as : Singer, Guitarist, his trademark Panama hat, dark sunglasses, and bow tie
Leon Redbone (born Dickran Gobalian) is a singer and guitarist specializing in interpretations of early 20th-century music, including jazz and blues standards and Tin Pan Alley classics. Recognized for his trademark Panama hat, dark sunglasses, and bow tie, Redbone first appeared on stage in Toronto, Canada in the mid-1970s.
When Leon Redbone burst on the scene in the early 1970s, he did so under a shroud of mystery. No one, not even those considered his friends, knew where he was from, how old he was, or his real name. A walking caricature, Redbone shuffled through folk festivals in his rumpled three-piece suits from the Twenties, a wide-brim hat, sunglasses, and thick mustache. The only thing widely known about him was that he was a gifted singer and guitarist with a thorough knowledge of blues, urban folk, jazz, and ragtime. "Mr. Redbone doesn't just dig up the past, he embodies it," wrote New York Times reviewer Stephen Holden in 1981, "by dressing himself in the clothes of an old-time traveling minstrel and singing in a voice that is a stylistic composite of early Southern blues and vaudeville performers." Although today his voice is familiar to many, due to countless television jingles hawking everything from beer to laundry detergent, he remains an enigmatic figure whose musical tastes and presentations have gone unchanged for more than twenty years.
"Sixteen seventy was the year as I recall. July the tenth," Redbone responded when asked by Rolling Stone's Steve Weitzman when he was born. As Weitzman put forth the question in 1974, it seemed obvious he was interviewing a man approaching his 304th birthday. "Of course I don't know," Redbone added. "It's just something I vaguely recall. I can't say for sure." In the same interview, Redbone went on to mention that his father was the Italian violinist/composer Paganini, who died in 1840, and his mother was Swedish soprano Jenny Lind, who died in 1887. Two years earlier when asked to submit biographical information for the 1972 Mariposa Folk Festival magazine, Redbone sent in a crumpled up, old photo of Bob Dylan and a sheet of paper saying, "My name is Blind James Hocum. I come from New Orleans and the reason I wear dark glasses all the time is because I use to lead Blind Blake around the South." Blind Blake, in addition to being a profound influence on Redbone, was a blues and ragtime guitarist who died in the early 30s.
With all the sidestepping about his past, one thing about Redbone is certain; very few people know anything about his life before 1970, and those who do don't talk about it. When asked about Redbone's real name and age, his manager, Beryl Handler, told Weitzman, "You'd have to ask Leon Redbone. To him it's irrelevant." What is known about Redbone is that he suddenly appeared as part of the Toronto folk scene in 1970. Even then he was determined to be a mystery. Tam Kearny, manager of a Toronto club Redbone used to play at, reminisced to Weitzman about Redbone's efforts to retain his enigmatic stature. "We used to give him lifts home after the gigs and he'd have us drop him off in a different part of the city every night," Kearny said. "After we'd drive away we could see him come back out of the apartment building he'd just entered and start walking down the street. And if he took the subway home and people would follow him to try and find out where he lived, he would have to lose them in the subway. But he always did."
While performing at the 1971 Mariposa Folk Festival outside of Toronto, Redbone so impressed musicians David Bromberg and Ramblin' Jack Elliot, that when they returned to New York they began to tell everyone they knew about Redbone's musical breadth and mysterious eccentricities. The next year Bonnie Raitt, John Prine, Maria Muldaur, and Bob Dylan went to the festival to hear Redbone. "He's just amazing," Raitt told Weitzman of Rolling Stone. "He's probably the best combination singer guitarist I've heard in years." Raitt went on to tell her tale of being unable to get past the Redbone persona. "I spent an afternoon with him in a hotel room," Raitt said, "and I was wondering when he was going to become normal. He never did."
Dylan was so taken with Redbone's musical prowess and archival sensibilities he declared that if he had a record label, Redbone would be the first musician he'd sign. True to his word, when Dylan was about to start his own label, Ashes & Sand, in the mid- 70s, Redbone was going to be the initial artist to sign on. Neither event occurred, however. Instead, with the support and championing of so many influential musicians, Redbone eventually signed with Warner Bros. and released his first album, On the Track, in 1975.
On the Track, however, did not make much of an impact on the charts. Amidst the era of Led Zeppelin arena-rock and the infancies of punk and disco, not many people were likely to tune into a gruff voiced crooner slur his way through "Polly Wolly Doodle" and Fats Waller's "Ain't Misbehavin'." After almost a year the album only sold 15,000 copies. Then, in February of 1976, Redbone performed on Saturday Night Live--back in the days when it was called NBC's Saturday Night--and appeared again the following May. After performing before an estimated 18-22 million viewers, Redbone's album began to sell at the rate of 8,000 copies a week. By the end of that year, he sold almost 200,000 albums without any publicity from Warner Bros.
More concerts and albums followed, all consisting of old standards and period pieces. Although the albums sold enough to make the charts--1977's Double Time went gold--and concerts were well attended, critics began to wonder if Redbone was little more than a novelty act. "By treating everything as a joke," wrote the Village Voice's Geoffrey Stokes in 1978, "he avoids the risks involved in making a `sophisticated' audience feel the awkward pain which originally lay behind some of his songs." Stokes went as far as to compare Redbone to a magician who performs the same trick over and over. His faithful interpretations, however, of long forgotten music eased the sting of some critical barbs. Robert Palmer, reviewing a 1977 show for the New York Times accused Redbone of placing the mannerisms of his droll character over the content of the songs. "But ultimately," Palmer conceded, "one forgave him because the music was so much fun."
In 1978 Redbone was asked by Dan Forte of Guitar Player if the image of being a nostalgic novelty bothered him. "Everything bothers me," Redbone responded. "At the same time, nothing bothers me....If something isn't right it's annoying to me--I don't care what it is.... If someone's going to write about something and make a comment on it, it should be right." He added, "I'm basically a very serious fellow, but at the same time I'm very indifferent to a lot of things, and I think a little humor is necessary. Consequently, people tend to pick up and focus on that humor."
In a 1990 interview with Pete Feenstra of England's Folk Roots magazine, Redbone claimed it was the media, not him, who perpetuated his mythic persona. "Well the media painted me as something of a recluse," he said, "somebody who was mysterious. Back in the 70s I was regarded as someone who wouldn't talk much about myself. But the problem was the media always ended up asking me the obvious non-musical questions...about what I wear, and what I like to eat, etc. When it came down to the music itself they weren't particularly interested in music from the 1920s. And so when I wouldn't talk much about things non-musical they put together their own image of me."
Ultimately, Leon said, it's this style of music that should be in the foreground. "I don't regard them as old standard tunes or a nostalgia-type thing," he told Rolling Stone's Weitzman in 1976. "I just happen to do whatever I do simply because that's what I hear." And what Redbone hears, as someone whose musical interests lie between the period of 1830 to 1930, is the common thread of romance. "To me, Blind Lemon Jefferson was the same as Chopin," he explained to Forte. "They were both romantics. A romantic, to me, is someone with a depressed, tormented soul. I would say almost everything I do is romantic." Romantic or not, critics continued to assail Redbone's excessive use of his persona at the expense of the music, although the music itself was held in high regard.
In the early 80s Madison Avenue tapped Redbone's style and the singer found himself crooning about ALL laundry detergent and Budweiser beer, to name a few. As long as the jingle was something he could work with, Redbone said, he had no qualms with doing the commercials. "Most of what I've done so far seems to have worked without too much difficulty," he told Feenstra. "Basically as long as I get to play my music, and as long as it's got the necessary feel then there's not really a problem." The commercials may have, in fact, helped in bringing Redbone back to the public's attention after years of a break in recording. As the nineties began, Redbone was touring and recording only slightly less than during his rise to prominence almost twenty years earlier.
In 1996 ballet choreographer Elliot Feld created "Paper Tiger," a suite of dances set to 11 Leon Redbone songs for his company, Feld Ballets/NY. It was no less than Mikhail Baryshnikov who suggested to Feld that he considered Redbone's music for a dance score, although Feld had long been a fan. "I adore Leon Redbone," he told Elizabeth Zimmer of the Los Angeles Times. "The interpretation of music is very important to me. How Leon sings these songs gives them a world, a universe. He's a tragic clown." For his part, Redbone was delighted by the dance. "I was quite fascinated by the whole thing," he told Zimmer. "I have a visual sense for the music, it has to stay true to a certain sense of period. I rely on a sense of colors and mood in my approach to the arrangement.... I was surprised to see all those things I think of when I put the music together actually represented."
Whether described as a novelty act, cult hero, or, as Stokes dubbed him, "Johnny One-Trick," no description of Redbone includes the fact that he has been a singular force in bringing a style and period of music to many people who may not have heard it otherwise. While critics may argue about the emphasis placed on his persona, his reverence for the music has never been questioned. With a desire to remain true to himself--whoever he is--and Blind Blake, Jelly Roll Morton, Blind Lemon Jefferson, and the rest of his idols, Redbone is more an educator than performer, a professor of one of the richest periods in American music. And although he told Rolling Stone's Weitzman, that regarding himself, "I don't want them to know anything that they don't know already," he'd like more people to know about this music.
Studio Albums:
-On the Track (1975)
-Double Time (1977)
-Champagne Charlie (1978)
-From Branch to Branch (1981)
-Red to Blue (1985)
-Christmas Island (1987)
-No Regrets (1988)
-Sugar (1990)
-Up a Lazy River (1992)
-Whistling in the Wind (1994)
-Any Time (2001)
Read more
Latest headlines