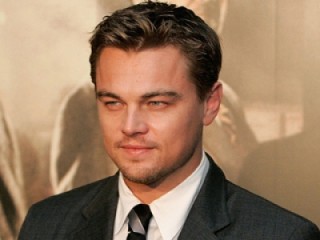 Leonardo DiCaprio biography
Date of birth : 1974-11-11
Date of death : -
Birthplace : Los Angeles, California
Nationality : American
Category : Arts and Entertainment
Last modified : 2010-11-11
Credited as : Hollywood Actor, role in Titanic, Shutter Island, Inception
As the blond, blue-eyed icon for millions of teenage girls and more than a few boys everywhere,
Leonardo DiCaprio
emerged from relative television obscurity to become perhaps the hottest under-30 actor of the 1990s. After leading roles in William Shakespeare's Romeo + Juliet and James Cameron's Titanic, the actor became a phenomenon, spawning legions of websites and an entire industry built around his name.
Born in the town that would later make him famous, DiCaprio came into the world on November 11, 1974, in Hollywood, CA. The son of a German immigrant mother and an underground comic book artist father who separated shortly after his birth, DiCaprio was raised by both of his parents, who encouraged his early interest in acting. At the age of two and a half, the fledgling performer had his first brush with notoriety and workplace ethics when he was kicked off the set of Romper Room for what the show's network deemed "uncontrollable behavior." After this rather inauspicious start to his career, DiCaprio began to hone his skills -- and, presumably, his professional behavior -- with summer courses in performance art while he was in elementary school. He also joined the Mud People, an avant-garde theater group, with which he performed in Los Angeles, earning the title of "The Littlest Mud Person."
In high school, DiCaprio acted in his first real play and began doing commercials, educational films, and the occasional stint on the Saturday morning show The New Lassie. In 1990, after securing his first full-time agent at the age of 15, DiCaprio landed a role as a teenage alcoholic on the daytime drama Santa Barbara. He also continued to appear on other TV shows, such as The Outsiders and Parenthood, and made his film debut in the 1991 horror film Critters 3.
The actor got the first of many big breaks with a recurring role on the weekly sitcom Growing Pains. His portrayal of a homeless boy won him sufficient notice to get him an audition for Michael Caton-Jones' upcoming screen adaptation of Tobias Wolff's This Boy's Life. DiCaprio won the film's title role after beating out 400 other young actors and it proved to be his career breakthrough. The 1993 film, and DiCaprio's performance, won raves and the actor further increased the adulation surrounding him when, later that year, he played Johnny Depp's mentally retarded younger brother in Lasse Hallström's What's Eating Gilbert Grape. DiCaprio won an Oscar nomination for Best Supporting Actor for his performance, and at the tender age of 19, found himself being hailed as an actor to watch.
Subsequent roles in three 1995 films, Sam Raimi's Western The Quick and the Dead; Total Eclipse, in which he played the bisexual poet Rimbaud; and The Basketball Diaries, in which he starred as a struggling junkie, all put the actor in the limelight, but it wasn't until the following year that he became a bona fide star. This transition was made possible by his portrayal of Romeo in the hugely popular William Shakespeare's Romeo + Juliet opposite Claire Danes. The success of the film gave DiCaprio international fame, many lucrative opportunities, and a slew of comparisons to actors such as James Dean.
After starring with Diane Keaton, Meryl Streep, and Robert DeNiro (his father in This Boy's Life) in Marvin's Room (1996), DiCaprio was catapulted into the stratosphere of international fame with his starring role in James Cameron's epic about a big boat and an even bigger piece of ice. Starring opposite Kate Winslet in the 1997 smash Titanic, DiCaprio got to be part of film history, as, in addition to being the highest-grossing movie ever, the film garnered 14 Oscar nominations, winning 11, including Best Picture and Best Director. DiCaprio's much discussed exclusion from the nominations did nothing to hurt his popularity, and somewhat ironically, he next chose to parody his own celebrity with an appearance in Woody Allen's Celebrity (1998) as a badly behaved movie star.
After displaying his nastier side, he won back the hearts of teens everywhere with his title role in the same year's swashbuckler The Man in the Iron Mask. The film allowed him to explore his good and bad side, as well as the perils of bad wigs, playing twins alongside such older and well-respected personages as Jeremy Irons, Gabriel Byrne, John Malkovich, and Gérard Depardieu. Following the commercial success of the film, DiCaprio went in a completely different direction, with a lead role in Danny Boyle's screen adaptation of Alex Garland's novel The Beach. The film met with eager anticipation from its first day of shooting, as Leo fans everywhere waited with baited breath to see what kind of impression their golden child would next make on the film world; unfortunately, the muddled Beach drew neither praise nor box-office success. DiCaprio pushed forward with an appearance in the small independent film Don's Plum (2001). Cast alongside future Spider-Man Tobey Maguire, the film followed a rambling group of young adults as they made their way through city streets in search of a good time. Drawing fairly lukewarm reviews overseas, the obscure film would ultimately be relegated to a curiousity for stateside audiences as DiCaprio and Maguire sued to prevent a U.S. release of the film.
These initial post-Titanic roles, however, could be considered a regrouping before DiCaprio regained his status as one of the rare young actors who could command both commercial and critical success. He began collaborating with another famous Italian-American in the industry, Martin Scorsese, for the epic Gangs of New York (2002), in which DiCaprio was cast as the protagonist in a tale of gangland violence in early America. Long marred in rumors of disagreement between director Scorsese and producer Harvey Weinstein regarding the film's running time, the film that was originally to be released in December of 2001 was finally delivered to audiences in time for the 2002 holiday/Oscar season.
As if Scorsese's massive crime epic wasn't quite enough to give audiences their fill of DiCaprio, moviegoers got yet another dose of the tireless actor with the release of Steven Spielberg's Catch Me if You Can (2002). A decidedly lighthearted effort from the director who had recently labored on such high-concept sci-fi films as A.I. (2001) and Minority Report (2002), Catch Me if You Can told the true-life tale of Frank Abagnale, Jr., a scam artist so effective that he eluded authorities while assuming a number of high-profile false identities and racking-up over $2.5 million in fraudulent checks while jet-setting in twenty-six countries. Where his work in Gangs seemed a bit leaden, his fleet-footed, cocky turn in Catch played better with audiences and critics, although he would not receive Oscar nods for either film.
Two years later he reteamed with Martin Scorsese, earning some of the best reviews of his career as well as an Oscar nomination for Best Actor playing the young Howard Hughes in The Aviator. Tapping into an energy that was lacking in Gangs, DiCaprio and Scorsese would both achieve further heights two years later with The Departed, a crime drama in which DiCaprio played an undercover cop trying to bring down criminal Jack Nicholson. Doubling up during Oscar season yet again, that same year he played the lead in Edward Zwick's The Blood Diamond, as an Afrikaner who must team up with a South African mercenary in order to find a rare gem of great value to both of them. Both films opened to praise and box-office success, resulting in dual Golden Globe nominations for Best Actor -- Drama. Perhaps pushing its luck, Warner Bros. -- the studio behind both films -- campaigned DiCaprio for a lead Oscar in Diamond and a supporting one in Departed; Oscar voters only nominated him for Diamond.
The hybrid-car driving DiCaprio has also been an outspoken proponent of environmentalism, a topic he is so passionate about he was allowed to interview then President Bill Clinton on the issue in a 2000 televised prime-time special.
Though flooded with offers to appear in blockbusters and other mainstream fare, DiCaprio instead embraced roles that featured the complex characters that had come to define his career. In 2000 he starred in The Beach, a dark film about a young backpacker's search for paradise. Two years later he appeared in Martin Scorsese's Gangs of New York, a period piece about gangsters in New York City in the mid-1800s. That year he also starred opposite Tom Hanks as the real-life con artist Frank Abagnale, Jr., in Steven Spielberg's Catch Me If You Can. Reteaming with Scorsese, DiCaprio portrayed a young Howard Hughes in The Aviator (2004), for which he received a best actor Academy Award nomination.
DiCaprio's later works include a third collaboration with Scorsese, The Departed (2006), and Blood Diamond (2006). Both films garnered DiCaprio some of the best reviews of his career, and he earned an Oscar nomination for his portrayal of a diamond smuggler in the latter film. In 2008 he starred as a CIA agent hunting down a terrorist on the run in Ridley Scott's Body of Lies. DiCaprio again paired with Winslet in Revolutionary Road (2008), an adaptation of the novel by Richard Yates that depicts a young couple struggling to reconcile their unconventional aspirations with a stifling existence in 1950s suburbia. For his next film, Scorsese's Shutter Island (2010), DiCaprio portrayed a tormented U.S. marshal sent to a hospital for the criminally insane to investigate the disappearance of an inmate.
Filmography
# 1991 Critters 3
# 1993 This Boy's Life
# 1993 What's Eating Gilbert Grape
# 1994 The Foot Shooting Party
# 1995 The Basketball Diaries
# 1995 The Quick and the Dead
# 1995 Total Eclipse
# 1996 Romeo and Juliet
# 1996 Marvin's Room
# 1997 Titanic
# 1998 The Man in the Iron Mask
# 1998 Celebrity
# 2000 The Beach
# 2002 Gangs of New York
# 2002 Catch Me If You Can
# 2004 The Aviator
# 2006 The Departed
# 2007 The 11th Hour
# 2008 Body of Lies
# 2008 Revolutionary Road
# 2010 Shutter Island
# 2010 Hubble 3D
# 2010 Inception
Television
# 1990 Parenthood
# 1991–2 Growing Pains
Read more
Latest headlines