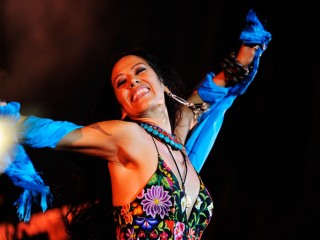 Lila Downs biography
Date of birth : 1968-09-19
Date of death : -
Birthplace : Tlaxiaco, Oaxaca, Mexico
Nationality : Mexican
Category : Arts and Entertainment
Last modified : 2022-03-28
Credited as : singer-songwriter, Caetano Veloso, Border
Lila Downs
is a Mexican-American singer-songwriter. She performs her own compositions as well as tapping into Mexican traditional and popular music. She also incorporates indigenous Mexican influences and has recorded songs in indigenous languages such as Mixtec, Zapotec, Maya, Nahuatl and P'urhépecha.
Those who see borders as stark reminders of insurmountable cultural differences will have to contend with the voice of Lila Downs. The daughter of a Scottish-American father and a musical Mixtec Indian-Mexican mother, she spent her youth moving between the musical traditions of both Mexico and the United States. Embracing a wide array of regional and international styles, she successfully used her back-and-forth, border-hopping youth to create a seamless musical celebration of Latin, Anglo, and Native American traditions and produce a multilingual political statement.
Downs's mix of musical styles is a reflection of her own background. Her father, a Scottish-American filmmaker and art professor at the University of Minnesota, was in Mexico working on a documentary when he met and fell in love with a Mixtec-speaking Indian woman who sang part-time in bars and cabarets. Anna Lila Downs Sánchez was born September 19, 1968, in Tlaxiaco, in the southern Mexican state of Oaxaca. She began her childhood pursuing music in the Sierra Madre mountains in Oaxaca and later in Minnesota and California.
With the encouragement of her mother and father, Downs began singing as early as age five, and by age eight she was singing with mariachi bands. When her parents separated, Downs headed north to live with family in Los Angeles, where she began taking formal voice lessons at age 14. It was there that she finished high school and perfected her English. Moving back to Oaxaca, she continued taking lessons, with an eye toward singing opera. It was there that she began to open her eyes to the discrimination practiced against Native Mexicans and to confront her own Indian ancestry.
Downs again returned to the United States to study voice and anthropology at the University of Minnesota, but later dropped out of school. She traveled the United States as a nomadic, neo-hippie "Deadhead," following the musical group The Grateful Dead, rejecting her own musical ambitions to make and sell jewelry on the street. She later moved back to Oaxaca to rediscover her indigenous roots, and eventually returned to the University of Minnesota in the early 1990s. She graduated with degrees in anthropology and voice and a reborn interest in the music of Mexico and its peoples.
Moving back to Tlaxiaco, where she worked in her mother's auto parts store, Downs began delving into local forms of musical expression. She began touring with a tambora band called the Cadetes de Yodoyuxi. She also sang Zapotec Indian themes with a Guelatao, Oaxaca, band called La Trova Serrana. Soon she was singing in the Oaxaca club scene, where she began collaborating with Paul Cohen, an expatriate American jazz musician and circus clown. Cohen became her partner both personally and professionally, acting as composer, accompanist, and principal arranger of her songs. Together they delved further into Mexico's native folk traditions.
The result of this musical collaboration was a pan-American repertoire that mixed Mexican folk songs with jazz, cumbia, Indian rhythms and African-inspired percussion. The pair would go on to incorporate musical influences from throughout the Americas, collaborating with musicians from Mexico, Canada, Cuba, Peru, Argentina and Paraguay. Downs's mezzo-soprano voice produced songs in a mix of Spanish, English, Maya, Mixtec, Nahuatl and Zapotec, all with a three-octave range.
A reviewer for Rootsworld declared, "She covers the vocal waterfront, from the tense-throated nasal vibrato of Lydia Mendoza and Lucha Reyes to the nueva canción sensibility of Mercedes Sosa, with the chops of Linda Rondstadt, the sassiness and inventive range of Sarah Vaughan, and the sweetness of Tish Hinojosa."
Downs's first forays into recording her own albums were the self-released cassettes Ofrenda in 1994 and Azuláo: En vivo con Lila Downs in 1996. La Sandunga, released on Narada in 1997, represented her commercial debut and was her first musical project to spark interest outside Mexico. In addition to original compositions, the album contained Downs's version of rancheras, boleros, and Oaxacan folk music.
"Right now, I have the capacity to be a cultural thief," she told the Washington Post. "I absorb everything, like a sponge. I don't much like this part of my personality. I feel like a chameleon. And nobody likes a chameleon. I think it started out of a necessity from when I was very young."
The border between Mexico and the United States has been as important in Downs's music as it has been in her real life. Thanks to her American father, the geographical border has been open to her, but she is well aware that poverty forced some of her cousins and other indigenous people to remain in Mexico. Downs once had to translate an English-language letter from American authorities into Mixtec, explaining to a neighbor how her son had died trying to cross into the United States. "This experience ofbeing what she calls an 'oracle of death' formed the basis for Border, an album dedicated to the immigrant experience," stated New Internationalist.
The album Border was released in 2000, and mixed styles such as traditional cumbia with elements of jazz, gospel, and hip-hop. Alongside traditional Indian references was a tribute to American folk icon Woody Guthrie that suggested that the state of Mexican immigrants was not unlike that of migrant workers in Oklahoma decades earlier: "California and Arizona, I make all your crops, And it's north up to Oregon to gather your hops, Dig the beets from your ground, cut the grapes from your vines, To set on your table your light sparkling wine."
"Downs' more serious lyrics aren't particularly original to the social activist community," declared Sojourners. "But what they lack in novelty she makes up for in musical creativity." Besides pointing to the political relevance of the album, Business Mexico also expressed special praise for Downs's singing voice: "Her extremely versatile voice mixes deep baritone in "El Feo" with a great twist of Philip Glass-like minimalism in a few soprano notes. She can scream like Janis Joplin, whisper like Sarah Vaughan, interpret rancheros like Lucha Reyes and then pull off a classical opera."
This vocal virtuosity began to bring Downs greater international acclaim. In 2003 she performed with the legendary Brazilian artist Caetano Veloso at the Academy Awards ceremony. That same year she made a cameo appearance in and sang five songs for the film Frida, a reference not lost on those who have referred to Downs as the "singing Frida Kahlo" because of her resemblance to the late Mexican artist. Her work on the song "Bring it Blue" brought her an Oscar nomination, and she was also nominated that year for the BBC3 Award for World Music. In April of 2004 Downs made the cover of the world music magazine Global Rhythm.
Lila Downs took approximately one and a half to prepare this project came to light on April 2006. This CD draws on Mexican ranchero songs and runs merging sounds as pop, rock, northern, cumbia and hip-hop. This CD contains fifteen tracks of which twelve are the three traditional Mexican repertoire are authored by Lila Downs and includes a version in english of "La cumbia del mole" song that gave fame to Downs and to date is the letter of the artist.
Two years after the release of La Cantina, Lila launched Ojo de Culebra during the month of September 2008 in Europe, North America, Australia and Latin America. The album reached sixth place in sales in Mexico, Colombia, Argentina, Spain and several Latin American countries. The first single is titled "Ojo de Culebra" that was attended by singer spanish singer La Mari by group of flamenco Chambao. The song is a merger of rock cumbia and flamenco with some influences of reggae.This song was the first places in the charts of world music in several countries The second single was "Perro Negro" a merger of rock with ska that was not so international presence as its predecessor, this song with the participation of Rubén Barragan singer of the mexican rock band Café Tacuba."Little man" (released in the U.S. alone) and "Justice" would become the next two singles, the latter with the participation of the spanish singer Enrique Bunbury also participated in this album Raul Midon, Gilberto Gutierrez and Mercedes Sosa.
"Lila Downs y la Misteriosa en Paris - Live à FIP" is the second live album by Downs, released on April 13, 2010 in Spain and France, the album was recorded in 2009 in Radio Francia estudio 105 in Paris, France. The album was released in May 2010 in the United States and in July in most other countries. It received positive feedback from critics. Lila Downs y la Misterosia en Paris was released in Mexico with an edited version of the live concert on DVD and was number one in sales of Gender World Music for the music chain Mixup for three consecutive weeks.Although receiving little promotion the album has received moderate success on the Mexican charts. In a survey of the best albums of 2010 conducted by the Mexican television network Channel 22, this album was ranked number one.
Downs is currently preparing her ninth studio album, Pecados y Milagros (Sins and Miracles), to be released on October 30, 2011. She will be joined on the album by La Mala Rodriguez, Celso Piña and Toto la Momposina. Downs also announced that she is preparing an international tour, the Sins and Miracles Tour, which is expected to start in Mexico.
Here's some selected discography from Lila Downs:
- La Sanduga Narada, 1999
- Tree of Life Narada, 2000
- Border Narada, 2001
- One Blood: Una Sangre Narada, 2004
- La Cantina (Narada 2006)
- The Very Best Of/El Alma de Lila Downs [CD] (EMI 2008)
- Shake Away (Ojo de Culebra) (Manhattan Records 2008)
- Lila Downs y La Misteriosa en Paris – Live À FIP [CD (Harmonia Mundi-Global Village Europe/USA; various labels worldwide), (CD + DVD EMI Mexico) (2010)]
- Pecados y Milagros (2011)
Read more
Latest headlines