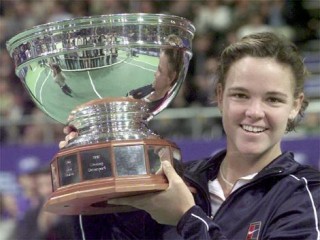 Lindsay Davenport biography
Date of birth : 1976-06-08
Date of death : -
Birthplace : Palos Verdes, California, U.S.
Nationality : American
Category : Sports
Last modified : 2010-07-07
Credited as : Tennis player, ,
Lindsay Davenport
, born June 8, 1976 in Palos Verdes, California is an American tennis player.
At almost six feet, three inches tall, 175 pounds, and wearing a size 10 men's shoe, tennis player Lindsay Davenport towered above competition on the court in more ways than one. Soon after going professional in 1993, just before she began the twelfth grade, she proved to be a formidable competitor, and in 1994 became the first American to enter the top ten since Jennifer Capriati in October of 1990. Among winning a slew of titles over the next few years, another career highlight for Davenport came in 1996, when she captured an Olympic gold medal for singles. Then in late 1998, she nabbed the U.S. Open in September, stealing the number one ranking in women's tennis from Martina Hingis, who had been at the top for 80 weeks. This was Davenport's first victory in a Grand Slam event, which is made up of the Australian, French, and U.S. Opens and Wimbledon. Ultimately, she would have three Grand Slam titles.
Though Hingis quickly regained her top spot, Davenport was the prime shape of her career at that point and was expected to remain a strong opponent. Peter Bodo in Tennis magazine noted that early in her career, "Rather than using her size as an asset, or a means of intimidation, Davenport tended to cower on the court like a gentle giant." But once she shed some excess weight and began tapping into her size as a source of power, Davenport measured up to her potential. As Sally Jenkins observed in Women's Sports and Fitness, "For most of her life, Davenport has been underestimated because of her size. It has obscured the far more significant fact that right here, all along, the most important American-born women's tennis player of a generation has been developing before our eyes."
Davenport was born on June 8, 1976, in Palos Verdes, California. She grew up there until the family moved to Murrieta, California, just before her junior year of high school. Her parents were both athletic-her father, Wink, played on the 1968 U.S. Olympic volleyball team, and her mother, Ann, serves on the board of the U.S. Volleyball Association. With Wink measuring six feet, eight inches tall and Ann standing five feet, ten inches, they passed along their tall genes to their daughter. In addition, both of Davenport's sisters, Leiann and Shannon, played volleyball in college. To distinguish herself from her sister Shannon, with whom she was quite competitive, her father suggested she try a different sport. Noticed by a U.S. Tennis Association player development representative, Davenport joined the organization at age 12, which groomed her and helped her along. At age 15 she won both singles and doubles championships at the 18-and-under Nationals in 1991 and then the Junior U.S. Open in 1992.
Her first year on the pro tour, 1993, Davenport went to Australia in January to play Brisbane and the Australian Open. Unsure that she wanted to turn pro at that time, though, she retained her amateur ranking until just before her next tournament in Indian Wells, California. Her first paycheck, which she earned after losing her first match to seventh-ranked Mary Joe Fernandez, was for $8,200. Following that, Davenport stunned fifth-ranked Gabriela Sabatini in Florida, and the media turned their attention to her. Davenport remarked in Tennis, "Learning to deal with the media was a big part of my first year. I'm very outgoing and talkative, but I'm also private in the sense that I don't usually reveal a lot about myself. I had to learn to open up a little bit to the press and talk more about what I felt. It was hard."
Davenport embarked on the whirlwind life of a pro tennis player, participating around Europe, at the French Open, Wimbledon, and then in the U.S. Open. She then began her senior year of high school, which was interrupted with matches in Japan, as well as in the States. In 1993, she won her first major-tour event at the European Open and saw her ranking vault to number 25. Despite her new high profile, Davenport commented that she maintained a relatively average teenage life, and that her parents, unlike many involved in their children's sports or entertainment careers, never pressured her. "They went along trying to keep things normal," she noted to Greg Logan in a 1994 article in Newsday. "As soon as I turned pro, they turned more away from tennis. In the last couple months or so, I've really been coming up a lot and have become more visible. They've been great. They've backed away even more, which is rare."
In 1994, Davenport became the first American player to be ranked in the world top ten since Jennifer Capriati reached that height in October of 1990. Though she did not have a stellar year, losing in the quarterfinals in Australia and at Wimbledon, she did repeat her victory at the European Open and was still considered a quality player. Meanwhile, Davenport balanced her life nicely, graduating from Murrieta Valley High School in June of 1994 with a 3.57 grade point average. However, the media, once touting her as the Great American Hope for tennis, began turning on her. "I freaked out when I read some of the things written about me," Davenport related to Peter Bodo in Tennis. "Like, that I was too fat. And too slow. That I didn't belong in the top 10. Some people made it sound like all I did was sit around all day eating cheeseburgers. I hated it so much that I wanted to quit playing tennis." And she was indeed self-conscious of her height. "I didn't have confidence. I was hunched over and real embarrassed, and I didn't want to be in the limelight," she related to S. L. Price in Sports Illustrated.
The following year, 1995, Davenport helped lead the United States to the U.S. Federation Cup 3-2 semifinal victory over France, winning doubles (with Gigi Fernandez) and singles matches against Mary Pierce and Julie Halard. However, she did not make the top ten and suffered injuries and pneumonia. Some observers mused that Davenport was not self-confident or motivated enough to be a star player, and continued to harp on her weight-she had gone up to about 200 pounds, and other players were even calling her names like "Dump Truck" behind her back. In addition, her parents started divorce proceedings in 1995 after being married 28 years, which did not help Davenport's concentration. "I was just blown apart," she confided to Peter Bodo in Tennis. "The problems even drove a wedge between my older sisters and me. Everybody takes sides. You can't help it."
Deciding to buckle down and give it her all despite her family situation, Davenport hired a good friend, Robert Van't Hof, to become her full-time coach. He motivated to lose weight and stick to a well-rounded fitness regime, complemented by drills devised by trainer Don Chu, who also concentrated on giving her a powerful serve. Springing back in 1996, Davenport captured a gold medal at the summer Olympics in Atlanta, Georgia, after defeating Spain's Arantxa Sanchez Vicario. "This is the most proud I've ever been in my life," Davenport announced, reported Bob Gillespie of the Knight-Ridder/Tribune News Service. "This means everything to me. No matter what happens in my life, I'll always be a gold medal winner." Right after the Olympics, at the Acura Classic in August of 1996, Davenport became one of just four players to beat Steffi Graf that year; it was her first win over a number one player. In addition to capturing that title, she helped the U.S. take the Federation Cup finals in July, sweeping her singles matches and winning doubles with partner Linda Wild. She also won the Strasbourg International and finished the season ranked ninth. Tennis magazine rated her its most improved tennis pro of 1996.
Davenport's improved serve became an important weapon for her. She won six titles in 1997, in Amelia Island, Atlanta, Chicago, Indian Wells, and Oklahoma City, and the European Open in Zurich, Switzerland, and became the top-ranked American-born player at number three. Her ranking had climbed to number two when she reached the semifinals of the Australian and French Opens, but fell after a quarterfinals loss to Nathalie Tauziat at Wimbledon. However, that year she beat Mary Pierce in the Bausch & Lomb championships, and her weight dropped to about 175. Her career exploded in 1998. She took titles at the Bank of the West Classic, Toshiba Tennis Classic, Acura Classic, Pan Pacific, and European Championships, and with partner Natasha Zvereva, was the runner-up in the doubles competition at all four Grand Slam events. She also took the Chase Championship doubles title, with three different partners, for the third year in a row.
The crowning glory, though, was Davenport's first Grand Slam victory at the 1998 U.S. Open. With her defeat of top-ranked Martina Hingis (6-3, 7-5) in September, she became the first American-born woman to win a U.S. Open since Chris Evert in 1982, and on October 12, became the first to be ranked number one since Evert in 1985. The victory came with a record purse of $700,000. "A lot of people were saying for a lot of years, especially about women's tennis in America, that there's no future, no hope. I was able to, in my eyes, act like a champion and win the title," Davenport commented to Robin Finn in the New York Times. She also told Lisa Dillman in the Los Angeles Times, "It's a great feeling. I'm going to have to play well to stay there [at number one]. I think it's going to go back and forth."
Davenport bought a four-bedroom home in Newport Beach, California, in December of 1996. Her mother moved in with her and assisted her with bookkeeping matters, contracts, decorating, domestic duties, and the like, freeing up Davenport to dedicate herself solely to tennis. A bright woman with an upbeat personality, Davenport enjoys the typical pastimes of any young person, such as attending movies and concerts. Though Hingis did end up swiping the number one ranking back from her in early 1999, Davenport is confident that she is on a roll. "It's been exciting to see myself improve after the last couple of years," she told Finn in the New York Times after winning the U.S. Open, "and I don't think necessarily I'm done."
In the summer of 1999, Davenport prevailed at Wimbledon, offsetting a history of struggles on its grass court. "When I won I was almost more numb than in shock," she told CNN-Sports Illustrated online after beating Graf 6-4, 7-5. "I never thought that it would be my Wimbledon because I had struggled on this surface before." She also won the doubles title there; she and Corina Morariu toppled Mariaan De Swardt and Elena Tatarkova, 6-4, 6-4.
Davenport added another Grand Slam victory in January of 2000, when she beat No. 1 Hingis 6-1, 7-5 to win the Australian Open. Davenport broke Hingis's 27-match, three-title win streak at the Open and became the first American to win there since Chris Evert in 1984.
After injuring her right knee at the season-ending championships in 2001, Davenport underwent arthroscopic surgery in January, 2002, to correct a full-thickness cartilage defect. She missed the first half of the year. In the U.S. Open, she lost in the semifinals to eventual champion Serena Williams.
In the 2003 Australian Open, Davenport struggled at times but reached the fourth round before losing a three-hour, 13-minute match to Justine Henin-Hardenne of Belgium. Henin-Hardenne overcame leg cramps to win the marathon match. ESPN commentator and former star player Pam Shriver saw Davenport improve during the tournament. "It was great to see Davenport's attitude adjustment from her second-round match where she was way too negative," Shriver wrote on the ESPN.com web site.
In October of 2005, Davenport won her 50th pro tournament, defeating Amelie Mauresmo at the Porsche Grand Prix final in Filderstadt, Germany. She had a difficult year on the court in 2006. She spent five months not competing, recovering from a concussion and two bulging discs in her back. When she played her 16th straight U.S. Open in September, Justine Henin-Hardenne eliminated her in the quarterfinals.
However, another break from competition proved much more personally rewarding. She and her husband, Jonathan Leach, an investment banker she married in 2003, welcomed their first child, Jagger, in June of 2007. She decided to mount a comeback only three months later, and began bringing her baby and his nanny with her to tournaments. She returned to singles competition at a September tournament in Bali, Indonesia. Over the next four months, she won 19 matches and lost one.
When she returned to Grand Slam tennis in January of 2008 at the Australian Open, however, Maria Sharapova eliminated her in the second round. "I just really felt in this tournament I wasn't really timing or attacking the ball as well as I need to do," she said, as quoted by Christopher Clarey of the New York Times. "But I have to look big picture at this point in my career, and so far it's gone pretty well in the last few months." She was said to be aiming to compete in the Olympics for the third time in August of 2008, but she withdrew because of a back injury. In 2009 she planned to compete at the Australian Open, but withdrew when she became pregnant; she gave birth to a daughter on June 30, 2009.
PERSONAL INFORMATION
Born June 8, 1976, in Palos Verdes, CA; daughter of Wink (executive at an engineering firm) and Ann Davenport. Married Jonathan Leach, 2003; one son, Jagger; one daughter.
AWARDS
1991, Singles and doubles champion at 18-and-under nationals; 1992, U.S. Junior Open champion; 1993, Upsets No. 5 Gabriela Sabatini at Delray Beach, Florida, one week after turning pro; 1994, First American woman to reach top ten in four years; 1995, Wins two singles matches and teams with Gigi Fernandez for doubles victory in U.S. 3-2 victory over France in Federation Cup semifinal; 1996, Wins Olympic singles gold medal at Atlanta Summer Games; 1996, Helps U.S. win Federation Cup championship; 1998, U.S. Open champion; first Grand Slam victory and first American-born U.S. Open champion in 16 years; 1998-99, Ranked No. 1 during parts of both years; 1999, Wimbledon champion; 2000, Australian Open champion; 2000, Wins ESPY award from cable network ESPN for outstanding women's tennis performer; voted by journalists at the 2000 French Open as the winner of the Prix Orange, which goes to the player who has shone in the tennis world the international essence of fairness, kindness, availability, and friendliness; re-elected to WTA player council in 2002; joint winner of the 2004 Women's Ambassador for Tennis award; 2007 WTA Comeback Player of the Year.
CAREER
Professional tennis player, 1993-. Won singles and doubles at National 18's, 1991; won singles and doubles at Junior U.S. Open, 1992; won European Open, 1993, 1994; won Acura Classic and Strasbourg International, 1996; won Chase Championship doubles, 1996, 1997, 1998; won six titles, including European Open, 1997; won the Bank of the West Classic, Toshiba Tennis Classic, Acura Classic, Pan Pacific, European Championships, and U.S. Open, 1998; won Wimbledon, 1999; won Australian Open, 2000.
Read more
Latest headlines