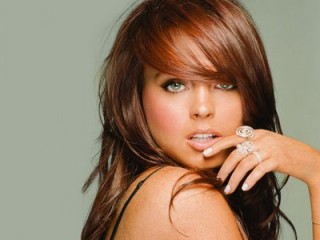 Lindsay Lohan biography
Date of birth : 1986-07-02
Date of death : -
Birthplace : New York City, New York, U.S.
Nationality : American
Category : Arts and Entertainment
Last modified : 2010-07-07
Credited as : Actress and model, pop singer-songwriter, Freak Friday
Lindsay Lohan
, born July 2, 1986 is an American actress, model and pop singer-songwriter. She began her career as a child fashion model before making her motion picture debut in Disney's 1998 remake of The Parent Trap at the age of 11.
As with all long-running businesses, the selling of films has become ever-more sophisticated over the years. Audiences are now broken down into clear demographics and movies are conceived and pruned to target them. Perhaps the biggest market to have been recognised and tapped by major studios in recent times is the tweenie girl market, females who are still children but moving quickly towards maturity. Naturally, new stars were required to front the films and, predictably, there were many, many applicants. Many applicants but only two clear winners - Lindsay Lohan and Hilary Duff. Both would score smash hits onscreen, and both would engage in parallel careers in music. But it was Lohan, perhaps because of an already impressively lengthy CV, who'd come out on top. In 2004, Rob Friedman, Vice President of Paramount would say of her "Right now she's the reigning teen queen. Lindsay is identifiable. She's not an unreal personality. Audiences can relate to her". And how.
Freaky Friday
was a massive hit, she then headlined another in Mean Girls, then shared top billing with the world's most famous VW Beetle in Herbie: Fully Loaded. And she was smart about it, too. Though her stock had risen to the point where she was paid $7.5 million for playing the lead in the light comedy Just My Luck, she also cleverly sought out adult movie-making experience by taking a bit-part as Meryl Streep's daughter in Robert Altman's A Prairie Home Companion. The reigning teen queen was clearly preparing herself for the long haul.
On July 2, 1986,
Lindsay Dee Lohan
(before she changed her middle name to Morgan) was born in New York, New York to parents Michael and Dina Lohan. At the early age of three years, Lindsay was spotted by an agent of the Ford Modeling Agency where she signed on to be their first red-headed child model. She was on her way to stardom. As a child model, she mostly did print ads based around her hometown in Long Island and New York City. The longest journeys always begin with smallest steps. As Lindsay got older she began to broaden her range by doing television commercials. Her face graced the… More small screen in commercials for some very recognizable companies such as The Gap, Wendy's, and along side Bill Cosby in a Jello commercial. Slowly but surely the world was getting to know her.
Then along came the role of Alexandra (Alli) Fowler on the daytime soap, Another World. This was her first exposure to acting, and she loved it. The role also showcased her talent nationwide and allowed more and more people to appreciate her abilities. Lindsay spent seven months (December 1996 through July 1997) as Alli, performing a few days a week while going to school. As she mastered the acting trade, Lindsay knew that she was ready for bigger and better roles. Disney, the name is synonymous with traditional family entertainment. They were looking for someone to fill the rather large shoes of Heyley Mills in a remake of the children's c The Parent Trap. She sent in her head shot. Waited. She auditioned. Waited. Got the call back. Auditioned, along with seven other girls, once more for the director. Then came the phone call, which would change her life. She got the part. Not just a role, but the role of the seperated from birth twins, Annie James and Hallie Parker. Among such acting heavyweights, Dennis Quaid and Natascha Richardson, Lindsay honed her talent. She displayed her abilities each day on the set amazing her costars almost constantly. And she loved it. July 29, 1998 The Parent Trap opens nationwide and earns Lindsay raves. Her star was now shining brightly, yet she chose to be a little girl. Skipping out on the role of Penny in Inspector Gadget, Lindsay goes home to be a regular girl. She does a few modeling shoots for Calvin Klien, Abercrombie & Fitch, and DKNY, but still goes to school and hangs with her friends. During the summer of 2000 Lindsay stared in another Disney film entitled "Life ". Although it was a smaller role, she still enthralled her fans who anticipated seeing her in that role.
Later, Lindsay got to star on the television series "Bette". Her role was playing Bette Midler's daughter, Rose. Lindsay's fans anticipated her to charm the rest of the world, but unfortunately the show was to be filmed in Los Angeles, California and she could not make it and go to school at the same time. So sadly Lindsay chose to back out of the role. Although a setback in her career, she still bounced back and amazed us in later years. Two years after filming "Life ", in 2002, Lindsay landed another role in a Disney movie. Lindsay got the part of Lexy Golding in the Disney television movie "Get A Clue".
After five years of being away from the large screen Lindsay was ready to return. This time in 2003 Lindsay was going to be staring along side veteran actress, Jamie-Lee Curtis in Disney's movie "Freak Friday". When the movie was released her fans were overwhelmed and the ratings at the box office were sky high. Now a year later Lindsay will star as a teenage drama queen in the movie "Confessions of a Teenage Drama-Queen". In the movie Lindsay portrays a teenager with a open mind and a big dream. Her dream is to become performer and throughout the movie her character gets her chance to become a famous and live out her dream. Lindsay also stars in "Mean Girls". In the movie she plays Cady Heron, who just moved to america from Africa where she was home schooled. She goes to this school where she becomes friends with an A-list girl clique called the plastics. She is a hit with them until she falls for Aaron Samuels, the ex-boyfriend of lead Plastic Regina George. She decides she must conquer the Plastics, and take them down. With all of this work and such stort amounts of time, Lindsay has little time to enjoy being a teenager. But, when she does get free time, Lindsay enjoys going to parties with Paris Hilton. She lives with Disney Channel Star Raven-Symone in LA, while her family is in New York.
Lohan gained further fame between 2003 and 2005 with leading roles in the films Freaky Friday, Mean Girls and Herbie: Fully Loaded, subsequently appearing in independent films including Robert Altman's A Prairie Home Companion and Emilio Estevez's Bobby. Her career was interrupted in 2007 as two DUI incidents and three visits to rehabilitation facilities led to several lost movie deals. Resuming her career, she guest starred in the TV series Ugly Betty in 2008, starred in the 2009 comedy Labor Pains, and will appear in Robert Rodriguez's Machete in 2010.
Personal life
During the 2008 US presidential campaign, Lohan offered her services to Barack Obama's election effort, including hosting events aimed at young voters; but her offer was declined. An unnamed source within the Obama campaign told the Chicago Sun-Times that Lohan was "not exactly the kind of high-profile star who would be a positive for us." She nonetheless posted MySpace blogs with her opinions on the election, urging voters to support Obama, criticizing media coverage of vice-presidential candidate Sarah Palin, and describing Palin as homophobic, anti-abortion and anti-environmentalist. During the Iraq War in 2006, Lohan expressed an interest in going to Iraq on a USO tour with Hillary Clinton. Back in 2004, Lohan stated that she did not like to talk about politics in order to avoid alienating any part of her fanbase.
Lohan has featured in various men's magazines. She was voted tenth on the list of "100 Sexiest Women" by readers of FHM in 2005, while Maxim placed her third on its" Hot 100" list in 2006 and first in 2007. In a poll by The Daily Mirror in February 2010, Lohan was voted tenth on a list of "sexiest redheads ever".
Lohan has a long-lasting fascination with Marilyn Monroe going back to when she saw Niagara during the The Parent Trap shoot. In the 2008 Spring Fashion edition of New York magazine, Lohan re-created Monroe's final photo shoot, known as The Last Sitting, including nudity, saying that the photo shoot was "an honor". The New York Times critic Ginia Bellafante found it disturbing, saying "the pictures ask viewers to engage in a kind of mock necrophilia. ... At 21 [Lohan] seems even older than Monroe, who was 36 in the originals ... [and] the photographs bear none of Monroe's fragility".
In 2008, Lohan launched a clothes line, whose name 6126 was designed to represent Monroe's birth date (June 1, 1926). The line started with leggings, before expanding to a full collection, covering 280 pieces as of April 2010. In April 2009, Lohan released a self-tanning spray under the brand name Sevin Nyne in collaboration with Sephora. In September 2009, Lohan became an artistic adviser for the French fashion house Emanuel Ungaro; a collection by designer Estrella Archs with Lohan as adviser was presented in October, receiving a "disastrous" reception, according to Entertainment Weekly and New York. Lohan left the company in March 2010.
Having undergone rehabilitation for drug and alcohol addiction, Lohan, who has suffered from asthma since the age of two, is a smoker. Following a DUI conviction in 2007, Lohan was ordered to wear an alcohol monitoring SCRAM anklet and to attend an alcohol awareness course as conditions of her probation. She gave an interview to The Sydney Morning Herald in June 2010, telling the paper "I'm still young and I'm still learning but that doesn't mean that what they say is true, that I'm getting messed up and all this crazy stuff and that I'm constantly partying or whatever."
In the aftermath of the Haiti earthquake in March 2010, Lohan gave fund-raising assistance to the British Red Cross to provide aid for the country. That same month, Lohan commenced legal proceedings in which she sought $100 million from financial services company E*Trade for a television advertisement that Lohan claimed invoked her likeness without her permission. She appeared on British comedy chat show Alan Carr: Chatty Man on March 11, 2010, during which she spoke about her fashion work and her fascination with Marilyn Monroe, and refused to answer questions from host Alan Carr about her sexuality.
Read more
Lindsay Lohan Picture Gallery
Latest headlines