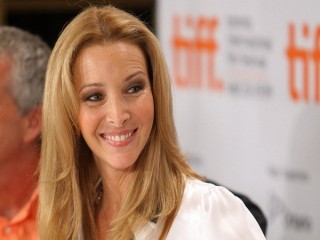 Lisa Kudrow biography
Date of birth : 1963-07-30
Date of death : -
Birthplace : Encino, California, USA
Nationality : American
Category : Arts and Entertainment
Last modified : 2010-08-03
Credited as : Actress, role in the Tv sitcom Friends,
Lisa Kudrow
, born
Lisa Diane Marie Kudrow
on July 30, 1963 in Encino, California, USA is an American actress that has often played ditzy blondes, the most notable being massage therapist Phoebe on the TV superhit
Friends (1994-2004)
. (She was one of the show's troika of females, along with Courteney Cox and Jennifer Aniston.)
Though she made her name portraying slightly ditsy, even flaky characters on the small screen, actress Lisa Kudrow also proved to be an adept performer in both independent and studio films. After several years as a guest star on several popular shows, Kudrow skyrocketed to superstardom alongside her five cast mates on the immensely successful sitcom "Friends" (NBC, 1994-2004). For ten seasons, fans of the show delighted in Kudrow's deft portrayal of the naïve, but strangely wise Phoebe Buffay, a masseuse and struggling folk singer who seemingly once lived an impossibly storied life, complete with being homeless throughout her entire adolescence. But unlike her five co-stars, Kudrow actively sought to subvert the image she created onscreen by tackling a diverse range of characters in features, including an excellent performance as a sexually repressed spinster in "The Opposite of Sex" (1998), though she sometimes catered to that ditzy image, as she did in the popular comedy, "Romy and Michelle's High School Reunion" (1997). Nonetheless, Kudrow managed to break away from her Phoebe persona following the show's exit in 2004, though panned series like "The Comeback" (HBO, 2005) failed to add to her popularity.
Born on July 30, 1963 in Encino, CA, Kudrow was raised in the San Fernando Valley by her father, Lee, a renowned physician who specialized in headaches, and her mother, Nedra, a travel agent. After attending Portola Middle School in nearby Tarzana, Kudrow went to Taft High School in Woodland Hills, where she played varsity tennis. Her tennis skills were put to good use on the varsity team at Vassar College, where she majored in biology with the intention of entering the medical research field and working for her father. Though she had her path set before her, Kudrow felt the tug of wanting to perform. Following a brief stint where she performed headache research with her father, Kudrow finally succumbed to the impulse to be an actress. Her brother, David, who himself became a neurologist, was childhood friends with comedian John Lovitz. It was Lovitz who encouraged his friend's sister to join The Groundlings, the famed improv group that launched the careers of numerous comedians. While she failed to make the cut on her first try, Kudrow was impressive enough to be referred to acting teacher Christine Szigeti.
Eventually, Kudrow was accepted as a member of the troupe where she honed her impeccable deadpan delivery and comic timing, while beginning to develop the ditzy characters for which she later became acclaimed. By 1989, Kudrow had made inroads as a guest actor on television sitcoms, beginning with an appearance as a kooky acting classmate of bartender Woody (Woody Harrelson) in an episode of "Cheers" (NBC, 1982-1993). She landed other roles on prominent shows, including the final episode of "Newhart" (CBS, 1982-1990) and "Coach" (ABC, 1989-1997). She then made her feature film debut in the Sandra Locke-directed thriller, "Impulse" (1990), though her performance never made the final cut. Her first released feature was the forgettable thriller, "The Unborn" (1991), followed by the softcore thriller "In the Heat of Passion" (1991). Following a recurring role on the short-lived sitcom, "Bob" (CBS, 1992-93), Kudrow established her television presence as the bumbling, forgetful waitress Ursula Buffay on "Mad About You" (NBC, 1992-99). Meanwhile, she flubbed her chance to play radio producer Roz Doyle on "Frasier" (NBC, 1993-2004), a role eventually landed by Peri Gilpin.
Kudrow bounced back after being referred for an audition and landing the star-making part of Phoebe Buffay, the loopy would-be folksinger and twin sister to her "Mad About You" character, Ursula, on "Friends," one of the most watched and loved sitcoms of all time. Over the course of the show's 10-year run, Kudrow's character – naïve and innocent on one hand; promiscuous and nonchalant on the other – was the most eccentric and street smart of the six friends, which included an obsessive-compulsive chef (Courtney Cox), her formerly popular best friend from high school (Jennifer Aniston), a dim struggling actor (Matt LeBlanc), a sharp-tongued corporate manager (Matthew Perry) and a whiney paleontologist (David Schwimmer). Though she worked as a masseuse, Phoebe was a struggling folk singer whose awful, but hysterical song list included the infamous "Smelly Cat," an ode to a foul-smelling feline, which Kudrow later likened to a Chrissie Hynde song. In fact, "Smelly Cat" proved so popular that it was used in an actual cat litter commercial. Also of note, Kudrow would occasionally appear on "Friends" as her twin sister, Ursula, from "Mad About You," using split screens and body doubles shot from behind. Meanwhile, she earned her share of critical kudos over the year, receiving an Emmy Award for Outstanding Supporting Actress in a Comedy Series in 1998, while earning nominations in the same category in 1995, 1997, 1999, 2000 and 2001.
Throughout her run on "Friends," Kudrow continued to work outside of the show, often finding feature roles that subverted the ditzy blonde image she created with Phoebe. She landed her first important film role after her small screen success playing a pushy blind date to Albert Brooks in "Mother" (1996). The following year, "Clockwatchers" (1997) premiered at the Sundance Film Festival, which cast her as a promiscuous aspiring thespian working as an office temp alongside Parker Posey, Alanna Urbach and Toni Collette. Reprising a favorite stage role, she undertook a variation of her television persona as half of a pair of underachievers who attend a class reunion in the uneven comedy "Romy and Michelle's High School Reunion" (1997), co-starring Mira Sorvino. In 1998, Kudrow had one of her best roles to date as the sexually repressed spinster, Lucia, in the black comedy "The Opposite of Sex." Downplaying her looks by wearing little make-up and unflattering hairstyles, while adopting a reserved tone, she offered a well-rounded portrait of a woman stung by life's disappointments and nearly stole the film from its superlative cast that included Christina Ricci, Martin Donovan, Lyle Lovett and Ivan Sergei.
Continuing her hot streak, Kudrow was tapped to play the wife of psychiatrist (Billy Crystal) treating a mobster (Robert De Niro) in the comedy "Analyze This" (1999), a role she reprised for the sequel, "Analyze That" (2002). Her subsequent film roles in "Hanging Up" (2000) and "Lucky Numbers" (2000), however, were both unworthy of her talents, while her turn as a woman who suffers a nervous breakdown and becomes convinced she's a dog in "Bark" (2002) failed to win many admirers. Meanwhile, the long-shelved "Marci X" (2003), a critically reviled comedy that barely saw the light of day, cast Kudrow as the spoiled daughter of a record industry titan (Richard Benjamin) who takes over his hip-hop record label and strikes up an unlikely romance with a controversial rapper (Damon Wayans). But as she headed into the much ballyhooed final season of her sitcom, Kudrow demonstrated her potent dramatic chops when she appeared in the dizzying, but ultimately uneven "Wonderland" (2003), playing Sharon Holmes, the estranged wife of porn legend John Holmes (Val Kilmer), who became embroiled in the real-life 1981 drug murders on Los Angeles' Wonderland Avenue.
As "Friends" wound down to its final episode in 2004, Kudrow was perhaps the cast member best positioned to continue her career on the big screen in roles both comedic and dramatic. She was also – apart from perhaps David Schwimmer – the one cast member most eager to put her "Friends" days behind her. To the comedic end, she inked a pact with HBO and teamed with "Sex in the City" writer-producer Michael Patrick King to co-create "The Comeback" (2005), a single camera, 30-minute comedy that cast her as Valerie Cherish, a neurotic, fading one-time sitcom star desperately hoping to revive her career with a new series, while also having her return to primetime documented by a reality television crew. Kudrow multi-tasked as the show's star, co-writer and producer, and provided a knowing glimpse into fragile Hollywood ego. Though the series certainly had its share of admirers, Kudrow's characterization of a self-centered and desperate person trying to reclaim her lost stardom was considered by many to be more painful than funny. The show was canceled after one lackluster season, though Kudrow did earn an Emmy nod for Outstanding Lead Actress in a Comedy Series.
On the dramatic – or at least seriocomic – side, Kudrow reunited with writer-director Donald Roos for the ensemble film "Happy Endings" (2005) to play a part specifically written for her: Mamie, a tightly controlled woman whose teen dalliance with her step-brother resulted in her giving away her child, only to be confronted by a young wannabe filmmaker who claims to know her son's identity and is drawn into a elaborate scheme to obtain the information. Exploring her character's sometimes absurd course of self-discovery, Kudrow delivered another sharply etched performance. After a brief return to the small screen to voice a character on the animated series "American Dad" (Fox, 2005- ), Kudrow made a foray into romantic drama territory, playing the best friend of a young grieving widow in "P.S. I Love You" (2007), then went under the radar to play a housewife struggling to care for her two children when her slacker husband is shipped off to Iraq with his National Guard unit in "Kabluey" (2008). Kudrow went for lighter fare with "Hotel for Dogs" (2009), a family comedy about to mischievous orphans who hide dozens of stray dogs in an abandoned hotel.
Extra
* 1988 Made L.A. stage debut in the comedy Ladies Room
* 1989 Episodic TV debut, Cheers (NBC), playing the girlfriend of bartender Woody Boyd (Woody Harrelson)
* 1989 Joined the improv group The Groundlings
* 1989 Reprised her role from the play Ladies Room for the pilot Just Temporary ; series not picked up by NBC
* 1990 Filmed role in Sandra Locke s Impulse ; part was cut out of released feature
* 1991 Feature acting debut, The Unborn
* 1991 TV-movie debut, Murder in High Places (NBC)
* 1992 Joined the cast of Mad About You (NBC) in the recurring role of ditzy waitress Ursula (this character would later appear in Friends as Phoebe s twin sister)
* 1993 Cast in a recurring role on the short-lived CBS sitcom Bob
* 1994 TV series debut as a regular in the role of Phoebe Buffay, twin of Ursula, on the NBC sitcom Friends ; earned Emmy (1995, 1997, 1999, 2000, 2001), Golden Globe (1996) and SAG (1996, 1999, 2004) nominations for Supporting Actress
* 1996 Played the blind date of Albert Brooks in Mother
* 1997 Played first screen lead, opposite Mira Sorvino in Romy and Michelle s High School Reunion
* 1998 Appeared alongside Parker Posey and Toni Collette in the ensemble comedy-drama Clockwatchers
* 1998 Earned rave reviews for her supporting turn as the repressed schoolteacher Lucia in The Opposite of Sex
* 1998 Voiced the character of Aphrodite in the animated series Hercules
* 1999 Co-starred with Robert De Niro and Billy Crystal in Analyze This
* 2000 Cast opposite John Travolta in Lucky Numbers ; directed by Nora Ephron
* 2000 Played a ditsy soap opera actress and the youngest of three sisters in Hanging Up co-starring Meg Ryan and Diane Keaton (who also directed); film was co-written by Nora and Delia Ephron
* 2002 Had title role as a spoiled young woman forced to assume control of a rap/hip-hop record label in Marci X
* 2002 Played a woman who suffers a nervous breakdown and begins to think she s a dog in Bark ; screened at Sundance
* 2002 Reprised role as Billy Crystal s wife in Analyze That
* 2004 With writer-actor Dan Bucatinsky, signed a two-year development deal with Warner Bros
* 2005 Co-starred in Happy Endings, a comedic drama about the ups and downs of relationships
* 2005 Co-wrote with Michael Patrick King and starred in the comedy series Comeback (HBO); show suffered low ratings and was not renewed for a second season; earned an Emmy nomination for Best Actress
* 2007 Played a supporting role, opposite Hillary Swank in P.S. I Love You
* 2008 Co-starred in the independent comedy film, Kabluey
* 2009 Co-starred in Hotel for Dogs, a film adaptation of the Lois Duncan novel of the same name
* After college, at the suggestion of her brother s friend Jon Lovitz, auditioned for The Groundlings, an improv troupe; was not accepted, but was referred to acting teacher Cynthia Szigeti
* Originally hired for the role of Roz in Frasier (NBC); fired during rehearsals for the pilot
* Raised in the San Fernando Valley in California
Read more
Latest headlines