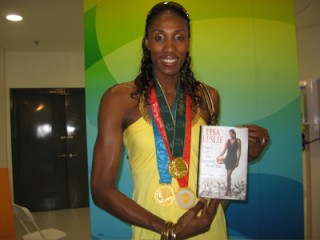 Lisa Leslie biography
Date of birth : 1972-07-07
Date of death : -
Birthplace : Los Angeles, California, U.S.
Nationality : American
Category : Sports
Last modified : 2010-07-06
Credited as : Basketball player WNBA, model,
Lisa Leslie
(also known as:
Lisa Deshaun Leslie
) born July 7, 1972 in Los Angeles, California, United States is an African-American basketball player and model.
Lisa Leslie
would seem to have it all: beauty and poise, athletic talent that earned her four Olympic gold medals, a high-profile contract to play professional basketball within the Women's National Basketball Association for the Los Angeles Sparks, a modeling career that has landed her in the pages of Vogue, and an acting career in which she has appeared on various television shows and commercials. The six-foot-five-inch Leslie has been one of the biggest names in women's basketball since joining the U.S. national team for the 1996 Olympics. With her success--and her refusal to conform to any stereotype--she has helped popularize basketball as a sport any woman can play without sacrificing femininity or flair.
Played Basketball in Middle School
Leslie was born in July of 1972 in Los Angeles, California. Her father, who had played semi-pro basketball, deserted the family while she was very young. Her mother, Christine Leslie, had three daughters to raise and needed a livelihood that would bring in a dependable income. "We had no money and we could've gone on welfare, but my mom wanted to do something she was proud of," Leslie recalled in the book Venus to the Hoop: A Gold-Medal Year in Women's Basketball by Sara Corbett. "She sat us down and said, 'This is what I've got to do. I'm going to buy a truck and learn how to drive it. It's going to take time for me to pay it off and get a local route. I need you kids to give me five years.'"
Leslie's mother went to work as a long-haul trucker, crisscrossing the country in her rig while her daughters grew up in Los Angeles and were cared for by a live-in housekeeper and her aunt. Christine Leslie was often away for weeks at a time and then home for only a few days, but she still managed to keep her daughters close and self-sufficient. Young Lisa had yet another cross to bear: She was the tallest child ever to pass through her elementary school. By second grade she stood five-foot-two and was taller than her teacher. Not surprisingly, she was teased about her height. "They called me Olive Oyl, they called me all sorts of things," she remembered in Venus to the Hoop. "The grown-ups mostly thought my height was beautiful, but the kids gave me a hard time." Leslie's mother, who was herself six-foot-three, encouraged her daughter to keep her chin up and be proud of her height. It was valuable advice for someone who would one day turn her height into a valuable asset.
One question that Leslie heard constantly was: "Do you play basketball?" As a young teenager, she could not understand why people expected her to play hoops just because she was tall. She might never have tried the game if the other girls in her middle school had not begged her to come and join the school team. Even after making the team she was less than enthusiastic about the game. Nevertheless, her middle school team was undefeated that year.
Recognized as Outstanding High School Player
Leslie became more serious about basketball during her freshman year in high school. That year she moved in with an aunt and began playing ball with an older male cousin who served as a mentor and private coach. Honing her skills on teams that were otherwise all male, she became a very skilled player.
Leslie's mother finally got the local trucking route that she had coveted, and the family moved to Inglewood, California. Leslie attended Morningside High School in Inglewood, where she quickly established herself as a commanding force on the basketball team.
It was a Morningside High tradition that, in the last regular season game of the year, all the basketball players would give the ball to a chosen senior just to see how many points that senior could score. In 1990 that senior was Lisa Leslie, and the game in question was not the final one of the season, but the next to the last, against a hopelessly overmatched team from South Torrance. In one 16-minute flurry, Leslie scored 101 points--just 4 points short of the national scoring record for an entire game. Her performance so humiliated the opposing team that their coach forfeited the game at halftime, denying Leslie the opportunity to break the record.
Leslie's feat against South Torrance was covered by local and national television news crews and Sports Illustrated. This one performance served to overshadow what was otherwise a notable high school career: She had averaged 27.3 points and 15 rebounds per game as a senior, had been a member of the U.S. junior Olympic team, and had received the Dial Award as outstanding female scholar-athlete of 1989. Sports Illustrated called her "the best high school player in the nation."
Played College Ball at USC
Many colleges tended to agree with the Sports Illustrated opinion. Leslie received so many recruiting letters that she had to put them in boxes under her bed. She finally decided to attend the University of Southern California (USC), beginning in the fall of 1990. Even as a college freshman she was hailed by Sports Illustrated as "not just a star but the kind of superstar who can elevate the women's game to the next level in national popularity." Leslie, who was voted Pac-10 Freshman of the Year, realized that she was serving as a role model and an inspiration to other athletes. "I think we do need that one star that even people who aren't familiar with the game can recognize," she admitted in Sports Illustrated. "It not only gets the attention of the public, it gets the attention of the kids who will grow up to be the next superstars."
Leslie left USC in 1994 with a wealth of basketball experience. She was a three-time All-American and was named National College Player of the Year by the U.S. Basketball Writers Association in 1994. She wanted more than anything to play for the U.S. Olympic team, but she realized that she would need some professional experience first. Because the United States did not have pro basketball leagues for women, Leslie had to take her talents abroad to Italy. She signed a contract with an Italian league and began playing there, but being abroad was not easy for her. She played one season in Italy before trying out for--and winning a place on--the U.S. national basketball team.
In preparation for the 1996 Olympics, the women's national basketball team began training in 1995 and embarked on an ambitious world tour in which they competed against the best international teams as well as top U.S. college teams. Led by coach Tara VanDerveer--and featuring the statuesque Lisa Leslie at center--the U.S. women's team went undefeated throughout their entire international tour.
Joined the WNBA after the Olympics
The performance of the U.S. women's basketball team was one of the highlights of the 1996 Summer Olympics. The U.S. women's team defeated Brazil in the gold medal game and--while the world watched--celebrated the triumphant end to a long year of hard work and high expectations.
For Leslie, as for the other Olympic gold medalists in women's basketball, the victory in Atlanta provided many exciting opportunities. Leslie originally thought she would go straight from the Olympics into a new women's professional league, the American Basketball League. She decided, however, that she needed a break from basketball. She signed a contract with Wilhelmina Models, one of the nation's top modeling agencies, and continued her association with Nike shoes.
Her hiatus from basketball was cut short when, in December of 1996, she was one of the first chosen to play in the fledgling Women's National Basketball Association (WNBA), a women's league financed and promoted by the National Basketball Association.
Signed with the Los Angeles Sparks
The WNBA proved to be a good fit for Leslie. She was signed to a team in Los Angeles, her hometown. As a founding member of the Los Angeles Sparks, Leslie made her American pro debut in June of 1997, after having spent the off-season modeling sportswear in the pages of Vogue, TV Guide, and Shape.
Again, Leslie emerged as the star of the team. Coach Michael Cooper, who played for the Los Angeles Lakers, likened her to one of his former teammates. "Lisa is smooth like Kareem [Abdul-Jabbar]," he once told Sports Illustrated. Leslie led the Sparks to two WNBA championships, in 2001 and 2002, and was named Most Valuable Player of the finals both times. In the summer of 2002 she scored one giant leap for womankind when, on July 30, she became the first woman to slam dunk in a professional game. She also returned to the Olympics in 2000 and 2004, winning two more gold medals with the U.S. women's basketball team.
In November of 2005 Leslie married former U.S. Air Force basketball player Michael Lockwood. The following year she was named to the WNBA Western Conference All-Star Team and won the WNBA Most Valuable Player award for the third time. She was also named to the WNBA All-Decade Team.
Earned Fourth Olympic Gold Medal
Leslie sat out the 2007 WNBA season on maternity leave. She returned to basketball for the 2008 WNBA season, which began in May of that year. Leslie also resumed play with the U.S. women's basketball team, traveling with them to Beijing for the summer Olympics. By the end of August, Leslie had her fourth Olympic gold medal but suggested that it would be her last Olympic competition.
In the fall of 2008 Leslie was still at the top of her game, as noted by Donna Orender, president of the WNBA, to Debbie Arrington in the Sacramento Bee. "Lisa Leslie continues to establish benchmarks of performance 12 seasons into it," Orender remarked. She viewed Leslie as a veteran basketball player who, along with many outstanding basketball veterans, had "stepped up their game" even after many years of play.
When her basketball career ends, Leslie has said that she would like to focus on acting and broadcasting. She would also like to become a new type of role model for women: an athlete who is proud to be feminine. If she has any message for youngsters, she concluded in Women's Sports and Fitness, it's this: "You can be whatever you want to be." Women don't have to fulfill the stereotype of looking "like men with their clothes hanging off them just because they play basketball."
PERSONAL INFORMATION
Born Lisa Deshaun Leslie on July 7, 1972, in Los Angeles, CA; daughter of Christine Leslie (a truck driver); married Michael Lockwood (a commercial pilot and former U.S. Air Force basketball player), November of 2005; daughter: Lauren Jolie Lockwood. Education: Attended University of Southern California, 1990-94. Memberships: Women's National Basketball Association. Addresses: Office--Los Angeles Sparks, 888 S. Figueroa St., Ste. 2010, Los Angeles, CA 90017.
AWARDS
Dial Award for outstanding female scholar-athlete, 1989; Pac-10 Freshman of the Year, 1992; All-American, 1992, 1993, and 1994; Female Athlete of the Year, USA Basketball, 1993; National College Player of the Year, U.S. Basketball Writers Association, 1994; Naismith Award, AT&T, 1994; Most Valuable Player, Women's National Basketball Association (WNBA), 2001, 2002, and 2006; WNBA Western Conference All-Star Team, 2006; WNBA All-Decade Team, 2006.
CAREER
Member of Italian professional league, 1994-95; professional model, 1996--; U.S. Olympic women's basketball team, member, 1996, 2000, 2004, and 2008; Los Angeles Sparks, founding member, 1996--; has worked as an actress.
Read more
Latest headlines