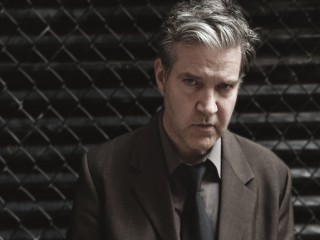 Lloyd Cole biography
Date of birth : 1961-01-31
Date of death : -
Birthplace : Buxton, Derbyshire, England
Nationality : English
Category : Arts and Entertainment
Last modified : 2011-11-04
Credited as : singer-songwriter, Bad Vibes, the Commotions
Lloyd Cole is an English singer and songwriter, known for his role as lead singer of Lloyd Cole and the Commotions from 1984 to 1989, and for his subsequent solo work.
In 1984, soon after the release of his group's first album, Lloyd Cole told Melody Maker' s Helen FitzGerald, "I've always liked people who've been artistically unpredictable.... People like that are much more interesting than the others, don't you think?" Cole could well have been speaking of himself. From the invigorating sound and striking literacy of his early work with the Commotions, through his sudden dissolution of the group and move to New York in 1988, to the inclusion of lush string arrangements on 1991's Don't Get Weird on Me, Babe, Cole has always followed an unconventional path. The press has called him pretentious, derivative, and brilliant, but has rarely described him as predictable.
Cole belongs to a generation of British pop stars that includes Boy George and Morrissey, with whom he is frequently compared. Yet his work lacks the outrageous showmanship of George or the quintessentially British wit of Morrissey. More than many of his compatriots, Cole has turned to the culture of the United States as a source of inspiration for his music--which echoes such diverse U.S. artists as singer/songwriters Lou Reed and Bob Dylan, country star Glen Campbell, and early blues singer Robert Johnson. His image, described by Stewart Francke of the Metro Times as that of "a haunted, glamorously grubby, urban cowboy," also has an American flair. In fact, Cole's move to the United States in 1988 and immersion in the cultural life of New York City's Greenwich Village can be seen as a "homecoming" of sorts.
In the early 1980s Cole's parents moved to Glasgow, Scotland, to manage a golf course, and Lloyd accompanied them, entering the University of Glasgow in 1981. While in college Cole studied English and philosophy, an experience that would be mined for numerous literary references later in his songwriting career. He also developed a talent for observing other people's lives; as he recalled in Melody Maker, "I went to all these wild parties ... and I'd sit in a corner taking notes. That's the kind of person I am. I like making observations and speculations about other people." This skill at capturing the details of human nature and the unfolding narrative of people's lives is reflected in the vivid characters that dwell in Cole's songs--characters like Louise in 1984's "Perfect Skin": "She's got cheeks like geometry and eyes like sin/And she's sexually enlightened by Cosmopolitan. "
While Cole was studying at the University of Glasgow he met guitarist Neil Clark and keyboardist Blair Cowan; the three musicians formed the nucleus of Lloyd Cole and the Commotions, later adding to the group bassist Lawrence Donegan and drummer Stephen Irvine. In February of 1984 the band signed a contract with Polydor Records, and in September of that year the Commotions' first album, Rattlesnakes, was released. The fresh, guitar-oriented sound of the band, appearing at a time when synthesizers and drum machines were the rage, was widely praised in the press, as was the literary prowess Cole showed in some of his lyrics, including those of the title track: "She looks like [actress] Eve-Marie Saint in On the Waterfront /She reads [twentieth-century French author] Simone de Beauvoir in her American circumstance."
Lloyd Cole and the Commotions recorded two more albums, Easy Pieces in 1985 and Mainstream in 1987, and toured extensively in 1984 and 1987. Then in 1988 Cole disbanded the group and moved to New York City; as he told the San Francisco Chronicle, "I left London, because I was only there for two reasons: it was where the band recorded and it was where my girlfriend lived. I left to escape the shadow of these things after they had gone wrong. It was a chance to start over."
After settling in his new home, Cole began work on his first solo effort, titled simply Lloyd Cole, which was released in February of 1990. The album features the singer's trademark sultry voice, though with a newfound depth and dynamic range, and evokes what Melody Maker' s Simon Reynolds called "a certain kind of autumnal melancholy: the wilting of youthful idealism, love losing its bloom, romance stagnating into habitude." The lyrics show a subtlety not found in Cole's earlier work with the Commotions, reflecting the singer's own reassessment of his early work; as he told Reynolds, "I do think I over-estimated what the possibilities of the pop song were. I over-reached at times, wrote more to say less." The album was a critical and popular success, reaching Number Ten on the British charts, providing Cole with his first French gold disc, and earning a spot on charts throughout the rest of Europe.
Cole titled his second solo album Don't Get Weird on Me, Babe; the phrase, typically, is an obscure reference to a poem by Raymond Carver. The record was released in September of 1991 and was really two albums in one. The first side--which was actually the second side in all markets except that of the United States--contained the kind of straight-ahead, country-influenced rock tunes for which Cole had become known. The second side featured full orchestral arrangements by Paul Buckmaster. As Cole explained to Dev Sherlock of Boston Rock, "Obviously half [of the songs] were totally suitable for just guitar, bass and drums--but the other ones just wouldn't have taken that sort of arrangement, so I needed to find a different way of doing them." This section of the album was made in Capitol Records' legendary Tower Studio in Hollywood, where Frank Sinatra recorded with Nelson Riddle's orchestra in the 1950s.
In 1992 Steve Simels of Stereo Review gave Don't Get Weird on Me, Babe a best recording of the month citation, calling it "one of the most genuinely nervy and idiosyncratic major-label rock albums of the year." It is fitting praise for the work of an artist who has developed a loyal following without compromising his artistic integrity. Cole told Randi Gollin of In Fashion, "What I'm doing is incredibly glamorous to me. I'm actually living what was my dream as a child, and I'm doing it in my own way. I don't have bellbottoms on and I'm not throwing my guitar off the stage."
Cole continued redefining his sound with Bad Vibes (1993), a collaboration with producer/remixer Adam Peters, using a harder and psychedelia-inspired sound. Love Story (1995) established stripped-down, largely acoustic sound landscapes with the help of Stephen Street (famous for his work with Blur and The Smiths) and former Commotions Neil Clark and Blair Cowan; the album produced a minor hit, affording Cole a mid-90s appearance on Top of the Pops, with the song "Like Lovers Do". However, following a massive purge of the artist roster that came with Universal Music's takeover of Polygram and Cole's disappointment with the label, his contract was terminated despite at least two full-length recordings being locked in its vaults (later released in 2002 by One Little Indian).
In 2000, after being a solo artist for more than a decade (and a couple of years without a contract), Cole teamed with a younger generation of New York musicians under the name The Negatives. The group consisted of Jill Sobule, Dave Derby of the Dambuilders, Mike Kotch and Rafa Maciejak, who recorded an eponymous CD, released mainly in France. He has since released solo albums on smaller independent labels. Sanctuary Records, the company responsible for the revival of Morrissey, released Music in a Foreign Language (2003) in the UK. Recorded largely by Cole himself (including tracks recorded directly onto a Mac), the songs had a stark, folk-inspired singer-songwriter style. One Little Indian, home of Björk, released Music in a Foreign Language in the U.S.; they also collected a number of outtakes (recorded from 1996 to 2000) on 2002's Etc. and released an instrumental ambient electronica album, Plastic Wood, the same year.
In 2004, to mark the 20th anniversary of the release of Rattlesnakes, Lloyd Cole and the Commotions reformed to perform a one-off, sellout tour in the UK and Ireland which generated some media interest, mostly in UK broadsheets. The reformation was never intended to be permanent and Cole released another solo album in 2006, Antidepressant, using his usual home recording outfit by playing all the instruments himself with friends like Sobule, Derby and the guitar work of former Commotion Neil Clark on some tracks.
The lyrics focus on the reality of a young American middle-class parent: leaving New York for a life in the suburbs, worrying about the stock market crash, fantasies of escaping marriage, or being "no longer young, no longer driven to distraction, not even by Scarlett Johansson." The follow-up, "Broken Record" released in September 2010, marked a departure from his solo recordings as it was performed by a band of longstanding friends and working partners including Fred Maher, Joan Wasser, Rainy Orteca, Dave Derby and Blair Cowan - as well as two musicians, Matt Cullen (guitar; banjo) and Mark Schwaber (guitar; mandolin), with whom Cole tours, billed as 'Lloyd Cole Small Ensemble'. The recording of the album was entirely financed by advance purchases by his fans, and later distributed by Tapete Records - who also oversaw and negotiated the rights to re-release a boxed set with his complete collection of b-sides and alternative takes and previously unreleased material under the title Cleaning Out the Ashtrays.
Cole planned to extend some of the ideas from his previous album, this time combining orchestra and electric guitar. For inspiration he has turned to the work of soul singer Al Green. "I have an idea that the rhythm section on the next album should sound basically like an Al Green-type rhythm section," he commented in Boston Rock. "They've all got Hammond organ, they've all got electric guitar, and yet most of them have brass and strings on them. A lot of his records sound really sparse, but when you add up all of the different elements, there's a lot going on."
Read more
Latest headlines