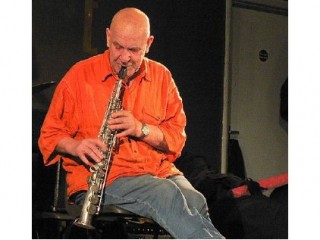 Lol Coxhill biography
Date of birth : 1932-09-19
Date of death : 2012-07-10
Birthplace : Portsmouth, Hampshire, England
Nationality : English
Category : Arts and Entertainment
Last modified : 2022-09-19
Credited as : saxophonist, soprano, Spectral Soprano
Lowen Coxhill
, generally known as
Lol Coxhill
was a free improvising saxophonist and raconteur. He played the soprano or sopranino saxophone.
Regarded as one of the major figures of saxophone improvising and experimentation in Great Britain and well-known for his unorthodox recordings and concerts, Lol Coxhill possesses a personal style unlike that of any of his contemporaries. Coxhill has always gravitated toward the idea of musical freedom. Thus, while he aptly plays conventional bebop and mastered his instrument using more conservative methods, Coxhill wanted to explore the undiscovered possibilities of the saxophone. Consequently, in addition to inventing new and personalized saxophone sounds, he turned to improvised music in the 1960s. "I can get more involved in it as a listener than most other music," he told Ben Watson of the Wire. "The very fact that it's open and you don't know what's coming next, you can't decide beforehand what's coming." In his own improvisational approach, Coxhill is best known for creating wrenching and twisting sounds during his winding soprano and sopranino solos. He also uses minimal electronics and voice.
Coxhill has worked as a solo artist and as part of duos and larger bands. He has played with, among others: Delivery, from 1968 to 1970 and during 1972 and 1973; progressive rocker Kevin Ayers & the Whole World, from 1970 to 1971; Stephen Miller, as the duo of Coxhill-Miller, from 1973 to 1974; Chris McGregor's Brotherhood of Breath, an international big band, from 1974 to 1976; Trevor Watts's Moiré Music, an electro-acoustic improvised music group, from 1977 to 1985; and the Melody Four, since 1981. Coxhill has also performed as an actor in film and theater; he as appeared in the films London Story, Caravaggio, and Orlando.
Coxhill was a founding member of the international improvising group Company with Derek Bailey, Steve Lacy, Evan Parker, and Anthony Braxton. He has also played as a duo with pianist Steve Beresford. Despite his reputation as an improvisational player, Coxhill has attracted a great amount of attention from a varied range of other artists and modern music fans. His soprano soloing talents have been tapped by the funk group the Gass, ska musician Rico Rodriguez, R&B artist Alexis Korner, and the punk band Diary.
Lowen Coxhill decided to take up the saxophone in the 1940s after hearing the music of the legendary Charlie Parker. Immediately it became evident that Coxhill had a gifted ear, a memory for songs, a great sense of melody, a desire not to feel tied down by conventions and restraints, and a curiosity about any new musical movement. Between the years of 1947 and 1949, Coxhill, still a teenager, organized club events comprising live contemporary jazz acts and the inspiring recordings of Parker, Dizzy Gillespie, Lennie Tristano, Miles Davis, and Stan Kenton, among others.
Following a national service stint from 1950 to 1951 in the Royal Air Force, Coxhill returned to music. The remainder of the decade saw the saxophonist as a member of Denzil Bailey's Afro-Cubists, a band dedicated primarily to the compositions and arrangements of Gillespie; the Graham Fleming Combo, touring United States air bases in England to perform the works of Chet Baker and Gerry Mulligan; and the R&B and standards group Sonny G and the G Men. Besides spending time with the above-mentioned bands and working solo, Coxhill additionally guested with contemporary players such as Joe Harriott, Tubby Hayes, and the Oxford University Jazz Band.
Beginning in the early 1960s, around the same time improvised music began to gain momentum, Coxhill started leading his own ensembles and performing solo more often. Still, he took opportunities to accompany and support American artists Rufus Thomas, for the television and video release of Walking the Dog, Martha and the Vandellas, Screamin' Jay Hawkins, and Mose Allison. To a lesser extent, he continued such work on tours in the 1970s with Otis Spann, Champion Jack Dupree, Lowell Fulson, and Alexis Korner.
In 1971 Coxhill released his debut album, Ear of the Beholder, on John Peel's Dandelion record label. Here, the saxophonist experimented with a collage of music, spoken word, and street sound recordings. His second record, Toverbal Sweet, saw release the next year.
Since the mid-1970s, Coxhill has drawn the most recognition for his work as an improviser and solo performer, touring throughout the United Kingdom, the United States, Europe, Japan, and Canada. Concurrently, he has collaborated with other like-minded artists as a member of Company, the Brotherhood of Breath, and, in somewhat of a departure, with the punk-rock groups the Damned and Henry Cow. Coxhill additionally appeared with experimental theater groups, namely the Welfare State, for which he served as musical director. His participation in that capacity led to the release of Lol Coxhill and the Welfare State in 1975.
In the 1980s, Coxhill became--and remains--a member of the Recedents, with Roger Turner and Mike Cooper, and of the Melody Four, formed in 1981 for the Chantenay Festival with Beresford and clarinetist Tony Coe. Melody Four mainly concentrate on standards, film and theater music, and jazz improvisations. The decade also saw a string of well-received solo outings for Coxhill, including The Dunois Solos in 1982 and Couscous in 1983. That same year, Coxhill was the subject of an Arts Council documentary film called Frog Dance.
The 1990s also proved prolific for Coxhill. He played early jazz music with bassist Dave Green, continued working with both the Recedents and the Melody Four, and recorded with Pat Thomas, the Dedication Orchestra, Steve Lacy, Evan Parker, 46,000 Fibres, and the London Improvisers Orchestra. His standout albums from the decade include Lol Coxhill Solo, released by the Shock label in 1990, and a 1998 album recorded with pianist Veryan Weston (with whom Coxhill recorded Digswell Duets) entitled Boundless.
Writing of Coxhill's performance in Boundless, Jon Corbet of Down Beat stated: "Over his 40-year career, Coxhill has earned a reputation as a surreal clowner.... But in this duet setting he leaves more overt Vaudevillian tactics on the shelf and shows why he should be considered as one of the major figures of saxophone improvising: Dry, skittering flourishes run into extreme harmonic long-note forays into rapid-tonguing sputters into ripe full notes slurred in a way that's drawn reasonable comparison with Pee Wee Russell." Coxhill and Weston reunited a few years later for Worms Organising Archdukes, released in 2002. The set unites live recordings from the Worm in Rotterdam, London's Red Rose Club, and L'Archiduc in Brussels.
Another release of Coxhill's work, Spectral Soprano, appeared in 2001. This compilation, a two-disc set spanning the years from 1954 through 1999, features unreleased material from Coxhill's archives. The listener not only hears his work as an improvising soprano player but also recognizes his skills as a mainstream tenor saxophonist and his interests in electronics and spontaneous music. As Dick Stafford of MusicWeb explained, "This disc is the musings of a man who has very varied views to express and is willing to experiment without regard to a constant commercial acceptance. It is well worth repeated listening if only to discover how different music can be more or less palatable depending on one's state of mind."
Selected discography:
-Ear of the Beholder , Dandelion, 1971.
-Toverbal Sweet , Mushroom, 1972.
-(With Steve Miller) Miller/Coxhill: Coxhill/Miller , Caroline, 1973.
-(Various artists) Not Necessarily "English Music," EMF, 1973.
-The Story So Far ... Oh Really? , Caroline, 1974.
-Fleas in Custard , Caroline, 1975.
-Lol Coxhill and the Welfare State , Caroline, 1975.
-Diverse , Ogun, 1976.
-Digswell Duets , Random Radar, 1978.
-The Joy of Paranoia , Ogun, 1978.
-Lid , Ictus, 1978.
-Moot , Ictus, 1978.
-(With Morgan Fisher) Slow Music , Voiceprint, 1980.
-(With Raymond Boni and Maurice Horsthuis) Chantenay 80 , Nato, 1980.
-The Dunois Solos , Nato, 1981.
-Home Produce , Tago Mago, 1982.
-Instant Replay , Nato, 1982.
-Couscous , Nato, 1983.
-(With Fred Firth) French Gigs , AAA, 1983.
-The Inimitable , Nato, 1985.
-Miller's Tale: Steve Miller Trio Meets Lol Coxhill , Matchless, 1985.
-(With Daniel Deshays) 10:02 , Nato, 1985.
-Café De La Place , Nato, 1985.
-Frog Dance , Impetus, 1985.
-Lol Coxhill and Totsuzen Danball , Floor, 1985.
-Instant Replay , Nato, 1986.
-Before My Time , Chabada, 1987.
-The Hollywell Concert , Slam, 1990.
-(With George Haslam) Solos East West , Slam, 1990.
-The Bald Soprano Companion , Tak, 1990.
-(With George Haslam, Paul Hesseon, Paul Rutherford, and Simon Fell) Termite One , Bruce's Fingers, 1990.
-(With Pat Thomas) Hamlin , Nato, 1993.
-(With Pat Thomas) One Night in Glasgow , Scatter, 1994.
-(With Steve Lacy and Evan Parker) Three Blokes , FMP, 1994.
-Lol Coxhill + Totsuzen Danball 2 , Wax, 1998.
-(With Veryan Weston) Boundless , Emanem, 1998.
-Alone and Together (compilation), Emanem, 1999.
-(With Noël Akchoté and Phil Minton) My Chelsea , Rectangle, 2000.
-The Bill Wells Octet Meets Lol Coxhill , Textile, 2001.
-(With Enzo Rocco)London Gigs , Prominence, 2001.
-(With George Burt and Raymond MacDonald)Tsunami , FMR, 2001.
-Spectral Soprano (double-CD compilation of unreleased material), Mash, 2001.
-(With the Anglo-Argentine Jazz Quartet and guests)Live at the Red Rose , Slam, 2002.
-(With Veryan Weston)Worms Organising Archdukes , Emanem, 2002.
-(With Evan Parker and the London Improvisers Orchestra) Freedom of the City 2001: Large Groups , Emanem, 2002.
-(Various artists) Freedom of the City 2001: Small Groups , Emanem, 2002.
Read more
Latest headlines