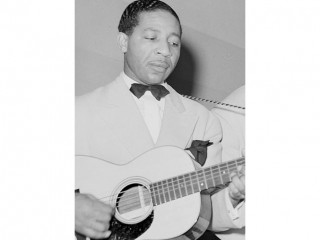 Lonnie Johnson (musician) biography
Date of birth : 1899-02-08
Date of death : 1970-06-16
Birthplace : New Orleans, Louisiana, U.S.
Nationality : American
Category : Famous Figures
Last modified : 2011-12-05
Credited as : blues singer, jazz guitarist, Songwriter
Alonzo "Lonnie" Johnson was an American blues and jazz singer/guitarist and songwriter who pioneered the role of jazz guitar and is recognized as the first to play single-string guitar solos. Johnson was not only one of the few black blues musicians invited to be 'guest featured' on a number of jazz recording sessions, he was also one of the only classic 1920's blues artists to have a revived a high-charting career after WWII.
Equally influential as a jazz musician and blues musician, Lonnie Johnson became one of the most popular African-American musicians of the 1920s. As a multi-instrumentalist and prolific composer, Johnson's musical reputation landed him guest recording spots with the bands of Louis Armstrong and Duke Ellington. Though he did not possess a country blues background, the New Orleans-born guitarist exemplified a high caliber of musicianship while retaining a strong feeling for the blues. His fluid single note lines and advanced flat-picking technique served as a model for early jazz guitarists and a host of Delta bluesmen.
Born in a New Orleans' residence on Rampart and Franklin streets on February 8, 1899, Alonzo "Lonnie" Johnson grew up the son of a violinist who encouraged his children to take up music. "We all played--five sisters and six brothers, mother and father," recalled Johnson in Conversation with the Blues. By his late teens, Lonnie played in his father's family band at banquets and weddings, performing on guitar and violin alongside his brother James "Steady Roll" Johnson. "My brother, he played piano and violin and guitar, explained Johnson in Conversation With the Blues. "He was better than me." Johnson eventually played jobs with jazz trumpeter Punch Miller in New Orleans' Storyville district. He also played blues on violin at the Iroquois Theatre and Pineri's in the French Quarter. Though folk blues songsters were not the dominate or most popular form of entertainment in the cultural world of New Orleans, Johnson no doubt absorbed their influence. "The cosmopolitan, good time ambience of New Orleans hardly lends itself to the deep blues," explained John Broven in The Blackwell Guide to the Blues. "In a sense the sophisticated and cultured nature of city is reflected in the suave style of gentleman bluesman Lonnie Johnson."
In 1917 Johnson traveled to London, England to perform with a revue show. Returning to new Orleans in 1919, he discovered that his family--with the exception of his brother James--had died in the Influenza epidemic of 1917. In 1920 Johnson traveled to St. Louis and, for the next two years, performed with Missouri-born trumpeter Charlie Creath's Jazz-O-Maniacs on riverboat steamer SS St. Paul, and on the SS Capitol with the band of Kentucky-born pianist Fate Marable, the former employer of Louis Armstrong. Guitarist Big Bill Broonzy, who first met Johnson in St. Louis during the early 1920s, recalled, in his memoir Big Bill's Blues, the virtuosity of his New Orleans contemporary: "Lonnie was playing the violin, guitar, bass, mandolin, banjo and about all the things you could make music on, and he was good on either one he picked up and he could sing too, just as good."
In 1924 Johnson toured with the comedy act of Clenn & Jenkins and performed with his brother James, at Katy's Red Club in East St. Louis. He subsequently worked the TOBA circuit, and by 1925 won a talent contest at the Booker T. Washington Theatre sponsored by Okeh Records; as part of the prize he received a recording contract with the company. In November 1925, just prior to his own session for Okeh, he made his recording debut with Creath's Jazz-O-Maniacs, playing violin and singing on "Won't Don't Blues." Two days later, he recorded his first session for Okeh, accompanied by violinist De Louise Searcy and pianist John Arnold, turning out two numbers "Mr. Johnson's Blues" and the hit "Falling Rain Blues." Also at the Okeh studios he recorded with Searcy and his brother James, a session in which members of the trio each alternated between playing piano, guitar and violin.
As a house musician for Okeh, 1925-1929, Johnson cut sessions with a host of artists as well as numerous recordings under his own name. In August 1927 he took part in several New York sessions for Okeh which debuted blues singer Alger "Texas" Alexander--a country-bred Texas blues vocalist who sang in a style shaped from field hollers and the chants of prison work gangs. Despite the often irregular timing of Alexander's vocal patterns, Johnson's melodic backing, provided able support on such numbers as "Levee Camp Moan Blues" and "Section Gang Blues."
In October 1927, Johnson recorded with pianist John Erby, cutting "6/88 Glide," an originally unreleased number that has, in recent years, received critical attention among jazz scholars. Composed in thirty-two bar form, "6/88 Glide," as Marty Grosz and Lawrence Cohn wrote in the liner notes to Jazz Giants, "demonstrates the versatility that enabled [Johnson] to play blues, jazz, or pop with equal skill." Recorded at a time when the guitar was still considered a novelty instrument, the recording illustrated Johnson's growing contributions in the sophisticated development of jazz guitar. As Grosz and Cohn added, "After half a century '6/88 Glide' can be appreciated as a pioneer effort at presenting a guitar solo."
Two months later, in December 1927, Johnson appeared as a guest artist with Louis Armstrong's Hot Five. Paired with banjoist Johnny St. Cyr, Johnson cut four sides with the band including Lil Hardin's "Hotter Than That" and Kid Ory's "Savoy Blues." In his work, Early Jazz, Gunther Schuller noted the musical and rhythmic support Johnson brought to the group: "Armstrong is no longer outnumbered four to one but has a strong ally. Johnson's swinging, rhythmic backing and his remarkable two-bar exchanges with Armstrong are certainly highlights of modern jazz." In the liner notes to Louis Armstrong: Portrait of the Artist as Young Man, Dan Morganstern described Johnson's and Armstrong's brilliant "break-laden" finale and cadenza on "Hotter Than That" as a jazz "masterpiece."
Johnson's growing musical reputation also led to a guest recording appearance with the Duke Ellington Orchestra in October 1928. Playing steel-bodied guitar on one of Ellington's "jungle-style" numbers, "The Mooche," he was featured in a duet with popular cabaret singer Baby Cox. In his memoir, Music is My Mistress, Duke Ellington expressed his appreciation for Johnson's contribution to the popular success of the number: "I have always felt indebted to him because his guitar added a new luster to my adolescent orchestral attempts on records we made in 1928."
In October of the same month, he made another guest studio appearance with the seven-member-nucleus of the Mckinney Cotton Pickers. Under the direction of arranger and multi-instrumentalist Don Redman, the band recorded under the pseudonym the Chocolate Dandies, cutting four numbers including "Stardust" and Redman's composition "Puducah." On the latter number Johnson takes two twelve bar solos--his fluid single lines and two-string figures briskly rising above the background horn accompaniment. Not long afterward, Johnson joined pianist Clarence Williams in backing Texas-born blues singer Victoria Spivey on a number of bawdy and sexually suggestive numbers like "Furniture Man Blues."
In 1929 Johnson once again appeared as a guest recording artist with Louis Armstrong in an expanded orchestral setting. On Armstrong's rendition Spencer Williams' "Mahogany Hall Stomp," a composition dedicated to one of New Orleans' most notorious nightspots. In his assessment of the composition, Gunther Schuller wrote, in The Swing Era, "Lonnie Johnson contributes a special blue-ish atmosphere with his guitar solo (the kind that you could still hear in New Orleans back alleys), and underneath Louis' solos, gentle wreaths of counterpoint."
In 1929 Johnson teamed-up with Philadelphia-born guitarist Eddie Lang to record some of the most celebrated musical duets of the twenties. A veteran of the Jean Goldkette and Paul Whiteman orchestras, Lang was born Salvatore Massaro, the son of an instrument maker from Naples. Lang recorded most of his blues material under the pseudonym "Blind Willie Dunn" (on previous occasions Johnson had recorded under the name George Jefferson). Breaking the racial barriers of the period, the two guitarists-- performing as a duo and with Lang's Gin Bottle Four--formed a studio collaboration which brought forth mutual respect between the artists. In Hear Me Talkin' to Ya, Johnson recounted. "I well remember Eddie Lang. He was the nicest man I ever worked with ... He never argued. He didn't tell me what to do. He would ask me. Then, if everything was okay, we'd sit down and get to jiving."
The two guitarists turned out dozens of titles including "Hot Fingers," "Two Tone Stomp," and "Handful of Riffs." On "Bullfog Moan" Johnson's twelve string guitar produced haunting bends and created a dynamic interplay with Langs' open-string figures and well-executed bass lines. As Johnson noted, as quoted in Jazz Masters of the 20s, "Eddie could lay down rhythm and bass parts just like a piano. He was one of the finest guitarists I ever heard in 1928 and 1929. I think he could play anything he felt like." Discussing the duo's musical impact, William Barlow wrote, in Looking Up at Down, "It is unclear whether it was Johnson or Lang who first used a flat-pick to intensify his single-string guitar solos. It is clear, however, that Johnson introduced the flat-picking technique to other urban guitarists, and Lang did the same for jazz." Johnson's style reached both the Delta bluesmen and urban players who would adapt and develop his one string-solos into modern electric blues style.
After touring with Bessie Smith and her "Midnight Steppers" in 1929, he moved to Chicago. Recording For Okeh's New York studio, he turned out sides accompanied by musicians such as stride pianist James P. Johnson. In 1932 Johnson left the Okeh label and settled in Cleveland, playing intermittently with the band of vocalist and singer Putney Dandridge. During his seven year stay in Cleveland, he often played on radio programs broadcasted over WJAY and WHM.
In 1937 Johnson made recordings with pianist Roosevelt Sykes and performed with Warren "Baby" Dodds at the Three Deuces in Chicago. After the Three Deuces job, Johnson formed his own trio--two guitars and a bass--and booked shows at the Plantation, The Gate, and the Boulevard Lounge. In 1937 and 1938 he recorded for Decca and, in 1939, joined the talented line-up of Lester Melrose' Blue Bird label. For the next five years, Johnson emerged as one of Blue Bird's best selling artists, recording thirty-four sides that included the hits "He's a Jelly Roll Baker" and "In Love Again." By the mid-1940s he took up electric guitar, transforming his earlier sound.
In the late 1940s Johnson took up residence in Cincinnati and after joining Syd Nathan's Cincinnati-based King label, scored his biggest hit with "To-morrow Night" in 1948. A ballad, "Tomorrow Night," with its triplet piano accompaniment lush background singers, bore little resemblance to the majority of Johnson's blues and jazz material. Though a hit record kept his name in the limelight, over the next few years Johnson still had to take occasional work outside music.
In 1952 Johnson embarked on a eleven-month-tour of England. Back in America he stayed briefly in Cincinnati before moving to Philadelphia. By the time Samuel Charters' The Country Blues was published in 1959, Johnson had fallen into obscurity, and was believed to be living in Cincinnati. In his book Charters stated "[Johnson's] name is almost unknown to the young colored audience that still occasionally buys blues records." That same year, Danish-born jazz critic and disc jockey Chris Albertson rediscovered Johnson in Philadelphia. During his radio show, Albertson made an inquiry concerning the whereabouts of the legendary guitarist. Shortly afterward, he received a call from a man who informed him that he worked as a janitor with Johnson at the Benjamin Franklin Hotel in Philadelphia. Albertson then recorded Johnson in an informal session at his apartment and sent the demo to Bob Weinstock of the Prestige label. Backed by a quartet, including saxophone, Johnson cut the Prestige LP Blues by Lonnie Johnson. Evoking a sense of humor about the vagaries of his career, Johnson commented, in the album's liner notes, "I've been dead four of five times. But I always come back." The day following the session he went back to his janitorial job at the Ben Franklin. Never one to regret his years of hard work, Johnson later told Paul Oliver, Conversations With the Blues, "I've done all kinds of work , even been a coal miner--Oh God yes, I've done everything!"
In 1960 and 1961, Johnson performed at the Town Hall concerts in New York City, and in 1963 traveled to Europe with the American Folk Blues Festival, an all-star tour which included Muddy Waters, Sonny Boy Williamson, Big Joe Williams, and former musical associate Victoria Spivey (with whom Johnson had been reunited on a job in New York City two years previous). In Europe he recorded with pianist Otis Spann in Denmark and with the Fontana label in Bremen, Germany.
By 1965 Johnson took up residence in Toronto, Canada, and within the next year opened his own nightclub, The Home of the Blues Club. Throughout the decade he recorded and played local clubs in Canada as well as embarking on several regional tours. While he was window shopping on a Toronto street in 1969, a car jumped the curb and hit Johnson. This accident, followed by several strokes, forced him to limit his musical activities. Not long after his last live appearance with bluesman Buddy Guy at Toronto's Massey Hall, he died of a stroke on June 16, 1970 at the age of eighty-one.
An inspirational figure to both blues and jazzmen, Johnson left an indelible mark on modern American music. In the span of forty years, he made nearly five hundred recordings. His impact on the blues was reflected in the sentiments of B.B. King who stated, in Blues Guitar: "I was able to go and see one of my idols, Lonnie Johnson, and I was able to shake his hand and thank him. Because he was one of the people that made me want to play." Perhaps Johnson's finest tribute, however, came from Duke Ellington who stated his memoir, Music Is My Mistress, "[Johnson] must have must have been a good man, because he spoke only good about other people, and I never heard anyone speak anything but good of him. God bless Lonnie Johnson."
Read more
Latest headlines