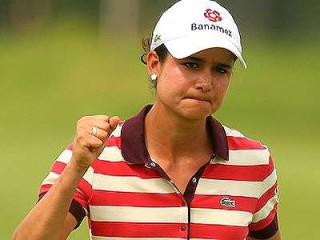 Lorena Ochoa biography
Date of birth : 1981-11-15
Date of death : -
Birthplace : Guadalajara, Jalisco, Mexico
Nationality : American
Category : Sports
Last modified : 2010-07-27
Credited as : Golf player, the number one ranked female golfer in the world , LPGA tour
Sugar, spice and everything nice—at first blush, Lorena Ochoa seems too girlish to power her way to the top of the LPGA Tour. Look again, and a deeper picture emerges. The young lady who knocked Annika Sorenstam off her perch in 2007—and won four straight events in 2008—isn't called "La Tigresa" for nothing. A ferocious but stealthy competitor, Lorena has been programming herself for victory since she swung her first club.
GROWING UP
Lorena Ochoa
was born November 15, 1981 in Guadalajara, in the Mexican state of Jalisco. She was the third of four kids, with two older brothers and a younger sister. Her father Javier worked in real estate and her mother Marcela was an artist. The family owned a house in a middle-class neighborhood that bordered the Guadalajara Country Club, where young Lorena watched with fascination as tourists and club members knocked the ball around the beautifully landscaped fairways and greens.
When Lorena was a kid, fewer than 20,000 people in Mexico played golf regularly. Fewer than 100 girls nationwide competed in tournaments. In Guadalajara, a city of four million people, there were only four 18-hole golf courses, none public.
Javier liked to get in a round on his day off, and Lorena began accompanying him on the course at the age of five. At first for Lorena, golf was all about helping her dad steer the cart. Soon, however, she showed a natural aptitude for the sport.
If not for a medical miracle, Lorena's career might have begun and ended there. One day she climbed a tall tree and toppled out of it headfirst. Lorena put here hands out to break her fall and shattered both of her wrists. She wore casts from his fingertips to her shoulders for three months, but eventually emerged unscathed. The doctor said he put magic in her wrists. That would explain a lot.
Lorena began taking golf lessons a year later, in 1987. At seven, she started competing in national junior tournaments, and at eight she played her first international event. Lorena was an extraordinary young athlete. Besides being an accomplished pre-teen golfer, she also played competitive tennis. She won youth tournaments in both sports.
In 1989, Lorena captured her first important golf title, the Junior World Golf Championships in San Diego. She had gone to the California tournament more excited about her first visit to Disneyland, so her win stunned the family. Upon the Ochoas return, government officials showered them with praise and began asking about Lorena's future. When the dust settled, Javier explained to his daughter that to become a champion in either golf or tennis she would have to give up the other. Lorena picked golf.
Still, she continued to participate in other sports—including biking, running, swimming, mountain climbing, volleyball and snowboarding. In fact, it appeared she might be better suited to follow in the footsteps of extreme athletes such as Mia Axon and Leigh Donovan. Lorena summated her first mountain—Mount Nevado de Colima, a 14er in Guadalajara—after her 11th birthday.
Despite her success in other sports, everything finished second to golf for Lorena. She was tutored by Kevin Hansen, the pro at the Guadalajara Country Club. The cost of joining the club was far beyond the Ochoa's means, but since Javier's father was a longtime member, the entire family was given a break. Recognizing that Lorena might be something special, the club also helped with dues, fees and the cost of lessons. At tournaments, Lorena's brother Alejandro often caddied for her.
Lorena was shooting par from the ladies' tees by age 12. She racked up one victory after another as an adolescent and was crowned world junior champion four more times. Lorena's driving was superb, but it was her short game that made her a great junior. She had the gift of soft hands and a clear head.
In 1999, as Lorena closed in on her 17th birthday, Hansen began working his connections in the U.S. to find her a college scholarship. Initially, the top programs were underwhelmed. After USC and Arizona State rebuffed Hansen, he spoke to Marta Ostos, a friend and golfer at Texas A&M. On the word of Ostos, the Aggies offered Lorena a scholarship. She committed verbally without ever visiting the school, but her SAT scores were too low for her to gain admittance. Lorena decided to take a year off, bone up on her English, and sharpen her game in anticipation of starting at A&M for the 2000–01 school year.
In the interim, the college golf world awakened to its collective stupidity. Suddenly, Lorena found herself the focal point of a mild recruiting war. The winner was Todd McCorkle of the University of Arizona, the alma mater of Lorena's hero, Sorenstam. McCorkle promptly left to take a new coaching job, not realizing what he was leaving behind. Arizona's new coach. Greg Allen, knew he had something special the first time he saw Lorena on the range. She was powerful yet supple and highly focused. She was also in amazing physical condition.
ON THE RISE
Lorena won two tournaments at the tail end of 2000, the Dick McGuire Invitational and Golf World Invitational. She also established herself as one of the longest hitters in the nation, pounding her drives between 250 and 270 yards. Her first two victories in 2001 came in gripping playoffs, first at the Wildcat Invitational and then at the Pac-10 Championships.
In the NCAA Championship, Lorena tied with Candy Hannemann, but lost in a playoff. She also competed in two LPGA events that season as an amateur. Her top result was a tie for seventh in the Welch's/Circle K Championship. In the spring of 2001, Lorena was named NCAA Player of the Year, NCAA Freshman of the Year and a First-Team All-American.
Lorena's sophomore season was something to behold. She won her first seven tournaments, making it eight in a row dating back to her freshman year. Her record-smashing string ended at the PAC-10 Championship. Though she logged a bumpy second round, Lorena remained in contention. But in the third and final round, she left a long putt a few inches short on 18 and lost to Jimin King.
Prior to that, Lorena had dominated college golf, not just winning tournaments, but winning them by margins that embarrassed and intimidated her pursers. For the year, Lorena averaged just over 70 strokes per round—an unheard of number for a college golfer. Her seven straight wins set an NCAA record for men and women. At the top levels golf, only Byron Nelson's 11 straight in 1945 was better.
Following the disappointment of the PAC-10 Championship, Lorena went out and won her very next event, the NCAA West Regional. It was the twelfth and final victory of what would end up being a two-year, 20-tournament college career. By contrast, Tiger Woods won 10 of 27 events at Stanford. Lorena finished in a second-place tie at the NCAA Championship, but repeated as NCAA Player of the Year and was again a First-Team All-American.
Lorena was invited to compete in the 2002 Kraft Nabisco Championship at Rancho Mirage—the LPGA season's first major—and wowed the crowds with an eighth-place finish. She got the thrill of her life in the third round when she was paired with Sorenstam. There was no longer any doubt about her future. It was time to turn pro.
Lorena made it official in May of 2002. She competed primarily on the Futures Tour, where she captured the JWA/Michelob Light Futures Championship, plus the Ann Arbor and Betty Puskar Classics. Her first victory came on Father's Day, with Javier in attendance. He watched as his daughter birdied five holes on the back nine to win by four strokes. Lorena finished atop the 2002 Futures Tour money list to earn exempt status for the LPGA Tour the following year.
And what a year it was. Lorena's first full season as a pro saw her crack the Top 10 with over $800,000 in prize money. She recorded a pair of second-place finishes, at Kingsmill and Rochester.
Lorena broke into the LPGA victory circle for the first time in 2004, with two wins. She got her first at the Franklin American Mortgage Championship, shooting a sizzling 16-under to edge Wendy Frankling by a single stroke and pocket her first six-figure paycheck. That same day, Lorena received word that Alejandro had reached the summit of Mt. Everest. They had always joked that she would win her first tournament and he would climb Everest on the same day.
That August, Lorena won her second tour event, the Wachovia LPGA Classic hosted by Betsy King. The $150,000 winner's check pushed her over $2 million in career earnings. By season's end, Lorena had competed in 27 tour events and notched 18 Top 10 finishes. She finished the year ranked #3, earned more than $1.4 million in prize money, and shattered several LPGA records, including most birdies and most rounds in the 60s.
MAKING HER MARK
Lorena enjoyed another strong year in 2005. In June, she caught fire at the end of the Wegmans tournament in Rochester, making birdie on six of her final seven holes to capture her lone victory of the season. She picked up five strokes on the back nine and passed red-hot rookie Paula Creamer for a spine-tingling win. Creamer likened Lorena's charge to an express train—there was no stopping her once she got rolling.
Lorena finished second four times in '05, including a runner-up at the Evian Masters. She also suffered a devastating playoff loss to Sorenstam at the Safeway International. Lorena bounced back to end the season ranked fourth on the tour.
One of Lorena's favorite moments during the 2005 season happened the day before a June tournament in Phoenix. She popped into the maintenance workers' lunchroom and got a standing ovation from the hundred or so people there, most of whom were of Mexican decent.
One of Lorena's worst moments also occurred that season. A week after her victory at Rochester, she was one shot off the lead on the final hole of the Women's U.S. Open. Needing a birdie to force a playoff, Lorena snap-hooked a three wood into the water for a quadruple-boey and a sixth-place finish. It all but erased the memory of her win the previous week and left many LPGA fans with the impression that she might be a choke artist.
Lorena did not panic. In fact, she targeted 2006 as her breakout year. All the stars seemed to be aligned. She knew her way around the tour, was familiar with the courses, players and public, and now understood the subtle refinements needed to shave a critical stroke or two off her tournament scores. In addition, with Sorenstam, the queen of the LPGA Tour, planning to scale back the number of events she played, the door was wide open for Lorena.
Never one to pass up an opportunity, Lorena finished the season's first event in a second-place tie at the SBS Open. She followed that performance with a fourth-place finish at the Fields Open in Hawaii. As the Kraft Nabisco Championship approached, Lorena hoped to make a statement that would carry her through the season.
She did just that, eviscerating the course with a first-round 62. Ironically, only about 100 fans —about half of whom were Mexican—watched her on this record-tying round. Most of the spectators had attached themselves to Michelle Wie, who shot a career-best round of 66.
Lorena got on the board two weeks later with a win at the Takefuji Classic. Later, she posted three second-place showings before her second victory of the year, in May at the Sybase Classic.
After a disappointing finish at the U.S. Open in early July, Lorena heated up again and carded three straight Top 5 finishes. That set the stage for her victory at the Wendy's Championship at the end of August. She continued her blistering pace in the fall.
Lorena's most gratifying victory in '06 may have been her October win at the Corona Moriela, in her home country. She shot 20-under to win by five strokes. The previous year, she tanked two events in Mexico, including the inaugural Corona Moriela, when her adrenaline got the best of her. This time, she shook off the jitters and shot a course record on the second day, with her entire family—and her dog—rooting her on.
One week later, Lorena won the Samsung World Championship, turning a three-shot deficit to Sorenstam on the last day into a two-stroke victory with a 65. It was the best golf she had ever played. The quadruple-bogey at the '05 Open was now officially a thing of the past. Lorena later sewed up Player of the Year honors, the Vare Trophy, and the top spot on the money list with more than $2.5 million in earnings.
The numbers told the story of Lorena's remarkable year. She led the tour in victories, prize money, birdies, eagles, rounds in the 60s and greens in regulation. She finished 20 of her 25 events in the Top 10, and her 69.24 per-round scoring was the fourth-best in history.
The two honors that still eluded Lorena were ones she had to go out and get herself—no one was going to hand them to her. In April of 2007, she finally suprassed Sorenstam for the #1 ranking on the LPGA Tour. Later that summer, she won her first major, the Women's British Open.
Lorena worked the Old Course at St. Andrews with the skill and cunning of a veteran. She led from start to finish and never lost her focus. At 5-under, she beat Sweden's Maria Hjorth and South Korea's Jee Young Lee by four strokes.
Lorena revealed her streaky side later that August when she took her next two LPGA events, the Canadian Women's Open and the Safeway Classic. She also repeated as Samsung champ and then capped off an amazing year with a victory at the season-concluding LPGA Playoffs. Lorena scored a career-high eight wins and finished among the Top 10 in 21 of the 25 events she entered.
At age 26, Lorena had established herself as the top female player in the world—and was just a few victories away from qualifying for the Hall of Fame. She started 2008 like a Hall of Famer, blasting her way to five victories in her first six events. She took the HSBC Women's Champions and then, in succession, the Safeway International, Kraft Nabisco Championship, Corona Championship and Ginn Open.
The Ginn was no gimme. Lorena held a slim lead going into the final round and actually fell into second place after two holes. She responded with a birdie on the third hole and then three more birdies on 8-9-10 to provide the cushion she needed for a three-stroke victory.
The Kraft Nabisco win was Lorena's second major. She outdistanced Sorenstam and Suzann Pettersen for a tidy victory capped by the traditional jump in the pond at 18—the Green Jacket of the ladies tour. The Corona victory was just as special, because Lorena won it in her home country. It also gave her enough wins to qualify for the Hall of Fame (although she technically cannot be inducted until she has completed 10 years on the tour).
Lorena is not the kind of athlete who loosens her grip once she has grabbed what she wants by the throat. She is the LPGA's next superstar. To topple her, someone will have to raise her game and beat Lorena. She won't give anything away. Of course, that's to be expected of a fierce competitor who climbs mountains for fun.
LORENA THE PLAYER
Lorena is listed at 5-6 and 125 pounds, but those numbers are generous. She is tiny. Fans are amazed when they see her belt drives 250 yards and further. The most remarkable part of her game, however, remains her work with the short irons. She has great touch thanks to her "magical" wrists. Inside of 20 feet, Lorena has nerves of steel with her putter. In 2007 and 2008, she holed one 15-footer after another.
The most remarkable part of her game, however, remains her work with the short irons. She has great touch thanks to her "magical" wrists.
Lorena has the ability to take the distractions and problems in her personal life and channel them into positive energy. The greater the pressure and the higher the stakes, the better she seems to be at locking in and playing her game. She may have blown the 2005 U.S. Open, but she also learned a lesson she won't soon forget.
That being said, Lorena's greatest talent may be her short memory. She is not too hard on herself when she makes mistakes. She analyzes, corrects, and simply moves on. Once Lorena learned how to win tournaments, she methodically began to distance herself from the competition. As has become evident in recent years, the sum total of Lorena's skills is more than tournament victories. When her game is on, she doesn't just win. She wins by a lot. In her four straight 2008 tournament triumphs, she outdistanced her opponents by a total of 26 shots.
Lorena also happens to be ione of the nicest, most open and accommodating players on the tour—to her fans, the media, tournament officials, sponsors and, perhaps most surprisingly, her fellow players. She may have no trophies to prove it, but Lorena may be an even better person than she is a golfer.
EXTRAS
* Lorena was home schooled as a teenager so she could pursue her golf career.
* Lorena's eight consecutive championships as a college sophomore set an NCAA record.
* In 2001, Lorena became the youngest athlete ever to be awarded Mexico's Premio Nacional al Deporte award. She received this honor from president Vicente Fox in Mexico City after a parade in her honor.
* In 20 college events, Lorena never finished more than three shots off the lead.
* Lorena won the Nancy Lopez Award as the top amateur of 2002.
* Lorena finished her college career with a dozen victories—five short of the 17 that Juli Inkster won in four years at San Jose State. Lorena's total tied her for third on the all-time win list with Mary Ann Widman of Duke.
* Lorena's seven victories in 2002 broke the NCAA record set by Brandie Burton in 1990.
* Lorena won the Rolex Rookie of the Year award in 2003.
* Lorena's second tour victory in 2004 made her the fastest player in history to surpass $2 million in winnings. Paula Creamer broke Lorena's record in 2006.
* In 2004, Lorena set new LPGA Tour records with 442 birdies, 75 rounds under par, and 51 rounds shot in the 60s.
* Lorena made her first hole-in-one as a pro at the 2004 CJ Nine Bridges Classic.
* Lorena made her first career double-eagle at the 2006 Evian Masters.
* Lorena's 62 at the 2006 Kraft Nabisco tied the record for an LPGA major, set in 2004 by Minea Blomqvist at the British open. It is the lowest round by a golfer, male or female in a major tournament.
* Lorena was AP's 2006 Female Athlete of the Year, breaking a three-year streak by Annika Sorenstam. Amelie Mauresmo finished second and Lisa Leslie and Maria Sharapova tied for third. With Tiger Woods winning the AP Male Athlete of the Year, it marked the first time that two golfers reigned simultaneously since 1945, when Byron Nelson and Babe Zaharias won.
* In 2007, Lorena became the first woman ever to top the $4 million mark in a season. She obliterated Sorenstam's previous mark of $2.8 million.
* Lorena's four straight LPGA victories in 2008 landed her in elite company. Only Mickey Wright, Kathy Whitworth, Nancy Lopez and Sorenstam had accomplished this feat.
* Lorena will be eligible for Hall of Fame induction in 2012.
* Lorena is the first Mexican-born player to win on the LPGA Tour. She was the first Mexican golfer to win a pro tour event since Victor Regalado in the 1970s.
* Lorena's passed the $1 million mark in career earnings at a tournament hosted by Nancy Lopez.
* Lorena won 22 tournaments in her home state of Guadalajara and 44 national events in Mexico.
* Thanks largely to Lorena, there are now more than 1,000 girls playing tournament golf in Mexico—10 times the number that were playing when started her career.
* Lorena was called "Locho" by her college teammates.
* Lorena's coach is Rafael Alarcon, a former PGA Tour player.
* Lorena donated money to build a school for 300 needy children in 2006.
# Lorena loves to fish when she is not on the golf course. She once hooked a rare a 42-kilo Roosterfish.
# Lorena climbed 17,000-foot Mt. Iztacihuatl at age 16 and finished a four-day ecothon (mountain biking, hiking, swimming, kayaking and rappelling) at age 17.
# When Lorena makes a mistake during a tournament, she dedicates a portion of her next practice round to eliminating it.
# Lorena's borther, Alejandro, is an architect. His dream is to design golf courses with his sister one day.
Read more
Latest headlines