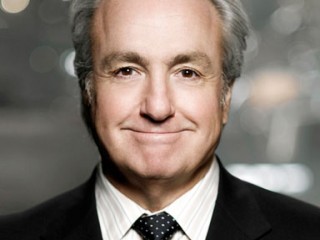 Lorne Michaels biography
Date of birth : 1944-11-17
Date of death : -
Birthplace : Toronto, Ontario, Canada
Nationality : Canadian
Category : Arts and Entertainment
Last modified : 2010-08-31
Credited as : Television and movie producer, creator and producer of Saturday Night Live, executive producer of Late Night with Conan O'Brien
Lorne Michaels
, also known as
Lorne David Lipowitz, Lorne Lipowitz
born November 17, 1944 in Toronto, Ontario, Canada is a Canadian television producer and movie producer.
Playboy contributor David Rensin described film and television producer Lorne Michaels as "the unofficial godfather of modern comedy." Known primarily for creating, producing, and writing the late-night program
Saturday Night Live
--or as it is commonly referred to, SNL--Michaels is credited with pioneering a style of television comedy that was revolutionary when the popular show debuted in 1975. With its political, social, and often confrontational content, SNL took viewers by surprise and established a loyal audiences. As the show grew in popularity, Michaels branched out and began work on other projects, including writing and producing numerous television programs and acting as producer for a variety of films, including the immensely popular
Wayne's World
. In 1993, Michaels was chosen by the National Broadcasting Company (NBC) to create and produce a new late-night show to replace the celebrated Late Night with David Letterman. His work has permeated popular culture to the point where lines of dialogue from his shows and films are used by millions of people worldwide as catch-phrases in regular conversation. David Marc appraised Michaels' career in the Voice, stating that "his mastery of television history and gesture, and his willingness to take chances with both pen and camera put late-night TV satire on the cultural map."
Lorne David Michaels
entered the world on November 17, 1944, in Toronto, Ontario, Canada. Growing up in the affluent suburb of Forest Hill, Michaels was raised in the burgeoning age of visual media. "I watched everything," he told Michael Winship in Television. "I remember television sort of being a miracle." As Michaels matured, so too did television, evolving from the sparse staging of live shows like The Honeymooners--(a favorite of Michaels' and one that would greatly influence his career--to more sophisticated, prerecorded material. Initially, however, Michaels did not consider television as his future career. As the son of a successful furrier, he was expected to follow the traditional path of college and career. As a result, Michaels found himself enrolled in the English program at the University of Toronto, heading toward a profession in law or teaching.
Gets the Show Biz Bug
While attending college, Michaels became involved with a theatre group and began acting, writing, and directing. Most of the projects he was involved with were satirical revues, shows that featured sketch comedy and humorous musical numbers. Those productions increased his interest in show business, and their popularity proved to Michaels that his brand of humor was appealing to others. Despite this, a career in television was not the foremost thing in his mind. As Michaels told Winship, "I think I was headed more toward theater or to film. I was from the what-I-really-want-to-do-is-direct generation." He paired with Hart Pomerantz, whom he had met while producing a revue, and the duo began writing and performing a comedy act. In the course of presenting their material, the collaborators attracted the attention of some influential people. "Through a series of happy accidents," Michaels told Winship, "we got to write for some good comedians, and that material got shown to other people. We were sent out to California to do a television series, and that led to another television series."
The "good comedians" that Michaels mentioned to Winship included Woody Allen, who would later go on to make such films as Sleeper and Annie Hall. The television series that he and Pomerantz wrote for were The Beautiful Phyllis Diller Show and Rowan and Martin's Laugh-In. While Diller's show lasted only one season, when the team began work on Laugh-In in 1968 the show was one of television comedy's most popular. Michaels and Pomerantz were contracted to write opening monologues for the show's hosts, Dan Rowan and Dick Martin. As junior writers on the program, however, the duo was subjected to the whims and tastes of the senior writing staff. As a result, much of the material they wrote was extensively rewritten--sometimes to an unrecognizable degree. Disillusioned with the process of television writing, the pair returned to Canada. They eventually came to the conclusion that if they were to continue working in television, they would have to produce their own shows. As Michaels told Timothy White in Rolling Stone: "I became a producer to protect my writing, which was being [ruined] by producers."
Michaels and Pomerantz made an agreement with the Canadian Broadcasting Corporation (CBC) to write, produce, and star in a series of television specials. Over the course of three years, beginning in 1969, they created three specials a year with titles such as The Hart and Lorne Terrific Hour and Today Makes Me Nervous. The format of these specials, which would later provide loose blueprints for SNL, had Hart and Lorne hosting a program of sketch comedy with musical guests like Cat Stevens and James Taylor. While the shows were moderately popular and made Michaels and Pomerantz well known among younger viewers, they also served in an instructional capacity for Michaels. He related in Winship's Television: "I learned how to do television mostly because the CBC was this tremendous training ground. If you were prepared to work from midnight to eight, you could edit all you wanted. I began to feel very comfortable in a television studio. . . . I was able to learn an enormous amount in a very short time." Michaels became so interested in the processes behind the cameras that he eventually lost interest in performing. He and Pomerantz severed their partnership on these grounds, with Hart continuing to perform and Michaels going on to produce several programs for the CBC.
While Michaels was indebted to Canadian television for his technical knowledge, he realized that the real media opportunities--the real test of his talent--lay in the much larger U.S. market. So in 1971, confident of his ability, he returned to California and American network television, landing a job producing and writing a show built around the comedy team of Burns and Schreiber. When the show proved unsuccessful, Michaels moved on to other projects. In 1973 he was introduced to comedian Lily Tomlin, who was enjoying a wave of success following her role as a regular performer on Laugh-In. In their first meeting, Tomlin and Michaels talked for nearly seven hours. After that first impression, Tomlin hired Michaels as a writer on her second television special for the Columbia Broadcasting System (CBS), which she was just starting to produce. Titled Lily, the show proved a turning point for Michaels. While he and Tomlin clashed over certain issues, neither could deny that their work together created great comedy. When Tomlin signed on with the American Broadcasting Company (ABC) for two more specials, she named Michaels as a chief writer and coproducer.
"Tomlin's specials were daring," wrote Doug Hill and Jeff Weingrad in their book Saturday Night: A Backstage History of Saturday Night Live, "they seemed to have experimental written all over them." The shows contained pieces that were surreal for the television standards of the 1970s, and they often dealt strongly with such taboo topics as drugs and politics--issues that had plagued and later scuttled the popular Smothers Brothers Show. While her material found a significant audience with young urban viewers, Tomlin and her creative team's renegade approach incensed executives at both CBS and ABC, and her specials were not expanded into series form, as she and Michaels had hoped. While Tomlin went on to star in such films as Robert Altman's Nashville, Michaels halfheartedly worked on several TV specials for entertainers such as Perry Como and Flip Wilson. He quit after producing one of four specials for Wilson, once again disillusioned with television.
When Michaels first returned to the United States, his agent arranged a meeting with executives at NBC. The purpose of the meeting was for Michaels to pitch his idea for a new show to the network. Having long been a fan of the television series produced by the comedy troupe Monty Python, Michaels wanted to do a show in America that reflected the off-kilter, anarchic spirit of the English group. Armed with videotape of choice Python bits and excerpts from the Hart and Lorne shows, he pitched his idea to the men in charge of America's viewing habits. They laughed heartily at the material they were shown, but at the end of the meeting the executives told Michaels that no one in America would appreciate that type of humor. By 1975, about the time that Michaels was contemplating a permanent separation from television work, executives at NBC were trying to develop a new show that would air at 11:30 on Saturday nights, replacing the reruns of the Tonight Show that the network had been airing. The problem was that they couldn't find a producer with a concept that appealed to them. Michaels was approached by NBC vice president Dick Ebersol with the prospect of pitching a show. He was told to meet two of NBC's top decision-makers in the Polo Lounge of the Beverly Hill Hotel. That meeting would change late-night television history.
Setting the Stage
The show Michaels pitched to the NBC executives that morning in the Polo Lounge was a radical departure from current television standards--and yet its foundation lay in practices from TV's early years. Michaels described the show as such: as its backbone, it would have a regular, troupe-style cast performing in various sketch pieces; it would be hosted by a different celebrity each week; a different musical guest would also be featured each week; it would highlight the work of unique artists such as filmmaker Albert Brooks and puppeteer Jim Henson; and, to the discomfort of the executives, the show would be produced live. Despite their reservations, the NBC executives liked Michaels' ideas enough to give him a chance at producing the show.
They decided to call the show Saturday Night; it would not be until 1977 that the word "live" was officially added to the title. The fact that live television had given way to prerecording and that live telecasts were basically limited to sporting events and news programs did little to faze Michaels. On the contrary, the prospect of a show in which mistakes could not be corrected and anything could happen excited the producer. As he told Lillian Ross in Interview, "I wanted to be able to combine television technique with theater technique. . . . The [television] technology meshing with the live comedy is a miracle." Further addressing his reasons for producing the show live, Michaels later told Rensin, "I believe The Tonight Show lost its soul when it moved out of New York and stopped being live. I liked it, when I was a kid, that they were up at eleven-thirty. People are different when they're up at eleven-thirty."
Saturday Night was produced in New York City and broadcast from studio 8H in the network's facility at 30 Rockefeller Plaza. Once it was committed to a debut, Michaels set about building the team that would create the show. He assembled a group of writers and production staff based on people whose work he knew or was at least familiar with. Among this group were the writing and performing team of Al Franken and Tom Davis, dark comedy specialist Michael O'Donoghue, and Michaels' then-wife Rosie Schuster. To make the show really work, however, the producer needed to put together a cast that could write as well as perform, that had little or no preconceptions regarding the limits of television, and, most importantly, that reflected his own comic sensibilities. In preparing the first show, Michaels explained to Winship, "I just did a show that I would watch if I were the audience. Everyone else I assembled in the first year really had just sprung from the audience. With one or two exceptions, they weren't people with very long resumes." For his seven cast members, to be dubbed the Not Ready for Prime Time Players until the name was dropped in the early 1980s, Michaels chose a varied group of performers. Dan Ackroyd was a writer and comedian with whom Michaels had worked when he and Pomerantz were producing their specials for the CBC. Ackroyd had previously worked with the Canadian version of the comedy troupe Second City. From a similar source, the National Lampoon comedy group, Michaels chose John Belushi, Chevy Chase, and Gilda Radner. To round the cast out he selected Laraine Newman, Jane Curtin, and Garrett Morris. The key players were in place, Michaels had the production staff he needed, now all that was required was getting America's late night television audiences to watch.
"Live from New York . . . It's . . ."
Saturday Night's first show aired on October 11, 1975, with popular comedian George Carlin hosting. In homes across America, people tuned into a program that took chances, spoke frankly, and was a fresh departure from the usual television crop of sitcoms, police dramas, and variety shows hosted by stuffed-shirt celebrities. As a Playboy writer described it, "The humor was hip, the music contemporary, and young urban adults responded enthusiastically." The second show featured a reunion of the legendary music duo Paul Simon and Art Garfunkel, who had disbanded in the early 1970s. Michaels' creation was up and running. As the first season progressed, several of the performers distinguished themselves with energetic and inspired performances, establishing several popular and recurring characters. A noteworthy performer on SNL's maiden voyage was Chase, who captured viewers' attention with his dry, off-the-cuff delivery and his slapstick pratfalls, which he often performed in the show's prologue segment. It was these prologues, a traditional sequence preceding the show's theme music and opening credits, that ended with the now legendary line "Live, from New York, it's Saturday Night!," a signal to the audience that the show's festivities were under way.
As SNL grew in popularity, so too did the attention lavished on Chase. At the end of the first season, Chase announced that he would be leaving the show to pursue a career in the movies. The performer's departure was a harbinger of things to come for Michaels, as future years would see the defection of other cast members, lured by the stardom and financial rewards Hollywood offered. To replace Chase, Michaels chose Bill Murray, a young comedian who had distinguished himself in his work with the Chicago chapter of Second City as well as the National Lampoon troupe. With the addition of Murray, the Not Ready for Prime Time Players recovered from Chase's absence and began producing shows that are considered definitive of SNL's heyday.
Throughout the latter half of the 1970s, Saturday Night Live became the event of Saturday night television, with each of the Not Ready for Prime Time Players proving themselves key comedic players. Curtin assumed the reins of Chase's mock news segment, "Weekend Update," which has, throughout the show's history, been a staple, and also created the role of Prymaat in the popular "Coneheads" skits. Newman specialized in parodies of the more outrageous personalities found in 1970s society, including spaced-out hippies, bubble-headed talk show hostesses, and jaded partygoers. And Morris not only proved himself a capable comedian but a gifted singer. Despite the strong work of these three performers, many critics consider the work done by Ackroyd, Belushi, Murray, and Radner during this time to be among the best ever presented on SNL. Ackroyd not only distinguished himself with a host of characters, including Beldar Conehead, sleazy cable-TV host E. Buzz Miller, and ex-presidents Richard Nixon and Jimmy Carter, but as a linchpin on the show's writing staff. Belushi's kinetic energy was translated into such lasting performances as the Samurai warrior, a satiric Captain James T. Kirk in a sketch spoof of the popular show Star Trek, and the proprietor of a Greek diner that offered a limited menu of cheeseburgers and cola ("No Coke . . . Pepsi!"). Radner created such beloved characters as prissy "Weekend Update" commentator Emily Littella, crass "Update" commentator Rosanne Rosanna Danna, and the nerdish, runny-nosed Lisa Lupner. Playing a spastic Romeo to Lisa Lupner's bespectacled Juliet was the equally nerdy, sexually and scatologically obsessed Todd DeLamucca, created by Murray. Murray also came forth with a greasy, no-talent lounge singer and a variety of shallow egomaniacal game show hosts.
With the establishment of the Not Ready for Prime Time Players as recognizable stars, SNL reached its greatest popularity. The show was a top-rated success that audiences repeatedly watched. Michaels related to White in Rolling Stone that he felt the show's success boiled down to the audience identifying with what SNL presented. As Michaels stated, "I always felt that the show at its best was a record of what had gone on that week in the country, the world, and in the lives of the people doing the show." Writing in Interview, Ross commented that the show was able to both challenge and entertain its audience using intellect and irreverence: "From the start, Saturday Night Live under Michaels, has been pitched . . . to a higher level of sophistication than any other comedy on American network television. It was obvious that Michaels did not worry about whether his show was too sophisticated or not." Michaels responded in the same Interview article, "What we did, and what I was incredibly serious about doing, was to establish that in comedy it was and still is perfectly proper to question the official version of everything. We have always played to a movie and a book audience and not to the audience of television."
The combination of SNL's success and the youth of the writers and cast fostered an era of camaraderie and fertile creativity, and from 1975 to 1978 the show flourished. Michaels described these early years to Winship as a "state of grace." As time progressed, however, the environment of SNL began to change. Michaels told Winship: "I don't know how long groups can stay together in a kind of innocence. I think there's a point at which the age of experience takes over, and people view each other and themselves differently. They become conscious of `Is this the best sketch for me to be doing?' The work ceases to be the guiding thing and this other word--career--begins to take over." Several of the cast members had embarked on outside projects during SNL's summer vacations. Radner had parlayed many of her SNL characters into a hit stage show, Gilda Live--which Michaels cowrote, produced, and directed--and Radner, Curtin, and Newman had starred in a special, Bob and Ray, Jane, Laraine, and Gilda, with legendary radio comedians Bob Elliot and Ray Goulding. Following Chase's path into movies, Belushi took on a role in the college fraternity comedy National Lampoon's Animal House. The movie became a large commercial success and Belushi became a viable movie star. Belushi and Ackroyd then teamed to make a movie adaption of their popular SNL characters the Blues Brothers. The taste of Hollywood success proved too alluring for Ackroyd and Belushi, and they announced that they would be leaving SNL at the end of the 1978 season.
Out with the Old, in with the New
The remainder of the cast, Curtin, Morris, Murray, Newman, and Radner returned for the 1979 season, joined by supporting players Harry Shearer, Don Novello--known primarily for his Father Guido Sarducci character--and the team of Franken and Davis. To many critics and viewers, however, it was clear that the SNL spark was fading. Michaels was upset by the departure of Belushi and Ackroyd, and he was also distressed by the current perception of the show. As he told Rensin in Playboy, "Everything we did was now popular. If we could do an old thing, we did. Worse, Saturday Night Live began to be perceived as a step, not an end. It changed the attitude of the people who worked there. I was trying to hold the show together. . . . It gave me all I needed, used all my talent, all my energy. But for others, it was time to move on." With the remaining cast members growing restless and his own attitude toward the show becoming jaded, Michaels announced his departure in 1980, at the end of the SNL's fifth season. The entire cast and crew of the show also left at the end of that season, marking the end of SNL's first chapter.
With the old cast now pursuing careers in films, Michaels decided to distance himself from television for a while. As a result he lent his talents to producing occasional television specials and concert events, including Simon and Garfunkel's reunion concert in New York City's Central Park. He also built up his production company, Broadway Video, and produced a film, Nothing Lasts Forever, that was written and directed by former SNL writer Tom Schiller. By 1984, however, he was ready to commit himself to regular television work once again. NBC asked him to develop a new comedy show that would air at ten o'clock on Friday nights.
Assembling many of the writers from SNL, Michaels created a show that bore a format similar to his old show. Unlike SNL, however, Michaels' new show, titled The New Show, would not have a guest host. Rather, it would feature three guests--usually actors or comedians--per week who would join the regular cast in sketches. The show would also feature a special musical guest. Michaels assembled a small regular cast to work with each week's guests: well-known comedy writer and performer Buck Henry; Canadian comedy show SCTV alumnus Dave Thomas; and comedian Valri Bromfield, whom Michaels had unsuccessfully recruited for the original cast of SNL. The show debuted in January of 1984 to a less-than-enthusiastic response from the network. Despite the fact that virtually the same creative team that drove SNL to its zenith was working on it, The New Show could not quickly establish the viewer loyalty that its predecessor had enjoyed, and NBC was unwilling to give the show a lengthy chance to build an audience. The New Show was canceled in March, three months after its debut.
While The New Show failed, its quick demise did not compare to the troubles plaguing Saturday Night Live in the years after Michaels left the show. The season following Michaels' departure, NBC hired Jean Doumanian as the producer and charged her with putting together a new creative staff. Doumanian's new Saturday Night Live was greeted with brutal reviews, receiving negative publicity from a majority of the critics and viewers who watched it. Amid several behind the scenes conflicts, Doumanian, her entire production staff, and all but two of the cast members were fired. Dick Ebersol, the man who was instrumental in securing Michaels' position as creator and producer of SNL in 1975, assumed the role of producer in 1981. Ebersol produced one show before a writer's strike shut down production. After the strike, Ebersol managed to somewhat revitalize the show and simultaneously launch the careers of cast members Joe Piscopo and Eddie Murphy. But the show's budget had gone up and its ratings were not justifying the money. By the end of the 1985 season, Ebersol had left the show over a budget dispute and NBC began looking for a new producer.
Saturday Night Again
NBC contacted Michaels about returning to SNL in the spring of 1985. He accepted the network's offer and agreed to put together a new staff, work with a reduced budget, and deliver the first new show by November of that year. "When I was asked to return," Michaels told Susan Orlean in Rolling Stone, "everyone advised me against doing it. But it's what I do, so I decided to come back." Rather than resume his role as active producer, Michaels decided to let the Franken and Davis team handle that job. He would act as executive producer, contributing writing and advice and overseeing the entire production. Despite putting together a cast that featured some promising newcomers, Michaels' return season was plagued by a number of troubles. Foremost was the short amount of time that he had to put his first show together. Cast members and writers were hired in a rush and many of them had no experience working in television. Several well-known actors, Anthony Michael Hall, Randy Quaid, and Robert Downey, Jr., were hired to improve the appeal of the all-new cast. As the season got underway, however, many critics complained that these film actors were out of place in SNL's live comedy arena and were actually a detriment to the show. It also didn't help the show that, after ten seasons, it was no longer seen as a novel concept. By the end of the season, NBC laid out plans to cancel Saturday Night Live.
Michaels managed to save SNL from cancellation by appealing to NBC entertainment president Brandon Tartikoff. He promised Tartikoff a significant change in the cast and writing staff and also guaranteed the executive better ratings. Retaining only two performers, Nora Dunn and Dennis Miller, from the 1985 season, Michaels set about recruiting a new cast. This time he used the strategy that had guided him in selecting the first SNL cast in 1975: He went for virtual unknowns, people who were hungry and were fighting for territory in the comedy landscape. Joining Dunn and Miller for the 1986 season were Jon Lovitz, Victoria Jackson, Phil Hartman, Dana Carvey, Jan Hooks, and supporting player Kevin Nealon. Reviews for the new ensemble were enthusiastic and viewers once again began watching. Bolstered by the cast and a revitalized staff of writers, Michaels' SNL once again bloomed into a popular show.
As they had in the show's first incarnation, recurring characters began appearing on SNL and gaining popularity among viewers. There was Lovitz's Tommy Flanagan, a pathological liar whose catch-phrase was "Yeah, that's the ticket!" Hooks and Dunn created the Sweeney Sisters, a terrible singing duo whose roots could be traced back to Bill Murray's lounge singer. And Carvey brought forth a host of characters and impersonations, including Andy Rooney, Jimmy Stewart, and U.S. president George Bush. Carvey also contributed the Church Lady, a holier-than-thou TV evangelist who was fond of sarcastically proclaiming "Isn't that special?!?" when guests on her show displayed prideful behavior. As SNL progressed through the late 1980s, its popularity grew. In an interview with Bob Guccione, Jr. in Spin, Michaels attributed the show's rebirth to some troubleshooting he did at the end of the 1985 season: "By the end of '85, I was able to see: Wait a minute, we need . . . we don't have enough of this. So I tried bringing in two or three key performers who could balance what I already had, a couple of writers who were better writers for them." Michaels also began featuring players who would earn their stripes in supporting roles and eventually become full cast members. Nealon was added the cast in this manner, as was Mike Myers, Chris Rock, and Chris Farley. By maintaining a steady influx of new talent, Michaels was able to weather the defections of key cast members like Miller, Hooks, and Carvey without having the whole show fall apart in the process. His formula worked so well that by the early 1990s, SNL was enjoying its highest ratings ever, despite personnel changes.
By the mid 1990s Saturday Night Live faced stiff competition. For the 1995-96 season SNL faced a new rival in Fox Network's Mad-TV. They also lost a number of popular regulars, including Myers, Phil Hartman, Adam Sandler, and Chris Farley, to film careers. In reaction, SNL underwent a complete revamping. Michaels oversaw the show's "most sweeping overhaul in a decade," according to Ginia Bellafante in Time. Twelve new writers were added to the staff. New actors--Will Ferrell and Darrell Hammond--were also hired to replace those who had left. While the show struggled for several seasons, by 2002 Josef Adalian in Variety could report that "for the past five years or so, SNL has been on an extended winning streak." By late 2004, Michaels was quoted by David S. Cohen in Daily Variety as saying, "We're coming up to our 30th season in a couple of weeks, and I'm just as anxious and excited about this season as I've been in the entire history of the show."
Branches Out
As Michaels made his return to SNL in 1985, he was also expanding his influence in other areas. During his years away from the show he had developed his company Broadway Video, which, in addition to creating new programs, administered the syndication of SNL reruns. He also returned to the business of making movies, a venture he had unsuccessfully attempted in the late 1970s with Nothing Lasts Forever and SNL writer O'Donoghue's Mr. Mike's Mondo Video. This time teaming with comedian and frequent SNL host Steve Martin and singer/songwriter Randy Newman, Michaels wrote the script for a film called The Three Amigos, which he also produced. The film stars Martin along with former SNL cast members Chevy Chase and Martin Short, who appeared on the show during Dick Ebersol's reign as producer.
Chase, Martin, and Short star as Dusty Bottoms, Lucky Day, and Ned Nederlander, silent movie stars who are known collectively as the Three Amigos. Dressed in sombreros and Mexican-style costumes, the Amigos are a colorful crime-fighting team patrolling the western frontier in Hollywood films. Bottoms, Day, and Nederlander feel that their Amigo characters are popular American icons who deserve more respect--in the form of money. So the three confront the head of the studio that produces the Three Amigo films and demand more money. The studio boss laughs in their faces and throws them out on their collective behinds. Things appear dark for the Amigos until a telegram arrives from Mexico. A young woman named Carmen has requested a performance by the Three Amigos in her village, and she has promised to pay the actors handsomely for their services. The three immediately agree to appear. Unknown to the Amigos, however, Carmen's communique was poorly translated. Having seen newsreel footage of the Amigos rescuing a town and then refusing reward money, Carmen believes that the three men are real heroes carrying out egalitarian crusades against evil. She has asked them to come--free of charge--and rescue her poor village from the terrors of the outlaw El Guapo. The Amigos arrive in town with the belief that they will be playacting a gun battle, but instead come face-to-face with the deadly serious El Guapo. In the climax, the three actors must live up to their screen personas and actually rescue the town.
Critical reaction to The Three Amigos was mixed, with many reviewers agreeing upon the film's lightheartedness. Washington Post contributor Rita Kempley had the least patience for the film, calling it "the cinematic equivalent of Montezuma's revenge [diarrhea]." Writing in the New York Times, Janet Maslin complained of the film's excessive indulgence in sets and bad jokes, but she did praise the film as "likable" with "a strain of subtle wit," proclaiming that The Three Amigo's "best gags reflect an enjoyable sophistication." Finding the film very entertaining, Patrick Goldstein wrote in the Los Angeles Times: "There's hardly a moment in `Three Amigos' that isn't silly--make that incredibly, outrageously and breathtakingly silly. Maybe that's why this tale . . . is such a goofy delight." Goldstein went on to praise the film as "one of the daffiest comedies of the year."
In addition to making The Three Amigos, Michaels also became involved in a number of other television projects. He served as executive producer for the program Michelob Presents Sunday Night, which was hosted by jazz musician David Sanborn and featured musicians from a variety of backgrounds getting together and jamming. When he was faced with the possibility of NBC canceling SNL, Michaels went north in search of new talent. While in Toronto, he came across a comedy troupe called The Kids in the Hall, the moniker taken from the nickname comedian Jack Benny bestowed upon his writing staff. Michaels was interested in recruiting fresh talent for the beleaguered SNL, but as he told Guccione in Spin, "I've always had a sort of taboo in my mind about breaking up comedy groups. I just know how hard it is for an ensemble to get together." Despite seeing potential SNL cast members among the Kids, Michaels admired their comedy too much to risk breaking up the group. Instead, he became the troupe's executive producer and arranged a deal for them with the Home Box Office (HBO) cable channel. The Kids in the Hall proved so popular on HBO that CBS offered them a late night network spot. The group amicably separated with Michaels when they signed with CBS in 1992. Despite the comparisons made between The Kids in the Hall and SNL, Michaels told Guccione that he doesn't view the show as a rival: "I think they do something different than what we do here and I think that they're brilliant."
Wayne's World! Party Time, It's Excellent!
With the re-emergence of Saturday Night Live as a powerful comedic voice, Michaels' talents as a creator became an in-demand commodity. In the early 1990s, he signed a production deal with Paramount Pictures, agreeing to create and produce a series of motion picture comedies for the studio. For his first film Michaels traversed familiar territory. Approached by SNL cast member Mike Myers about making a film, Michaels suggested expanding the popular "Wayne's World" sketch into a feature. Like the sketch, the resulting movie is titled Wayne's World and, in a loose narrative, follows the exploits of teenagers Wayne Campbell, played by Myers, and his faithful sidekick Garth Algar, played by SNL regular Dana Carvey.
Wayne's World the movie opens much the same way that "Wayne's World" the sketch opens on SNL. Wayne and Garth are seated on the couch in Wayne's basement. Wayne is tunelessly chainsawing chords on his electric guitar to the accompaniment of Garth's drumsticks as they meatily collide with his thighs. It is the opening sequence to the duo's cable access show, titled, oddly enough, Wayne's World. As Wayne and Garth go through their usual program of aesthetic appreciation--ogling a poster of model Claudia Schiffer--consumer product reviews--the Suck Cut, a new invention that sucks hair as it cuts--and witty verbal sparring--"No Way!" "Way!" "No Way!" "Way!"--the scene shifts to a young couple watching the show. As fate would have it, the man is a television producer on a quest for a new television program to lure in big advertising dollars. Thirty seconds of Wayne and Garth's adolescent banter and party-on attitude convince him that Wayne's World is the show that he is seeking.
The producer meets with Wayne and Garth, and, innocently believing in the producer's goodwill, they soon sign a Faustian deal. As the show goes into production, Wayne and Garth are horrified to learn that the set for Wayne's World has been moved from Wayne's basement to a monstrous studio that has been made up to look like Wayne's basement--only cleaner. They are further unsettled to find that all of the dialogue for the new show has been written out for them on cue cards. The final straw is when the duo are informed by the producer that they must conduct an on-air interview with the show's greasy sponsor. Wayne goes along with this, but while he conducts the interview as it has been written, he holds up cue cards that only the audience can see. To the chagrin of the producer, Wayne is displaying cards that indicate that the sponsor is a "sphincter boy" who engages in sexual acts with farm animals. When the producer threatens to fire Wayne and Garth and replace them, the two tell him that's fine, they'll just go back to doing Wayne's World from Wayne's basement. Unfortunately, the boys did not read the fine print on their contract. The producer owns the rights to the show.
While Wayne's World has a loose plot, most of the attention the film received focused on the characters of Wayne and Garth; the storyline is a backdrop for Myers and Carvey to display their comedic talents. The film went on to tremendous success, becoming the number-one money-maker of 1992. Wayne's World appealed to young adults, who incorporated such Wayne and Garth phrases as "Yeah, and monkeys might fly out my butt"--a dismissal of a patently absurd statement--"Schwing!"--an admission of sexual arousal--and the immensely popular "Not!"--a sarcastic tag that follows a falsely sincere statement--into their everyday speech. While many adults found the film ridiculous beyond compare, several critics were quick to notice Wayne's World's lightheaded appeal. As Anne Billson wrote in the New Statesman, "the jokes come thick and fast. Some are just thick, but the best are howlingly clever." New York contributor David Denby called the film "funny in a nagging sort of way." "Wayne's World is a goofy, good-natured comedy," affirmed Brian D. Johnson in Maclean's, "a movie so wilfully sophomoric that no matter how inane it gets, it never loses its charm."
Coneheads Invasion
"In a world of recycled entertainment in which movies end up being pilots for television shows . . . and old television shows turn out to be previews for movies . . . it makes perfect sense to take . . . characters whose natural comedic life span is about five minutes and extend it by a factor of twenty." This sentiment stated by Emily Yoffe in Rolling Stone regarding the justification of making a movie out of the "Wayne's World" skit was echoed by Michaels. The success of the Wayne's World film proved to him that, done properly, characters from short pieces could be sustained throughout longer formats. So, in 1993, Michaels again parlayed an SNL sketch into a full-length motion picture. Going back to the show's "golden" era, Michaels met with former cast member Ackroyd to formulate a movie idea based on one of SNL's most popular and enduring sketches, "The Coneheads." The movie Michaels ended up producing, The Coneheads, was released in the summer of 1993. It tells the story of the familiar Conehead family, Beldar, his wife, Prymaat--played, respectively, by Ackroyd and Curtin in a reprisal of the roles they originated on SNL--and their daughter Connie, natives of the planet Remulak.
As the movie opens, the Conehead family has crash-landed their spaceship on the planet Earth--specifically, the state of New Jersey. Deciding to assimilate into the native culture and learn as much as they can about the human race, the aliens pose as a normal American family. The problem is they are not normal. As their name indicates, they have enormous, pointed heads. In addition, they employ an odd vocabulary--delivered in clipped, mechanical tones--that sets them apart from humans. And then there is their eating habits. The Coneheads have voracious appetites for "mass quantities" of food and beer, which they "consume" by simultaneously opening all of the cans in a six pack and pouring all seventy-two ounces down their throats in one powerful swallow. Despite these abnormalities, the Coneheads are accepted by their neighbors as a nice normal family who have just moved to New Jersey from Remulak, which, the neighbors are led to believe, is a little-known town in France. Problems arise when an agent for the United States Immigration and Naturalization Service begins to track the Coneheads. The agent believes that the Coneheads are illegal aliens from France and he wants to deport them. Further conflicts arise when the family is summoned back to Remulak to answer to their leaders. The Remulakians wish to colonize Earth, and the Coneheads must decide where their allegiance lies: with their native planet or their newly adopted home.
In Praise of Lorne
Despite his successes in film, Michaels is still most often associated with his television work. "Michaels revolutionized late-night television with a live show that defied network censors," Johnson wrote of the series in another Maclean's article. Saturday Night Live and Lorne Michaels are often mentioned in the same breath, and to many he is the personification of the show. Critics such as Johnson have pointed to Michaels' work on the show as defining modern comedy on television. As Elizabeth Kolbert wrote in the Detroit Free Press, "By now SNL has been on the air so long it has shaped the comic sensibilities of an entire generation."
For all of the praise directed toward SNL and its creator, Michaels remains modest about the work he and his numerous cohorts have produced since 1975. In his discussion with Rensin, he explained his SNL career by way of Stanley Myron Handelman's variation on the monkey/typewriter theory: if a group of monkeys are placed in a room with typewriters, they will eventually write the entire works of Shakespeare. As Michaels related to Rensin: "He [Handelman] left the monkeys in the room, and a couple of weeks later, he looked in on them, and he said, `You know something? They were just fooling around.'" Michaels continued, "I always loved that joke because for me it represented what we were doing at the show: We were just fooling around." When Rensin later asked him if he agreed that SNL was his life's work, Michaels responded: "To a large extent. Being with the show has been like meeting somebody and falling in love when you're young, and it ends up that it's the person you're with for your entire life--and you think you must have made some mistake."
Although Michaels jokes about his role as a comedy innovator, others are quick to appraise his worth and the reasons for his successes. Ross wrote in Interview that "Michaels is attracted to talented people, and talented people are attracted to him." This holds true in Michaels' friendships as well as his business relationships. He has many close friends in the artistic community, a few of whom summarized Michaels for Ross. Singer/songwriter Paul Simon said of Michaels: "His intelligence is exhibited in the context of his wit. People are attracted to Lorne because they feel safe with his comedic sensibility. All this makes him the perfect producer." Writer/director Mike Nichols also described his friend to Ross: "The main thing about Lorne is his generosity. He sees people in the most positive way, and then they become their best selves. As an artist and as a friend, Lorne demonstrates more loyalty and love through his acts than anyone else I know. As his humor is unsentimental in the extreme, I think it is the tension and the contradiction between his heartless humor and the great heart with which he lives that distinguishes him from others in his field. He's also very cute, and that's why the girls like him."
PERSONAL INFORMATION
Born Lorne David Lipowitz, November 17, 1944, in Toronto, Ontario, Canada; emigrated to the United States; naturalized U.S. citizen, April 1, 1987; son of Abraham (a furrier) and Florence (Becker) Lipowitz; married Rosie Schuster (a comedy writer), November, 1967 (divorced, 1980); married Susan Forristal (an actress and art gallery owner), September 13, 1981 (divorced); married Alice Barry, April, 1991; children: one. Education: Graduated from University of Toronto, 1966.
AWARDS
Emmy Award, best writing in a comedy-variety special, 1973, for Lily; Writers Guild of America award for best variety, 1975, and Emmy Award, best writing in a comedy-variety special, 1976, both for The Lily Tomlin Special; Emmy Awards for outstanding producer of a comedy-variety series, 1976, and outstanding writing in a comedy-variety series, 1977 and 1989, all for Saturday Night Live; San Francisco Film Award, 1976; Emmy Award, outstanding writing in a comedy-variety special, 1978, for The Paul Simon Special; Charlie Local and National Comedy Award for best in the comedy business, 1988; Broadcaster of the Year designation, International Radio and Television Society, 1992; Peabody Award, for Saturday Night Live; named to Television Academy Hall of Fame, 1999; inducted into Canada's Walk of Fame, 2003; Producers Guild of America Award, 2004; Mark Twain Prize for American Humor, Kennedy Center, 2004; named to Order of Canada; received a star on the Hollywood Walk of Fame.
CAREER
Worked for Film Canada, c. 1967; writer and performer, with Hart Pomerantz, for Canadian television, until 1968; producer and performer, with Pomerantz, of comedy specials for Canadian Broadcasting Corporation (CBC), 1969-73; producer of television specials, various networks, 1973--; creator and producer of Saturday Night Live, National Broadcasting Company (NBC), 1975-80, executive producer, 1985--; Broadway Video, New York, NY, chair, 1979--; producer of motion pictures, including Wayne's World, 1992, The Coneheads, 1993, Wayne's World Two, 1993, Tommy Boy, 1995, Stuart Saves His Family, 1995, The Ladies Man, 2000, and Mean Girls, 2004; creator and producer of The New Show, NBC, 1984; creator and executive producer of Michelob Presents Sunday Night, NBC, 1987-89; executive producer of The Kids in the Hall, CBC and Home Box Office (HBO), 1988-92; executive producer of Late Night with Conan O'Brien, NBC, 1993--; SNL Studios, New York, NY, chairman, 1997--.
WORKS
* SCRIPTWRITER; TELEVISION SERIES
* 1968: (With Hart Pomerantz and others) The Beautiful Phyllis Diller Show, NBC.
* 1968: (With Hart Pomerantz and others) Rowan and Martin's Laugh-In, NBC.
* 1973: (With others; and producer) The Burns and Schreiber Comedy Hour, ABC.
* 1975-1981: (With others) Saturday Night Live, NBC--.
* 1984: (With others) The New Show, NBC.
* SCRIPTWRITER; TELEVISION SPECIALS
* 1973: (With others) Lily, CBS.
* 1973: (With Bob Wells and Johnny Bradford) The Perry Como Winter Show, CBS.
* 1974: (With others; and producer) Flip Wilson . . . of Course, NBC.
* 1975: (With others; and producer, with Jane Wagner) Lily, ABC.
* 1975: (With others; and producer, with Jane Wagner) The Lily Tomlin Special, ABC.
* 1976: (With Alan Zweibel, Dan Ackroyd, and John Belushi; and producer) The Beach Boys Special, NBC.
* 1977: (With others; and producer) The Paul Simon Special, NBC.
* Also producer and writer, with Hart Pomerantz, of triannual comedy specials for Canadian Broadcasting Corporation, including The Hart and Lorne Terrific Hour and Today Makes Me Nervous, 1969-71.
* OTHER
* 1979: (Scriptwriter with others; and producer and director) Gilda Live from New York (stage performance), produced at the Winter Garden Theatre, New York, NY, released as a motion picture, Warner Bros., 1980.
* 1987: (With Steve Martin and Randy Newman; and producer) The Three Amigos (motion picture), Orion.
Read more
Latest headlines