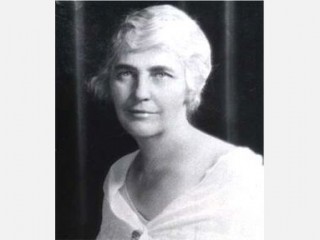 Lou Hoover biography
Date of birth : 1874-03-29
Date of death : 1944-01-07
Birthplace : Waterloo, Iowa, U.S.
Nationality : American
Category : Famous Figures
Last modified : 2010-08-03
Credited as : First lady of the United States, philantropist and feminist, wife of the President Herbert Hoover
Lou Hoover
, born
Lou Henry Hoover
on March 29, 1874 in Waterloo, Iowa, United States - died January 7, 1944 in New York, New York, United States was the First Lady of the United States, an activist, philantropist and feminist.
The older of two daughters,
Lou Henry Hoover
was born March 29, 1874, in Waterloo, Iowa, to Florence Weed and Charles Delano Henry. Records indicate she was not given a middle name and was simply called Lou Henry. Her parents hailed from the railroad town of Wooster, Ohio, and had settled in Waterloo in 1872. Charles Henry ran the local bank. He was an avid outdoorsman and naturalist who enjoyed teaching Hoover to fish, ride horses, camp, trap rabbits, shoot a rifle and identify area wildflowers and grasses. Charles Henry also took his daughter on trips down the nearby Cedar River. During the summers, Hoover canoed down the river; during the winters, she ice-skated across its frozen surface. She also liked to play baseball.
Enjoyed Unconventional Upbringing
As a country banker, Charles Henry moved frequently. In 1879 the family lived briefly in Corsica, Texas. They also spent time in Kansas. Around 1885 they headed west, taking the Santa Fe and Southern Pacific railroads to California. The family settled in Whittier, a newly founded Quaker settlement just south of Los Angeles with about 1,000 people. Charles Henry opened a bank and the family lived in an apartment above the business. They worshiped with the Quakers and later, when an Episcopalian Church was built, they attended services there.
Once in California, Hoover continued to take trips with her father. Sometimes, the father-daughter duo wandered off into the wilderness for weeks at a time, living off the land. These trips sparked Hoover's later interest in geology and also helped her develop an independent spirit and thirst for adventure. This upbringing, unconventional for a girl during the late 19th century, instilled in Hoover an enormous sense of confidence in herself and in females in general. In high school she wrote essays calling for women's suffrage and equality.
When she was 16, Hoover entered the State Normal School at Los Angeles, intending to become a teacher. In 1892 she transferred to the San Jose State Normal School to be closer to family members, who had moved to Monterey. Hoover graduated in 1893 and returned home to work as a cashier in her father's bank. In time, she received an appointment to teach third-graders but found she disliked the vocation.
Bucked Female Conformity
In the summer of 1894, Hoover attended a geology lecture titled "Bones of the Earth" given by John Casper Branner, a Stanford University professor. The lecture rekindled Hoover's interest in the natural sciences, prompting her to enroll at Stanford for the fall term. Living in Palo Alto and attending Stanford, Hoover was finally out from under her parents' wings. She matured into an independent spirit and upset her parents when she bought a "wheel"--as the first bicycles were called. These early bikes, with a four-foot-tall front wheel, were awkward to ride. Since the rider sat so high above the center of gravity, falls were frequent. For a culture just moving away from Victorian values, riding a "wheel" was unladylike.
Free-spirited and frugal, Hoover preferred sleeping in a hammock instead of buying a bed, which also upset her parents. Hoover had grown up a tomboy and continued to buck female conformity through her young adulthood. At Stanford, she lived a carefree life. She joined the Kappa Kappa Gamma sorority and took part in political discussions and debates.
During her studies at Stanford, Hoover studied Latin and majored in geology, where she was the only female in the department. While there, Hoover befriended one of Branner's lab assistants, a senior named Herbert Hoover, though she called him Bert. The two spent a lot of time studying together and when he graduated and went to work for the U.S. Geological Survey, he asked if he could write.
Hoover finished up her studies and graduated in 1898, becoming the first female to earn a geology degree from Stanford. No job offers came her way. During this time period, men did not think women were capable of doing jobs in the scientific fields. In Lou Henry Hoover, author Nancy Beck Young reprinted part of a letter Hoover wrote to a friend shortly after graduation. In the letter, Hoover lamented that her degree was an A.B., which "unfortunately does not stand ... for 'A Boy'--ah, what wouldn't I give just about now to be one! They would not want me to stay meekly at home."
Became World Traveler
Hoover returned home and turned her attention to social activism, which would become a lifelong passion. In 1898, the United States was involved with the Spanish-American War. Hoover spent her time rolling bandages for the Red Cross to support the troops. Her future took a turn in 1899 when she received a marriage proposal telegram from Herbert Hoover. Herbert Hoover had been working for a British mining company in Australia. He wrote that he would be traveling to China and departing from San Francisco, and he asked her to accompany him. Herbert Hoover arrived in Monterey a few days before their February 10, 1899, wedding, which took place at her parents' home.
Within 24 hours, the newlyweds boarded the SS Coptic bound for China. Once settled in Tientsin, a coastal city south of Beijing, Hoover studied Chinese and often accompanied her husband on trips to various mines, collecting samples to send back home to Branner at Stanford. Their stay in China was not entirely peaceful. By 1900, the Boxer Rebellion was in full swing. The Boxers began a revolt against foreigners and Christians, fearing their attempts to exert influence over their country. It was called the Ei Ho Chiang--or "Closed Fist" movement, and for a period Tientsin was under siege with frequent attacks. Shells dropped around the Hoovers' home. Tientsin was home to many foreigners, including Americans, the British, French and Russians, making it a prime target for the Boxers. The residents were asked to patrol the community's perimeter at night and Hoover took her turn.
By 1902, the Hoovers were living in London but took frequent trips. As a mining engineer, Herbert Hoover traveled extensively to inspect mines, and Hoover often accompanied her husband on these missions. She went to Egypt, India, Australia, New Zealand, Burma, Japan and Russia. On August 4, 1903, Hoover gave birth to Herbert Charles Hoover Jr. A second son, Allan Henry Hoover, followed on July 17, 1907. The children began traveling within weeks of their births.
Hoover liked to write and was especially fond of penning biographical essays. She persuaded her husband to help her translate De Re Metallica, a Latin tome on mining and metallurgy published in 1556. It was an important work in the fields of mining, refining and smelting. The Hoovers spent about five years completing the translation, which was published in 1912 and earned them a Gold Medal award from the Mining and Metallurgical Society of America in 1914.
Began Career in Social Activism
By 1910, Herbert Hoover was working as an independent mining consultant based in London. The Hoovers were independently wealthy and able to live off investments. In 1914, World War I erupted in Europe, leaving thousands of U.S. citizens stranded. They poured into London seeking help. Hoover leapt into action and worked with the Society of American Women in London to provide clothing, food and shelter for stranded U.S. women and children.
Herbert Hoover was appointed chairman of the Commission for the Relief of Belgium. Belgians were struggling because Germany had invaded their country and thousands were suffering from starvation. Hoover helped secure money to finance a food ship for Belgium while her husband worked through diplomacy, speaking with enemy forces and asking that the food be allowed to pass through to those in need. When the United States entered the war in 1917, President Woodrow Wilson appointed Herbert Hoover director of the U.S. Food Administration and the Hoovers relocated to Washington, D.C.
Because the United States had to provide food for its own troops and for the Allies, Herbert Hoover was concerned about a food shortage at home. He trumpeted a food conservation program, challenging the nation to change its eating habits and not be wasteful. He instituted programs called Meatless Mondays and Wheatless Wednesdays. Hoover did her part, offering food-saving tips to the nation in a feature for Ladies' Home Journal.
Around this time Hoover began working with the Girl Scouts, becoming a troop leader in Washington, D.C., and helping the girls grow vegetables in a "war garden." She also enjoyed the opportunity to take the girls exploring outdoors. Hoover believed in the organization's mission of helping girls learn self-sufficiency while contributing to their communities and gaining a respect for the natural world through outdoor adventures. In the 1920s, Hoover joined the National Amateur Athletic Federation (NAAF), serving as vice president and overseeing the women's division. The NAAF's mission was to promote physical fitness among Americans.
Moved to White House
After the war, Herbert Hoover was appointed Secretary of Commerce under President Warren G. Harding. In 1928, he received the Republican Party's nomination for president and went on to win the election. As first lady, Hoover envisioned herself as a communicator and spokeswoman for the White House. In 1929 she gave a radio address, becoming the first president's wife to utilize this medium to reach the public. During her four years on Pennsylvania Avenue, Hoover gave several talks. She spoke about her work with the Girl Scouts and the athletic association, and urged girls to go into fields dominated by men. She also discussed the Depression, which struck the United States just as her husband took office.
President Hoover tried to combat the nation's downward economic spiral by promoting volunteer efforts. He was leery of calling for a legislative bailout because he thought it would make citizens dependent on the federal government. In radio addresses and in countless speeches, First Lady Hoover promoted volunteerism. She mobilized 250,000 Girl Scouts to provide volunteer relief work, thus melding her causes with her husband's policies. In addition, Hoover donated family money to many relief causes and sent money, anonymously, to those in need. Hoover's philanthropic efforts were not reported until after her death. While Hoover was public and vocal with her social activism, she kept a low profile regarding her family and private matters.
Hoover caused an uproar in 1929 when she invited Jessie DePriest--an African American--to a White House tea. DePriest was married to U.S. Rep. Oscar DePriest, the first African American elected to Congress in the 20th century. Newspapers and state legislatures across the country lambasted her for inviting a black person into the White House. Hoover abolished other outdated social customs as well, such as allowing pregnant women to visit reception lines from which they had previously been banned.
Suffered From Husband's Unpopularity
In 1932, Herbert Hoover lost the election to Franklin D. Roosevelt. Herbert Hoover was an extremely unpopular president because of his stiff demeanor and inability to solve the nation's financial crisis. After leaving Washington, the Hoovers split their time between their Palo Alto home and an apartment at the Waldorf-Astoria in New York City. Hoover continued her work with the Girl Scouts and promoted relief efforts for people in Nazi-occupied countries. She also volunteered for the California League of Women Voters and the Salvation Army.
Despite Hoover's achievements and the precedents she set as first lady, she never received much credit or praise for her accomplishments during her lifetime. In the end, her husband's unpopularity tarnished her name and image. Hoover died of a heart attack on January 7, 1944, at their New York City apartment. She was 68. Hoover was initially buried in Palo Alto, but after Herbert Hoover died in 1964, she was moved to West Branch, Iowa, to be buried next to him in his hometown.
PERSONAL INFORMATION
During her time in the White House, Lou Henry Hoover (1874-1944) helped usher in a new era of modern first ladies who were notable public figures in their own right. An energetic activist and frequent speech-giver, Hoover was a visible first lady who championed her own causes in such a way that they supported her husband's policies. She was the first president's wife to give a radio address and used her notoriety to promote both her and her husband's agendas.
AWARDS
Mining and Metallurgical Society of America Gold Medal, for her translation of De Re Metallica, 1914.
Read more
Latest headlines