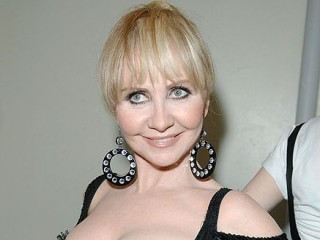 Lulu biography
Date of birth : 1948-11-03
Date of death : -
Birthplace : Glasgow, Scotland
Nationality : Scottish
Category : Arts and Entertainment
Last modified : 2011-12-09
Credited as : Singer, actress, television personality
Lulu Kennedy-Cairns, best known by her stage name Lulu, is a Scottish singer, actress, and television personality who has been successful in the entertainment business from the 1960s through to the present day. She is internationally identified, especially with North American audiences, with the song "To Sir, with Love" from the film of the same name and with the title song to the James Bond film The Man with the Golden Gun.
Lulu is a prolific singer, performer, and actress whose career has spanned more than 30 years. In the United States, she is most widely recognized for her striking vocals on the 1967 movie title track "To Sir with Love." However, in Great Britain the fiery performer has maintained a healthy celebrity status. From the launch of her career as a rambunctious teenager in the midst of 'youthquake' London, Lulu has appeared regularly on recordings, television, stage, and screen.
Lulu was born Marie McDonald McLaughlin Lawrie on November 3, 1948 in Lennox Castle, just north of Glasgow, Scotland. She began singing as a toddler and made her showbiz debut at the Bridgeton Public Hall at age nine. Remarkably, prior to her tenth birthday she had already appeared regularly with a local accordion band. This prompted Lulu, barely a teenager, to join area group The Gleneagles. In 1963, the band was discovered during a particularly wild show at the Scottish club, Le Phonographie. Impressed with the Gleneagles rowdy performance, owner Tony Gordon insisted his sister, London manager Marian Massey come right away. He wanted her to see the band and especially its feisty young singer. However, as with most young performers, Lulu's act was not yet polished.
"She was 14 when we met," Massey explained to writer Charles Mangel in Look magazine. "She bounced onto the stage of this teenagers' club in Glasgow, Scotland--to sing--a little round bundle dressed in four cardigan sweaters, hair in curlers under an old fur thing, sniffling and coughing and wiping at her nose. I wondered what could possibly come out of this strange looking little creature."
Massey did not stay concerned for long. She immediately signed on as The Gleneagles manager and promptly changed their name to Lulu and the Luvvers. Massey claimed that underneath it all, the rowdy Marie Lawrie was really just 'a lulu.' The band also included Ross Nelson on lead guitar, Jim Dewar on rhythm guitar, Alec Bell on keyboards, Jimmy Smith on saxophone, Tony Tierney on bass, and David Miller on drums.
Returning to London, Massey sought a recording deal for the group. Fortunately for the Luvvers, in the mid 1960s, Great Britain's music scene was concerned with two things: youth and finding the next Beatles. Having both a teenage singer and a 'beat' sound proved an advantage. The band was quickly signed to Decca Records, home of the Rolling Stones. In 1964, a raucous cover of the Isley Brother's "Shout" moved Lulu and the Luvvers into the limelight and up Great Britain's top ten singles chart. The press embraced Lulu in particular. As a 1966 issue of Melody Maker explained, "Lulu is one of Britain's brightest singing hopes. She combines good looks, professionalism and ability that lends itself not only to ballads but blues.... Her first hit 'Shout' was a raving rocker which gave the clue to her tremendous power." The band briefly charted with their next single "Here Comes the Night," a song which proved a smashing success for the rock group Them several months later.
Lulu's personality enabled her to go from being deemed solely a vocalist to a multifaceted performer. During 1966-67, the dynamic singer was often seen on television with appearances on such popular BBC-TV shows as Stramash and the teenage magazine series The Whole Scene Going. The same year, Lulu went on a tour of Poland, becoming the first British singer to appear behind the Iron Curtain. When she returned, she decided to make a break from her back up band, The Luvvers. "It became obvious I didn't need to carry a group with me," she told writer Jon Young of Trouser Press in 1982. Unfortunately, her subsequent singles released under Decca's hand failed to match the success of "Shout."
In 1967, Lulu switched labels from Decca to Columbia Records and in the form of a five-year contract initiated the help of esteemed producer Mickie Most. Their first collaboration, a cover of Neil Diamond's "Boat That I Row" resulted in a hit for the singer by mid-year. The union also initiated one of the most prolific and successful periods for Lulu.
Unknowingly, the vocalist made one of the most fortunate decisions of her career when she agreed to play the part of a dead end school kid in the 1967 film To Sir with Love. Starring actor Sidney Poitier, the movie told the story of a teacher confronting prejudice in a difficult London neighborhood. Lulu garnered good reviews for her acting ability and authentic character portrayal. As writer Chris Welch noted in Melody Maker at the time, "Lulu is completely natural--and confident. There is none of the embarrassment that often happens when pop stars take to acting." Lulu attributed having grown up in a notoriously tough neighborhood to her success in the role. "It was me," she told Look in 1970, "because I really was a little bi***. You had to be where I came from to survive. You had to be able to fight and shout and spit." In addition to acting credibility, Lulu also gathered respect as a serious recording artist. The movie's theme song, which she sang, topped the United States charts for nearly six weeks, elevating her status across the Atlantic. Strangely, in Great Britain, "To Sir with Love" was relegated to the B-side of a single.
A string of hits followed. Lulu's popularity increased as she saw "Lets Pretend," "Me the Peaceful Heart," "Boy" and "I'm a Tiger" all sweep up the charts in the late 1960s. Lulu was subsequently granted her own variety television show in 1968, which appeared on BBC1. In her continued reign of success representing Great Britain, the singer tied for first place at the 1969 Eurovision song contest with her single "Boom Bang A Bang." The four-way tie between France, Spain, Holland, and Great Britain was the most ususal outcome the contest had ever had.
Shortly thereafter, Lulu, now under the tutelage of famed producer Jerry Wexler, began to move in a more soulful direction. She once again switched labels in 1969, this time moving to Atlantic subsidiary Atco. The single "Oh Me Oh My (I'm a Fool for You Baby)" and subsequent album New Routes, released in 1970, both achieved only moderate success.
Although the 1970s were not considered the most fruitful period in Lulu's career, they did hold a particularly unique moment for the vocalist. At his insistence, Lulu teamed with rocker David Bowie to re-record his classic song "The Man Who Sold the World." "A lot of people thought it was an odd pairing," Lulu explained to Trouser Press, "but we had music in common and that's a fabulous bond." Bowie was seemingly impressed with Lulu as well. "I always thought that Lulu had incredible potential as a rock singer," Bowie told Music Star in 1974. "I don't think this potential had been fully realized." Now on Polydor, Lulu's rendition of "The Man Who Sold the World" was a victory, reaching as high as number five on the British pop charts.
Following a long break in 1981, Lulu signed to Japanese label Alfa Records and released what became a popular United States single, "I Could Never Miss You (More than I Do)." For the most part during the 1980s, Lulu recorded sporadically, devoting a great deal more time to stage and screen pursuits. During this period, she appeared onstage in Guys and Dolls and in a regular role on the British television show The Secret Diary of Adrian Mole, Aged 13 3/4. Surprisingly, Lulu made a triumphant return to the charts in 1986 with a disco tinged remake her first single, "Shout."
After a ten-year hiatus from recording, Lulu released the R&B record Independencein 1993. Although it was deemed a comeback by many, Lulu didn't exactly see things the same way. "I see it as a natural progression," Lulu told the New York Times. "Some people have criticized me and said I should have never stopped recording. But it was perfect I did musicals, television drama series and I've been raising my son, Jordan. It was a great opportunity to do different things."
In 2004, she released the album Back on Track and went on a UK-wide tour to celebrate 40 years in the business, the album charting at a low No 68. In late 2004 she returned to radio as the host of a 2-hour radio show on BBC Radio 2, playing an eclectic blend of music from the 1950s to the 2000s. In 2005, Lulu released A Little Soul in Your Heart, a collection of soul classics that entered the UK Albums Chart at number 28.
In the summer of 2009, Lulu guest presented on STV's daily lifestyle show The Hour, alongside main anchor Stephen Jardine. After appearing at an Abba tribute concert in Hyde Park, London during September 2009, Lulu announced that she would be touring the UK in a Here Come the Girls alongside Chaka Khan and Anastacia. The trio promoted the concert series on UK TV, ahead of the first performance in November 2009, which took in 20 different dates.
Selected discography:
-Something to Shout About , Decca, 1965.
-Lulu , Ace of Clubs, 1967.
-To Sir with Love , Epic, 1967.
-Love Loves to Love Lulu , Columbia, 1967.
-From Lulu...with Love , Parrot, 1967.
-Boy , Epic, 1968.
-Lulu's Album , Columbia, 1969.
-It's Lulu , Epic, 1970.
-New Routes , Atlantic, 1970.
-Melody Fair , Atlantic, 1970.
-To Love Somebody , Harmony, 1970.
-Make Believe World , Chelsea, 1973.
-Lulu , Pickwick, 1973.
-Heaven and Earth and the Stars , Chelsea, 1977.
-Lulu , Alfa, 1981.
-Take Me To Your Heart Again , Alfa, 1982.
-Shout , Decca, 1983.
-Independence , Dome, 1993.
-(Compilation)From Crayons to Perfume: The Best of Lulu , Rhino, 1994.
-Absolutely , Dome, 1997.
Filmography:
-Gonks Go Beat (1965)
-To Sir, with Love (1967)
-Cucumber Castle (1970)
-The Cherry Picker (1972)
-Alicja (1982) (voice)
-To Sir, with Love II (1996)
-Whatever Happened to Harold Smith? (1999)
Read more
Lulu Picture Gallery
Latest headlines