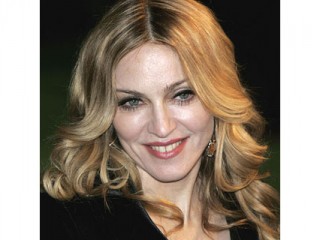 Madonna biography
Date of birth : 1958-08-16
Date of death : -
Birthplace : Bay City, Michigan, U.S.
Nationality : American
Category : Arts and Entertainment
Last modified : 2011-03-15
Credited as : Pop singer and actress, Bright Lights, Big City, Guy Ritchie
Born
Madonna Louise Veronica Ciccone
in Bay City, Michigan, on August 16, 1958, to parents Silvio "Tony" Ciccone and Madonna Fortin. Tony, the son of Italian immigrants, was the first of his family to go to college, where he earned a degree in engineering. Madonna's mother, an x-ray technician and former dancer, was of French Canadian descent. After their marriage in 1955, the couple moved to Pontiac, Michigan, to be close to Tony's job as a defense engineer. Madonna was born three years later, during a visit with family in Bay City. The third of six children, Madonna learned early on how to handle her role as the middle child, admitting that she was "the sissy of the family" who often used her feminine wiles to get her way.
Her parents' strict observation of the Catholic faith played a large role in Madonna's childhood. "My mother was a religious zealot," Madonna explains. "There were always priests and nuns in my house growing up." Many elements of Catholic iconography—including her mother's statues of the Sacred Heart, the habits of the nuns at her Catholic elementary school, and the Catholic altar at which she and her family prayed daily—later became the subject of Madonna's most controversial works.
Another heavy influence on Madonna's early life was her mother, who was diagnosed with breast cancer during her pregnancy with Madonna's youngest sister. Treatment had to be delayed until the baby reached full term, but by then the disease had grown too strong. On December 1, 1963, at the age of 30, Madonna's mother passed away. Madonna was only 5 years old at the time of her mother's death.
The loss of her mother significantly affected Madonna's adolescence. Haunted by the memories of her mother's frailty and passive demeanor during her final days, Madonna was determined to make her own voice heard. "I think the biggest reason I was able to express myself and not be intimidated was by not having a mother," she says. "For example, mothers teach you manners. And I absolutely did not learn any of those rules and regulations."
She fought especially hard against the rules imposed by her stepmother, Joan Gustafson, who met Madonna's father while working as the family housekeeper. Madonna says Gustafson often made her take care of the younger children in the household, a task she greatly resented. "I really saw myself as the quintessential Cinderella," Madonna later said. "I think that's when I really thought about how I wanted to do something else and get away from all that." She rebelled against her traditional upbringing by turning her conservative clothing into revealing outfits, frequenting underground gay nightclubs, and rejecting her religious background.
But Madonna balanced this insubordinate side of her personality with a drive for perfectionism and high-achievement. She was a straight-A student, cheerleader, and disciplined dancer who graduated from high school a semester earlier than her peers. In 1976, her hard work earned her the attentions of the University of Michigan, which offered her a full scholarship to their dance program.
In 1977, during her undergraduate studies at Michigan, Madonna was awarded a six-week scholarship to study with the Alvin Ailey American Dance Theater in New York City, followed by a rare opportunity to perform with choreographer Pearl Lang in 1978. At the urging of her dance instructor, the budding star dropped out of college after only two years of study in order to move to New York and further her dance career.
Once in New York, Madonna paid her rent with a handful of odd jobs, including nude art modeling; serving at the Russian Tea Room; and performing for the American Dance Center. In 1979, Madonna began dating Dan Gilroy, one of the founding members of a ska influenced pop-punk band called Breakfast Club. Gilroy introduced Madonna to the head of a vaudeville review in Paris, and she spent some time in France working as a showgirl. During this trip she fell in love with the combination of singing and performing. When she returned to the states in 1980, she joined Gilroy's band as its drummer and later became its lead singer. Madonna formed several different bands of her own over the next few years, including Madonna & The Sky, The Millionaires, and Emmy.
In 1981, Madonna decided to go solo and hired manager Camille Barbone of Gotham Records to help her get her singing career on track. Camille showed Madonna how to navigate the male-dominated world of the music business, and helped put together a studio band that accentuated the budding star's hip style. Friend Stephen Bray, a musician in her band, wrote her first hit, "Everybody", and Madonna used her brash business style to get the recordings to New York music producer Mark Kamins. Kamins then helped Madonna score a record deal with Sire Records. "Everybody" hit number one on the dance charts in 1982.
Using the success of the song as leverage, Madonna convinced Sire to produce the full-length album, Madonna, in 1983. The album was a slow but steady success, and included the hit singles "Borderline", "Lucky Star", and "Holiday." Soon, girls all over the country were imitating Madonna's distinct sense of fashion, which included fishnet stockings, lace lingerie, fingerless gloves and large crucifix necklaces. The song "Holiday" also earned the singer an appearance on Dick Clark's American Bandstand in 1984. During her interview on the show, she told Clark that her main ambition was "to rule the world."
This intensity and determination was apparent in her 1985 follow-up album, Like a Virgin, which hit No. 1 on the Billboard Chart and went platinum within a month. She also starred in her first mainstream feature film, Desperately Seeking Susan (1985), and performed the soundtrack's single, "Into the Groove," which hit No. 1 on the U.S. dance charts. Her next single "Crazy for You", which she performed for the 1985 film Vision Quest, also became an instant No. 1 hit. She then started her first music tour, The Virgin Tour and watched 17 consecutive songs climb into the Top 10 on the Billboard Chart.
In the next five years, Madonna's life was a whirlwind of activity. On August 16, 1985, she married actor Sean Penn and co-starred with him in the film Shanghai Surprise (1986). She then went on to star in three more movies during the 80s: Who's That Girl? (1987), Bloodhounds of Broadway (1989) and Dick Tracy (1990). Madonna's soundtrack album I'm Breathless: Music from and Inspired by Dick Tracy resulted in two top-10 hits: "Vogue" and "Hanky Panky." She also produced four more hit albums: True Blue (1986), Who's that Girl? (1987), You Can Dance (1987), and Like a Prayer (1989).
But, as always, Madonna mixed her drive for success with her penchant for scandalous behavior. It started with her controversial 1985 performance of her hit single "Like a Virgin" on the MTV music awards, which involved writhing around suggestively onstage in a wedding dress. Then came her marriage to Sean Penn, which was marred by reports of domestic violence and his assault of a photographer—behavior that landed him a month's jail time, and eventually led to the couple's very public divorce. This was followed by the debut of Madonna's 1989 "Like a Prayer" video, which was to be aired on MTV as part of a lucrative Pepsi endorsement. The video featured interracial relationship themes, burning crosses, and a blending of sexual innuendo and religious ideologies. As a result of the video, Pope John Paul II urged fans not to attend her concerts in Italy, and Pepsi pulled their endorsement of the star.
Despite the public outcry, Madonna had become more popular than ever. By 1991, she had achieved 21 Top 10 hits in the United States and sold more than 70 million albums internationally, generating $1.2 billion in sales. Committed to controlling her career, Madonna helped found Maverick Records, a label under the Warner Music Group, in April of 1992.
She also continued to gain attention by pushing social boundaries. First came the film Truth or Dare (1991), a revealing documentary about her Blonde Ambition tour. This was followed by the publishing of Sex (1992), a soft-core pornographic coffee-table book featuring the pop star in a variety of erotic poses. Despite its controversial nature, Sex sold 150,000 copies on the day of its release in the USA alone. Three days later, all 1.5 million copies of the first edition were sold out worldwide, making it the most successful coffee table book ever released. The album Erotica (1992) was unveiled at the same time, and proved equally successful: by the end of 1993 it had reached double-platinum status.
By 1996, Madonna had proven her versatility as a star in both film and music. She starred in the critically acclaimed film adaptation of the Andrew Lloyd Webber musical Evita (1996). She won a Golden Globe for Best Performance by an Actress in a Motion Picture, and the song, "You Must Love Me," earned her an Academy Award for Best Music, Original Song. She also became a mother that same year, giving birth to Lourdes Maria (Lola) Ciccone Leon, whom she had with her lover and personal trainer, Carlos Leon.
She solidified her reinvention as the more mature, family-friendly Madonna when she married British director Guy Ritchie in 2000. She gave birth to their son, Rocco John Ritchie, the same year. She then made the move from the big screen to the London West End stage in the play Up for Grabs (2002), and wrote her first children's book, The English Roses, in 2003. Madonna was inducted into the inaugural UK Music Hall of Fame in 2004. With the release of her 2005 album Confessions on a Dancefloor, Madonna became the artist with the most gold certified singles in the U.S., beating the Beatles' long-standing record.
On the eve of her 50th birthday, Madonna faced fresh challenges in her personal life. She spent much of the last year fighting allegations that she circumvented traditional Malawi laws to bring home her newly adopted son, David Banda, whom she had been raising since 2006. Critics accused Madonna of using her vast wealth to fast-track the adoption process, a charge she vigorously denied. A coalition of 67 local rights groups challenged the interim custody order on the grounds that existing laws in Malawi do not allow for international adoptions. Madonna's application to permanently adopt the boy was approved by Malawai's high court on May 28, 2008, the pop star's lawyer said. "It's a beautiful and positive judgment," Alan Chinula told reporters."Finally the court has granted Madonna full adoption rights of the boy ... It's all over, thank God." She decided to adopt from Malawai again, and in June 2009, after another legal battle, was granted custody of Mercy James.
She also denied reports she was seeking a divorce from husband Guy Ritchie, and that she was romantically linked to baseball star Alex Rodriquez. In October of 2008, however, Madonna announced that she and Ritchie were officially splitting after eight years of marriage.
Yet her professional life continued to boom: In January 2008 she was named the world's wealthiest female musician by Forbes magazine, with estimated earnings of more than $72 million in the last year alone. Madonna earned much of this income from her H&M clothing line; a deal with NBC to air concert footage; and her Confessions tour—the highest-grossing tour for a female artist to date. She also continuec to sing, act and manage a number of business interests, splitting her time between the U.K. and the U.S. She was the writer and executive producer of I Am Because We Are, a documentary about the lives of Malawi's AIDS orphans, and the arthouse film, Filth and Wisdom. Her album Hard Candy was released in April 2008, and her Sticky and Sweet tour became her first major venture with concert promoter Live Nation.
In 2009, she released a third greatest hits album, Celebration, which became Madonna's eleventh No. 1 album in the U.K. With the release of the record, Madonna tied with Elvis Presley as the solo act with most No. 1 albums in the U.K. She is currently planning the release of another live album and a new film project, both set for release in 2010.
Read more
Madonna Picture Gallery
Latest headlines