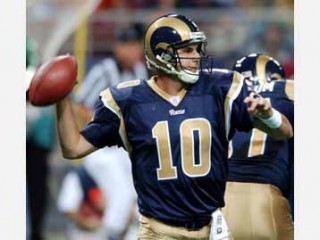 Marc Bulger biography
Date of birth : 1977-04-05
Date of death : -
Birthplace : Pittsburgh, Pennsylvania, United States
Nationality : American
Category : Sports
Last modified : 2010-08-06
Credited as : Football player NFL, currently plays for the St. Louis Rams, The Invisible Man
Quarterbacks come in a all shapes and sizes these days, and with all sorts of labels.
Marc Bulger
of the St. Louis Rams doesn't yet have a catchy nickname or identifiable style, but one day soon he may be known as "The Assassin." He is the football equivalent of a professional hit man—lightning-fast, deadly accurate, cool under pressure, and largely unnoticed. Marc plays, he wins, then no one remembers anything about him until the following Sunday. Come to think of it, he could also be called
"The Invisible Man"
.
GROWING UP
Marc Robert Bulger
was born on April 5th, 1977 in Pittsburgh, Pennsylvania, to Patricia and Jim Bulger. Jim was a great high school quarterback who was recruited to Notre Dame, where he served as Joe Thiesmann's backup on the Fighting Irish team that went to 1971 Cotton Bowl. Patty's cousin is Bill Fralic, the Pitt All-American and Atlanta Falcon All-Pro guard.
Sports ran deep in the next Bulger generation. Marc was the second of five kids. His older brother, Jimmy, earned a golf scholarship to Notre Dame. The middle child, Patrick, was the star in the family, but he burned out on sports after high school. Next in line were Katie and Meg, who became Division I basketball stars.
Hoops was actually the family sport. All five kids excelled on the hardwood. Not surprisingly, there were some outrageous games in the Bulger driveway, and some flagrant fouls that are still discussed at family gatherings.
Marc's father did not push his kids into football, but the boys all played. Like every kid who picked up the pigskin in Pittsburgh, Marc's sports hero was Dan Marino. One of his best friends actually lived across the street from the Marinos, so he had ample opportunity to worship at the shrine. Once, he met the All-Pro quarterback, who gave him a pair of wristbands.
There was just one problem. Marc didn't particularly care for football. After playing in some organized leagues as a kid and showing some promise, he dropped the game for seven years to concentrate on basketball and golf. He gave the wristbands away.
In the fall of 1991, Marc enrolled at Pittsburgh Central Catholic High School, Marino's alma mater. In 1992, his parents badgered him into trying out for the football team, promising if he tried it out for a month and didn't like it he could quit and they'd never bug him about it again. At the end of that month, Marc was laid up in the hospital with a busted collarbone suffered in his first JV game.
Somewhere between the "I told you so's" of his sophomore year and the beginning of his junior year, Marc caught the bug and decided to return to the gridiron. This time he made the varsity, but because he lacked experience he spent the year on the bench. When Marc ran the team in practice, however, he showed remarkable poise and precision for a kid who had seen precious little game time.
Marc got his first start as a senior, and surprised even himself when he threw for more than 300 yards. He finished the year with 1,662 passing yards—falling just short of Marino's school record—and looked as if he'd been taking snaps at quarterback his entire life. An excellent student, he also made the National Honor Society. That was all the recruiters had to see.
Marc stood just over six feet tall, was skinny and not very fast. Normally, this spells death for a Division I prospect, but genetics were on his side. Recruiters took one look at his dad and knew that he still had some growing to do. After his senior season, Marc narrowed his choices down to Maryland, Virginia Tech and West Virginia. For years, he had dreamed of playing for Pitt, but to his dismay, coach Johnny Majors never bothered to recruit him. Majors felt Marc did not have what it took to be a big-time quarterback. Panther fans would soon regret this decision. Marc chose West Virginia, mostly because the Morgantown campus was only 90 minutes away.
As expected, Marc was red-shirted by coach Don Nehlen in 1995, and was a benchwarmer for the Mountaineers in 1996. The team had the nation's stingiest defense and challenged for Big East dominance until it blew a win against Miami. They ended up going 8-4, good enough for an appearance in Gator Bowl, which they loss to North Carolina. Freshman Amos Zereoue set a school record for first-year players with 1,035 yards, while Marc got into six games and completed 19 of 42 passes for 352 yards and three touchdowns.
ON THE RISE
Marc became the West Virginia starter during his sophomore year. He ran Neheln's multiple-I offense to near perfection, teaming with Zereoue to rack up 30 points and almost 400 yards of offense per game. He completed 59% of his passes and threw for 2,465 yards and 14 touchdowns. Marc did everything a coach could ask of a sophomore—he made good decisions, got rid of the ball quickly, and didn't los his cool when flushed out of the pocket. The team's defense was going through a rebuilding process, which cost them a couple of wins, but the Mountaineers finished the year a respectable 7-5.
The season's two big highlights came against Virginia Tech and Pitt. Marc and Zereoue completely befuddled the Hokies. Amos ran for 153 yards and Marc threw for 217 in a rousing victory. The season finale brought the Panthers to Morgantown. In a memorable shootout, the teams were tied 38-38 after four quarters, and played three overtimes before the Panthers kicked a field goal to win.
Marc entered his junior year a fully anointed starter. With Zereoue the featured back and a decent defense to keep opponents in check, the Mountaineers were likely to go as far as Marc could take them. They began play as a Top 25 team and by the end of the season's first month, they had crept into the Top 20. After a loss to mighty Ohio State, West Virginia scored a 42-20 win over Maryland and was on its way. By mid-season, Marc was the top-rated passer in the Big East and seventh overall in the nation. That was crucial because Zereoue—a Heisman darkhorse early in the year—was slowed by injuries.
After losing an October barnburner to Miami, the Mountaineers faced Virginia Tech in a pivotal matchup. Marc was hoping to reproduce the previous year's magic, but it was not to be. He threw four interceptions, as the Hokies cruised to a big win. West Virginia rebounded to finish 8-4, including another memorable finale against Pitt. This time the Mountaineers won, as Marc threw for more than 400 yards and completed six TD passes in a 52-14 blowout. He finished the year with single-season school records for TDs (31), completions (274), yards (3,607) and was named second-team All-Big East. In the Insight.com Bowl, Marc nearly rallied the Mountaineers past Missouri in the game's waning moments.
The 1999 season would present some interesting challenges for the Mountaineers. Thirteen starters from the '98 team had graduated, including Zereoue, who left for the NFL before his senior year. The pluses for West Virginia were Marc and receivers Jerry Porter and Anthony Becht, who were developing into legit NFL prospects. And freshman Avon Cobourne looked like he could do some damage as Zereoue's replacement at running back. The big minus was the offensive line, which had five first-year starters. The defense had some new faces on the front line, but as a unit it appeared to be fine.
West Virginia opened the season against East Carolina, and Marc dazzled, completing his first 14 passes. In the third quarter, however, he sprained his knee and ECU came back to beat the Mountaineers. Marc was not healthy enough to play until the Big East schedule started, against Syracuse. In that game, he fractured a finger on his throwing hand, and missed the next two contests.
Marc returned to grind out a win against Temple, then threw four interceptions in a disheartening loss to Miami. Against Virginia Tech, he chipped a bone in his thumb and missed the next game. Basically, his season of glory had turned into the season from hell.
Marc was questionable for the season ender against Pittsburgh, but there was no way he was going to miss his final college game. He put an exclamation point on his career with a 52-21 upset of the Panthers, throwing for 331 yards and three touchdowns (in just three quarters). Two of those scoring tosses went to Porter, the second—an exquisitely timed 54-yarder—being one of the prettiest TD passes in college ball that year. In the same game, Cobourne gained 210 yards to break Zereoue's freshman rushing record with 1,139 yards. It was, in every respect, the most gratifying way Marc could have finished his college career.
Marc's NFL future was cloudy at best. In the spring of 2000, he worked out for several teams, including the Rams and Falcons. In the draft, Marc's name was called in the sixth round by New Orleans.
The Saints went to camp with Jeff Blake as the starter and Jake Delhomme and Billy Joe Tolliver as back-ups. Marc's task would be to unseat one of these two, and he failed to do so. New Orleans cut him loose before the end of camp. He drove back to West Virginia, hung out with friends, and attended the Mountaineers' 2000 home opener. When fans passed him tailgating in the parking lot with his buddies, they thought they were seeing things.
The league knew Marc was available, but he didn't know anyone in the league. So he tried to stay in shape until the phone rang. That call came in late October—while Marc was in the stands as a fan in Pittsburgh for a Steelers game. It was from head coach Mike Martz of the Rams, who had been impressed by the young QB's quick release and intelligence when he saw him the previous spring Marc was signed to the St. Louis practice squad. Starter Kurt Warner was out for a few weeks with a broken finger, and Marc would be the team's insurance policy in case something happened to Trent Green or Joe Germaine. Joining a club like St. Louis gave Marc hope. Warner had been a little-known, little-used journeyman before ascending from the bottom of the depth chart to lead the Rams to the Super Bowl. If Warner could do it, why not him?
A week later, Martz cut him.
Marc hooked on with the Atlanta Falcons in December, but never graduated from the practice squad. He received his pink slip for Christmas. That's when the second call from Martz came. This one proved the charm. The Rams signed him in January.
Marc stuck the Rams in 2001 as a practice-squad player. When Green was traded to the Chiefs, Germaine was bumped up to the #2 role, but rather than promoting Marc the Rams signed Paul Justin as their #3 guy. Justin had been a backup to Warner in his first year with the team, and had a decent sense of the offense. He would later go down with a season-ending knee injury.
Marc spent the entire '01 season on the practice squad, scouting upcoming opponents and mimicking their offenses so the defense could get a feel for what they would be up against from week to week. He learned the St. Louis playbook, but never got to run the plays, and had no idea of the nuances of Martz's offense.
St. Louis ran roughshod over opponents in 2001, scoring 503 points (90 more than the next-best Indianapolis Colts) and winning 14 games against two losses. The Rams continued their dominance in the playoffs, torching the Green Bay Packers and outmuscling the Philadelphia Eagles in the NFC title game, 29-24. In the Super Bowl, the Rams found themselves in a 17-17 death struggle with the Patriots, which was decided on a game-winning field goal by New England's Adam Vinatieri.
Marc liked the feel of a winning club, and enjoyed his taste of the Super Bowl spotlight. He felt ready to take a step closer to Warner's job, but once again he began the 2002 season three down on the St. Louis depth chart, with Ryan Helming brought into camp to nip at his heels.
During the preseason, however, injuries to Warner and back-up Jamie Martin enabled Marc to take the majority of the team's snaps in exhibition play. He opened a lot of eyes with his performance (67.1 completion percentage/88.5 rating) and convinced everyone on the Rams that he was a kid who would one day be ready to be an NFL starter. Martz had purposely put him in some complicated situations and let him call the plays, just to see what he would do. The coach was impressed.
The rush of confidence was great, but when the season started, Marc went back to running the scout team offense. Still, he approached the job differently. Now everything was filtered through a mind that was preparing to take meaningful snaps during the regular season.
MAKING HIS MARK
In a late-September game, Warner fractured a finger, and everyone moved up. Marc was now the backup. When Martin failed to produce, he was given his first NFL start. Marc clicked immediately, throwing for 12 touchdowns in his five-game relief effort, and becoming the league's highest-rated passer during that stretch. He beat the previously undefeated Raiders in his first start on October 13, completing his first five passes, including a TD to Isaac Bruce. In all, he hit on 14 of 21 passes against Oakland with three TDs, and ran one in himself.
Marc won his next four starts—and one more later in the year—to become one of only a handful of QBs to win his first six NFL starts. On November 10, Marc went wild against the San Diego Chargers, connecting a team-record 36 passes for 453 yards.
Marc returned to the bench after Warner returned to health. His run as a super sub was a revelation. He amassed 1,496 passing yards during that time, breaking the NFL record for most yards over a QB's first five NFL starts, previously held by his former New Orleans teammate, Jeff Blake.
Marc missed four games himself with injuries in '02. He hurt his hand in a November game against the Chicago Bears and sat out the next three, then wrenched his back against the Seattle Seahawks in December and sat out the season finale. The Rams went 7-9 and missed the playoffs, but they had a lot to think about for 2003.
Training camp began with Warner getting the starting nod, though Marc was definitely in the mix. Showing the wear and tear that had been building up since his first NFL campaign, Warner nonetheless began the year as the starter against the New York Giants. He fumbled six times and suffered a concussion in a 23-13 loss. Martz quickly moved Marc into the starting slot. Marc hated stealing Warner's job away, but the veteran made it easy by telling him that he was in his corner. Warner's wife did not share this opinion, and ran Marc down on a number of St. Louis radio shows.
The offense Marc inherited starred Bruce and fellow wideout Torry Holt, along with veteran Marshall Faulk. Faulk, the game's greatest all-purpose back, had seen his effectiveness reduced by injuries in 2002, and was not 100% in 2003 either. Still, he was a formidable weapon coming out of the backfield. Orlando Pace anchored the offensive line while Leonard Little led a defense that surrendered about 20 points a game.
Working with these tools, Marc settled in as team leader. He engineered a 27-24 OT win over the San Francisco 49ers in Week 2, and after a one-point loss to Seattle, the Rams took off, winning 11 of their next 12 to wrap up the NFC West. Marc was the man, completing 63.2% of his 532 attempts for a conference-best 3,845 yards. He tossed 22 touchdowns and 22 interceptions. He saved his best game for an October homecoming, when he lit up the Steelers at Heinz Field for 375 yards in a 33-21 victory. In November, Marc showed his mettle with three straight comeback wins. Against the Bears, Martz considered reinserting Warner with the Rams down 14-3. To his credit, he told his coach to stick with Marc. It was a key moment in a remarkable season.
Marc wore down toward the end of the year, throwing more interceptions than TDs and failing to beat the Detroit Lions on the final day. St. Louis finished 12-4 and faced the Panthers in the first round. Carolina did a great job against Marc and seemed to have victory within their grasp. The Rams, however, still had plenty of life in them. They made a furious comeback and Marc got the ball down to the 15-yard-line with almost a minute left. Martz, usually a gambler, made a stunning call—he instructed Marc to run down the clock and set up for a field goal instead of going for the winning score. Many viewed this as a lack of confidence in Marc, and it may have cost St. Louis a promising season. Jeff Wilkins booted a 38-yarder to send the game into overtime, but neither team could break through in the extra period.
The game went into a second overtime, and Marc seemed to have the makings of a drive, as he moved the team into Panther territory. But Ricky Manning picked off Marc's next pass, and three plays later Jake Delhomme hit Steve Smith with the winning touchdown.
The Rams next inked Marc to a four-year $19.1 million contract and traded Warner in the spring of 2004, ending any potential quarterback controversy. Chris Chandler was signed as Marc's backup.
The '04 Rams featured many weapons. Faulk split running duties with rookie Steven Jackson, and the pair combined for almost 1,500 yards and eight touchdowns. Holt and Bruce were on top of their games, combining for 183 catches, 16 touchdowns and more than 1,600 yards. Aside form a three-game winning streak in October, however, the Rams never really got untracked. When the offense was clicking, the defense wasn't. The troubled Little had a nice year for the D again, but no one else stepped up and made much of an impact.
The result was an 8-8 season that was barely saved by an OT win over the New York Jets in the final game. Marc threw for 450 yards to produce his fourth comeback victory of the year, an indication how most of the games went. His best effort came against the division rival Seahawks in October. Marc led the Rams to three TDs and a field goal on their final four drives for an OT win. St. Louis squeaked into the playoffs, rallied for another victory over Seattle, but then got blown out by the Falcons, 47-17.
Marc was the team's MVP during the season, completing 66.2% of his passes for 3,964 yards, despite missing two games with an ailing shoulder. He threw for 21 touchdowns and scored a 93.7 passer rating. Marc's victories over the Eagles and Jets in the final two weeks meant a lot to his teammates. They knew he was not healthy enough to play, but with Chandler struggling he felt he had no choice.
The 2005 Rams are a team with great potential and several holes to plug. Though devoid of impact players, the defense may have some budding stars. The team's receiving corps is as deep as it was during its Super Bowl days, thanks to the development of Kevin Curtis and Shaun McDonald. With Faulk no longer able to turn the corner, Jackson stands to get most of the carries.
As for Marc, he has the talent, experience and raw materials to do a lot of damage if he has enough time to throw. That may be a big if—the offensive line was eyed with much suspicion heading into camp and may take a full season to prove itself. In 2004, it gave up a molar-rattling 50 sacks.
If the Rams are looking for a rallying point, Marc may have provided it in a late-September game against the Titans. Time and again he got nailed by Tennessee. Some of the hits were clean and some were cheap shots, but Marc dragged himself back to the huddle, sucked it up and got the job done. When the final whistle blew he had completed 21 of 28 passes for 292 yards and three touchdowns.
Rams fans are hoping for numbers like that all year long. They just hope Marc will be around to enjoy them come playoff time.
MARK THE PLAYER
Marc may forever be known as the man who replaced Kurt Warner in St. Louis. He also replaced him as the fast gun in the West. Warner's quick release revolutionized the NFL in the late 1990s. Marc's release is even quicker, which makes him a perfect fit for the Ram offense. From the time he starts his motion to the time he releases the ball take less than a third of a second.
Marc brings the right balance of talent, intelligence and fearlessness to his position. There are few short passes he cannot complete, but he is also smart enough to know when certain attempts are imprudent. On the other hand, he can build an entire drive with passes few other NFL QB's would dare to attempt. Marc knows when the odds are in his favor and when they are not. He also knows his receivers will get open given enough time, so he rarely panics. The only place he still tends to force his throws is in the red zone.
Marc has filled out since his early days at West Virginia, but he still does not boast the bulging biceps of other passers. When fans meet him on the street, their most common remark is how skinny Marc is. His main area of weakness does have to do with his arm—it's stretching the field. Like many young quarterbacks, he sometimes gets too much air under his long passes, but this is a part of his game that's improving.
After his 2004 season, Marc is the NFL's reigning comeback king. He sticks to his game plan and trusts his teammates, and the result is that the Rams become more dangerous as the game wears on. If there is one player in the league you want behind center with one last shot at the end zone, Marc is now near the top of the list.
ETRA
* Marc starred for the baseball and basketball teams at Pittsburgh Catholic.
* Marc threw for 380 yards in a 1998 loss to the University of Miami.
* Marc tied a West Virginia record with four TDs in his final college game.
* In three college starts against arch-rival Pitt, Marc threw for 1,088 yards and 11 touchdowns.
* Mark graduated from West Virginia with six school passing records—total offense, passing yards, attempts and completions, completion percentage and touchdowns.
* Marc earned NFL Player of the Week recognition in his first pro start, in 2002.
* The only players to throw for more yards than Marc in 2003 were Peyton Manning and Trent Green.
* Isaac Bruce is Marc's favorite target. In 2003 alone, he connected with the All-Pro receiver more than 110 times.
* Marc's favorite off-season throwing partner is a boyhood friend from Pittsburgh named Zach, who works as a school teacher.
* Marc majored in Sports Management at West Virginia.
* Marc was hooked on Scooby Doo as a kid.
* Marc's sister, Katie, was tearing it up on the hardwood for Oakland Catholic in 2000. She was ready to sign with Tulane, but Marc hammered on her until she agreed to join the Mountaineers. In her first season, Katie was Big East Rookie of the Year. When his other sister, Meg, was a high school senior, she was recruited by Duke, Maryland, Notre Dame and Penn State. Katie and Marc tag-teamed her and she also became a Mountaineer.
* Meg's basketball coach at Oakland Catholic was former WNBA star Suzie McConnell-Serio.
* Marc's older brother, Jim, works as his manager now.
Read more
Latest headlines