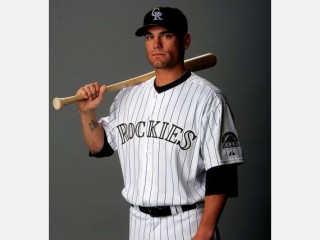 Marcus Giles biography
Date of birth : 1978-05-18
Date of death : -
Birthplace : San Diego, California, U.S.
Nationality : American
Category : Sports
Last modified : 2010-10-28
Credited as : Baseball player MLB, second baseman with the Colorado Rockies ,
GROWING UP
Marcus William Giles was born on May 18, 1978 in San Diego, California. His parents, Bill and Monica, raised Marcus and his three siblings—brother Brian and sisters Kami and Brandi—in El Cajon, a suburb about 10 minutes northeast of the perpetually sunny SoCal city. The famliy was close-knit supportive of one another.
They were also crazy for baseball. Bill coached both boys in the Singing Hills Little League, and it was not unusual for the entire Giles clan to convene at a nearby ball field for a little family BP. Dad would pitch, Brian and Marcus would hit, and Mom and the girls would play the field.
Brian was intensely focused on baseball. His favorite player was Padre superstar Dave Winfield, and for years, he modeled his swing after Big Dave's. Marcus, seven years younger, did not have a baseball hero. For him, Brian filled that role.
Brian also filled the role of best friend for Marcus. He let his little brother hang out with his buddies, took him to parties, and ultimately passed along his passion for sports. Brian was a tremendous all-around athlete. His best sports were baseball, football and wrestling.
Brian starred in each atGranite Hills High School. On the gridiron, he combined with Tommy Vardell to form one of the state's best backfield duos. On the diamond, he was a sweet-swinging outfielder. The wrestling mat was where Brian learned the value of determination and hard work. In 1989, he was voted the San Diego County Male Athlete of the Year.
Brian approached the sports he played very analytically. He would attend Padres games with his father and brother, and ask Bill why players did things in certain ways. They would arrive in time for batting practice and stay until the final out, discussing everything that transpired on the field.
Marcus was a different aninmal entirely. After an inning or two, he was ready to explode out of his seat. What Marcus lacked in focus, though, he made up for with boundless energy and enthusiasm. Once he learned how to channel that adrenaline into sports, he became an incredibly hard worker and great athlete in his own right.
In the spring of 1989, Brian was drafted by the Cleveland Indians. He was assigned to the team's Burlington affiliate in the Appalachian League, and the family followed close behind. For the next several years, every summer when the school year ended, Marcus got a crash course in pro baseball. Wherever Brian was stationed in the minors, his little brother stayed with him for a month or so, as if he were part of the team. Marcus traveled on the team bus, slept in Brian's hotel room and even took his cuts in the batting cage. As Brian edged closer to the majors, Marcus started dreaming of making it to the big leagues, too.
An outfielder who distinguished himself more with his savvy and grit than his talent, Marcus developed into a star at Granite Hills. Like Brian, he played football and wrestled for the Grizzlies, too. Marcus's exposure to life in the minors convinced him that baseball was his true calling.
In June of 1996, Marcus eagerly awaited for the phone to ring early in the baseball draft. But it wasn't until late in the proceedings—the 53rd round to be exact—that the Atlanta Braves finally called. Marcus was devastated. His initial reaction was to give up baseball, but his father talked him out of it. Atlanta offered to make him a "draft-and-follow" pick—which meant he had a year to hone his skills before signing a deal. Marcus agreed and enrolled in hometown Grossmont Junior College.
Atlanta's hesitancy about Marcus was twofold. His size was clearly a detractor. So was his mechanical approach to the game. Marcus showed surprising power, but he was stiff and robotic in the field. Some in the Braves organization surmised he would rise no higher than Class A ball. Nonetheless, scouts John Ramey and Al Kubski had a feeling about Marcus. They simply couldn't ignore his work ethic and toughness, and his bloodlines counted for something, too. The pair advised him to use the draft snub as motivation and prove all his doubters wrong.
The lesson was one well taken by Marcus. At Grossmont in 1997, he benefitted from the experience of manager Ed Olsen, a former big-league player and coach. Marcus won the Pacific Coast Conference's triple crown and was voted the league's player of the year.
ON THE RISE
The Braves offered Marcus a $40,000 signing bonus, which he accepted. He joined Danville in the Appalachian League for 55 games and tore the cover off the ball, batting .348 with 13 doubles, three triples, eight home runs and 45 RBIs. He was also switched permanently to second base. The Atlanta brass realized they might have misjudged Marcus's ceiling.
For the 1998 campaign, the Braves promoted Marcus to Macon of the Class-A South Atlantic League. All he did was post one of the greatest single seasons in league history. Marcus captured the SAL MVP after leading the circuit with 37 homers, 108 RBIs, 111 runs, 321 total bases, 85 walks, and a .636 slugging percentage. His .329 batting average ranked third in the league, and he set Macon club records in long balls and runs driven in.
As thrilled as the Braves were about Marcus's explosive bat, they shuddered every time a grounder rolled his way. By mid-season, he had already booted 20 balls. Coach Glenn Hubbard, a former Braves second baseman, finally took Marcus aside and challenged him to improve. The 20-year-old was up for it. Every afternoon, they met for an hour of fielding practice. Marcus was an excellent student. In the second half of the year, he made only five errors.
Marcus continued his fine play into 1999. For the Myrtle Beach Pelicans, a step up from Macon in the Class-A Carolina League, he earned his second league MVP in as many years. Marcus started strong, including an April game in which he lashed three doubles and drove home four runs. A month later, he pounded the Frederick Keys during a three-game series with three homers and five RBIs. In July, Marcus was named CL Player of the Month and continued an errorless streak that lasted 44 games. At season's end, he was the league leader in batting (.326), hits (162) doubles (40), and fielding (.985). Baseball America ranked him as Atlanta's No. 2 prospect.
Marcus's climb up the minor-league ladder brought him to Greenville of the Double-A Southern League in 2000. Expectations for the youngster were extremely high, and he struggled through the first two months, hitting just over .250. Marcus began to heat up in late May, collecting 19 hits and eight RBIs over a 12-game stretch. He later recorded a rare All-Star "triple"—representing Greenville in the Southern League contest, the A Classic in Maryland and the "Futures Game" in Atlanta.
Bolstered by his All-Star nods, Marcus finished the year on a high note. Early in August, he went deep twice in a game against the Jacksonville Suns, and then ended the month with 13 RBIs over the final 11 games. For the season, he topped Greenville in batting (.290), hits (133), walks (72), and on-base percentage (.388), and was second in runs (73), doubles (28) and home runs (17). Marcus also demonstrated a new facet of his game, stealing 25 bases in 30 attempts. Though his error total rose to 18, he had established himself as a player ticketed for the majors.
Marcus hoped his ticket might be punched as early as Opening Day 2001, but the Braves signed Quilvio Veras over the winter to be their second baseman and leadoff hitter. Marcus began the year with Class-AAA Richmond of the International League. He was called up to the big club on April 15. He didn't see much action—manager Bobby Cox used him mostly as a pinch-hitter and pinch-runner. On May 15, Marcus made his presence felt, launching a game-winning grand slam off Mike Hampton to beat the Colorado Rockies. Caught in a numbers game, he was optioned back to Richmond the very next day, when John Smoltz was activated off the disabled list.
Marcus did anything and everything to get back to Atlanta. Over the next two months with Richmond, he hit better than .300 and played near-perfect defense (at second, short, third and in the outfield). The Braves noticed and recalled him on July 20. Still regarded as Brian's little brother, Marcus set out to prove he had what it takes to be a big contributor. In a game against the Montreal Expos, he gave his teammates a taste of things to come. After a purpose pitch whizzed by his helmet, Marcus turned on the next delivery and blasted it into the seats for a home run.
With fellow rookie Rafael Furcal capable of handling leadoff duties, the team's second base slot could now be used for a run-producer. Rather than keeping Veras and using Marcus as a utility man, the Braves waived their oft-injured table-setter and made Marcus a starter at the beginning of August.
With Atlanta fighting for its 10th straight divisional title, Marcus provided a crucial spark. In 68 games, he batted .262 with nine homers and 31 RBIs. He was at his best in pressure situations, hitting .358 with runners in scoring position and .304 when the count was 0-2. His intensity was infectious, especially as the Braves watched the favored New York Mets implode. Atlanta wound up edging the Philadelphia Phillies by two games in the NL East.
Marcus got his first taste of playoff baseball in the Division Series against the Houston Astros. He helped Atlanta to a three-game sweep with his bat and glove. He went 2-for-4 with an RBI in Game 1 and snaredCraig Biggio's would-be run-scoring single in Atlanta's 1-0 Game 2 victory.
Atlanta's playoff push ended in the National League Championship Series against the Arizona Diamondbacks. Randy Johnson and Curt Schilling were just too much for the Braves to handle. Nearly lost in the disappointment was Marcus's leadoff homer against Miguel Batista, which ignited the Braves' lone NLCS win.
MAKING HIS MARK
Feeling secure with his spot on the Braves, Marcus spent the off-season training with Brian. They got in some pheasant hunting in South Dakota, too. Also on Marcus's agenda list was marrying his high school sweetheart, Tracy Sonn. She was pregnant with their first child, and they planned a modest ceremony before spring training started.
There was plenty of excitement heading into the 2002 campaign. With Marcus slotted in at second and Furcal at short, the team boasted one of the best young double-play combos in the majors. The rest of the starting lineup was solid. The outfield from left to right was Chipper Jones, Andruw Jones and Gary Sheffield, while Vinny Castilla, B.J. Surhoff and Javy Lopez rounded out the batting order. As always, the Braves' strength was their pitching, with Greg Maddux, Tom Glavine and Kevin Millwood anchoring the rotation and Smoltz embarking on his first full season as a closer.
The Braves needed every arm available. The offense struggled all year, and for the first time as a pro, Marcus was a part of the problem. After starting well and earning a promotion from the number eight slot to the two hole, he slumped badly in May. A slow-healing ankle sprain limited Marcus to just 68 games and a .230 average with Atlanta. He had to log more than a month at Class-AAA Richmond trying to regain his stroke.
Despite their batting woes, the Braves won 101 games and basically had all of September to prepare for the playoffs. Fate caught up with them in the Division Series against San Francisco, however, when they blew a lead to the Giants.
The disappointments of the '02l season for Marcus were nothing compared to the personal tragedy he and Tracy endured in June of that year. Their daughter, Lundyn, was born prematurely and died 16 days later.
As he had done so often in the past, Marcus chose to deal with adversity by working harder on his game. Over the winter, he slimmed down and refocused on his hitting and fielding. In spring training, he was ready to go by seven o'clock every morning. Marcus felt this was the best way to honor Lundyn.
Marcus's teammates were floored by his resilience. They took a cue from their young second baseman when they saw their NL East competition in 2003. The division was going to be tough. The Mets had reloaded with Cliff Floyd and Glavine, while the Phillies had signed Jim Thome and traded for another Atlanta hurler, Kevin Millwood. The Expos were defying the odds and playing well, and the Florida Marlins had the look of a team on the verge of greatness.
After a lackluster start, Atlanta sizzled through May while their rivals stumbled. The Braves, in turn, built a nearly insurmountable division lead in the stnadings. The starting pitching—which now included Mike Hampton and Russ Ortiz—was solid, and at times spectacular. Out of the pen, Smoltz was close to automatic.
The big story, however, was the Atlanta offense. Marcus was one of six Braves to pound out at least 20 homers, and every full-time starter ended up with at least 50 extra-base hits. The Braves won 101 games again to finish 10 games ahead of the Marlins.
Marcus enjoyed perhaps the finest year ever by a Braves second baseman. In 145 games, he hit .316 with 21 homers and 69 RBIs. His batting average was the highest ever by an Atlanta second sacker, his .526 slugging mark was better than both Joneses', and his 49 doubles established a new franchise high. During one stretch, Marcus went 13-for-15, including nine hits in a row—just one off the major-league record.
Marcus did it in the field, too. He topped the NL with 471 assists and 763 total chances despite missing a few weeks with a concussion suffered in a collision with Chicago's Mark Prior. In July, Marcus was voted to the All-Star Game's starting lineup, Not since Glenn Hubbard, his minor-league mentor, had an Atlanta second baseman even made the NL squad.
Marcus finished the year strong and continued his hot hitting against the Cubs in the playoffs. Despite his .357 average in the Division Series, the Braves faltered, bowing to Prior and Kerry Wood in five games.
The 2004 season opened with Marcus being acknowledged as one of the game's top infielders. That didn't mean there were no more mountains for him to climb. A collision with Andruw Jones sidelined him for six weeks with a broken right clavicle. He also suffered a mild concussion and bruised right hand. At the time, Marcus was batting .339 with three homers and 18 RBIs.
Despite the loss of Marcus, the Braves stayed afloat in the NL East. Chipper Jones also found his way to the DL, but Atlanta's deep farm system produced admirable fill-ins, including Nick Green at second. Newcomer JD Drew also came into his own, and the pitching staff benefitted from some surprising performances. Journeyman Jaret Wright provided the biggest spark.
In his first game back on July 15th, Marcus hit a pair of RBI doubles. Most important, he had no pain in his shoulder. The Braves, meanwhile, climbed into first place in the NL East. They went on to win their 13th straight division title—a record in the four major American sports. Given his injury problems, Marcus finished with good numbers—a .311 batting average, eight home runs, 48 RBIs and a career-high 17 stolen bases.
Atlanta faced the surging Astros in the NLDS. Houston jumped to a series lead, as many of the Braves hitters struggled to find their stroke. Marcus was chief among them, collecting just two hits in his first 15 at-bats.
In an attempt to jump-start the offense, Cox juggled his lineup, flip-flopping Marcus and Drew in the two and three slots. The shakeup had a minimal affect. The Braves took Game 6, but needed some help from the Astros to do so. Marcus' struggles at the plate continued, as he struck out twice. He did make a crucial play at second in the ninth inning to preserve the victory.
Back in Atlanta for the decider, the Astros won in a laugher, 12-3. Marcus ended the series with a .125 batting average, six strikeouts and one RBI.
Marcus rebounded with a healthy and happy 2005 for Atlanta. He appeared in 152 games and hit a robust .291 with 64 extra-base hits and 16 stolen bases. The Braves, meanwhile, had a fight on their hands in a surprisingly competitive NL East. Thanks to solid seasons from youngsters Adam LaRoche and Jeff Francoeur—and a monster 51-homer season from Andruw Jones—they returned to the postseason.
The Braves faced the Astros again in the playoffs. After splitting the first two games in Atlanta, the Braves dropped Game 3 in Houston. Game 4 looked like an Atlanta win, but the Astros scored five runs in the 8th and 9th to tie the score and force an epic affair. Chris Burje settled it in the 18th inning with a home run. Marcus got a hit in each game and scored five runs.
The 2006 season found Marcus as Atlanta's leadoff hitter, and the Braves gasping for air in the NL East. For the first time as a Brave, Marcus—who had a sore hand much of the year—would not play in the postseason. He shouldered some of the blame. Though he hit .262 and drew 62 walks, Marcus was far from an ideal table-setter. He knew this as well as anyone, but also understood that he was the best option Cox had. Marcus did produce well in the clutch. Indeed, he was one of Atlanta's best late-inning hitters.
After the season, the Braves decided that Kelly Johnson—who spent the year rehabbing a bad elbow—was a better alternative at second base. Marcus was due to go to arbitration, and it was likely that he would command upwards of $5 million. After trying unsuccessfully to trade him during the winter meetings, the Braves simply let him go. Giving up a former All-Star in his 20s for nothing illustrated how serious Atlanta was about slashing payroll. Despite all those division titles, Braves fans had stopped filling the ballpark.
Marcus told his agent to get him a job with the Padres—he wanted to play with Brian. San Diego traded second baseman Josh Barfield to Cleveland for third baseman Kevin Kouzmanoff, creating the perfect opening. Marcus blistered the ball in spring training. He and Brian were the life of the club as the season opened.
After a red-hot April, during which he hit in 12 straight games, Marcus was awful at the plate the rest of the year. In 420 at-bats, he batted just .229 with little power. As usual, he dealt with an assortment of bumps and bruises, including an ankle sprain that put him on the DL prior to the September stretch run. The Padres wound up in a one-game playoff against the Rockies. San Diego lost in a thriller, and Colorado went on to win the pennant.
The Padres decided to let Marcus go after the season. The Rockies, who lost Kaz Matsui to the Astros, were in the market for a second baseman. They signed Marcus to a minor-league contract but slotted him in as their starting second baseman. Prospects Ian Stewart and Jayson Nix may also be in the mix.
In Colorado, Marcus joins a club on the rise. The Rockies are hard-nosed competitors, and Marcus should fit right in. It doesn't hurt that he has traditionally hit a ton in Coors Field. Marcus is still young enough to have the career year everyone's been waiting for. If he can stay healthy, the fans in Denver should be happy with their new arrival.
MARCUS THE PLAYER
Marcus bundles his natural ability, smarts and intensity into a unique package of catalyst energy and heavyweight production. He doesn't look like a power hitter, yet there are few ballparks that can hold him. Defensively, he appears limited, but his range and technique are excellent. On the basepaths, he knows when to take a gamble and when to play it safe.
Marcus has a short, compact swing that produces line drives to all fields. He loves the fastball, especially those at the belt and below. He gets himself in trouble at times by being too aggressive. But when Marcus stays in the strike zone, he is a tough out.
Early in his career, the rap against Marcus was his poor glove. But once he became accustomed to the switch from the outfield to second base, he improved steadily. Marcus has learned the value of making the routine play consistently, and his increasing range allows him to pull off a dazzler every now and then. He turns two as well as anyone thanks to his quick hands and bulldog mentality.
Marcus is an excellent teammate because of his positive attitude and sense of humor. He got to the big leagues through hard work, and success hasn't changed him.
Read more
Latest headlines