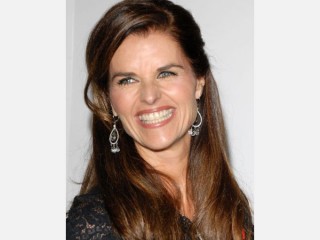 Maria Shriver biography
Date of birth : 1955-11-06
Date of death : -
Birthplace : Chicago, Illinois
Nationality : American
Category : Famous Figures
Last modified : 2010-11-06
Credited as : Author and journalist, NBC news correspondent, wife of Arnold Schwarzenegger
As a member of the famous Kennedy family,
Maria Shriver
seemed destined to enter the political arena from birth. But her early aversion for a political life coupled with a passion for journalism led Shriver down a different path – one that eventually led to exactly where she was reluctant to be – in the public spotlight. After graduating Georgetown University, she began working as a reporter and writer for a local news station in Philadelphia, which soon led to producing the news in nearby Baltimore. Eventually, she found her way to CBS, where she became a correspondent on the evening news. Jumping over to NBC, Shriver was propelled to celebrity when she became a host of a variety of news specials like "Cutting Edge with Maria Shriver" (NBC, 1990) and "First Person with Maria Shriver," as well as the weekend anchor of the nightly news. But her famous and unlikely marriage to actor/bodybuilder Arnold Schwarzenegger led to a life in politics when the action star became the governor of California in the recall election of Gray Davis in 2003. As a life-long Democrat married to a Republican governor, Shriver was thrust into public service while being forced out of her hosting duties by NBC in early 2004 for a conflict of interest. Despite giving up her journalism career to become First Lady of California, Shriver used her office to champion women's causes and Alzheimer's research, assuring fans and admirers that she was able to be an effective advocate in her latest role.
Born on Nov. 6, 1955 in Chicago, IL, Shriver was a member of the famed Kennedy clan through her mother, Eunice Kennedy Shriver, the younger sister of President John F. Kenney and founder of the Special Olympics. Shriver's mother married Robert Sargent Shriver, a Democratic politician, activist and the driving force behind President Kennedy's creation of the Peace Corps. Fully aware of her family's importance from a young age, Shriver strove to avoid the Kennedy mystique by completely dismissing public perception, which appeared to her to be wildly divided and contradictory. After graduating Stone Ridge School of the Sacred Heart in 1973, she received her bachelor's degree in American studies from Georgetown University, where she wrote her senior thesis on the role of religion in JFK's campaign for president. The same year of her graduation Shriver began her journalism career as a news writer for KYW-TV in Philadelphia, PA. Within a year, Shriver had moved to WJZ-TV in Baltimore, MD, where she also produced news programming.
From two years, Shriver was a national reporter for "P.M. Magazine" (Syndicated, 1976-1991), which was a cooperative arrangement between stations bringing the best of local news coverage nationwide. Joining forces with Debbie Williams in 1981, Shriver produced the syndicated series, "Portrait of a Legend." Within a few years, national news organizations began to take notice of Shriver. Eventually, she was brought onto CBS News as a correspondent. Jumping over to NBC, Shriver became one of the first anchors of the weekly "Sunday Today" (NBC, 1987-2001) show, while also serving as the host of "Main Street" (NBC, 1987-88), a monthly news magazine show geared toward teenagers. By this time in her life, Shriver was married to Arnold Schwarzenegger, arguably the most successful Hollywood action star in cinema history. Though they wed in 1986, the two had met each other much earlier in 1977, when NBC anchor Tom Brokaw introduced Shriver to Schwarzenegger at a charity tennis event at her mother's home. Despite their seemingly at-odds personalities and his conservative politics, they were a successful and long-lasting couple by Hollywood standards.
While Schwarzenegger entered into the most successful era of his film career, Shriver continued to report the news. By 1989, her fortunes at NBC were on the rise when she served as a substitute anchor for both "Today" (NBC, 1987- ) and the weekend editions of the "NBC Nightly News" (1970- ). Though there was speculation that she was in line to be a national news anchor out of the Washington bureau, Shriver's marriage to Schwarzenegger kept her relegated to the West Coast. Meanwhile, she moved into primetime with "Yesterday, Today, and Tomorrow" (NBC, 1989-1990), a magazine series which used interviews, archival footage and dramatic re-enactments to examine events from a past, present and future perspective. Continuing to try to attract younger viewers, she was the host of "Cutting Edge with Maria Shriver" (NBC, 1990), a rapid, MTV-inspired magazine show that interviewed top sport, music and film celebrities. Now satisfied that she had matured as a newscaster, NBC gave Shriver the "First Person" franchise of primetime news specials. Through the decade, Shriver used the show to examine former Miss America and incest survivor Marilyn Van Derbur in 1991, "Privacy and the Press" (1992), "The Gay 90s" (1992) and "Big Brother Is My Boss" (1993), among various other topics.
Shriver's importance to NBC News was further on display when she served as a podium correspondent during the 1992 and 1996 presidential campaigns, covering the Democratic and Republican conventions during both elections. Shriver was also the NBC special correspondent in Little Rock, AK, covering President Bill Clinton's victory speech in 1996. While maintaining her status as a contributing anchor on the weekend edition of "NBC Nightly News," Shriver continued to host several primetime specials, including "The Power of One" (ION Television Network, 2001), a profile of three regular folks who made personal sacrifices to benefit others in their respective communities. She also became a published author with her first book, Ten Things I Wish I'd Known Before I Went Out Into the Real World (2000), a guide for recent college graduates that evolved from a commencement speech she delivered at College of the Holy Cross. Shriver followed up with her second novel, What's Wrong with Timmy? (2001), a short, illustrated book that helped kids understand how to deal with and accept other children with Down syndrome.
Having avoided entering the political arena for most of her life, Shriver was pulled back into the life when Schwarzenegger announced on "The Tonight Show with Jay Leno" (NBC, 1992-2009) that he was a candidate in the 2003 California special election to recall Governor Gray Davis from office. Schwarzenegger's candidacy for governor led to Shriver taking a leave of absence from her anchor and reporting duties on NBC due to a conflict of interest. During the brief election campaign, she used her clout to gather top political strategists to help Schwarzenegger craft his message and inform him on the vital issues. Her persistence and hard work paid off when he won the election with over 48% of the vote despite 135 candidates on the ballot. But victory came with a price – Shriver had to brave the indignity of rumor and scandal when several women came forward claiming that Schwarzenegger had sexually accosted them. Though the soon-to-be governor admitted he had acted badly in the past, he claimed that much of what was being said was untrue. Meanwhile, Shriver lapsed into Hillary Clinton-like silence on the matter.
Following the election, Shriver found herself in a new position – First Lady of California. At first uncertain what to do with her time, Shriver went on the hunt for a cause to champion. She also briefly returned to NBC hosting duties with "Siegfried & Roy: The Miracle" (NBC, 2004), a look at the lives of magicians Siegfried Fischbacher and Roy Horn following the near-fatal tiger attack on the latter in 2003. But in early 2004, Shriver was permanently relieved by NBC of her duties due to a conflict of interest. Meanwhile, she fell into the role of First Lady when she took up various causes like poverty and the Kennedy-like issue of the importance of public service. She also became an Alzheimer's research activist, due in large part to her father, Sargent Shriver, suffering from the disease. The cause led to another book, What's Happening to Grandpa?, a short illustrated book that enlightened children on the effects of the ravaging disease.
After serving as a substitute host on "Larry King Live" (CNN, 1985- ) for a discussion of breast cancer, Shriver announced that she would never return to the news media because of the excessive coverage of Anna Nicole Smith's death. Meanwhile, she stood in public opposition to her husband when she endorsed then-senator Barack Obama for president just days after Schwarzenegger endorsed Senator John McCain. In 2009, she was in the spotlight again when her famous mother, Eunice Kennedy Shriver, died at 88 years old. Just two weeks later, her beloved uncle, Senator Ted Kennedy, died after his battle with brain cancer at 76 years old. Both deaths were nationally mourned, though Uncle Teddy's was by far covered more on all the news outlets. Shriver maintained a low public profile during the coverage, as she attended funerals with her husband and family, speaking only to a few NBC news personalities like David Gregory of "Meet the Press" (NBC, 1947- ).
Milestones
* 1977 Began career as news writer and producer for KYW-TV in Philadelphia, PA
* 1978 Worked as a news producer for WJZ-TV in Baltimore, MD
* 1981 Produced the syndicated series Portrait of a Legend
* 1985 Co-anchored the CBS Morning News with Forrest Sawyer
* 1987 Joined NBC News as co-host of Sunday Today
* 1989 Was substitute anchor for NBC Nightly News
* 1990 Began hosting First Person With Maria Shriver for NBC
* 1990 Hosted the Cutting Edge for NBC News
* 1990 Released video Winners and Losers: Dealing with Substance Abuse
* 1992 Participated in the NBC News coverage of political conventions
* 1993 Appeared in the film, The Last Action Hero, starring her husband Arnold Schwarzenegger
* 1995 Served as a contributing anchor to Dateline NBC
* 2004 Announced she would step down from her full-time job with NBC News to focus on her role as First Lady of California; would continue working on occasional TV projects
* 2004 Returned to NBC to interview Roy Horn for Siegfried & Roy: The Miracle the first TV interview since he was mauled by one of his tigers
* 2004 Told by NBC she was to be relieved of duties at NBC News, citing the conflict of interest
* Hosted Main Street (NBC News)
* Named a national reporter for PM Magazine
* Worked for CBS News as correspondent
Read more
Latest headlines