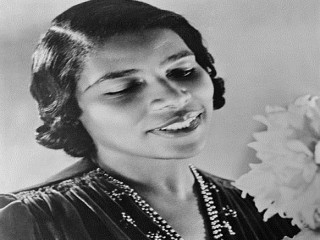 Marian Anderson biography
Date of birth : 1902-02-27
Date of death : 1993-04-08
Birthplace : Philadelphia, Pennsylvania, United States
Nationality : American
Category : Famous Figures
Last modified : 2010-10-04
Credited as : Opera singer, won first prize New York Philharmonic voice competition, Presidential Medal of Freedom, 1963
Grew Up Poor, But Not Lacking
Marian Anderson
was born February 27, 1897, in Philadelphia, the oldest of three daughters of Annie and John Anderson, a coal and ice salesman. Annie Anderson began taking in laundry to support her children after their father died when Marian was still young. The family lived with Anderson's grandmother in South Philadelphia and she grew up poor, "though never lacking in love and support. My mother always encouraged me to do anything I wanted," she was quoted as saying in Billboard. She began singing as a toddler and joined the Union Baptist Church junior choir at age six. Though first turned away by a Philadelphia music school because of her color, she studied formally at age 15 with Mary S. Patterson, lessons she scrubbed floors to pay for. Many in her community acknowledged Anderson's exceptional talent, and contributed to her education--the Union Baptist choir raised money to further her training and, later, the black ensemble, the Philadelphia Choral Society, gave benefit performances to raise the funds that allowed her to study with voice coaches Agnes Reifsnyder and Giuseppe Boghetti. She then performed for modest fees, helping to support her mother and sisters. It is a little known fact that Anderson applied to Yale and was accepted, but was unable to raise enough money to cover tuition.
Boghetti entered Anderson into a New York Philharmonic voice competition when she was 28. She won first prize out of 300 competitors, debuted with the Philharmonic at Lewisohn Stadium that same year, and signed a management contract. A significant concert at New York's Town Hall followed, but Anderson was unable to break any ground in a country as bound by racism as the United States was at the time. Anderson left for Europe on a Rosenwald Fellowship in 1930, in hopes of developing her craft and confidence, perfecting her foreign-language skills, and finding a more accepting audience.
After her 1930 London debut, the singer took Europe by storm. She toured from Italy and Austria to Germany and Scandinavia, where she met composer Jean Sibelius, who was so taken by her "warm, burnished tone and interpretive sensitivity" that he dedicated his song "Solitude" to her, according to Billboard critic Susan Elliot. It was on this tour that famed conductor Arturo Toscanini first heard Anderson sing and said, "A voice like yours is heard only once in 100 years," according to Billboard.
A Reluctant Return to the States
Anderson returned to the United States in 1935, though very reluctantly, based on her chilly reception there the first time around. After impresario Sol Hurok--who became her manager--heard Anderson sing in Paris, he advised her to return to the States for another appearance at Town Hall. Hurok was right--the concert was to be the turning point in her U.S. career. This time, with the swell of her European success behind her, American audiences and critics paid attention. New York Times critic Howard Taubman wrote, "Let it be said from the outset, Marian Anderson has returned to her native land one of the great singers of our time." In 1936 Anderson became the first black to perform in the White House when the Roosevelts invited her, and returned later to sing for the Eisenhowers and the Kennedys.
Anderson's successful return to the States was met with racial prejudice in 1939. Hurok was denied when he attempted to schedule a recital for Anderson at Constitution Hall, which was owned by the Daughters of the Revolution (DAR). Hurok went public with the incident. The incident became a national affair--weeks of debate ensued and many high-profile members, including First Lady Eleanor Roosevelt, immediately resigned from the DAR. Anderson, whose only political statement was her talent, was terribly upset. "Music to me means so much, such beautiful things," she was quoted as saying in Billboard, "and it seemed impossible that you could find people who would curb you, stop you, from doing a thing which is beautiful. I wasn't trying to sway anybody into any movements or anything of that sort, you know. I just wanted to sing and share."
The singer became a household name when, after the U.S. government offered her the use of the Lincoln Memorial for her Easter Sunday recital, 75,000 citizens and political dignitaries descended upon the Washington D.C. site to hear her, and millions more tuned in to the performance on the radio. Her program included "America," Schubert's "Ave Maria" and the spirituals "Gospel Train," "Trampin'," and "My Soul Is Anchored in the Lord." Anderson was bolstered by the nationwide show of support. According to Jet, she told the racially mixed audience, "I am so overwhelmed, I just can't talk." The event was the largest public tribute since the one that welcomed Charles Lindbergh back from France ten years earlier. Whether she liked it or not, Anderson had become a symbol in the struggle for Civil Rights. The performance also secured her place among America's outstanding musical talents.
Anderson was best known for her recital repertoire, which ranged from Bach and Handel oratorio arias to the songs of Schubert, Brahms, and Tchaikovsky to spirituals. In all, Anderson's repertoire consisted of more than 200 songs in nine languages and, though labeled a contralto, her voice was effective over three octaves. Spirituals were among the most personal to Anderson. "They are my own music," she was quoted as saying in Billboard. "But it is not for that reason that I love to sing them. I love them because they are truly spiritual in quality; they give forth the aura of faith, simplicity, humility, and hope."
Became First Black Met Singer
At the invitation of General Manager Rudolph Bing, Anderson made her debut as the first permanent African-American member of the Metropolitan Opera Company on January 7, 1955, singing Ulrica in Verdi's Un Ballo In Maschera. At the age of 57, Anderson's velvety trademark tone was no longer at its peak, and a slight tremelo was audible, but "[h]er style and consistently majestic presence were still very much intact," wrote Billboard critic Elliot. A fellow singer remembered the night as an "electric" one where Anderson was met with a ten-minute standing ovation as soon as the curtain rose. After the concert, the contralto revealed she became nervous when the entire house erupted in applause. The audience repeated the ovations after each aria she sung. Anderson left the Met and published her autobiography, My Lord What a Morning, in 1956.
Throughout her transition from second-class citizen to opera royalty in the United States, Anderson kept her regal and elegant disposition. She was discriminated against repeatedly in her travels by hotels, restaurants, concert venues, many of which were blatantly closed to blacks until the late 1930s. She rarely spoke publicly about racism, but opened up in an interview in 1960. "Sometimes it's like a hair across your cheek," she said, according to Jet. "You can't see it. You can't find it with your fingers but you keep brushing at it because the feel of it is irritating." Anderson was also known to treat anyone who came in contact with her, from the lowest-ranking mailroom worker on up, with the same respect. Though she was presented with the key to Atlantic City, there was not a hotel in the city that would give her a room. Anderson always maintained her dignity, despite the injustices. "You lose a lot of time hating people," she told People.
A Rich Life, Rewarded
After she broke opera's color barrier, Anderson was awarded the Presidential Medal of Freedom in 1963, the Kennedy Center Honors in 1978, the Eleanor Roosevelt Human Rights Award of the City of New York in 1984, and the National Arts Medal in 1986. The Marian Anderson Awards, founded in 1943 and resurrected in 1990, have been awarded to such artists as soprano Sylvia McNair and mezzo-soprano Denyce Graves. In 1991 she received a lifetime achievement Grammy award and was the subject of a Public Broadcasting System (PBS) television documentary titled Marian Anderson. PBS's American Playhouse also developed a drama depicting Anderson's life, the first time an African-American singer's life had been dramatized for television. Anderson did so much for blacks in her field, screenwriter Martin Tahse told American Visions, but did so without making a fuss. "She simply said, 'I am black, and I am an artist. I want to sing.'" Many black singers, from Leontyne Price to Jessye Norman and Kathleen Battle, hold Anderson as a role model. As soprano Martina Arroyo, who debuted at the Met in 1961, attested in American Visions, "She has been a legend all my life. When I didn't know what opera singing was, I knew her name," adding that it was crucial that Anderson's legacy be kept alive.
Anderson retired in racially turbulent 1965 but continued to give lectures on her life and travels. Quoted in American Visions, Vincent Sheean, a correspondent in Europe who covered Anderson's triumphant early years, wrote of the artist at her retirement: "Rain or shine, war or peace, she has been before us now for 30 years as a living part of the national consciousness, the voice of the American soul. She came at a moment when a great Negro personality, which the whole nation could admire, esteem and love, had become very early an historical imperative, and in that mysterious way which destiny takes for its working, when she was needed, there she was."
After her retirement, Anderson lived on her farm, called Marianna Farms, in Danbury, Connecticut, to work with her "hands and heart and soul," she was quoted as saying in American Visions. A Steinway grand piano sat in the rural farmhouse, atop which sat signed photos of the Roosevelts, the Kennedys, the Carters, and Richard Nixon, next to her congressional gold medal, and various other medals, awards, and keys to a slough of cities worldwide. In 1992, her health failing at age 95, she moved to Portland, Oregon, to live with her nephew, conductor James DePreist. She died of congestive heart failure at home in Portland on April 8, 1993, one month after she had suffered a stroke. Her husband, architect Orpheus H. "King" Fisher, whom she married in 1943, died in 1985, and Anderson is survived only by DePreist. By the time of her death, Anderson told People, one of her greatest dreams, though bittersweet, had come true: "Other Negroes," she said, "will have the career I dreamed of." Though very few recordings of Anderson exist, the Metropolitan Opera Guild released a disc of the artist's songs, spirituals, oratorio, and opera after her death.
Read more
Latest headlines