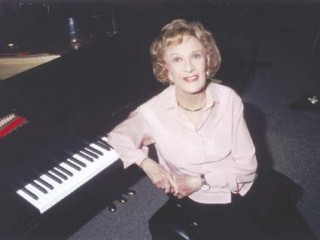 Marian McPartland biography
Date of birth : 1918-03-20
Date of death : 2013-08-20
Birthplace : Slough, England
Nationality : English
Category : Arts and Entertainment
Last modified : 2014-01-29
Credited as : jazz pianist, composer, host of Marian McPartland's Piano Jazz
Margaret Marian McPartland
was an English-born jazz pianist, composer, writer, and the host of Marian McPartland's Piano Jazz on National Public Radio, NPR.
Few women in jazz have become as successful an instrumentalist as pianist Marian McPartland, who has been a mainstay on the American jazz scene since moving to the United States from England in the 1940s. As a white female who was not a native American, McPartland had to overcome a number of prejudices in the jazz world in order to make her mark.
Known for having very fast fingers and using the whole keyboard when playing, McPartland has mastered every style of jazz from bebop to avant garde to romantic. She is noted for her improvisational skills and her keen ear for the latest trends in contemporary music.
McPartland's playing has placed her in the same ranks as other great jazz pianists, including George Shearing, Teddy Wilson, and Billy Taylor. She is also a gifted arranger and has composed a number of highly regarded jazz pieces, usually with a bittersweet and nostalgic flavor. Her works include "In the Days of Our Love" (recorded by Peggy Lee), "Twilight World" (recorded by Johnny Mercer), and other songs recorded by Tony Bennett, Sarah Vaughan, Gary Burton, George Shearing, Cleo Laine, and the Thad Jones/Mel Lewis band.
Despite her talent as a performer, McPartland is best known to the public as the host of a popular radio series called Piano Jazz, which profiles major jazz artists. Her radio show has had a major impact on developing awareness of both famous and little-known jazz musicians. As Peter Watrous noted in the New York Times, "Marian McPartland is an important jazz figure not so much for her piano-playing as for her articulate advocacy of the form." Referring to this radio series in another Times article, George Wein was quoted during the 1991 JVC Jazz Festival in New York City as saying, "Marian McPartland has done more for jazz pianists than anyone in the entire world."
A number of Margaret Marian Turner's cousins in England were musically inclined, and she began studying voice, violin, and classical piano as a child at the Guildhall School of Music. Piano became her main instrument in her teens, and at that time she developed an interest in jazz music that defied her parents' wishes. She left her classical training to perform in a four-piano vaudeville act that was the led by Billy Mayer, playing under the stage name of Marian Page because of her parents' disapproval.
During World War II, she often entertained British and American troops with ENSA, the British equivalent of the American USO. In 1944 she met well-known American cornetist Jimmy McPartland while jamming with American musicians of the U.S. Army Special Service in Belgium. The next year, the two were married in Aachen, Germany.
After moving to the States with her new husband in 1946, McPartland had a battle ahead of her to win acceptance as a serious jazz musician. Since jazz originated in the United States, outsiders who attempted to enter the genre were often viewed with suspicion by American practitioners. Being white and a woman also hampered McPartland's assimilation into the jazz world. However, being married to an established American musician put her in the right circles to develop her talent and helped her land gigs she otherwise might not have been offered.
McPartland worked steadily as a performer throughout the 1940s and 1950s, playing some engagements with her husband and solo spots at Condon's and other jazz clubs. Her career took a giant leap forward after she formed her own trio with Bill Brow on bass and Joe Morello on drums in 1951. The trio played a variety of club dates, including a legendary run at Hickory House in New York City that started in 1952 and continued on and off for a decade.
In the early 1950s McPartland began recording albums for Savoy and Capitol. She appeared in the famous 1958 photograph titled "Great Day in Harlem"; she and Mary Lou Williams, standing next to each other, were the only two women pictured. McPartland entered another phase of her musical career in 1955, when she started teaching jazz to schoolchildren. Since that time she has both played and taught jazz at grade schools, high schools, and colleges. "I was so afraid rock & roll was going to kill jazz that I went into the schools," she told Down Beat in 1994. "I couldn't fight rock & roll but I wanted kids to know that there's another music."
Among McPartland's teaching activities was a nine-week stint in 1974 teaching jazz to children in Washington, D.C. "Working with students diminishes my inhibitions and lubricates my creativity," she was quoted as saying in a Concord Jazz label press kit. The impact of her jazz education efforts was acknowledged in 1986 when she became the first woman to be named Jazz Educator of the Year by the National Association of Jazz Educators.
Along with playing in her trio, McPartland has performed in duets with Joe Venuti and with fellow pianists Wilson and Shearing. In the 1960s she toured with Benny Goodman's sextet and wrote a series of articles and reviews for Down Beat. Her soundtrack for Mark, an art film, won awards at both the Edinburgh and Venice film festivals in that decade.
When the 1960s ended, McPartland felt that she was being ignored by the major record companies. She solved the problem by forming her own company, which she called Halcyon. Her first album on her new label was Interplay. A recording of her own composition "Ambiance" earned her a Grammy nomination.
During the 1960s and 1970s McPartland maintained an active performing schedule. She played frequently at jazz festivals in Nice, Montreux, Antibes, Berlin, and Monterey, as well as at the JVC Jazz Festival in New York City and the Kansas City Women's Jazzfest. Over the years she has also performed with the New York Pops, New Amsterdam Symphony, and major symphony orchestras in London, St. Louis, and New Orleans. After their divorce, she and Jimmy McPartland continued to play together, including an appearance at the 1978 Newport Jazz Festival.
McPartland's visibility increased dramatically in 1974, when Bobby Short asked her to fill in for him at New York City's posh Cafe Carlyle while he was on vacation. Another major turning point took place in 1979, when William Hay of South Carolina Educational Radio asked her to host a 13-week radio series to be distributed by National Public Radio (NPR). McPartland had been recommended by her friend, pianist Alec Wilder.
The show's format of two pianists who talk and play, both solo and as a duet, was determined by McPartland. She dubbed the show Piano Jazz and had noted pianist Mary Lou Williams as her first guest. A year after its first airing, Piano Jazz won a Peabody Award and a number of other prestigious honors. By the 1990s the show had expanded to 39 weeks a year and had logged an impressive lineup of guests from all corners of the jazz world.
After addressing almost every aspect of jazz piano on her radio program, McPartland branched out by inviting singers, saxophonists, trumpeters, and other instrumentalists onto the show. As of the early 2000s, the show had featured close to 400 guests, including Tony Bennett, Wynton and Branford Marsalis, Dizzy Gillespie, Ray Charles, Eubie Blake, Gerry Mulligan, Rosemary Clooney, Steve Allen, Dudley Moore, and younger artists such as Benny Green, Geoff Keezer, Allen Farham, and Geri Allen. She rarely had guests back for repeat appearances, preferring to seek out new sounds. "I want to do the right thing with Piano Jazz," she stated in her Concord Jazz press release. "I have a responsibility to make it good. It's an historical record." McPartland also made a number of popular live recordings of her shows, and they continued to appear into the early 2000s on the Jazz Alliance label.
Further confirming her versatility, McPartland ventured successfully into the realm of classical music in the 1980s. In concerts across the United States, she performed 20th-century American composer George Gershwin's Rhapsody in Blue, 19th-century Norwegian composer Edvard Grieg's Piano Concerto, and popular songs arranged for piano and orchestrated by Robert Farnon. In the 1990s she gained further exposure by appearing on NBC television's Today show, various PBS specials, and the television series Live at Wolf Trap, with George Shearing. She has also served as moderator for the series Women in Jazz on the Arts & Entertainment (A&E) cable network.
Past the age of 70 and then 80, McPartland managed to keep her talent at a high level. In the CD liner notes to Marian McPartland's Piano Jazz with Guest Milton Hinton, which was recorded live in 1991, reviewer Phil Sheridan commented: "Each time [McPartland] plays, her approach to the material is inquisitive and probing, as if it were new, yet has the confidence of an artist whose lines flow in the creativity generated by an intimate familiarity with the scene at hand." And JazzTimes contributor Leslie Gourse, writing in the liner notes to Marian McPartland Live at Maybeck Recital Hall, Volume Nine, declared: "Her technique and repertoire show how she has imbibed every important innuendo in jazz's development."
McPartland remarried her ex-husband Jimmy McPartland in 1991, later telling the Pittsburgh Post-Gazette that "the divorce was a failure." He died later that year, and in 1993 McPartland honored him with a CD, In My Life, dedicated to his memory. Showing no signs of slowing down in the 1990s, McPartland maintained an active schedule of playing and lecturing. In 1994 she recorded an album of Mary Lou Williams compositions, backed by Bill Douglass on bass and Omar Clay on drums. In the liner notes for the CD, Chris Albertson of Stereo Review wrote, "Actually, Marian does her own thing throughout this set, capturing---with charm and a healthy measure of swing---the flavor and diversity that characterized the music of Mary Lou Williams."
One of McPartland's ultimate honors came in 1994, when Down Beat awarded her its Lifetime Achievement Award. But even this career high note was not enough to make her consider retirement. As she said at age 74, as quoted in Concord Jazz press materials, "I still want to improve, experiment, and keep up with what's happening."
McPartland became an active and devoted mentor to younger musicians. She nurtured the career of jazz chanteuse Diana Krall and was also on good terms with superstar Norah Jones, with whom she performed at the Tanglewood Jazz Festival in Massachusetts in 2003. One of her 2004 guests on Piano Jazz was 19-year-old pianist Taylor Eigsti. McPartland's 85th Birthday Tribute concert, held in 2003 at New York's Birdland club, attracted a who's who of jazz performers ranging from Tony Bennett to modern vocalists Jones and Nnenna Freelon.
Continuing to challenge herself as a performer, McPartland was capable of carrying on a musical dialogue with almost any jazz musician alive. She suffered from arthritis, but reviewers were hard pressed to hear any evidence of the malady in her playing. McPartland often opened concerts with the classic jazz piece "Take the 'A' Train." "But after that, the 86-year-old pianist starts to get frisky," Ottawa Citizen reviewer Doug Fischer wrote in a 2004 review of a concert in Canada's capital. "Imagine your grandmother diving into the dissonance of an Ornette Coleman tune and you begin to get the idea."
Nor was her fabled wit diminshed. At a 2000 Montreal concert she shrugged off her introduction as "the first lady of jazz," telling the audience that it would be more accurate to call her the first lady to take the stage in that hall after a hip replacement. She sometimes dedicated a piece called "Windows" to Microsoft founder Bill Gates. Piano Jazz celebrated its 25th anniversary in 2004, and McPartland kept up a vigorous schedule with appearances that year at California's Monterey Jazz Festival as well as other top venues. "I feel that working is the best thing anybody can be doing," she had told the New York Times several years earlier, "especially when you're doing something you like, and you're able to give other people some work, and generally be helpful all around. I certainly wouldn't want just to sit in the backyard and dig bulbs."
Just before her 90th birthday, she composed and performed a symphonic piece, A Portrait of Rachel Carson to mark the centennial of the environmental pioneer.She was appointed Officer of the Order of the British Empire (OBE) in the 2010 New Year Honours.
Selected discography:
-Jazz at the Hickory House Savoy, 1952-53.
-With You in My Mind Capitol, 1957.
-At the London House Argo, 1958.
-Ambiance Halcyon, 1970.
-From This Moment On Concord Jazz, 1978.
-At the Festival Concord Jazz, 1979.
-Willow Creek and Other Ballads Concord Jazz, 1985.
-Plays the Music of Billy Strayhorn Concord Jazz, 1987.
-Marian McPartland Plays the Benny Carter Songbook Concord Jazz, 1990.
-Marian McPartland Live at Maybeck Recital Hall, Volume Nine Concord Jazz, 1991.
-Marian McPartland's Piano Jazz with Guest Milt Hinton Jazz Alliance, 1991.
-In My Life Concord Jazz, 1993.
-Marian McPartland's Piano Jazz with Guest Dave Brubeck Jazz Alliance, 1993.
-Great Britain's Savoy Jazz 1993.
-Marian McPartland's Piano Jazz with Guest Teddy Wilson Jazz Alliance, 1993.
-Marian McPartland Plays the Music of Mary Lou Williams Concord Jazz, 1994.
-Live at Yoshi's Nitespot Concord Jazz, 1995.
-Silent Pool Concord Jazz, 1996.
-Just Friends Concord Jazz, 1998.
-Reprise Concord Jazz, 1999.
-The Single Petal of a Rose Concord Jazz, 2000.
-Ain't Misbehavin': Live at the Jazz Showcase Concord Jazz, 2001.
-Live at Shanghai Jazz Concord Jazz, 2002.
-Windows Concord Jazz, 2004.
-Personal Choice (recorded 1982), Concord Jazz.
-Interplay Halcyon.
-As of 2004, over 30 recordings of Piano Jazz programs were available on the Jazz Alliance label.
Read more
Latest headlines