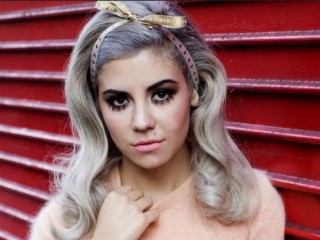 Marina And The Diamonds biography
Date of birth : 1985-10-10
Date of death : -
Birthplace : Abergavenny, Wales, U.K.
Nationality : Greek-Welsh
Category : Arts and Entertainment
Last modified : 2012-07-16
Credited as : pop singer, Electra Heart, Primadonna, Oh No!
Marina Lambrini Diamandis
, better known by her stage name
Marina and The Diamonds
, is a Greek-Welsh singer. Despite the name, she is a solo act, the 'Diamonds' being a reference to her fans. Her eponymous name consists of 'Diamandis' first name and the translation of her surname, which means 'Diamonds' in Greek.
Diamandis released her first single (a double A-side single Obsessions/Mowgli's Road) through Neon Gold Records on Valentine's Day, 2009, closely followed by The Crown Jewels EP in June 2009. Now signed to 679 Recordings, Her first single with the label was Mowgli's Road, released in November 2009. In January 2010 she reached #2 on the BBC Sound of 2010 poll list. This was followed by the release of her debut full-length studio album, The Family Jewels, in February 22 2010, and her debut American release, The American Jewels EP on May 25 2010. The Family Jewels peaked at #5 in the UK Albums Chart and was certified Silver in the United Kingdom days before its release. Hollywood was released as the lead single from the album on February 1 2010, followed by a re-release of I Am Not a Robot on April 26 2010. Diamandis said she decided to re-release the song because
"people seem to empathize and relate with the song, regardless of gender or age."
"Oh No!"
was the next single to be released from The Family Jewels on August 2 2010, and Shampain follows on October 11 2010, to coincide with her biggest UK and Ireland tour to date.
For her second album, Diamandis recorded material with producers Cirkut, Guy Sigsworth, Labrinth, Greg Kurstin, Diplo, Dr. Luke, Stargate and Liam Howe. A promotional single, "Radioactive" produced by Stargate, was released in October 2011 (reaching number twenty-five in the UK), followed by a demo of the song "Starring Role" in November and a video titled PART 3: "THE ARCHETYPES" in December.
Electra Heart
was released in April 2012. The album made its debut at number 1 in both the United Kingdom and Ireland making it her first album to do so. The album was preceded by the single "Primadonna" produced by Dr Luke and Cirkut. "Primadonna" became Diamandis' highest peaking UK single to date.
Pop is cooler than it has ever been. No revelations there. Somewhat ironic perhaps though that the jewel in this new crown of credibility gut-laughs in the face of any notion of 'cool'. Marina (And The Diamonds) Diamandis is living, breathing, belting, vogue-ing proof of the unfathomable possibilities contained within organic pop in 2010.
"I really couldn't give a damn whether pop's in fashion this week or not, I'd be writing the same music, regardless"
she scoffs.
A voice that both lures sailors to shores and wards ships from rocks. A mind that hacks apart the fabric of Now and serves it up in an ice-cream sundae for all to guzzle down. A performer whose onstage movement has been reminding lackluster gig-goers across the land the true meaning of 'show time'. But like all the best popstars, dissecting their charms does them no justice. For Marina possesses that oh-so elusive ingredient. The one that had its name not been forsaken by reality television's chart napalm strike, we might dare term something like 'x-factor'. Some of the greatest should-be British smash hits this side of the Millennium aside, Marina just has it. The presence, the poise, the patter. A sonic boom of a laugh that seemingly punctuates her every sentence. She's five foot five of hourglass sensation in waiting, and this is her year.
Marina moved a total of seventeen times before she turned eighteen. Between her birthplace of Abergavenny in rural Wales, London and later her father's traditional family home in Greece. She found herself torn between staunch earthy ideals of her dad's family and the brain-microwaving effect of generation-Y culture. "Sometimes I feel like a perfect poster child for this generation. We know nothing," she laughs. "Nothing about politics or the real world. I have ADD, I can't concentrate on anything. It's awful; it's a horrible way to be. But this realisation has fueled many of my songs." It's this self-deprecating critique and brutal honesty that forges Marina's distinct brand of post-modern pop sheen. Whilst her refrains nod to a deep-seated passion for hook sculpting, she insists that her choice of medium was born from a 24-year itch. "I think nearly all of what I do musically is powered by an agenda. I want to convey so much sometimes it feels like there's just not enough songs." Whilst Marina never learned any instrument until she taught herself piano aged-19, eight years of dance lessons and a stint at an American ex-pat school in Greece provided a grounding that gave her a mastery of rhythm, both on record and in her trademark choreography. It also birthed a fixation with Americanisation and all that comes with. "I came of age as Britney did," she recalls. "It was an amazing time to fall in love with pop. She was my favourite. But I guess it was a time that leaves you with a lot of questions about pop culture for female artists." And therein lies Marina's ongoing quandry: an unstoppable passion for ridiculous supersized chart-fodder but a cultural yearning for something more.
The start of Marina's 'career' was a peculiar one. "I never even really knew what a chorus was until I went into the studio with a producer," she states, "I would just create a lift in mood when the time felt right or the story had been told"..." My writing had all been either instinctual or accidental up until then." After the standard couple of years sat round the house in her pants recording demos on her laptop, rattling out a series of would-be hits on her tod, it was time to talk to labels. But whereas most artists possessing their marbles would do so with what's known in the industry as 'a manager', Marina refused. After a string of meetings with increasingly bemused men in suits -either wanting to mould her through their 'big, bad machine' or refusing flatly to talk business directly to her, she inked a deal with Warners through 679. There she was allowed the freedom to become the star that she wanted to be.
As tends to be the way with those that radiate talent from their every pore, special people want to be around them. Before long the best producers, directors and co-writers in the UK were knocking, not to mention perhaps the most heralded indie imprint on earth, Neon Gold, who prefaced her album with a series of EPs and singles. In 2009, the blueprint for her debut, 'The Family Jewels' slowly came together. She refined gleaming new incarnations of her original bedroom compositions.
'Are You Satisfied?' commences proceedings with Marina's trademark tidal-wave refrains and nattering narrative verses. 'Shampain's a romping, pulsing monster-hit-to-be, with one of Marina's most soaring choruses to date. Sleeping giant 'I Am Not A Robot', with a stunning promo video courtesy of Number One fan, Rankin, stands as arguably her most accomplished moment: bold, beautiful and pertinently true. The introduction of Pascal Gabriel (Ladyhawke) yielded 'Girls', a stonking slab of irrepressible hook-lines, showcasing a heritage of glowing Greek melodies, unabashedly immediate songwriting and clever punch lines. "It's a call for women to stop being their own enemies," she says. "These days you're either a nun or a whore, to be both and neither, all in one. I want to help redefine women's place in society".
Marina proved as endeared within the indie fraternity as the mainstream, showcased in bonkers, thunderous anti-music mogul cavalcade 'Mowgli's Road' and a surge of raptured attention from NME including a coveted prime spot upon its Radar tour. ''Obsessions', an early plaintive piano ballad of epic serenity and beleaguered lust was eventually taken to the next level by key collaborator Liam Howe. It was duly released on Valentines Day. 'Hollywood', the culmination of a lifelong love/hate fixation with US trash culture was produced by none other than Spice Girls hit- maker Biff Stannard, unearthing an earth-shattering charge of rolling classic pop. The hit parade awaits. 'The Outsider is defiant and infectious with a serious beat whilst 'Hermit The Frog' showcases Marina's penchant for billowing Kate Bush-style hooks. 'Rootless' is collision of icicle notes and galloping rhythms. 'Numb' could be the swooning, yearning accompaniment to the closing moments of a lovelorn masquerade ball. Before 'Guilty' whisks you off in a maelstrom of off-kilter melodies, panic and resolve before your heart has had a chance to catch up with itself, leaving you instantly pining for more.
The final track to complete the album is the soon to be smash "Oh No!". Written on a trip to LA a week after The Family Jewels was mastered, the song encompasses all of Marina's fears and aspirations for the future. "The song was written in response to be terrified of not achieving what I say I want to achieve every time I open my big mouth. It's my part ii to Mowgli's Road. I was paralysed by fear before my trip to the states and couldn't stop thinking about being a failure "etc" and was convinced that I'd become a self-fulfilling prophecy if my brain didn't shut up and stop being so negative. So I put it in a song. Mowgli's questioned who I want to be, "Oh No!" confirms it. It made me feel confident again after a shaky 6 months. Life is just a barrel of laughs at end of day, anyway!"
"It comes down to a desire to want to connect with people on a personal level. I like making people feel better about themselves and to remind them that they're not alone" she ponders of her first long-player. "For me, it's a catharsis. I guess they're all just indulgent letters to myself, but for the eyes of anyone who feels like looking, of course."
Awards and recognition:
2010:
BBC Sound of 2010
2010 BRIT Awards
SHREDnews
2010 NME Awards
2010 BT Digital Music Awards
MTV Europe Music Awards (won "Best UK & Irish Act")
UK Festival Awards 2010
4Music Video Honours
Virgin Media Music Awards (won "Best Newcomer")
2011:
Glamour Women of the Year Awards
2012:
NME Awards
Read more
Marina And the Diamonds Picture Gallery
Latest headlines