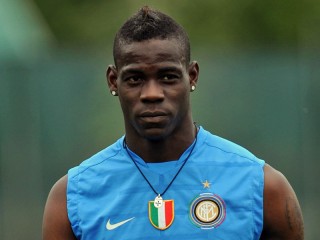 Mario Balotelli biography
Date of birth : 1990-08-12
Date of death : -
Birthplace : Palermo, Italy
Nationality : Italian
Category : Sports
Last modified : 2011-10-24
Credited as : Manchester City, Golden Boy Award, "Super Mario"
Mario Balotelli is an Italian footballer who plays as a striker for English team Manchester City and the Italian national team.
He started his professional football career at Lumezzane and only played for the first team twice before having an unsuccessful trial at FC Barcelona, and subsequently joining Internazionale in 2007.
Roberto Mancini brought Balotelli into the first team but, when Mancini left, Balotelli's disciplinary record fell away. Balotelli had a strained relationship with new head coach José Mourinho and in January 2009 he was suspended from Inter's first team after a number of disciplinary problems. His problems deepened in March 2010 when he came under heavy criticism by the Inter fans after he appeared on the Italian TV show Striscia la Notizia wearing an A.C. Milan jersey.
This damaged the prospect of him having a long career at Inter, but he did make several appearances after that. He again caused controversy by throwing his Inter jersey on the floor when he was booed off by his own supporters in the UEFA Champions League semi-final tie with Barcelona.
Despite disciplinary problems he earned his first cap for the Italian national team on 10 August 2010, in a friendly match against the Côte d'Ivoire.
Having had an unsuccessful trial with FC Barcelona at the age of 15 Balotelli was signed by Internazionale in 2006 on a loan deal with an option to purchase. He made his first team and Serie A debut on 16 December 2007 replacing David Suazo in a 2–0 win against Cagliari. Three days later he featured in the starting lineup in a Coppa Italia match against Reggina, scoring two goals in a 4–1 win.
Balotelli gained national attention after he scored two goals against Juventus in the return leg of the Coppa Italia quarter-finals, being instrumental in a 3–2 away win for Internazionale. His first Serie A goal then came in April 2008 in a 2–0 away win against Atalanta.
Inter went on to win the 2007–08 Serie A. Balotelli was a substitute in the 2008 Supercoppa Italiana final against A.S. Roma. He came on as a replacement for Luís Figo, scoring in the 83rd minute. Inter went on to win the final 6–5 on penalties after the match ended 2–2.
In November 2008 he scored his first Champions League goal in a 3–3 draw against Cypriot side Anorthosis Famagusta, becoming the youngest Inter player (at 18 years and 85 days) to score in the Champions League. This beat the previous record set by Obafemi Martins at 18 years and 145 days.
In April 2009 Balotelli scored Inter's goal in a 1–1 draw with Juventus and was racially abused by Juventus fans throughout the game, including chants such as "Black Italians do not exist". This led to Massimo Moratti saying that he would have pulled the team off the pitch if he had been present.
The racist chants were also condemned by Juventus chairman Giovanni Cobolli Gigli and Juventus were given a one game home-fan ban because of the incident. Inter won Serie A for the fourth time in a row.
In his second season with Inter, Balotelli had a number of disciplinary problems, most notably involving head coach José Mourinho who excluded him from the first team in the second half of January 2009. Earlier that season Mourinho had accused Balotelli of showing a lack of effort in training stating "as far as I'm concerned, a young boy like him cannot allow himself to train less than people like Figo, Córdoba, and Zanetti."
Balotelli continued to be the subject of racist chants throughout the season, becoming the focus of Juventus fans even during games not involving Internazionale, leading to Juventus being fined twice and the club ultimately punished with a partial stadium closure.
Balotelli's disciplinary problems, and his difficult relationship with Mourinho, continued in the 2009–10 season. In November Inter drew 1–1 against Roma and Mourinho criticized his players, even going as far as saying that Balotelli "came close to a zero rating".
The young striker again incurred the wrath of Juve (Juventus) fans in the heated Derby d'Italia away encounter with Juventus on 5 December 2009 which Inter lost 2–1. When he was elbowed by Juve midfielder Felipe Melo in the shoulder he fell on the pitch clutching his face and was promptly booked, while Melo was sent off for a second yellow card. The incident sparked a fiery altercation between teammate Thiago Motta and Juve goalkeeper Gianluigi Buffon.
The tension between player and manager reached its peak on the eve of the UEFA Champions League second leg against Chelsea after the young striker was not called-up, following an altercation with Mourinho. Despite Inter's 1–0 win at Stamford Bridge, London, Balotelli was criticized by several senior players including captain Javier Zanetti and veteran defender Marco Materazzi as well as his own agent.
In March he came under heavy criticism from fans after he publicly sported an A.C. Milan (Inter's cross-town rivals) jersey on the Italian show Striscia la Notizia.
Balotelli released a statement of apology in Internazionale's official website that read:
"I am sorry for the situation that has been created recently. I am the first person who has suffered because I adore football and I want to play, and now I am waiting in silence so I can return to being useful to my team. I want to put the past behind me, look to the future and concentrate on the upcoming commitments and make myself ready."
After a spell out of the team, Balotelli was recalled for the match against Bologna and he marked his return with a goal in their 3–0 win. He soon caused controversy again in the Champions League semi-final against Barcelona on 20 April as he threw his jersey on the ground after the final whistle, in response to Inter fans who had booed him for his poor performance.
This led to an attempt by a small group of supporters to physically attack Balotelli after the end of the game. His behaviour brought disapproval from fans, team-mates and football pundits.
After weeks of speculation Inter reached an agreement for Balotelli's transfer to Manchester City on 12 August 2010, believed to be for around £24 million. However Inter reported it received €21.856 million, net of solidarity contribution to Inter and to other club, which in total about €22.6 million (as about 3.29% as solidarity contribution, payment to former club he spent in 9 years and a month).
At Manchester City Balotelli reunited with his former boss, Roberto Mancini who said, "his style of play will suit the Premier League, and because he is still so young there is a big chance for him to improve. He is a strong and exciting player, and City fans will enjoy watching him".
On 19 August 2010 Balotelli came on as a substitute to score in his debut against FC Timişoara in a 1–0 away win in the Europa League. Unfortunately he injured the lateral meniscus in his right knee in the match and on 8 September he underwent surgery that saw him sidelined until October.
Balotelli eventually made his Premier League debut on 24 October as a substitute in a 0–3 home defeat to Arsenal and made his full debut on 30 October in a 2–1 away defeat to Wolverhampton Wanderers.
Balotelli scored his first and second Premier League goals on 7 November in a 2–0 away win to West Brom. In the same game Balotelli received a red card for violent conduct as the result of a clash with Youssuf Mulumbu, which his manager Roberto Mancini described as unfair. Balotelli scored the first two of City's three goals in the 3–0 win over FC Red Bull Salzburg in Manchester City's Europa League group stage match.
On 21 December 2010 Balotelli won the Golden Boy Award, saying that only one of the past winners was slightly better than he was – Lionel Messi. He also claimed not to know of Arsenal's Jack Wilshere, the player he narrowly beat to the award.
On 28 December 2010 Balotelli scored his first Premier League hat-trick in a 4–0 win over Aston Villa.Despite this Balotelli still had problems and in March 2011 he was sent off in the second-leg of Manchester City's Europa League tie with Dynamo Kiev.On 14 May 2011 Balotelli was man of the match in the 2011 FA Cup Final as Manchester City defeated Stoke City 1-0 to win their first trophy in thirty-five years.
Mario scored his first goal of the 2011/12 campaign in a 2-0 Carling Cup win against Birmingham City. He followed this up with the opening goal against Everton three days later. On 1 October 2011 he scored his third goal in as many games in a 4-0 win away to Blackburn Rovers. Balotelli scored the opening two goals and forced a dismissal of Jonny Evans as Manchester City beat Manchester United 1-6 at Old Trafford on 23 October 2011.
Balotelli was unable to answer call-ups to the Italian national under-15 and under-17 teams as he was still considered to be a Ghanaian immigrant.
On 7 August 2007, five days before his 17th birthday, Balotelli received his first senior International call-up for Ghana from their coach Claude Le Roy for a friendly against Senegal at the New Den stadium in London, England, on 21 August 2007.
He declined the offer citing once again his willingness to play for Italy when he became eligible. He also stated his willingness to represent Italy at international level once he acquired an Italian passport.
Italy U-21 coach Pierluigi Casiraghi stated his intention to call up Balotelli once he obtained Italian citizenship. On 13 August 2008 Balotelli was finally given Italian citizenship and Casiraghi called him to join the Italy national under-21 football team "Azzurrini" on 29 August for the matches against Greece and Croatia. In his debut on 5 September 2008 he scored his first international goal in a 1–1 draw with the Greek U-21's.
Balotelli was named in the final 23-man squad for the 2009 UEFA European Under-21 Football Championships and scored the opening goal against the hosts Sweden in the 23rd minute. Barely 15 minutes later he was shown a red card for retaliating against a Swedish defender Pontus Wernbloom.
Balotelli received his first call-up for the Italian senior team, as part of the squad announced by new head coach Cesare Prandelli, for a friendly match against Côte d'Ivoire - the first match after the 2010 World Cup. On 10 August 2010, two days before his 20th birthday, he made his debut in that match partnering Cassano and Amauri in a 0–1 loss.
Balotelli is credited with pace, a forceful shot and technical ability, but criticised for a petulant attitude. He is often nicknamed "Super Mario"and can play anywhere along the front line. Balotelli is also a set-piece (dead ball) specialist and is regarded as a promising but difficult young striker.
Read more
Latest headlines