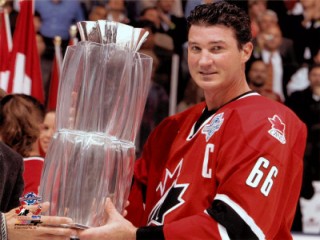 Mario Lemieux biography
Date of birth : 1965-10-05
Date of death : -
Birthplace : Montreal, Quebec, Canada
Nationality : Canadian
Category : Sports
Last modified : 2010-10-05
Credited as : Professional hockey player NHL, "Super Mario", Stanley Cup playoffs
Mario Lemieux (born October 5, 1965 in Montreal, Quebec, Canada) was a professional hockey player in the National Hockey League (NHL) from 1985 to 2004. As one of the greatest players to ever play the game, Lemieux has acquired nicknames such as
"Le Magnifique"
,
"The Magnificent One"
, and
"Super Mario"
while his surname literally means "the best." Due to his skill, size and stature (6 ft 4 in (1.931 m) and 230 lb (104 kg)), many analysts believe he could be great in any era. Lemieux is also the first active major sports league player in modern times to own a significant stake of his team. Position: Centre.
Playing career
Lemieux was born on October 5, 1965, in Montreal, Quebec, Canada, the youngest of three sons of Jean-Guy and Pierrette Lemieux. He first learned to skate in his living room, which his mother would pack with snow to keep the carpet fresh for the springtime. At an early age, Lemieux was considered a hockey prodigy and at the time Montreal Canadiens head coach, legend Scotty Bowman, suggested that they purchase the team he was on in order to guarantee first shot at signing the young star.
Lemieux was selected first overall by the Pittsburgh Penguins in the 1984 NHL Entry Draft after a much-heralded career in the Quebec Major Junior Hockey League. Prior to the draft, several teams approached the Penguins in an attempt to acquire the young superstar. The Quebec Nordiques offered the talented Stastny brothers (Peter, Anton and Marion) in exchange for Lemieux, while the Minnesota North Stars offered all of their 1984 draft picks. As a testament to his potential greatness, he was given the number "66", an upside down version of Wayne Gretzky's famous "99". Gretzky had been breaking records for the previous 5 seasons playing for the Edmonton Oilers. The Penguins had become the laughing stock of the NHL, finishing last overall in the previous 2 seasons; amid rumors of the team's impending move, the future of the franchise was thrust solely upon the 18-year-old's shoulders.
In his first NHL game, on his first shift and on first shot, he scored his first goal after he stole the puck from the future Hall of Fame Boston Bruins defenceman Ray Bourque. He then went on to tally 99 more points during his first season, becoming only the third NHL rookie at the time to reach the century mark, which garnered him the Calder Memorial Trophy as the national league's 'rookie of the year'. Earlier that season during the NHL's All-Star Game, Lemieux became the first and only rookie to be named the All-Star Game's Most Valuable Player (MVP).
1985-86 season
During his sophomore season of 1985-1986, Lemieux recorded 141 points (48 goals, 93 assists)to finish second in league scoring behind Gretzky's still-standing NHL record of 215 points. That same season, Lemieux won the Lester B. Pearson award as the game's best player, voted by the National Hockey League's players themselves, ending Gretzky's record run of four consecutive years of winning the award. The Penguins' overall record improved 27 points thanks to Lemieux's scoring prowess.
1986-87 season
Lemieux missed 17 games due to injury over the course of his next season but still managed to finish third in the NHL scoring race behind only Edmonton linemates Gretzky (183 points) and Jari Kurri (108 points).
In late summer of 1987, prior to the start of the NHL season, Lemieux teamed with Gretzky to help Canada win the Canada Cup, which is the predecessor of the World Cup of Hockey. Playing mostly on Gretzky's line, Lemieux led all players in goal scoring and scored the game winner with little over a minute to play against the Soviet Union in the deciding game of the tournament. Many, including Lemieux, credit this very series as the turning point in his career and enabling him to finally reach his potential as an offensive force.
1987-88 season
The following season, 1987-88, saw Lemieux score at a pace reached only by Wayne Gretzky and win his first Art Ross Trophy as the league's leading scorer. He ended Gretzky's record streak of seven straight scoring titles by finishing with 168 points. At that time he became only the 4th player to score 70 goals in a season, joining Phil Esposito, Gretzky and Jari Kurri. He also became the only other player besides Gretzky to average over two points a game for the season, finishing with 168 points in 77 games. After the season, Lemieux won his first Hart Memorial Trophy as the league's MVP, ending another of Gretzky's record streaks at 8 in a row. Earlier in the season, Mario won his second All-Star Game MVP by scoring a still standing record of 6 points (3 goals, 3 assists) including the game-winner in overtime. However, despite of all of Lemieux's personal achievements, Pittsburgh still failed to make the playoffs for the sixth straight year.
1988-89 season
The 1988-89 season saw Lemieux set personal highs in goals, assists and points. He easily won the scoring title over Gretzky, despite missing 4 games to injury, with 199 points to Gretzky's 168. He became only the second player in history to score 80 goals, his 85 ranked third most all-time behind only Gretzky's 92 and 87 and has only been surpassed by Brett Hull's 86 during 1990-91 campaign. He became just the third player to ever dish out 100 assists in a season with his league leading 114 (tied with Gretzky) and just missed joining only Gretzky as the only players to have recorded 200 points in a season. He also eclipsed Gretzky's record for shorthanded goals during the season by scoring 13. This season also saw him enter into a pretty exclusive club, the 50 goals in 50 games club. At that time, only Maurice Richard, Mike Bossy, Wayne Gretzky (three times), and Jari Kurri belonged. Since then, Brett Hull (twice), Cam Neely, and Alexander Mogilny have joined, and Lemieux repeated the feat two more times.
On October 30, 1988, Lemieux was slashed in the neck/chest region by New York Rangers defenseman David Shaw, in a game at Madison Square Garden. It occured early in the third period. The incident sparked a series of fights and brawls that caused the third period to drag on for nearly two hours. The game ended with nearly 300 penalty minutes issued between the two teams, included 16 major penalties for fighting. Hockey fight fans still look to this game as being one of the all time classic games for fights and brawls. Lemieux wound up with a bruised sternum and Shaw received a 12 game suspension.
On December 31, 1988, in a game against New Jersey, Lemieux became the only player in history to score a goal five different ways by scoring an even strength, power-play, shorthanded and an empty net goal and also managed to add a penalty shot goal as well.
More importantly, Pittsburgh made the playoffs for the first time in 7 seasons and although they eventually lost in the second round, Lemieux made his mark as a playoff performer. He finished with 12 goals and 17 points in 11 games. On April 25, 1989, facing the Philadelphia Flyers, Lemieux set or tied several playoff records with his 5 goal, 8 point performance in a 10-7 Pittsburgh win.
1989-90 season
The 1989-90 season started with much promise for both Lemieux and the Penguins but would ultimately end in disappointment. On Halloween in 1989, Lemieux began a streak of recording at least one point per game that would eventually end at 46 -- just five short of Gretzky's record. He was forced to leave a game against the New York Rangers with back pain and would not return until the final game of the season. During the All-Star game in Pittsburgh, Lemieux scored three goals in the first period and four goals overall to win his third All-Star Game MVP. With Pittsburgh's playoff hopes still in doubt, Lemieux returned for the last game of the regular season in hopes of securing a playoff spot. Needing only a tie or win to advance to the Stanley Cup playoffs, Pittsburgh eventually lost in overtime to Buffalo.
Injury problems
Lemieux's back pain did not subside over the summer and was later diagnosed as a herniated disc. While recovering from back surgery, Lemieux was found to have contracted a rare infection from the surgery in his back and became bedridden for months leading to speculation that, at only 25, his career might be over.
1990-91 season
With the Penguins in contention for first place for much of the season and finally able to provide a supporting cast to complement his talents, Lemieux returned in January of 1991 and helped Pittsburgh win its first ever division title and move on to the playoffs for only the second time in his remarkable career.
Pittsburgh and Lemieux won the Stanley Cup for the first time that year and Lemieux won the Conn Smythe Trophy as the playoff MVP after leading the playoffs with 44 points and 28 assists, both the second most in Stanley Cup playoff history.
1991-92 season
The following season saw Lemieux win the Art Ross Trophy for the third time, pacing the league with 131 points. His team made the playoffs for the second straight year but Lemieux missed the first game of the first round against the Washington Capitals because of back pain. Lemieux returned but Pittsburgh found itself down three games to one in the series. The Pens would rebound to win the series in 7 games with Lemieux scoring 17 points in only 6 games but his hand was broken by a vicious slash in the second game of the next round versus the New York Rangers forcing him to miss the remainder of the series. Even if the Penguins won the series, his return for the rest of the playoffs was uncertain.
Pittsburgh did win and advance to the Wales Conference Finals. Lemieux returned in Game 2 of that series, and the Pens would not lose a game the rest of way to capturing their second straight Stanley Cup. Again, despite missing 6 games to injury, Lemieux led all scorers during the playoffs with 16 goals and 34 points in only 15 games and was named playoff MVP for the second straight year . Only Lemieux and Philadelphia goaltender Bernie Parent ('74, '75) have won the Conn Smythe Trophy in consecutive seasons.
1992-93 season
With hopes high of a third straight Stanley Cup championship, Lemieux and company got off to a strong start during the 1992-93 season and Lemieux was on pace to challenge both Gretzky's record of 92 goals in a season (1981-82) and his 215 points (1985-86). However, in January was diagnosed with Hodgkin's disease and was forced to undergo energy draining radiation treatments, thus leaving his career once again and possibly even his survival in doubt.
Lemieux did return after missing only two months but found that not only was Pittsburgh struggling without their superstar, but he was also now 12 points behind Buffalo's Pat LaFontaine in the annual scoring derby, despite holding a healthy lead before his diagnosis.
On the day of his last radiation treatment, Mario flew to play against Philadelphia and scored a goal and an assist that same night. Lemieux and Pittsburgh then went on an unprecedented tear for the rest of the season. Pittsburgh won a NHL record 17 games in a row to finish first overall and Lemieux rebounded to win his second straight scoring title and fourth overall. Lemieux finished with 160 points (69 goals, 91 assists) in only 60 games played, the lowest games played total for any NHL scoring champion, to win the scoring title by 12 points over LaFontaine who finished with 148 points in 84 games. During his late season tear Lemieux added back-to-back four-goal games, a five-goal game against the rival New York Rangers and at one point scored 27 goals, 24 assists for 51 points in only 16 games! However, after dispatching New Jersey in 5 games during the first round, Pittsburgh lost against the New York Islanders in 7 games after David Volek scored in overtime of Game 7.
Injury problems continue
Lemieux missed most of the 1993-94 season and skipped the NHL's lockout-shortened season of 1994-95 recovering from chronic back pain, back surgery and the effects of radiation treatment, casting doubt on his intention to play again.
1995-96 season
Lemieux announced his return to the NHL late in the summer of 1995 and won his fifth Art Ross Trophy, leading the league in goals (69), points (161), power-play goals (31) and shorthanded goals (8) despite playing in only 70 games. He easily won his third Hart Memorial Trophy as the league's MVP and his Pens made it to the Eastern Conference Final before falling to Florida in 7 games.
1996-97 season
Lemieux again won the scoring title during the 1996-97 season amid speculation that this would be his final season. In his last game in his hometown of Montreal, Lemieux tied a NHL record of scoring 4 goals in a period. His team made the playoffs again but lost to Philadelphia in 5 games. Lemieux scored on his final shift in his last home game of the playoffs and two nights later added another as Lemieux was given a standing ovation by the Philadelphia fans as he bid farewell to the NHL due to his various injuries suffered over his career. That same summer Lemieux was immediately inducted into the Hockey Hall of Fame, becoming the 9th player in history to have the mandatory 3 year waiting period waived.
Retirement and Return
On September 3, 1999, a U.S. Bankruptcy Court approved Lemieux's reorganization plan to save the Penguins from bankruptcy. Lemieux bought the team to help recover unfulfilled contractual payments by former Penguins owners and to keep the team in Pittsburgh, making the then-retired star, who deferred millions in salary he was owed, the first former player to become majority owner of his former team. He is also chairman of the board, CEO, and president.
Late in 2000, rumors were abound that Lemieux was attempting a comeback and on December 27 of that year he returned to the NHL. In his first game, he got an assist 33 seconds into his first shift. He was named captain of the North American All-Stars during the midseason All-Star game in Denver, Colorado. Despite playing in little more than half the Penguins' games in 2000-2001, Lemieux scored more points (76) than over 90% percent of the rest of the league's players to finish 26th in scoring, finishing the season with the highest points-per-game average that season among NHL players. Lemieux was one of the three finalists for the Hart Memorial Trophy and Lester B. Pearson NHLPA awards and earned a selection as Centre on the postseason NHL All-Star Second Team.
Although Jaromir Jagr was still officially captain of the Penguins for the entire 2000-2001 season, many fans acknowledged Lemieux as the team leader. Lemieux led the Penguins in the postseason and was atop the NHL in playoff scoring for much of it, knocking off the higher-seeded Washington Capitals and Buffalo Sabres in six and seven games respectively to make it to the NHL Conference finals. Despite losing to the New Jersey Devils in five games, this marked the Penguins' best playoff finish since their last Stanley Cup win in 1992.
Lemieux was limited due to injuries during the last 3 regular seasons, playing in only 24 games in 2001-02 and 10 games during the 2003-04 season. In 2002-03, Lemieux led the NHL in scoring for most of the season but missed most of the games towards the end of the schedule and finished eighth in scoring with 92 points in only 67 games. Unfortunately, Pittsburgh plummeted to the bottom of the NHL and missed the playoffs in each of those 3 seasons.
As the Captain of the Canadian men's Olympic gold-medal hockey team in 2002, Lemieux was second in scoring on the team with 6 points in 6 games.
Lemieux's unique status as player and owner has placed him in a potential conflict of interest with respect to NHL labour negotiations. Because he is also an owner, Lemieux is no longer a member of the National Hockey League Players Association, although he still pays union dues to maintain his pension. By agreement with the NHLPA, Lemieux is paid the average league salary of about $1.4 million and it is from this amount that his union dues are calculated and deducted. By agreement with the league's other owners, he does not vote in owners' meetings, delegating this role to a Penguins vice president. Lemieux appears to have sided with the league on key collective bargaining agreement issues and suggested that the NHL adopt a salary structure similar to the National Football League, which has a salary cap.
Mario Lemieux, considered by many to be the most talented hockey player ever, often finds his name mentioned in the top 5 hockey players of all-time and his numbers and resume do not dispute that sentiment. He never played a full season in the NHL without missing a game so one can only speculate how much more impressive his offensive numbers would be if he had not missed over 400 games due to injury and illness.
Lemieux married his teenage sweetheart Nathalie Asselin on June 26, 1993. They have 4 children: Lauren, Stephanie, Austin, and Alexa. He resides with his family in the affluent Pittsburgh suburb of Sewickley, Pennsylvania. Lemieux has a tradition of opening his home to young Penguin players such as Marc-Andre Fleury and Sidney Crosby until they settle into the Pittsburgh area.
Read more
Latest headlines