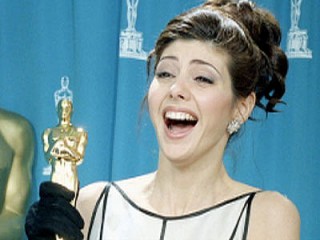 Marisa Tomei biography
Date of birth : 1964-12-04
Date of death : -
Birthplace : Brooklyn, New York, U.S.
Nationality : American
Category : Arts and Entertainment
Last modified : 2011-03-20
Credited as : Actress, Oscar winning, My Cousin Vinny
For some performers, winning an Oscar became both a blessing and a curse. While an Academy Award could lead to bigger and better roles, it could also bring about career stagnation, as the actor tried to live up to unrealistic expectations. Actress
Marisa Tomei
was in danger of failing to warrant the hype after seemingly coming out of nowhere to nab Best Supporting Actress for her comical performance in "My Cousin Vinny" (1992). Though she spent the following years in long-forgotten movies like "Only You" (1994) and "Happy Accidents" (2000), Tomei managed to display potential star-making turns in "Unhook the Stars" (1996) and "The Slums of Beverly Hills" (1998), but they failed to propel her career due to slim box office performances. She proved her talent and career longevity, however, with her Oscar-nominated, subtle but complex turns in "In the Bedroom" (2001) and "The Wrestler" (2008), proving her worth to critics who had cruelly deemed her win for "My Cousin Vinny" to be a fluke, vindicating fans and critics who recognized her considerable talents all along.
Born in Brooklyn, NY,
Tomei
was raised by her father, Gary, a trial lawyer and her mother, Patricia, an English teacher; also helping with the child rearing were her grandparents, Romeo and Rita. Tomei spent a relatively normal childhood in the Midwood neighborhood of Brooklyn, spending time in her parent's Westchester County summer home while attending Edward R. Murrow High School, where she performed in several school plays. Tomei tried her hand at college following high school when she matriculated at Boston University. The summer after her freshman year, her father had lined up a boring job, which she desperately wanted to avoid. So instead, she landed her first film role in "The Flamingo Kid" (1984), and though she had only one line, Tomei had avoided a dreadful summer job - and more importantly, she had her foot in the door. She then dropped out of college after landing the role of Marcy Thompson on the soap opera "As the World Turns" (CBS, 1956- ). Tomei soon left daytime to hone her craft on stage, winning a 1986 Theatre World Award for her performance in "Daughters."
Tomei soon headed out to Los Angeles, where she continued her stage success with a Dramalogue Award for her turn in Alan Bowne's "Beirut." Making her way over to television, she was cast as one of Lisa Bonet's roommates during the first season of "A Different World" (NBC, 1987-1993), then after leaving, made her television movie debut in the private eye mystery, "Parker Kane" (NBC, 1990). In the 1990s, Tomei returned to feature films, putting on a memorable display with her innate comic talents as Sylvester Stallone's overly spoiled daughter in the otherwise forgettable mob comedy "Oscar" (1991). Tomei had a major breakthrough with her next role, delivering a finely wrought comic performance as Mona Lisa Vito, the sassy auto mechanic and devoted girlfriend of an inexperienced trial lawyer (J Pesci) trying to defending his cousin (Ralph Macchio) and friend (Mitchell Whitfield) against murder charges in "My Cousin Vinny" (1992). Thanks in part to her Brooklyn upbringing, Tomei was the perfect choice to play Mona, earning substantial critical praise and an Academy Award for Best Supporting Actress. But when her name was called out as the recipient of statue, many were shocked over her win, especially when the competition included such stalwart veterans as Judy Davis, Joan Plowright, Vanessa Redgrave and Miranda Richardson. Afterwards, rumors abounded that presenter Jack Palance accidentally called out the wrong name, a slight the actress never forgot.
Prior to her Oscar triumph, Tomei co-starred in "Chaplin" (1992) as a dead-ringer for scandal-ridden silent film star, Mabel Normand, who regularly starred with The Tramp (Robert Downey, Jr.). But after winning, she found it difficult to translate her success into other quality roles. Though terrific as a shy waitress romanced by an awkward busboy (Christian Slater) in "Untamed Hearts" (1993) and nothing short of miraculous as the pregnant wife of a star reporter (Michael Keaton) in "The Paper" (1994), Tomei was undermined by below average material. Her first real leading role in the gentle romantic comedy "Only You" (1994) attempted to showcase her charms, but her surprising lack of chemistry with former beau Robert Downey, Jr. usurped the love story. Two of her best post-Oscar roles were her turn as a troubled, working-class single mother who learns lessons from her older neighbor (Gena Rowlands) in "Unhook the Stars" (1996), and as the wild cousin of an impressionable young girl (Natasha Lyonne) in "The Slums of Beverly Hills" (1998). She also delighted television fans and joined an esteemed club of "Seinfeld" (NBC, 1990-98) guest-stars when she appeared as herself - the object of George Costanza's (Jason Alexander) affection in the 1996 episode, "The Cadillac." Tomei made a rare return to the small screen in the AIDS-themed drama "My Own Country" (Showtime, 1998), co-starring with real-life brother Adam. That same year, she starred alongside Quentin Tarantino in the Broadway revival of the thriller "Wait Until Dark."
Tomei started the new millennium with a starring turn opposite Vincent D'Onofrio in the fantasy romance "Happy Accidents" (2000). Finally finding a meaty role that allowed her to display her versatility, the actress delivered a charming performance as a modern-day woman whose Mr. Right reveals a disconcerting secret - he is a time traveler from the future who has come back to save her life. The film premiered at Sundance and was snapped up for distribution, but the releasing company had second thoughts and sold the rights to another company. By the time "Happy Accidents" had opened in 2001, Tomei had already been seen in relatively thankless supporting roles in romantic comedies like "What Women Want" (2000) and "Someone Like You" (2001). While her lack of another significant hit failed to go unnoticed by critics, Tomei soon proved her dramatic mettle in the Sundance-made drama, "In the Bedroom" (2001) As the older, married lover of a college student (Nick Stahl) whose mother (Sissy Spacek) disapproves of the relationship, which gets ripped apart after he dies tragically, Tomei glowed and delivered a delicate, layered performance. The film was among the year's best-reviewed and earned her a second Best Supporting Actress Oscar nomination, certain vindication for those who previously claimed that her first was a mistake.
In 2002, Tomei took on the role of a confused thirty-something in the romantic comedy "Just a Kiss." She also had several other high profile film roles lined up including the comedies "The Guru" (2003) and "Anger Management' (2003). In the remake "Alfie" (2004), she provided a welcome moral center as Julie, the honest, grounded mom who refuses to share her caddish paramour (Jude Law) with other women. In 2006, Tomei was seen in a string of independent films, including "Mary Hotchkiss' Ballroom Dancing & Charm School," an ensemble drama about a depressed man (Robert Carlyle) who attends a dance school where he rediscovers his joy for life through the connection he makes with a beautiful woman (Tomei) looking for her own inner peace. After appearing in flashback sequences as the mother of a neglected daughter (Kyra Sedgwick) looking for unqualified love in "Loverboy" (2006), she played a gold-digging floozy whose love affair with a drunken mess of a writer (Matt Dillon) propels him back into serious depression in "Factotum" (2006).
Also in 2006, Tomei began a recurring role in the audacious dramedy "Rescue Me" (FX, 2004- ), playing the ex-wife of Johnny Gavin (Dean Winters) who pretends to date Tommy Gavin (Denis Leary) in order to help him get back at his brother for dating his ex-wife (Andrea Roth). Tomei then showed up as a diner owner in "Wild Hogs" (2007), a big, dumb and hugely successful comedy about four down-and-out men (John Travolta, Tim Allen, Martin Lawrence and William H. Macy) going through respective mid-life crises who embark on a freewheeling, cross-country motorcycle trip in order to prove their manhood, only to run afoul of a biker gang leader (Ray Liotta) determined to teach them proper biker behavior. Despite scores of bad reviews, many of which complained about the bizarre, almost obsessive need for the four leads to constantly prove their heterosexuality onscreen, "Wild Hogs" dominated the box office its opening weekend, taking in almost $40 million and making it the first bona fide hit of 2007.
In Sidney Lumet's underappreciated crime thriller, "Before the Devil Knows You're Dead" (2007), Tomei played the trophy wife of a stock broker (Philip Seymour Hoffman) in desperate need of cash who plots to rob a mom-'n'-pop store with his younger brother (Ethan Hawke); only problem is the store is owned by their own mother and father, which leads to disastrous unintended consequences. She then appeared as a resourceful, left-wing reporter who is determined to uncover an assassination plot involving a hit man (John Cusack) posing as a trade show producer so he can kill a Middle Eastern oil minister in "War, Inc." (2008). She next co-starred in Darren Aronofsky's "The Wrestler" (2008), a bittersweet drama about Randy "The Ram" Robinson, an aging wrestler (Mickey Rourke) who struggles with being lured out of retirement after being plagued with a dead-end job and estrangement from his daughter. Tomei played an aging stripper looking to start a new life who forms a bond with Ram, despite his inability to sustain a real relationship. For her efforts, she was nominated for a Golden Globe for Best Performance by an Actress in a Supporting Role, which was followed by a nod at the Academy Awards in the same category. Tomei continued to impress, notching another detailed, emotionally honest performance as a mother torn between her new boyfriend (John C. Reilly) and her strange grown son (Jonah Hill) in the well reviewed comedy, "Cyrus" (2010).
Read more
Latest headlines