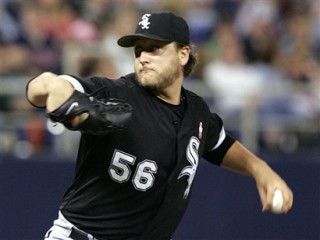 Mark Buehrle biography
Date of birth : 1979-03-23
Date of death : -
Birthplace : St. Charles, Missouri
Nationality : American
Category : Sports
Last modified : 2010-10-16
Credited as : Baseball player MLB, pitcher with the Chicago White Sox ,
Mark Anthony Buehrle was born on March 23, 1979, in St. Charles, Missour. He was one of four kids—three boys and a girl. to His mother Pat worked in the cafeteria of the local junior high. His father John was involved in Eagle Scouts. From John, Mark developed a passion for the outdoors. He fell in love with hunting, fishing and camping as a boy.
For as long as anyone could remember, Mark had one amazing talent. Whatever he was throwing, and whatever he was aiming for, he hit it. And the more he stood to gain, the better his aim. Mark's parents would take him to carnivals as a little boy and he would draw crowds as he knocked down fuzzy kitties, stacked bottles, and anything else the carnies could dream up.
Not surpisingly, Mark's main game was baseball. He had a live arm and good control, and threw reasonably well for a small kid. He wanted to be a major league player, and John and Pat supported this dream. But at a time when many parents were pushing their kids onto elite teams and travel squads, Mark was content to play ball with his friends in the local leagues.
Mark's early baseball heroes were the St. Louis Cardinals of the late 1980s. He rooted hard for Willie McGee, Ozzie Smith, Jack Clark and Vince Coleman. As a pitcher, he identified with lefties John Tudor and Joe Magrane. But his favorite player was Todd Worrell. He loved watching the St. Louis closer work in the late innings of close games.
Mark also followed the St. Louis Blues, and later the Rams when they came to town. He played rec hockey, as well as rec soccer, and was good at both.
In 1994, Mark enrolled at Francis Howell North High School, which had a nationally ranked baseball team. He went out for the squad in his freshman and sophomore years and was axed each time. Still in the early throes of adolescence, he was barely five feet tall and couldn't get the ball into the high 70s—definitely not varsity pitching material. Unwilling to absorb a third rejection, Mark decided to junk his baseball career. When his parents found out, they went ballistic. They told him that they hadn't raised a quitter, and that if he truly loved baseball, he would keep trying.
As Mark headed into his junior season, coach Mark Dunahue welcomed him to the team. Dunahue had liked Mark since freshman year, but he had simply been too small. Now, finally, Mark was sprouting to his ultimate height of 6-2. Dunahue pulled the teen aside before tryouts and guaranteed that he would not be cut if he came out a third time. Mark made the team and worked his way into the rotation. By his senior year, he was the #2 starter.
After graduation, Mark was hoping to play a couple of years in college, but no major programs expressed any interest in him. When Jefferson College in Hillsboro, Missouri offered him a full scholarship, he grabbed it. Mark posted an 8-0 record in the spring of 1998. With little to lose, the White Sox gambled a 38th-round pick on him. They would watch as he logged another season for Jefferson.
Mark had another good year in 1999. Named a Third Team All-American, he went 8-4 with a 2.70 ERA. Most impressive was his eye-popping 10:1 strikeout-to-walk ratio. Chicago threw a $185,000 bonus Mark's way but warned him that it usually took three to five years of pro ball before lefties figured out how to pitch. That sounded good to Mark. He packed his bags for Burlington of the Class-A Midwest League.
The Burlington Bees were a rag-tag group managed by Nick Capra. They finished seven games under .500 in the season's first half, but when Mark joined the staff, they turned things around and advanced to the playoffs. The young southpaw was a revelation. Unlike most lefties, his control was impeccable. He walked only 16 batters in 20 games and finished with a 7-4 record. Many were comparing him to Tom Glavine.
Burlington made it to the league finals on a four-homer game by Eric Battersby. The Bees then defeated the Wisconsin Timber Rattlers in five games for the championship.
Entering the 2000 campaign, one of Chicago's pressing needs was a lefthander for the bullpen. GM Ron Schueler hoped to secure the services of a veteran, knowing that if Mark produced a second season anywhere near his first, he could also be an option for the White Sox. With the Cleveland Indians' dynasty starting to crumble and the Detroit Tigers, Kansas City Royals and Minnesota Twins rebuilding, the Central Division crown was up for grabs.
Chicago ended up signing minor-league journeyman Kelly Wunsch, who won a spot in spring and did a nice job out of the pen all year. Mark had a terrific spring nonetheless, making a favorable impression on skipper Jerry Manuel. The Sox assigned Mark to the Birmingham Barons of the Class-AA Southern League, where he joined fellow prospects Matt Ginter, Josh Fogg and Rocky Biddle in the rotation.
In 16 starts, Mark sparkled, producing an 8-4 mark with a 2.28 ERA. Once again, his control was astonishing for a hard-throwing lefty. In 119 innings, he issued a mere 17 walks. Batters who did reach base against him remained glued to the bag—Mark picked off 20 runners. He was a no-brainer pick for the Futures Game that July and would have been called up earlier were it not for a White Sox staff bloated with major-league contracts
Mark got the nod on July 16. He slotted in behind Wunsch and made three spot starts for the team. The poise he had demonstrated in the minors served him well in the majors. He proved impossible to rattle. Mark used his breaking ball to set up his heater and was not afraid to throw his change-up on fastball counts. He finished the season at 4-1 in 28 appearances.
The White Sox won the Central and took on the Seattle Mariners in the playoffs. Chicago got swept, but Mark had one of the team's few shining moments when he fanned Alex Rodriguez in a critical ninth-inning situation in Game 2.
ON THE RISE
The White Sox brought a good team into 2001 hoping to defend their division title. They traded their top starter, Mike Sirotka, to the Toronto Blue Jays for David Wells to provide veteran guidance to a young pitching staff. The team's offense was led by Magglio Ordonez, Carlos Lee, Paul Konerko and Ray Durham, with Frank Thomas—the 2000 MVP runner-up—serving as the DH. All year long, the lineup took aim at the Chicago outfield fences that had been shortened during a winter renovation.
The team broke from the gate miserably, winning fewer than a third of its games in April and May. After a spring training holdout, Thomas tore an arm muscle and was lost for the year. Seven pitchers suffered season-ending injuries in the first half, including Wells. To his credit, Manuel did not panic. He righted the ship, straightened out his rotation, and the White Sox wound up with 83 victories.
Mark was a Godsend. Slated for the bullpen until the very end of spring training, he was money as a starter. Adding a cut fastball to his repertoire of two different sliders and a curve, he dominated lefties and held his own against righties. He credited his swift progress to Wells, who tutored him on the fine points of southpaw pitching.
Mark's best outing was an August one-hitter against the Tampa Bay Devil Rays. He was leading the league in ERA until his workload caught up with him in September. He finished at 16-8, and his 3.29 ERA was still good for fourth in the A.L. In a career-high 221 innings, Mark walked just 48 batters, and half the runners attempting to steal against him were gunned down by Chicago catchers.
Mark established himself as an elite pitcher in 2002, making the All-Star team and leading a young staff that included Jon Garland and Dan Wright. He won 19 games for a .500 White Sox club that limped home miles behind the Twins. Once again, injuries decimated Manuel's pitching staff, and Chicago was done before the All-Star break. By the trade deadline the Sox were a seller—unloading vets Durham, Kenny Lofton, Sandy Alomar and Bobby Howry.
The White Sox fell short of expectations once again in 2003, finishing four games behind the Twins with 86 victories. This time Mark was a part of the problem. He spent spring training haggling with owner Jerry Reinsdorf over a new contract, and then lost nine games in a row from the middle of April to the middle of June. His velocity dipped and his command wavered until the season's second half, when he went 7-4. All told, Mark posted a 14-14 record with a 4.12 ERA .
Mark came to terms with the White Sox on an three-year $18 million deal after the campaign. The team was looking for a fresh start and keeping Mark happy was high on the to-do list. The most important move for Chicago was bringing in Ozzie Guillen as the manager for 2004. The third base coach on the champion Florida Marlins, he seemed ready to grasp the managerial reins. Of course, he was already a Chicago institution from his playing days with the Sox.
Guillen took one glimpse at the team and knew what needed changing: attitude. The White Sox had become a collection of homer-hungry sluggers who had little interest in doing the little things necessary to win.
The first campaign under Guillen was not an artistic success. His power hitters were still playing wall ball, and his attempts at manufacturing runs backfired as often as they succeeded. Guillen also proved to be a shaky handler of pitchers. On more than one occasion, he signaled for the wrong reliever on a trip to the mound. The skipper was also criticized for leaving his starters in too long. Mark ended up leading the league with 245 innings pitched.
Despite the heavier workload, however, he turned in a nice year. Mark upped his record to 16-10, lowered his ERA to 3.89 and delivered 23 quality starts in 35 outings. Most of his bad games came at comfy Cellular Field—his road ERA was the second-best in the league. Mark also went after hitters more aggressively, raising his strikeout total from 119 to 165. The biggest change in Mark occured in the clubhouse, where he became one of the team's young leaders. With Guillen aching to jettison players like Thomas, Lee and Ordonez, this was an important development.
The 2004 White Sox definitely showed signs of improvement. A more resilient club, they came to believe in their manager and young pitchers. Two key mid-year additions were Freddy Garcia and Jose Contreras. This gave the team four very interesting arms for the starting rotation. Although the Sox did not overtake the Twins in the Central, Chicago wound up with a respectible 83 victories.
That wasn't good enough for GM Kenny Williams. Over the winter, he traded Lee for leadoff man Scott Podsednik and allowed sluggers Ordonez and Jose Valentin to sign elsewhere. The oft-injured Thomas was already doubtful for the season, which meant the White Sox had committed to a speed-and-defense approach in a ballpark built for sluggers. It was a huge gamble, but one that Guillen, a scrappy player in his day, loved.
Even more of a gamble was the team's dependence on players who had been cast off by other teams. Contreras, Orlando Hernandez, Bobby Jenks, Jermaine Dye, AJ Pierzynski, Juan Uribe, and Carl Everett were all guys who had failed to meet expectations, or had simply irritated-their former clubs. Add to the mix the likes of Joe Crede, Aaron Rowand and import Tadahito Iguchi, and needless to say, Chicago's starting pitching became more important than ever.
MAKING HIS MARK
Mark began the 2005 season off with a splash. In an April game against the Mariners, he fanned 12 batters in a contest that lasted an hour and 39 minutes—baseball's shortest game in more than 20 years. Mark had 10 wins at mid-season and was tabbed to start the All-Star game. He logged two stellar innings to pick up the win for the A.L.
In an August game against the Baltimore Orioles, Mark cemented his rep as a team guy when he nailed BJ Surhoff and was ejected with two out in the fifth inning. He had pitched six innings or more in 49 straight games but was willing to end the streak to protect his teammates. Chicago had been plunked repeatedly by the Baltimore pitchers.
By mid-August, the White Sox had a double-digit lead in the Central. Though the young and feisty Indians made it close down the stretch, Chicago obliterated the Tribe in a season-ending series, closing out the '05 campaign with a strong message to rest of the league.
Mark cooled off somewhat in the second half, ending up at 16-8. He wound up fifth in the Cy Young voting.
In the Division Series, Mark started Game 2 against the Red Sox. He was hitting the corners, but Boston was having success dumping balls into the outfield. Always thinking, Mark decided to start throwing down the middle, figuring the Red Sox would hit these deliveries a little harder. And they did—right at Chicago fielders. It was a risky move, but it resulted in a 5-4 win and a 2-0 series lead. The man who Mark beat was his former mentor, Wells. The White Sox closed Boston out in three and advanced to the ALCS against the the Los Angeles Angels of Anaheim.
Mark was one of four Sox pitchers to hurl a complete game against the Angels, as Chicago dominated to capture its first pennant since 1959. He beat the Halos 2-1 in Game 2, snaring a foul pop himself for the final out. It was sweet revenge for Mark, who had been knocked around by the Angels in a September start. Any thoughts of a repeat performance were quelled when he started setting batters down with cool efficiency in the opening frames.
In the World Series, Chicago faced the Houston Astros. After the White Sox squeaked out a win in the opener, Mark got the ball in Game 2. Houston touched him up for a few runs early, but Konerko got the White Sox back in it with a grand slam. Scott Podsednik later hit a walk-off homer to win the game. Mark threw seven innings, gave up four runs, and did not figure in the decision.
Two nights later, in Houston, the teams battled into the 14th inning in the longest World Series game ever played. The White Sox went up 7-5, and Mark came out of the bullpen for a three-pitch save. It marked the first time a starter earned a save in the Fall Classic after starting the previous contest. Chicago completed its sweep the next evening in what had to be the closest 4-0 series ever played. The Astros could just as easily taken all four. Dye was named the series MVP, though many thought Crede deserved it as well.
The White Sox added Jim Thome and Javier Vazquez over the winter and entered the season as a favorite to repeat in 2007. A fast start by the Tigers left Chicago gasping for air, and the teamspent all summer trying to mount a run. Although the White Soxmanaged to win 90 games, they never posed a serioous threat. The hitting was spotty, and the great pitching from the previous year just wasn't there.
Aftter beginning the season fairly well, Mark faltered badly in July, pitching to a double-digit ERA for the month. He went south with the rest of the Southsiders, limping home with a 12–13 mark for the his first losing season of his career. He registered career lows in innings pitched and strikeouts. It could have been worse—A.L. hitters just clobbered him most of the year.
The White Sox spent little time lingering over their disappointing season. They exercised their 2007 option on Mark and went into spring training with a club long on pitching but a little light on hitting outside of the 3-4-5 combo of Thome, Konerko and Dye.
Mark's season got off to a rough start. In the second inning of his opener against the Indians, Ryan Garko lined one off his left arm. Initially, Mark thought his year was over. To his great relief, the injury was no more than a painful welt, and he made his next start. Though Mark didn't have his best stuff, he was glad to be back on the mound.
Texas hitters couldn't say the same thing the following week, as Mark's season took a dramatic turn for the better. Toeing the rubber against the Rangers on April 18th, he had electric stuff. In a 106-pitch masterpiece, Mark no-hit Texas. The game was vintage Mark. Using an assortment of fastballs and off-speed deliveries, he was around the plate all night. Sammy Sosa was the only batter to reach base, on a fifth-inning walk, and Mark promptly picked him off. Facing the minimum 27 batters, he disposed of the Rangers in two hours and six minutes.
The crowd at U.S. Cellular Field stood and cheered from the seventh inning on. The final out came on a slow roller by Gerald Laird that Joe Crede scooped up and fired to first base to seal the deal. Afterwards, the Rangers had nothing but praise for Mark. In his locker room, he was mobbed by his teammates. His no-no was the 16th in club history and the first since Wilson Alvarez's in 1991.
That performance was all the White Sox needed to convince them Mark was a keeper. That summer, they came to terms on a four-year contract extension worth over $56 million. Mark also celebrated good news with his wife Jamie. They had their first child, a son named Braden. He was followed by Brooklyn, a girl born in March of 2009.
The victories didn't come all that easy for Mark the rest of the way in 2007. He finished at 10–9 with 11 no-decisions despite turning in a nifty 3.63 ERA. Those numbers were about as good as anyone could have expected, as Chicago reversed its 2006 record and went 72–90. Aside from Mark's no-no, other highlights included Jim Thome's 500th homer and a hitless streak of 41 batters by reliever Bobby Jenks.
The White Sox rebounded nicely in 2008, snagging the division title with a record of 89–74. Chicago won a heart-stopping 1–0 tie-breaking game against the Twins on the final day. The differences were better overall health and the addition of Cuban star Alexei Ramirez, who slugged four grand slams and gave the team great power in the middle infield. Also joining the White Sox was Ken Griffey Jr., acquired in a rent-a-player deal from the Cincinnati Reds at the trade deadline. Griffey's throw from centerfield to nail a runner at the plate in the tie-breaker saved the team's season.
Mark had a superb year for the Sox. He won 15 games, posted a 3.79 ERA and rediscovered his strikeout pitch, finishing with 140 Ks in 218 innings. The White Sox met the upstart Rays in the Division Series and were bounced from the playoffs by Tampa. Mark pitched Game 2 and was tagged with the loss. He kept the Rays in check until the 8th when they scored three runs to win 6–2. The Rays took the series in four games.
The White Sox suffered through a mediocre 2009 campaign, hovering around .500 most of the year. Mark was solid all season long and provided one of the greatest highlights in team history. On July 23, he pitched his second no-hitter, and once again he faced the minimum 27 batters. This time, however, he retired every man he faced. It was the 18th perfect game in baseball history. This feat earned Mark an even rarer honor—a second one-on-one with President Barack Obama. A noted White Sox fan, Obama had previously met with Mark during the All-Star Game. He phoned his congratulations after the game.
What made the perfecto even sweeter was that it came against the Rays, the team that had denied Chicago a return trip to the World Series. Experts marveled at this feat, since Mark is essentially a pitch-to-contact guy. The game took just 121 minutes and ended on a grounder to Ramirez. The play of the night was an over-the-fence catch by DeWayne Wise on a would-be Gabe Kapler home run. Mark also showed great courage when he struck out Michel Hernandez with a change-up on a 3–2 count.
Mark's perfect game raises an interesting question—is he Hall of Fame material? It is entirely likely that he will be the test case for the evolving criteria applied to starting pitchers hoping to gain entry to Cooperstown. In an era that has seen the introduction pitch counts, middle relief specialists, five-man rotations and steroids, the days of the 300-win hurler may be over. Mark has proven himself to one of baseball most durable and highly coveted staff leaders, yet he isn't even halfway to 300.
Will more than 200 wins be good enough? When you consider the intangibles, it may well be. Mark has won with mediocre teams and was a go-to arm on a championship club. He is an innings-eater and as solid as a rock. He pitched a no-hitter that many considered a fluke, only to follow it with a perfect game. In other words, he's not just the kind of pitcher you build staffs around—he's the kind of ace you build legends around.
MARK THE PITCHER
Mark is one of the game's great technicians. He works quickly, throws strikes, and retires hitters before they've had a chance to form a plan of attack. He throws his fastball in the low 90s, along with a cutter, two sliders and curve—all for strikes. Every so often he will sneak a change over on a 2-0 or 2-1 count.
Mark is a big contributor to his defense. He is very athletic off the mound and unafraid to wing the ball to any base. His pickoff move is superb, and anyone who gets too adventurous leading off first does so at their own peril.
Mark's calm demeanor and outstanding durability have made him an excellent leader. He doesn't panic with runners on base and knows what to do when his team hands him a lead, though ironically this is how he pitches in nearly every situation. The White Sox are a supremely confident club with Mark on the hill. He attacks enemy hitters with the same attitude.
Read more
Latest headlines