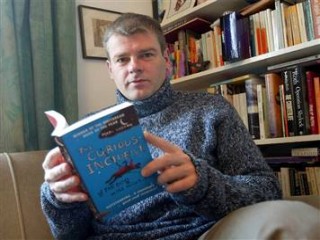 Mark Haddon biography
Date of birth : 1962-10-28
Date of death : -
Birthplace : Northampton, England
Nationality : British
Category : Arts and Entertainment
Last modified : 2011-09-30
Credited as : author, children's books, Microsoap and Starstreet
British author
Mark Haddon
was enjoying a successful career writing and illustrating children's books, as well as writing for popular children's television shows such as Microsoap and Starstreet before he surprised even himself with his wildly acclaimed first novel, The Curious Incident of the Dog in the Night-Time. Ostensibly a quirky mystery novel about a teenager who investigates the murder of his neighbor's dog, the story gained the most attention for its narrative technique in which Haddon uses the viewpoint of an autistic boy named Christopher. Originally, as the author told Dave Weich in a Powells.com's interview, the idea of the story came from an image in his mind of a poodle that had been killed by a gardening implement. Haddon, who admittedly has a rather dark sense of humor at times, thought beginning a novel this way could be funny, but in order to make it work he would have to tell the incident from a unique viewpoint. "The dog came first," Haddon told Weich, "then the voice. Only after a few pages did I really start to ask, 'Who does the voice belong to?' So Christopher came along, in fact, after the book had already got underway." It was a fortuitous decision that would lead Haddon to win a Whitbread prize, among other honors.
Even though the character of Christopher Boone, who suffers from a disorder known as Asperger's syndrome, is 15 years old, Haddon originally intended the book to be for an adult audience. After having written more than a dozen books for children over the years, he wanted to write about more complex themes. The resulting novel "was definitely for adults," he told Powells.com's Weich, "but maybe I should say more specifically: it was for myself. I've been writing for kids for a long time, and if you're writing for kids you're kind of writing for the kid you used to be at that age . I felt a great sense of freedom with this book because I felt like I was writing it for me." In presenting the final manuscript to his agent, however, it was decided that it would be marketed to both an adult and a teenage audience.
The Curious Incident of the Dog in the Night-Time can be seen, in some ways, as an extension of Haddon's previous books for children, some of which contain a good dose of mystery and, often, humor. For example, his debut children's book, Gilbert's Gobstopper, is definitely meant to be humorous and, in its own way, has a touch of adventure. When Gilbert loses his jawbreaker candy, the reader is treated to a trip from the gobstopper's viewpoint as it travels through sewer pipes, enters the ocean, is found by a fisherman, and goes on ever-more surprising turns that include a trip into outer space. "This irreverent entertainment will tickle many a funnybone," asserted Carolyn Polese in a School Library Journal review.
Haddon also combines adventure and humor in his "Agent Z" series for children that includes Agent Z and the Penguin from Mars, Agent Z and the Masked Crusader, Agent Z Goes Wild, and Agent Z and the Killer Bananas. The Agent Z of the title actually refers to a group of three boys, including Jenks, Ben, and Barney, who assume the secret identity as part of their club. The boys get involved in one goofy adventure after another, such as the time they take advantage of Mr. Sidebottom's obsession with UFOs by concocting an alien plot using a penguin and some foil, or the time the boys make a mock movie about killer bananas. Reviewers generally had high praise for these books. School Librarian contributor Alicen Geddes-Ward, for one, called Agent Z Meets the Masked Crusader a "witty, tight and brilliantly funny book." Adrian Jackson, writing in Books for Keeps, similarly felt that Agent Z and the Penguin from Mars was "a real hoot of a story, wildly imagined."
But Haddon does not view children as mere material for humorous stories. Some of his children's books show a decidedly more sensitive side to youngsters, such as The Real Porky Philips and Titch Johnson, Almost World Champion. In a story that Books for Keeps critic Gill Roberts called "powerful, poignant and pertinent," The Real Porky Philips is about a young, sensitive, overweight boy who finds the courage to finally assert his real personality after he has to play the role of a genie in the school play. Titch Johnson, Almost World Champion has a similar theme about self-confidence. Here, Titch, who seems to not be good at anything except balancing forks on his nose, gains a better appreciation of himself after successfully organizing a fund-raising event.
The rich world of dreams and imagination is explored in 1996's The Sea of Tranquility and 2002's Ocean Star Express. In the former, Haddon draws on his own childhood fascination with the achievement of mankind's first landing on the moon in 1969. The boy in the tale has a picture of the solar system on his wall and fantasizes about what it would be like to be an astronaut. Combined with this storyline are facts about the actual landing, including interesting tidbits; for example, the footprints left there will remain for millions of years because of the lack of wind and rain on the moon. Carolyn Boyd, writing in School Librarian, felt that "this book will appeal to those who remember the first moon landing and to young readers who will marvel at it." Ocean Star Express, by comparison, is not as grounded in reality. Here, a boy named Joe is becoming bored during his summer holiday when Mr. Robertson, the owner of the hotel where his family is staying, invites him to see his train set. No ordinary toy, apparently, the train takes Joe and the owner on a magical ride around the world in what a Kirkus Reviews contributor called a "sweet and simple story that young train enthusiasts will enjoy."
While Haddon received a good deal of praise for many of his children's books, including being shortlisted for the Smarties Prize for The Real Porky Philips, his book The Curious Incident of the Dog in the Night-Time has brought him considerably more critical attention. It combines the humor, sensitivity, and adventure of his earlier books with a highly challenging narrative perspective that impressed many reviewers. The protagonist of the story, Christopher Boone, suffers from Asperger's syndrome, a type of autism that prevents him from being able to accurately perceive and interpret other people's emotions. While he possesses an extremely logical mind, he is dispassionate and unable to empathize with other people whose feelings he cannot comprehend. This makes Christopher both a very reliable narrator, because he is incapable of lying, and an unreliable one, because he cannot fully appreciate the motives behind other people's actions. Making the character even more complicated, Haddon gives Christopher other flaws, including an aversion to being touched, a hatred of the colors brown and yellow, and a sometimes uncontrollable bladder. On the other hand, Christopher is brilliant at math, loves puzzles, and has a photographic memory.
The novel is ostensibly being written by Christopher, whose school counselor has assigned him the task of writing a book as a type of therapy. Haddon becomes his character fully in the story, even numbering the chapters in prime number order rather than sequentially because of Christopher's fascination for prime numbers. The story begins when Christopher discovers the dead poodle, Wellington. A great lover of dogs, as well as a fan of the Sherlock Holmes detective stories, he decides to find out who killed Wellington and why. The chapters then alternate between narratives of Christopher's progress in the investigation and chapters that include mathematical puzzles, charts, and other calculations the 15-year-old uses to try to reason out the information he has gathered. But as his investigation advances, the death of the poodle proves to be a knot that, when untied, reveals much more painful truths involving something terrible that happened between Christopher's parents and their neighbors and what really happened to his supposedly "dead" mother.
Critics appreciated the use of Christopher's dispassionate voice because it forces the author to obey the old writing caveat that authors should always "show and not tell" what is happening in the story. Furthermore, what interested many reviewers is that even though Christopher has autism, Haddon in no way makes this the theme of The Curious Incident of the Dog in the Night-Time. Indeed, the word "autism" is never even used. Instead, the novel might best be viewed as an examination of "the process of writing itself," as Daniel J. Glendening put it in America's Intelligence Wire. The story's point of view allows considerable latitude for reader interpretation, and indeed Haddon remarked to Powells.com's Weich that people he has talked to have had amazingly disparate reactions to his novel. "People have said to me that it's a desperately sad book and they wept most of the way through it," the author said. "Other people say it's charming and they kept laughing all the time. People say it has a sad ending; people say it has a happy ending. Because Christopher doesn't force the reader to think one thing and another, I get many different reactions."
Although Haddon has had some personal experience in the past working with autistic people, he has admitted to doing very little formal research when creating the character of Christopher. While many critics had no problem buying into the author's portrayal of the boy's condition, one reviewer, Nicholas Barrow of the Spectator, found it highly flawed. Barrow considered Haddon's descriptions to be a "total exaggeration of a 15-year-old boy with Asperger's," objecting to the "cliché" of an autistic boy who is a math genius, noting that Christopher is unbelievable as a teenager because he never thinks even once about sex, and finding the boy's problem with incontinence inconsistent with Asperger's patients. In the end, Barrow found the portrayal of Christopher to be "patronizing, inaccurate and not entertaining," and that "some people with Asperger's would be offended by this book." However, if one considers that Haddon's motive is not to discuss the issue of mental or emotional disabilities, but rather to experiment with literary perspective and create an interesting story, then one would fall into the more predominant camp that found Haddon's narrator absorbing. As one Publishers Weekly critic put it, "The novel brims with touching, ironic humor. The result is an eye-opening work in a unique and compelling literary voice." Independent reviewer Nicholas Tucker concluded, "How Haddon achieves this most delicate of balances is a tribute to his skill as a successful cartoonist as well as novelist." And Glendening called The Curious Incident of the Dog in the Night-Time "modern writing at its finest." In August of 2004, it was announced that the novel would be adapted as a film written and directed by Steve Kloves and co-produced by actor Brad Pitt. Haddon's next project is an adult novel, tentatively titled Blood and Scissors.
Selected writings:
(And illustrator) Gilbert's Gobstopper, Hamish Hamilton (London, England), 1987; Dial Books for Young Readers (New York, NY), 1988.
(And illustrator) Toni and the Tomato Soup, Harcourt Brace (San Diego, CA), 1988.
A Narrow Escape for Princess Sharon, Hamish Hamilton (London, England), 1989.
Gridzbi Spudvetch!, Walker (New York, NY), 1993.
Titch Johnson, Almost World Champion, illustrated by Martin Brown, Walker (New York, NY), 1993.
(And illustrator) The Real Porky Philips, A & C Black (London, England), 1994.
Baby Dinosaurs at Home, Western Publishing (New York, NY), 1994.
Baby Dinosaurs at Playgroup, Western Publishing (New York, NY), 1994.
Baby Dinosaurs in the Garden, Western Publishing (New York, NY), 1994.
Baby Dinosaurs on Vacation, Western Publishing (New York, NY), 1994.
The Sea of Tranquility, illustrated by Christian Birmingham, Harcourt Brace (San Diego, CA), 1996.
(And illustrator) Agent Z and the Penguin from Mars, Red Fox (London, England), 1996.
(And illustrator) Agent Z and the Masked Crusader, Red Fox (London, England), 1996.
(And illustrator) Agent Z Goes Wild, Red Fox (London, England), 1999.
Secret Agent Handbook, illustrated by Sue Heap, Walker Books (New York, NY), 1999.
(And illustrator) Agent Z and the Killer Bananas, Red Fox (London, England), 2001.
The Ice Bear's Cave, illustrated by David Axtell, Picture Lions (London, England), 2002.
Ocean Star Express, illustrated by Peter Sutton, Picture Lions (London, England), 2002.
The Curious Incident of the Dog in the Night-Time (novel), Doubleday (New York, NY), 2003.
- Also author of episodes for children's television series, including Microsoap and Starstreet ;
- contributor to screenplay adaptation of Fungus and the Bogeyman, by Raymond Briggs.
- Contributor of illustrations and cartoons to periodicals, including New Statesman, Spectator, Guardian, Sunday Telegraph, and Private Eye.
Awards:
- Smarties Prize shortlist for The Real Porky Philips, 1994;
- Book Trust Teenage Prize for The Curious Incident of the Dog in the Night-Time, 2003;
- Whitbread Book of the Year for The Curious Incident of the Dog in the Night-Time, 2003;
- Art Seidenbaum Award for First Fiction for The Curious Incident of the Dog in the Night-Time, 2003;
- Children's Fiction Prize, Guardian, for The Curious Incident of the Dog in the Night-Time, 2004;
- Commonwealth Writers Prize for best first book for The Curious Incident of the Dog in the Night-Time, 2004;
- Los Angeles Times book award for first fiction for The Curious Incident of the Dog in the Night-Time, 2004;
- two British Academy of Film and Television Arts (BAFTA) awards and Best Children's Drama award from the Royal Television Society, all for Microsoap.
Read more
Latest headlines