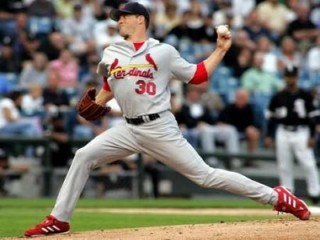 Mark Mulder biography
Date of birth : 1977-08-05
Date of death : -
Birthplace : South Holland, Illinois
Nationality : American
Category : Sports
Last modified : 2010-11-05
Credited as : Baseball player MLB, pitcher with the St. Louis Cardinals,
GROWING UP
Mark Alan Mulder
was born on August 5, 1977 in South Holland, Illinois. His hometown was a comfortable suburb of Chicago, just 30 minutes south of the Windy City.
Mark's parents, Ross and Kathy, worked hard to support him and his two younger brothers. Ross managed a local grocery store, and Kathy was a travel agent. Together, they earned a nice living.
Mark enjoyed the power that came with being the oldest of three boys. Neither one of his brothers was safe from the occasional pounding. Mark, who was tall for his age, never worried much about retribution. Deep down, however, the Mulders were a close-knit family. Mark and his brothers knew they could go to each other or their parents with any question or problem.
From the time Mark could walk, it was clear that he was a natural athlete. A bundle of energy, he never sat still, and whatever sport he tried—whether it was baseball, basketball or soccer—he mastered it rapidly. Mark began water-skiing before his third birthday and was flying off ramps by the time he turned nine. Not long after that, Ross took his oldest son golfing for the first time. Mark shot the lower score.
The sport that Mark loved above all others was baseball. He taught himself to hit as a three-year-old by tossing Wiffle Balls in the air and belting them over the family's split-level house with an oversized plastic bat. He played T-Ball, and then graduated to Little League. Always the best on his team, Mark raised his level of play as the competition intensified. Where most of his peers shied away from pressure, Mark thrived under the spotlight of the big game.
Because of South Holland's proximity to Chicago, Mark grew up a diehard White Sox fan. He rooted for Harold Baines, a fellow lefty, and later for pitcher Jack McDowell and slugger Frank Thomas. Mark's mother grew up cheering for the Cubs. The sting of the summer of 1969, when Chicago blew a double-digit lead to the New York Mets in the NL East, is one of her most vivid—and painful—baseball memories.
Mark entered Thornwood High School in the fall of 1991 and helped the Thunderbirds become one of the state's top teams. In his junior year, Thornwood gained national recognition, when it was ranked among the country's Top 25 teams in USA Today. By this time, Mark was regarded as a bona fide big-league prospect. The question was whether he projected as an everyday player or pitcher.
A slugging first baseman, Mark was a fierce run producer who also hit for average. On the hill, his easy delivery produced a mid-80s fastball and knee-buckling curve. Mark's greatest asset as a hurler was his composure. The big lefty was at his best with runners on base and the game on the line.
As a senior, Mark attracted the attention of pro scouts and college coaches alike. The Detroit Tigers tabbed him in the 55th round of the 1995 draft, but he didn't feel he was ready for pro ball. Though Mark stood taller than six feet, his body had not yet filled out. He also thought he needed to mature emotionally. A few years of college baseball seemed like the smart choice. Ross and Kathy, who had always stressed academics, were happy with his decision.
Despite an impressive high school resumé, Mark wasn't recruited heavily outside of the Midwest. Michigan State coach Ted Mahan pursued him as aggressively as anyone. Upon tMark's first visit to the East Lansing campus, he sensed he was in the right place. Though it was hardly considered a baseball factory, MSU had produced a handful of excellent major leaguers. Hall of Famer Robin Roberts was the most famous Spartan pitcher, while All-Stars Steve Garvey and Kirk Gibson were the school's best known hitters.
Mark joined the Michigan State baseball team in the spring of 1996. The freshman saw time on the mound and as a first baseman and DH. He quickly established himself as a star in the making.
Mark enjoyed another good year as a sophomore, earning honors as team MVP. He did his best work on the hill. Selected All-Big 10 as a pitcher, he fashioned a 7-2 mark with four saves and a 2.26 ERA. His record was all the more remarkable given Michigan state's awful conference record. In 28 Big Ten games, the club won just four times.
ON THE RISE
Going into his junior campaign, Mark was a hot topic among pro scouts. In his two years with the Spartans, he had grown bigger and stronger by 30 pounds, while also developing better command of his pitching arsenal. His fastball now topping 90 mph. Mark batted in the heart of the order for Mahan, but he was being scouted exclusively as a pitcher.
A big step in Mark's evolution had come in the Cape Cod League during the previous summer, in 1997. The teenager arrived on the East Coast a bit unsure of his ability to compete with the nation's most talented collegians. Once he proved to himself that he belonged, his confidence skyrocketed. When Mark returned to East Lansing, his draft stock had risen considerably. He got off to a good start in 1998, including a 16-strikeout masterpiece over Campbell. He later authored a 7-2 victory over arch rival Michigan, fanning eight in a complete-game gem.
Along with Pat Burrell of Miami and high schooler Corey Patterson, Mark was considered one of the top three amateur players in the country. To most baseball execs, it seemed a no-brainer that Philadelphia would take him with the #1 pick. The Phillies, however, loved Burrell. Oakland GM Billy Beane, whose team held the second pick, was among those hoping Mark would not go first. He perfectly fit Beane's criteria for a young pitcher. Mark was durable, had excellent command of all of his pitches (fastball, curve, change-up and splitter), and his three years of college ball made him almost major-league ready.
With draft day approaching, Mark continued to impress. Against Notre Dame, he enjoyed a milestone effort, becoming the third Spartan to whiff at least 100 batters in one season. Though Michigan State got beat up in conference play, Mark managed a 6-6 record, with a 3.40 ERA. In 84 innings, he walked just 19 and set a school record with 113 Ks.
Come the draft, the Phils bypassed Mark and took Burrell. Beane and the A's didn't hesitate and selected Mark with the next pick. Signing him wasn't quite as easy. Mark's agent, Gregg Clifton, played hard ball, and the youngster sat out until October, when a deal was finally reached. The contract included a record $3.2 million signing bonus and a clause requiring the A's to foot the bill for the rest of Mark's college education.
Mark got his first crack at professional hitters in the Arizona Fall League for the Scottsdale Scorpions. He appeared in five games, including four starts. He lost his only decision, but pitched well, striking out 14 and walking only three in 16 innings.
Mark entered spring training in 1999 with an outside shot of joining the big club. During camp, he wowed pitching coach Rick Peterson and the rest of the Oakland staff with his ability to throw quality strikes. The A's, however, had no reason to rush along their promising ace. They sent him to the Vancouver Canadians of the Class-AAA Pacific Coast League.
Mark thrived against PCL hitters. He registered his first professional victory in early May, a complete-game six-hitter over the Tacoma Rainiers. By June, he was 4-5 with a 3.66 ERA. The numbers barely hinted at the quality of Mark's performance. Mature beyond his age, he had a plan when he pitched and went about retiring enemy hitters with cool efficiency.
With the Pan Am Games about to begin in Winnipeg, the A's gave Mark a short leave to join Team USA, which was gunning for a berth in the 2000 Olympics in Australia. With a roster that included big-league hopefuls such asAdam Kennedy, Peter Bergeron and Travis Dawkins, the Americans were up to the challenge. Mark did his part, going 1-0 with a 1.42 ERA in two starts. His finest moment was a no-decision in an extra-inning victory over Mexico in the semifinals. In six innings, he surrendered just one run, keeping his team in the game until they could rally for a 2-1 win. Though the Americans lost in the final to Cuba, they still punched their ticket to Sydney.
When Mark returned to Vancouver, he said hello to several new teammates, including pitchers Tim Hudson and Barry Zito, both of whom had been promoted from Double-A Midland. With Mark back in the fold and veteran Kevin Jarvis enjoying a great year, the Canadians boasted the top starting rotation in the minors. Their pitching made them one of the favorites to advance to the Triple-A World Series. The team took care of business in the PCL playoffs against the Oklahoma Redhawks. But as Vancouver prepared to meet the Charlotte Knights, Jarvis was called up to Oakland for the club's postseason stretch drive.
For Mark, the loss of Jarvis provided a great challenge. Hudson and Zito felt the same way. All three were extremely competitive and looked forward to the extra pressure created by the promotion of the staff ace. The series against Charlotte went the distance, with Mark taking the hill in the decider. He twirled a gem, working the first five innings without surrendering a run. But it was the Vancouver hitters who stole the show. They battered Charlotte pitching for 16 runs on 20 hits, including three home runs. Outfielder Terrance Long was the star, going 3-for-3 with four RBIs.
Mark's impressive postseason showing helped him earn a spot in Oakland's 2000 rotation. After a couple of tune-up starts in the minors, he made his big-league debut on April 18 in Cleveland. He muddled through six innings against the Indians, giving up four runs on five hits. The A's belted around Charles Nagy for an 8-5 victory. Mark, in turn, became the seventh Oakland hurler in franchise history to win his first appearance in the majors.
Hudson also made the jump to the big club that season, giving the A's two highly touted rookies to combine with old hands Kevin Appier and Gil Heredia. In the bullpen, Jason Isringhausen was handed the ball as the closer. Manager Art Howe's offense was also stocked with young talent. Jason Giambi led a powerful group that included Miguel Tejada, Eric Chavez and Ben Grieve. Coming off an 87-win season, the A's were starting to reap the rewards of a rebuilding program that had begun with the trade of Mark McGwire to the Cardinals in 1997.
Mark won again in May, beating the Kansas City Royals. Despite a 2-0 record after six starts, he wasn't happy. Mark felt he was pitching not to lose. All too often, he was falling behind hitters early in counts. Peterson worked with him on locating his fastball more effectively, but also left him to his own devices. Knowing that the rookie understood his strengths and weaknesses as well as anyone, he was sure Mark would eventually figure things out.
Mark's inconsistency continued into the summer. Control was his most bedeviling problem—he seemed to pitch with runners on base every inning. Ironically, that development proved valuable. Mark learned to bear down when he landed himself in trouble, and teammates developed confidence in him despite his struggles. By late June, Mark's record stood at 5-2, with a bloated 4.94 ERA.
The good news was the team's other rookie hurler, Hudson, was dominating American League hitters. With Appier and Heredia also logging solid innings, and Giambi pacing the team's young sluggers, the A's were in position for a playoff run. To bolster its pitching staff, Oakland promoted Zito, which put Mark's spot in the rotation on thin ice. Things got even dicier for him in August when he suffered an embarrassing outing in New York. In three innings, the Yankees knocked him around for 10 earned runs. A week later, the Bronx Bombers roughed him up again in Oakland. Howe, however, stuck with him.
Mark responded with three strong starts in September, as Oakland went right to the wire with Seattle. The A's edged the M's for the AL West title on the final day, but Mark was purely a spectator at that point. Lifting in the weight room on an off-day, he felt a pop in his back and collapsed in excruciating pain. Diagnosed with a herniated disk, his season was over. His final numbers (9-10 with a 5.44 ERA in 27 starts) were frustrating enough, but that was nothing compared to watching the playoffs on TV. The A's forced a fifth game, in Oakland, against the vaunted Yankees, only to disintegrate in a six-run first inning enroute to a 7-5 loss.
MAKING HIS MARK
Mark worked his butt off during the off-season, strengthening his mid-section and thighs to prevent a relapse of his back problem. That spring, he discovered a nice bonus—he had picked up a little extra velocity on his fastball. Outside of one poor Cactus League outing, Mark looked great. With Hudson and Zito also throwing well, and new leadoff hitter Johnny Damon in camp, the A's appeared to be a lock to repeat in the AL West. An 8-18 start, however, left Oakland eating Seattle's dust, as the Mariners piled up wins at a record pace. For the rest of the year, the A's concentrated on nailing down a Wild Card berth.
One of the few guys pulling his weight in the season's first few months was Mark. He went unbeaten in May, posting five victories with a 2.47 ERA. He was especially dominant against the White Sox, carrying a no-hitter into the seventh in one start. For Mark, the difference was getting ahead in the count, which enabled him to keep batters off balance with his splitter and change-up.
Mark was also devoting more time to studying the opposition. The problem was that they also began studying him. In June, enemy hitters swung early and teed off on Mark, who was slow to adjust. With his season brink—and with it Oakland's—he turned things around. In July at Arizona, he twirled seven perfect innings against the D-backs. After surrendering a single to Danny Bautista to open the eighth, he retired the final six hitters. Mark needed just just 100 pitches, 74 for strikes, for his one-hit shutout.
Mark was almost as good in his next outing in Los Angeles, as he recorded his second shutout in a row, this one a six-hitter against the Dodgers. Mark became the first A's pitcher to toss consecutive bagels since Bobby Witt in 1994. As the month drew to a close, he recorded another shutout. Riding their big lefty, the A's found themselves in the thick of the Wild Card race.
Mark opened August by slaying his nemesis, the Yankees, in front of nearly 50,000 in Oakland. In a classic pitchers' duel, he and Mike Mussina battled into the late innings tied at 2-2. Mark got into trouble in the ninth, but struck out David Justice with the lead run on second. Giambi homered in the bottom of the stanza for the victory. Mark pushed his record to 15-6, and the surging A's grabbed control of the Wild Card.
Oakland continued its fine play into September and clinched a playoff spot when Mark beat the Anaheim Angels at the end of the month. The A'swound up with 102 victories, making them the first club in history to come from 10 games under .500 to reach the century mark.
Mark ended the year at 21-8 with a 3.45 ERA and six complete games. His win total was tops in the AL, and his four shutouts led the majors. Named to The Sporting News AL All-Star team, he finished second in the Cy Young voting to Roger Clemens, who posted a 20-3 record. The A's front office rewarded Mark with a contract extension of four years at $14.2 million.
The Yanks were Oakland's familiar foe in the first round of the playoffs. Mark was magnificent in Game 1 in New York, pitching one-run ball into the seventh for a 5-3 victory. Hudson followed with an even better performance in Game 2, combining with Isringhausen on a 2-0 win. But the series turned on a defensive sparkler by Derek Jeter in Game 3. The Yankees won 1-0, and then battered Cory Lidle to even the series in Game 4. Mark took the hill in Game 5, but wasn't sharp. He yielded four runs before giving way to Hudson in the fifth. New York went on to win 5-3.
The 2002 campaign brought more October disappointment to Oakland. The club finished with 100-plus wins again despite losing Giambi and Isringhausen to free agency. Tejada and Chavez provided the needed power, while Billy Koch plugged the hole in the bullpen. The A's now relied on their Big Three more than ever. They responded with a combined record of 57-21, with Lidle and Aaron Harang filling out the back of the rotation. Oakland outdistanced the Wild Card Angels by four games in the AL West.
The season began on a bumpy note for Mark, when a sore left forearm landed him on the disabled list in April. When he returned, he was totally out of rhythm. Six starts into the campaign, his record was 2-4 with a 6.96 ERA. A 5-2 win in Baltimore over the Orioles got him back on the right track. In June, he won six times and was named AL Pitcher of the Month.
By the end of July, the A's were battling the Angels and Mariners for the division lead. A remarkable 20-game winning streak in August gave them a comfortable buffer for the home stretch. Tejada stole the headlines with his clutch hitting, but Mark was equally impressive in the season's closing weeks. He won his last six decisions to go 19-7 and lowered his ERA to 3.47. In addition, he established career highs in strikeouts (159), winning percentage (.731) and opponents batting average (.232). Again, however, his stats weren't good enough for the Cy Young. Zito, who posted a 23-5 record, walked away with the hardware.
The A's entered the playoffs confident they could get past the Yankees in the ALCS and make it to their first World Series since 1990. But the team ran into a pesky Divisional Series opponent in the underdog Twins. After the A's dropped Game 1 in Minnesota, Mark rescued the club with six strong innings in Game 2 to knot the series. Back in Oakland, the visitors forced a Game 5. Howe handed the ball to Mark again, and he did his job, striking out nine and allowing just two runs on short rest. But the bullpen blew up, allowing three runs in the ninth, and Oakland suffered another frustrating postseason exit.
The 2003 campaign brought Oakland a second straight division crown, as the yeam rode another August winning streak into the first place. Ted Lilly, acquired from the Yankees the previous year, filled out the rotation with a 12-10 record, while newcomer Erubiel Durazo added punch to the offense. Calling the shots from the dugout was first-year manager Ken Macha, who stepped in after Howe was shown the door. The new skipper could do nothing to reverse Oakland's playoff woes. In their Division Series, the A's won their first two against the Red Sox, and then lost the next three to Boston.
For the second time in his career, an injury caused Mark to miss the postseason. Pain in his right femur ended his day early during an August start against the Red Sox, and an MRI later revealed a stress fracture. Mark was done for the season. At the time, he seemed on his way to that elusive Cy Young Award. Mark was 15-9 with a 3.13 ERA, including a league-best nine complete games.
Mark had started the year on fire, with five consecutive wins from April 19 to May 11. During that stretch, he posted a microscopic 1.07 ERA and limited opposing hitters to a meager .145 batting average. In July, Mark appeared in his first All-Star Game, a huge thrill since the contest was played at US Cellular Field in Chicago. Pitching in front of a throng of family and friends, he got touched up for a run on five hits in two innings.
Mark came out of the break strong. In early August, he was named AL Pitcher of the Week after a pair of gems against the Indians and Yankees. His right hip injury flared up a short time late, ending what was shaping up as the best year of his young career.
Mark picked up where he left off to open the 2004 campaign. By the All-Star break, he was 12-2 with a 3.21 ERA. New York manager Joe Torre chose him to start in the Mid-Summer Classic, where he faced former Yankee ace, Clemens, who had un-retired and joined the Astros. Mark gave up a run in two innings, but he got the victory as the AL chased the Rocket with six first-inning runs.
The A's, meanwhile, were engaged in a three-way battle with the Angels and Texas Rangers in the AL West. Despite losing Tejada to the Orioles via free agency, Oakland still had a balanced attack thanks to Chavez, Durazo, rookie stud Bobby Crosby and a productive outfield of Mark Kotsay, Eric Byrnes and Jermaine Dye. The pitching staff was another story. An injury to Hudson, an off-year for Zito, and a bullpen that lost 26 games prevented Oakland from putting together their usual late-season run. The Angels slipped past them to win the division by one game. By then, the Red Sox had already sewn up the Wild Card.
Mark held the staff together for most of the year, becoming the league's first 17-game winner in late August. But he failed to notch another victory the rest of the campaign, losing four times and allowing 28 earned runs over his final six starts. Rumors circulated that he was hurt, and Mark's father speculated that his son's slump was the result of an overly ambitious off-season rehab program. Mark made no excuses, saying that he simply didn't pitch well.
When the year ended, Beane reassessed his roster. With Mark and Hudson about to enter their walk years, the A's looked to retool. First they traded Hudson to the Atlanta Braves. Then, a few days later, Mark received a similar call. Oakland dealt him to the Cardinals for pitchers Danny Haren and Kiko Calero and catching prospect Daric Barton.
Initially, Mark hesitated when asked about his new St. Louis address. He had a lot of good memories from his Oakland days and hated being separated from his buddies, Zito and Hudson. Upon further review, Mark recognized the opportunity before him. The Cardinals boasted an offense with MVP-caliber stars, just as the A's once had. They could also catch the ball, which was not exactly a strong point in Oakland. The real excitement for Mark was joining a franchise that had plenty of pennants under its belt and is hungry for more.
Sure enough, the Cardinals cruised to another NL Central title with 100 wins in 2005. Sixteen of those belonged to Mark, who teamed with Chris Carpenter, Jeff Suppan, Matt Morris and Jason Marquis in the league's finest starting rotation. The offense was good enough to survive the loss to injury of Scott Rolen. Manager Tony La Russa used his ample bench to perfection. Mark's final numbers were 16–8 with 111 strikeouts and a 3.64 ERA. Those numbers would have been even better were it not for his final start, in which he yielded seven runs before being yanked in the second inning.
In the NLDS, Mark showed no ill effects of that debacle. On the contrary, he handcuffed the San Diego Padres in his Game 2 start, getting the Cards two thirds of the way to their eventual series sweep. A second straight World Series berth seemed imminent as St. Louis met the overachieving Houston Astros in the NLCS.
The Cardinals won the opener behind Carpenter. In game 2, Mark was outpitched by Roy Oswalt, which knotted the series. Houston won the next two games, both one-run affairs, to seize control of the series. They looked to have things wrapped up in Game 5, but Albert Pujols hit a dramatic game-winning homer off of Brad Lidge to keep the Cards alive and send the series back to St. Louis.
Cardinals fans were sure that the dejected Astros woul go silently in the last two games. La Russa handed the ball to Mark in Game 6. The Astros pecked away at him and scored three runs. Oswalt, meanwhile, was untouchable. The Astros shocked the Cards 5–1 to advance to the first World Series in franchise history.
The Cardinals spent the winter licking their wounds and devoted spring training to refocusing themselves on the 2006 season. From the outset, however, it was clear that the club would be sorely tested. Injuries to Pujols, Rolen, Jim Edmonds and David Eckstein kept La Russa's A-team off the field virtually all season long. The most devastating blow was word of Mark's sore left shoulder.
After beginning the year 5–1 with a 3.69 ERA, Mark began experiencing a lot of discmfort. He tried to pitch through it, but his velocity was way down and his ERA ballooned over 6.00. He was finally placed on the DL. Mark tried to pitch again in August but gave up nine runs in three innings. His season ended there.
The Cardinals, meanwhile, survived a tight race in the NL Central and then beat the Padres and New York Mets in the playoffs to reach the World Series. In the Fall Classic, they beat the young Detroit Tigers for their first championship since the 1980s.
Mark underwent rotator cuff surgery at the end of what should have been his walk year. Rather than testing the free agent market, he inked an incentive-laden contract with the Cardinals for 2007. He spent virtually the entire year rehabbing and made a few starts for the team in September. After the season, Mark had his shoulder cleaned out again and set his sights on a healthy and effective 2008. As spring training approached, he was on a tentative schedule to rejoin the rotation in May.
Baseball is a funny game. The Cardinals dealt for Mark to bring a championship to St. Louis. They got their title, but he was not a part of it. St. Louis remains committed to Mark, and he to the team. It says a lot about both the man and the organization. Indeed, even non-Cardinal fans are rooting for a happy ending to this story.
MARK THE PITCHER
When healthy, Mark is the total package on the mound. At 6-6 and more than 200 pounds, he is an imposing physical presence who has excellent control of all his pitches. He also has tremendous instincts, which are complemented by the way he prepares physically and mentally for each start.
In an era when complete games are a rare commodity, Mark has established himself as a workhorse. In his prime, he regularly pitched late into games and threw more than 200 innings. Part of his durability stemmed from his smooth delivery and exceptional command. Mark is economical on the hill, normally getting ahead of hitters, which keeps his pitch counts to a minimum. When he returns to the mound, he may be on a strict pitch count, but he can get more mileage out of that count than most other hurlers.
Mark mixes up his pitches and location. He keeps hitters off-balance with his willingness to change his pitching pattern mid-game. He varies the speed on his fastball from 88 to 94 mph and will throw his curve in almost any count. His change-up is his out pitch with runners on base. He might use it only a handful of times in a game, but always in crucial spots, especially if he wants to induce a double-play. He often goes to his splitter when he needs a strikeout.
Mark's ability to wriggle out of trouble is one of his trademarks. Teammates have complete confidence in him in any situation. They know he will never beg out of a start, and when he's pitching, he gives his club every chance to win.
Read more
Latest headlines