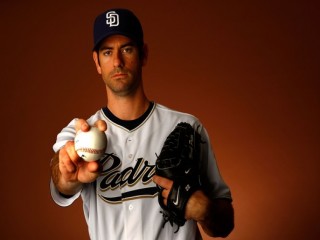 Mark Prior biography
Date of birth : 1980-09-07
Date of death : -
Birthplace : San Diego, California, U.S.
Nationality : American
Category : Sports
Last modified : 2010-11-06
Credited as : Baseball player MLB, pitcher with the San Diego Padres ,
Mark William Prior was born on September 7, 1980, in San Diego, California. His parents, Jerry and Millie, already had two children, a boy and a girl named after each of them. The Priors lived comfortably in a suburban setting. Jerry worked as a financial consultant, and Millie was the vice principal at a local middle school.
Much of life in the Prior family revolved around sports. Jerry and Millie were both excellent tennis players who competed at the Division 1-A level. Jerry also starred on the football field. All three Prior children followed in their parents' footsteps.
Mark proved to be a natural on the diamond. Tall and powerful, he dominated from atop the mound and was a menacing presence in the batter's box. Mark was an All-Star in Little League, playing first base between pitching assignments.
Mark's family was always in his corner offering support. His grandmother Marion played catch with him in the backyard. His older brother showed him how to throw a curveball. His father took him to the San Diego School of Baseball when he was 12. There Mark received valuable instruction from Jay Martel, a coach from a nearby junior college. Martel drilled him constantly on mechanics, concentrating on his arm angle and striving for consistency in his delivery. He was struck by Mark's ability to absorb information.
Mark's love of baseball drove his desire to improve his game. His idols were Nolan Ryan and Roger Clemens. If he made it to the big leagues, he hoped it would be as a fireballing pitcher. He also cheered loudly for the San Diego Padres and San Francisco Giants.
Nothing shaped mark's passion more than his father's Midwest roots. Jerry was raised in Chicago as a devout Cubs fan. The first time he visited Wrigley Field, as an eighth grader in 1959, Ernie Banks hit a grand slam. Mark eventually became a Cubbies fan, too. He was able to catch Chicago games on the WGN superstation.
Mark entered San Diego's University City High School in the fall of 1994. A gifted student, he was as serious in the classroom as he was about sports. Years earlier, he had participated in Standards of Excellence, a program run by Jim Brogan. A guard for the San Diego Clippers in the early 1980s, Brogan still lived in the area. He taught Mark to reach for his best in everything he did.
Mark also played basketball, and by the 10th grade, he could reverse jam. As a teenager, he looked forward to the three or four months each winter when he got a break from baseball. At one point, Mark even considered giving up hardball for a career on the hoops court.
In the spring of 1995, Mark's freshman year, he learned a changeup, the pitch that would eventually make his fastball and curve all the more effective. Coach Dick Serrano promoted him to the varsity the following spring, but the sophomore had some atrocious outings, including one in which he surrendered 10 runs in a third of an inning.
In the stands that day was former major-league hurler Tom House, whose son, Bryan, was opposing Mark on the hill. A decade earlier House had established a reputation as a pitching guru when he resuscitated the Texas Rangers' staff with his unorthodox training techniques. In the process, he extended Nolan Ryan's career. House saw tremendous potential in Mark and offered to take him under his wing. Much of their work focused on the mental and physical preparation necessary before taking the mound. The only mechanical change House suggested was raising Mark's glove to his face during his pitching motion.
ON THE RISE
Over the next two years Mark's confidence increased. Pitching—and pitching well—in summer tournaments had a lot to do with his improvement. So did the tutelage of House and Martel. Mark developed a habit of throwing his best in big games. When University High faced it fiercest rival, Mission Bay High School, he always got the starting nod from Serrano. Mark won most of those matchups, except for the 1998 California Interscholastic Federation championship.
By then, Mark's reputation was firmly established. In his senior season, he went 10-5 with an 0.93 ERA, and batted .410 with 15 home runs and 58 RBIs. An All-American and All-State selection, he was named the San Diego County Player of the Year by the San Diego Union-Tribune.
Among the hottest prospects in the country, Mark was tabbed by the New York Yankees in the first round of the 1998 draft. Ever modest, he was shocked that the Yanks thought so highly of him. The club dazzled him with a reported $1.5 million signing bonus, but Mark didn't feel he was ready for pro ball and declined the offer. Recruited by every baseball program on the West Coast, including Stanford, he instead headed to Vanderbilt, his father's alma mater, to begin his college career.
Mark's first year in Nashville was an eye-opener. He had worked hard in high school to improve his game and stay in shape, but the level of commitment required at the Division I-A level was something entirely different. Starting in the fall, he was expected to show up in the weight room early every morning and at practice every afternoon. Balancing this schedule with his studies was a true test of his time-management skills.
Also new to Mark was the intensity of the competition he faced—first to make the Vanderbilt squad, and then to earn playing time. Though he was coach Roy Mewbourne's most prized recruit, Mark couldn't afford to slack off. The Commodores played in the SEC, perhaps the nation's most talented conference. Every time Mark toed the rubber, he was likely to face a team of future pros. Vandy's own lineup was nothing to sneeze at, either. It included star third baseman Hunter Bledsoe—who would win the SEC batting title—and freshman standout Aaron Fausett.
The Commodores finished at 22-33 in 1999 and got whacked in conference play, going just 8-22 against SEC opponents. Mark quickly realized that he could not get by relying solely on his fastball. In 13 starts, he went 4-8 with a 4.59 ERA. In 82 innings, he struck out 71 and walked only 23, but batters rapped out 107 hits off him. Normally they sat on his heater, knowing that he would try to overpower them with it.
Mark also saw time at first base. In 104 at-bats, he hit .260 with four homers and 28 RBIs. His best moments came on the hill, however. In early March, he threw nine strong innings in a complete-game victory over West Virginia. A month later, he fanned 10 in seven innings against Mississippi. But the strain of playing every day took its toll. Mark wore down as the season progressed and missed his final two turns in the rotation.
He recovered in time to join a team of collegians assembled by USA Baseball for a summer tour. Mark took his spot on an impressive staff that included Ben Diggins of Arizona, Justin Wayne of Stanford, Josh Karp of UCLA and Aaron Heilman of Notre Dame. He held his own, posting a record of 4-1 with a 2.52 ERA. Under Texas A&M coach Mark Johnson, the squad won 24 of its 39 games. At the National Baseball Congress World Series in Wichita, Kansas, Team USA—the youngest squad in the tournament—won its first two games by a combined score of 36-1. It then dropped two close decisions to finish seventh overall.
After being s urrounded by some of the nation's top college talent, Mark arrived at two major decisions. First, he was going to focus all his energy on pitching. Second, he would do this back on the West Coast, at USC. Mark officially transferred before classes began that fall.
Upon his arrival at USC, Mark was billed as the school's most promising newcomer ever—even more polished than Barry Zito, a recent first-round pick of the Oakland A's. Speculation began that the sophomore would earn the honor of starting the Trojans' traditional Friday marquee games.
Mark hated the media hype. All he wanted was to fit in. The Trojans were just a year removed from winning the national championship. For the 2000 campaign, USC coach Mike Gillespie again had a title contender. Third baseman Justin Gemol paced an explosive offense, and junior Rik Currier was the resident staff ace. Mark assured his teammates that he had no intention of upstaging any of them.
He was true to his word through the first half of the season—too true, in fact. After a good start, Mark lost four straight decisions. Against Arizona, he surrendered 10 runs in four innings. Later, he suffered a stinging defeat to Stanford. With Gemol and Currier leading the way, however, the Trojans still rolled. They finished the regular season at 38-18 and prepared for the College World Series qualifying tournament.
Mark regained his form by the postseason. In the CWS Super Regional, he dominated Georgia Tech in a 6-3 victory. Though he dropped his next decision to eventual national champion LSU, Mark was lauded for his effort. Tigers assistant Turtle Thomas said the soph was as good as any pitcher they had faced. For the year, Mark wound up at 10-7 with a 3.56 ERA. He topped the Trojans in innings pitched and strikeouts.
Mark was beginning to learn what it meant to be a pitcher. He was mixing location and speed, trusting his stuff instead of overthrowing in big spots and honing his mechanics to the point where his motion was smooth and effortless.
Mark spent another summer playing for Team USA's college contingent. This time around, Gillespie got the call as coach, and the Americans raced to a record of 27-3-1. Among Mark's personal highlights was a 6-5 victory over Cuba in the final of the 20th Haarlem Baseball Week in the Netherlands. He twirled six innings of shutout ball before tiring in the seventh. After two separate scoring rallies by the Cubans, closer Kirk Saarloos came on in the ninth to slam the door. By the conclusion of the USA Baseball schedule, Mark had earned recognition—along with Karp and Dewon Brazelton—as one of the finest collegiate pitchers heading into 2001.
MAKING HIS MARK
Over the next few months, Mark became fanatical about his conditioning. When the Business major wasn't studying, he made the weight room his home. Mark emulated his idols, Ryan and Clemens, focusing mostly on maximizing his power below his waist. Like most college hurlers, Mark had to improve his stamina. Learning how to drive off the rubber and let his legs help generate velocity on his pitches was the next step in his maturation process.
With the Trojans expected to contend for the national title, Mark wasn't the only USC player gearing up for the 2001 campaign. Currier was back for his senior year, and sophomore starter Anthony Reyes showed great promise. The lineup was packed with power, speed and production. Brian Barre, Seth Davidson, Alberto Concepcion, Michael Moon, Bill Peavy and Anthony Lunetta formed the heart of coach Gillespie's order.
Mark was awesome from his opening start. Through his first 20 innings, he gave up just two earned runs while striking out 34. In February. he squared off against Karp in a highly anticipated showdown with crosstown rival UCLA. The Trojans outlasted the Bruins 5-4 in 11 innings.
Mark's next big start came in March at Stanford, where he picked up his first and only loss of the season. He responded with victories in his next three outings over Washington, Arizona and San Diego State. For the month, he fanned 52—including 15 in a shutout against the Wildcats—and walked only one in 33 innings.
Mark and the Trojans continued to pile up victories in April. His most satisfying win came in a rematch against the Cardinal. Mark was magnificent, silencing Stanford—literally and figuratively—in a 2-1 masterpiece. At one point, with players in the opposing dugout riding him hard, he whiffed a Cardinal hitter, screamed at him to sit down, and then motioned to the on-deck batter to come forward and take his punishment. His teammates loved it. The junior wasn't exactly a wild man, but against Stanford he was totally pumped.
Mark impressed even more when he didn't have his killer stuff. After a two-week lull in the schedule, he went to the hill in mid-May against Washington State and looked rusty. Nevertheless, he labored through seven innings to pick up his 13th victory of the year.
USC opened the regionals of the CWS with wins over Oral Roberts, Pepperdine and Fresno State. Mark started against the Green Wave, matching up against fellow All-American Noah Lowry. Though Pepperdine touched him up for 11 hits in eight innings, he was stingy with runners on. Mark fanned 14, as the Trojans rallied for a 4-3 victory.
Next up for USC was Florida International in the Super Regional. Mark beat the Golden Panthers 5-1, blanking them over his last eight innings. When Currier followed with a 6-0 shutout, the Trojans earned a spot in the CWS. Unfortunately, their dreams of a national championship died quickly. Mark gutted out an 11-5 win over Georgia to start things off, but Currier lost a 4-3 heartbreaker to Miami and Reyes was bombed 10-2 by Tennessee.
Mark's final numbers for 2001 were staggering. He went 15-1 with a 1.69 ERA. In 139 innings, Mark struck out 202 against only 18 walks. His K total shattered the conference and USC marks, and was the 12th best college mark of all-time, tying him with Ben McDonald (LSU, 1989) and Richie Lewis (Florida State, 1986). Mark was named Player of the Year by virtually every publication and media outlet, including Collegiate Baseball, The Sporting News, the American Baseball Coaches' Association and Baseball America, which touted him as the best college pitcher ever.
A First-Team All-American, Mark was named Pac-10 Pitcher of the Year, making him the fourth straight Trojan to receive the award. He was also one of five finalists for the Sullivan Award. Mark was just the fourth baseball player in history to be so honored. He capped off his glorious season by winning the Golden Spikes Award, given by USA Baseball to the nation's top amateur player.
Mark's breakout season caught the attention of every scout in the majors. Not only did he possess all the physical tools, he had a good head on his shoulders. His victory over Georgia in the CWS demonstrated his ability to shut out distractions. Before the game, a story in a Minneapolis newspaper suggested that Mark had already hired John Boggs as his agent, a blatant violation of NCAA rules. To clear himself, he appeared at a hearing to explain that Boggs was only an advisor. Many a collegian had come unglued under far less trying circumstances, but against this backdrop, Mark struck out 13 Bulldogs in seven innings.
Although Mark had a year of college eligibility remaining, there was no question that he would turn pro. The Twins owned the first overall pick, and the Cubs selected second. When Minnesota opted for hometown sensation Joe Mauer, a catcher from St. Paul, there was jubilation in the Prior home. Chicago, which had known for months it would take Mark if the Twins didn't, were also very happy. Though Boggs—now officially representing the 20-year-old—would likely demand a record-breaking contract, the righty was too good for even the tight-fisted Cubbies to pass on.
As Boggs and Chicago began their negotiations, Mark joined Team USA for his final summer of amateur competition. Several weeks into the schedule, he found himself in a rut. The loser of two of this three starts, he asked for a three-week respite to attend his brother's wedding. The vacation was just what the doctor ordered. When Mark returned, he threw 24 scoreless innings. By then, Boggs and the Cubs had come to an agreement, settling on a five-year deal worth $10.5 million, the largest contract ever for a draftee.
Chicago wanted Mark to pitch in the Arizona Fall League, but he chose instead to work out on his own while earning credits toward his business degree. The team didn't fight him, trusting he would report to spring training in great shape. The Cubs planned to get a feel for where Mark was in the preseason, and then farm him out to a level where he could start his climb to the majors.
Mark pitched well in spring training and felt right at home in the clubhouse. At on epoint, he received some harsh ribbing in front of the team by manager Don Baylor after doing a radio spot for a Lexus dealership. mark laughed along with his future teammates, knowing the entire act was a put-on. He liked being accepted as one of the guys.
And the guys were excited about their future ace, especially after Mark gave a tantalizing taste of things to come in a meeting with the rival White Sox. He struck out seven in three innings of work, compelling Chicago skipper Jerry Manuel to compare him to Curt Schilling.
The Cubs assigned Mark to the Class-AA West Tennessee Diamond Jaxx, and prayed they wouldn't need him in 2002. Baylor wasn't sure what to expect from his club, particularly his starting staff. Kerry Wood was still rebounding from his 1999 shoulder surgery, Jon Lieber, a 20-game winner the previous year, seemed to be coming into his own, and Matt Clement, acquired in a deal with the Florida Marlins, had a live arm. If all three stayed healthy, the Cubs had the makings of an excellent rotation. The offense looked okay too, with Moises Alou and Fred McGriff supplying much-needed protection for Sammy Sosa. Highly touted Corey Patterson was set to take over the everyday job in center field.
Alas, these were the Cubbies, and as often happens in Chicago, the season was quick to disintegrate. After 40 games, they had dug themselves a deep hole. Injuries ravaged the entire lineup, and the second-stringers failed to plug the holes. Baylor got the ax during the summer, and the Cubs finished 67-95, 30 games behind the St. Louis Cardinals.
With the team floundering, fans shifted their attention to Mark. In three starts at Class-AA, he collected three wins, fanning 28 with an ERA of 1.06. Figuring he wouldn't be around too long, the Diamond Jaxx took full advantage of Mark's celebrity. The team estimated that he boosted merchandise sales by more than $15,000.
In early May, the Cubs promoted Mark to Class-AAA Iowa, where he continued to dominate. He struck out 10 in his first two starts for manager Bruce Kimm—and also went 3-for-7 at the plate with a pair of homers. Mark's only problem was pitch count. In both appearances, he piled up pitches, forcing Kimm to yank him early. That shortcoming aside, the Cubs knew they couldn't keep him in the minors much longer.
Mark was called up in late May for a start at Wrigley Field against the Pittsburgh Pirates. With 49 friends and family members in the stands, he whiffed 10 in six innings to record his first big-league victory. His performance electrified the hometown crowd, giving diehard fans something to root for the rest of the way.
Mark rarely disappointed them in the ensuing months. Perhaps most impressive was how he bounced back from bad outings. After the Houston Astros hammered him in June, he blanked the Seattle Mariners over seven innings. Later, he came back and handcuffed Houston in their bandbox of a ballpark. When the Padres roughed up Mark in late July, he responded with his first complete game, a five-hit shutout over the Colorado Rockies.
In August, Mark began to slow down and lost his last three starts of the month. The Cubs, remembering how Wood's career almost ended before it began, wisely rested Mark in September. He ended up at 6-6 with a 3.32 ERA. In 116 innings, he gave up 98 hits and 38 walks while recording 147 strikeouts.
Mark and the Cubs entered spring training in 2003 thinking the unthinkable. Chicago had a realistic shot at the postseason. Dusty Baker was in as manager, the batting order was solid with Patterson at the top and Sosa in the middle, and the pitching staff was as deep as it had been in years. With Mark and Wood in place for a full season, and Carlos Zambrano also on the rise, the rotation rated among the National League's best. In the bullpen, Joe Borowksi assumed the closing duties with Antonio Alfonseca on the DL.
Mark opened the year looking like a bona fide Cy Young contender. Through April, he was 4-1 with an ERA under 2.00, Mark was averaging more than a strikeout an inning. The only thing holding him back were pitch counts. Mark had trouble going much past the seventh because his workload was often too burdensome in the early innings.
The Cubs, meanwhile, were searching for consistency. Despite solid efforts from the starting staff, they hovered around .500. Patterson was swinging the bat well, but Sosa fell into a funk andthen was suspended after using a corked bat against the Tampa Bay Devil Rays. The rest of the batting order was scuffling too, including Alou and rookie Hee Seop Choi.
Mark received a scare of his own in July when he collided with Marcus Giles of the Altanta Braves while running the bases. Both players went down in a heap. Mark didn't take the mound again for nearly a month.
By the time he retunred, GM Andy Hendry had moved into action and helped turn the season for the Cubs. In deals that brought Kenny Lofton, Aramis Ramirez and Randal Simon to the club, he revitalized the Chicago offense. Then Sosa got hot. With neither the Cardinals nor the Astros distancing themselves from the pack, the Cubs were in perfect position to take control of the NL Central.
Sensing the excitement at Wrigley, Mark spearheaded the charge. In August and September, he was baseball's best pitcher, winning 10 of 11 decisions and throwing at least eight innings in five starts. The surging Cubs followed his lead and captured the division crown.
Their first opponent in the playoffs was Atlanta, the NL's top team during the regular campaign. The combination of Mark and Wood proved too much. The duo won three times to claim the series in five games. In his only start, Mark fired a complete-game two-hitter. The only downside was that he piled up 133 pitches in the 3-1 victory.
Next up for the Cubs were the spunky Florida Marlins. Again the formula for success was simple. Give the ball to Mark and Wood, and let them do their thing. After dropping the opener at home, Chicago responded with a 12-3 rout behind Mark in Game 2. Afterwards, some criticized Baker for not pulling his starter earlier. Mark pitched into the eighth, even though the outcome seemed well in hand.
When the Cubs took the first two games in Florida, many assumed the NLCS was over. But a shutout by Josh Beckett in Game 5 reenergized the Marlins. Heading back to Chicago, the fish felt amazingly confident.
Florida's brashness appeared unfounded in Game 6, as Mark sent them down inning after inning. Enjoying a 3-0 lead in the eighth, Cubs fans began to celebrate their first trip to the World Series since 1945. Then the Curse of the Billygoat kicked in. When a fan in the seats down the left field line knocked away a foul pop-up that a leaping Alou was ready to glove, the flood gates opened.
Gonzalez booted a double play ball, Mark lost his focus, and the bullpen came in and threw gas on the fire. Eight runs later the Cubs and their fans sat in stunned silence. The 8-3 defeat set the tone for Game 7. The Marlins battered Wood to cap an incredible series comeback.
For Mark, the end to the campaign was the biggest disappointment of his young career. To his credit, he didn't blame anyone—including the now infamous Steve Bartman—for his shocking loss in Game 6.
Despite Chicago's collapse, everything was now in place for Mark to become a major star. At 18-6 with a 2.43 ERA, he not only put together a season worthy of the Cy Young award, he established himself as an elite pitcher.
After the playoffs, the Bartman ball was electrocuted to lift the curse on the Cubs. Heading into 2004, they were the team to beat in the NL. Anything short of a trip to the World Series would be a let down, especially after the acquisition of Greg Maddux. The veteran starter gave Chicago a stellar pitching staff, filling out a rotation with Mark, Wood, Zambrano and Clement. The Cubs also strengthened themselves with trades for Florida first baseman Derek Lee and catcher Michael Barrett.
Unfortunately, problems started early for the Cubs. The most notable were injuries that felled Mark. A painful Achilles tendon led to a sore elbow, and he didn't take the mound until June 4. In Mark's first game back, he threw six sparkling innings, surrendering no runs and striking out eight. In a microcosm of Chicago's season, the club lost 2-0 to the Pirates.
Mark made eight more starts, but was again forced to sit out because of his elbow. The Cubs struggled without him. With Wood and Sosa also injured, tChicago fell far behind the Cardinals in the standings. If it hadn't been for Ramirez and Lee at the plate and Zambrano and Maddux on the hill, the team would have dropped completely from the playoff hunt.
Come September, the Cubs were still in the thick of the Wild Card race, and the schedule seemed to favor them. The team, however, invented one way after another to lose games. New closer LaTroy Hawkins blew several saves, Sosa couldn't hit with runners in scoring position, and Chicago lost key games to teams like the New York Mets and Cincinnati Reds, who were playing for pride only. Even the addition of Nomar Graciaparra at the trade deadline had minimal impact.
Mark came back in August. Initially, he didn't have his usual pinpoint control. Through most of September ,he labored on the mound, unable to finish off hitters when he got ahead in the count. It wasn't until the end of the month that Mark finally regained his form. After beating the Marlins, however, he was victimized by awful run support and poor relief pitching. In his last outing of the year, Mark fanned 16 in nine innings against the Reds, but left the contest tied at 1-1. Cincy later rallied for the victory. The following weekend, the Braves won two of three games at Wrigley, sending the Cubs home for the winter.
IIn all, Mark started 21 games, throwing 118 innings and posting a record of 6-4 with a 4.02 ERA. While he performed well in crunch time, the Cubs came up short again, which didn't sit well with Mark. After the season, he called out Sosa for his lack of accountability. It seemed as if he was ready to seize control of the Chicago clubhouse. All he needed was a bounce-back season to establish himself as the team's leader.
Although Mark began the 2005 campaign on the DL, he returned to the mound and piched effectively in May. His season derailed in a game against the Rockies at the end of the month. Brad Hawpe—whose home run off Mark in 2000 bounced USC out of the College World Series—smacked a liner off his pitching elbow that caused a compound fracture.
Mark actually healed in time to log 27 starts, but he was never quite 100 percent. Even so, he finished the year at 11–7 with 188 strikeouts in 167 innings. The Cubs could have used more pitching like Mark's. They managed a mere 79 wins and were 21 games out of first place when the season's final out was made.
Mark was no help to the Cubs in 2006. He strained his shoulder in spring training and was slow to recover. Mark got shelled in his first start back in June. He simply could not regain the old zip on his fastball. In July, he strained an oblique muscle in batting practice and went back on the DL. In August, the Cubs shut him down for good when his arm woes returned.
The Cubs felt that Mark's problems were due to what they called a "loose shoulder." They asked him to work harder on his conditioning, which he did, but not in time to win a spot in Chicago's 2007 rotation.
The Cubs optioned Mark to Triple A, which enraged him. He told reporters sarcastically that his goal for the year was to pitch in the Futures Game. When Mark experienced pain after his first minor-league start, he went to sports surgeon James Andrews, who diagnosed structural damage in his right shoulder. The Cubs' doctors had apparently missed this problem, and it had gone untreated for a couple of years. Mark went under the knife and missed the rest of the season.
The Cubs decided it was best to part ways with Mark after the season. His agent heard from a number of suitors, including the Yankees, Mets and Astros. He wound up signing with the Padres, who decided to bring more veterans to the roster in 2008.
Now pitching a few minutes from his home in San Diego, Mark embarks on the next phase of his career. Still in his 20s and with a grasp on his physical problems, he may yet turn in the 20-win seasons once expected of him.
MARK THE PLAYER
At 6-5 and more than 220 pounds, Mark has the perfect build for a power pitcher. He generates most of his strength from below his waist. Mark's thighs are as solid as tree trunks and his calves as big as canned hams.
Often overlooked is Mark's intelligence on the mound. He benefited tremendously from the lessons of Tom House, who taught him to think his way through each start and every inning .
Mark throws hard. Before his injury problems, his fastball consistently clocked between 93 and 96 mph. He also throws a sharp, 1:00-to-7:00 curveball, and his change-up continues to improve as he gains a better feel for it. That combination of pitches makes him hard for hitters to handle. How much of his former prowess he can recapture with the Padres and pitching-savvy manager Bud Black will be interesting to see.
Read more
Latest headlines