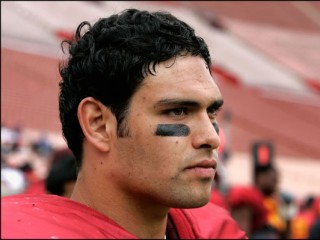 Mark Sanchez biography
Date of birth : 1985-11-11
Date of death : -
Birthplace : Long Beach, California, United States
Nationality : American
Category : Sports
Last modified : 2010-08-23
Credited as : Football player NFL, quarterback for the New York Jets , plays in Super Bowl
GROWING UP
Mark Cornelius Sanchez
was born on November 11, 1985, in Long Beach, California. His parents, Olga and Nick, passed along a lively heritage. Mark is a third-generation Mexican-American. A great-grandfather on his mother's side moved to Arizona in the 1920s and got into the real estate business. Mark's father's father emigrated to California as a young man and later settled in the area that was cleared to make room for Dodger Stadium.
Mark spent his early years in the towns of Whittier and Pico Rivera—both a few miles south of Los Angeles. Problems plagued Nick and Olga's marriage, and they divorced in 1989. Mark and his two older brothers, Nick Jr. and Brandon, stayed with their father, although Olga remained involved in their lives. Two years later, Nick and the boys moved to Rancho Santa Margarita, a mostly white inland community of about 50,000 in Orange County. He soon remarried.
Mark came from a football family. Nick, a firefighter, had been a star quarterback in high school and college. He went on to become a trainer for the powerhouse Santa Margarita High School football team. Mark served as a ballboy for a squad that produced blue-chip prospects Carson Palmer and Chris Rix. Palmer was one of his heroes.
Mark's brothers were also football stars. Both played in college. All three Sanchez boys were raised to be leaders. They were polite, forthright and focused.
When Mark stepped on the football field, he was always the biggest kid. Although his father tried to groom him as a drop-back quarterback, his youth-league coaches usually installed him at fullback and linebacker. When Mark was a seventh grader, his dad convinced Bob Johnson—who ran an elite quarterback training school—to evaluate him. Johnson normally didn't take 13-year-olds, but he suspected he might have a prodigy on his hands. By the end of camp, he was convinced Mark had the makings of an NFL passer.
Mark and his dad worked endlessly on the passing drills he learned at Johnson's camp. He enrolled at Santa Margarita as a ninth grader and played one JV season and one varsity season before transferring to Mission Viejo High School, where Johnson was the head coach. The reuniting of mentor and pupil did not pay immediate dividends, as Mark labored with his accuracy in preseason practice. Soon it all came together, and he had a lights-out junior season in 2003, throwing for 2,600 yards and 29 touchdowns.
Mark's mechanics were nearly flawless for a player his age, and although he may have had less raw talent than other prep quarterbacks, his decision-making, poise, and leadership were already highly developed. That summer, the recruiters came calling, including Notre Dame, Ohio State, Texas and Nebraska. The school Mark was dying to attend was also in the mix, USC.
How could he turn down the Trojans? Besides being an NFL football factory, USC would give mark the chance to work with Norman Chow, who had tutored the likes of Ty Detmer, Philip Rivers, Matt Leinart, and Palmer. Head coach Pete Carroll ran a pro-style offense similar to the one that Mark had learned as a boy. All the stars were aligned as he began his senior year at Mission Viejo.
Matt finished up his two-year career with the Diablos in style. He led the team to the state championship game in 2004 and produced a 49–21 victory. For the season, Mark passed for 2,441 yards and 24 touchdowns—and his numbers could have been even more impressive. Coach Johnson sat him for the second half of eight games because Mission Viejo was so far ahead after 30 minutes.
ON THE RISE
Two days after winning the state title, Mark got a call from Leinart, who had just won the Heisman Trophy as the U'SCs quarterback. He asked Mark about the championship game. Mark was bowled over. Leinart, a fellow Orange County football product, had become a role model for Mark—both on the field and off. Many thought Mark had more than a little Leinart in him.
Heading into the 2005 season, Mark was ranked on most scouting lists as the #2 prospect among the nation's freshmen. Even so, he knew that he would redshirt and run USC's scout team, learning the ropes against one of the best defenses in college football. With Leinart returning for his senior season, there was little sense in Mark suiting up to be the third- or fourth-string quarterback with John David Booty and Rocky Hinds above him on the depth charts. The Trojans went 12–1, but their season ended in disapointment after a loss to Vince Young's and the Texas Longhorns in the Rose Bowl.
With Leinert graduated and Booty recovering from surgery, Carroll gave Mark a chance to run the first-team offense in the spring of 2006. He seemed to be on the fast-track—until he was arrested for sexual assault in April. The charges were later dropped by the student, but Mark was disciplined by the team for drinking and using a fake ID on the night in question. That fall, as Mark dealt with the ramifcations of his poor judgment, he saw action in three games as a backup. The Trojans went 11–2 with Booty at the helm.
Any chance of supplanting Booty as the starter in 2007 seemed to evaporate after Mark broke the thumb of his throwing hand in fall practice. But just as soon as he mended, Booty broke a finger, and Carroll inserted Mark into the lineup. He was nervous in the first half against Arizona and threw a couple of bad interceptions. In the second half, he relaxed and played with poise, leading USC to a 20–13 victory with 130 passing yards and a touchdown.
A week later, Mark was the starter again, this time against Notre Dame. He was superb from start to finish, completing 21 passes for 235 yards and four touchdowns in a rousing victory. Mark was named player of the game for his effort. His good run ended in a 24–17 loss to Oregon. Mark threw a pair of disastrous interceptions in the second half, wich costs the Trajoans dearly. Afterwards, he took responsibility. Then he took a seat, as Booty reassumed the starting role. USC finished the year at 11–2 again with Mark engineering two of those victories. In all, he passed for 695 yards and seven touchdowns.
In 2008, with Booty graduated, Mark began spring practice as the team's top quarterback. He faced stiff competition from Aaron Corp, a redshirt freshman with a similar pedigree to Mark's. Transfer Mitch Mustain, a former Arkansas Razorback, ws also in the mix.
Mark solidified his hold on the starting job heading into fall practice, but there were some nervous moments when he dislocated a kneecap. The injury proved less severe than it looked, and he was in game shape for the opener against Virginia. Mark threw for 338 yards against the Cavaliers and was named the nation's Quarterback of the Week. Like all high-rpofile USC stars, he instantly appeared on the Heisman Trophy radar.
Mark ran a balanced Trojan attack that had national championship ambitions. An early season loss to Oregon State derailed this dream, but other than this head-scratching defeat, USC was perfect, going 11–1 and earning a berth in the Rose Bowl. Mark's best moment during the regular season came against archrival UCLA. He defeated the Bruins with incredible composure and determination, despite being mugged by their defense again and again.
Meanwhile, Mark was becoming a Latino celebrity of near-Fernandomania proportions. As the most recognizable Mexican-American athlete in a city with more than three million Mexican Americans, he was the topic of great pride and debate as he became a figure of national prominence. Things got a little out of hand when fans began showing up at USC games wearing "Lucha Libre" wrestling masks. For his part, Mark embraced this new celebrity. He was not fluent in Spanish but began taking classes so he could do interviews with Latino news outlets.
In what would be his final college game, Mark won a shootout against Penn State, 38–24. After a subdued first quarter, the Trojans lit up the Nittany Lions, scoring 24 points to take a commanding lead. Penn State tacked on 17 meaningless points in the fourth quarter. Mark threw for 413 yards and four touchdowns, completing 28 of 35 attempts for a Rose Bowl record 80% passing mark. He also ran for a fifth score.
Only two other quarterbacks had surpassed 400 yards in the Rose Bowl, Ron Vander Kelen in 1963 and Danny O'Neill in 1995. On the strength of their blowout of Penn State, the Trojans finished #2 in the Coaches Poll and #3 in the AP Poll.
MAKING HIS MARK
Mark's junior numbers were sensational. He rolled up 3,207 passing yards and 34 touchdowns against only 10 interceptions. Mark now had the resume and pedigree to go pro, but he loved USC and couldn't decide what to do next. The nation's other top quarterbacks made it easy for him. When Tim Tebow, Colt McCoy and Heisman winner Sam Bradford all announced they would stay in school, Mark—who was on track to earn his degree that semester—declared himself eligible for the NFL Draft. Carroll, who had become quite close to Mark, disagreed with his choice and told the press how he felt.
Mark was one of three good-looking college passers entering the draft. The top guy in almost every scout's book was Matthew Stafford of Georgia. He was taken by the winless Detroit Lions with the #1 pick. Josh Freeman, rated higher than Mark early on, slipped down the charts as draft day neared and was picked up by the Tampa Bay Buccaneers.
The Jets
, having been burned by Brett Favre in 2008, needed a quarterback that they could build around. New York believed Mark was their man, even if the fans weren't in total agreement. The team traded three players, plus the #17 pick and a second-round selection to the Browns to move up to #5, where they took Mark off the board. Some joked the Cleveland coach Eric Magini, formely New York's head honcho, had finally helped the Jets solve their quarterback problem.
New Jets coach Rex Ryan, a defensive coordinator with the Baltimore Ravens in 2008, had watched his team come within a eyelash of reaching the Super Bowl with rookie quarterback Joe Flacco at the helm. Ryan was hired to whip New York's defense into shape, but he had no qualms about handing the reins of the offense over to Mark. The rookie, however, would have to out-play Kellen Clemens, Favre's backup during the disappointing '08 campaign.
Mark signed a five-year pact with the Jets for $50 million, with a little more than half guaranteed. Throughout training camp, he demonstrated the necessary skills and the maturity to lead the Jets. In late August, Ryan named him the team's starter.
In the season opener, on the road against the Houston Texans, Mark looked sharp in a 24–7 victory. He finished with 272 yards, one touchdown and one interception, and converted more than half of the team's third-down plays. Just as important, the New York defense, a joke for much of the previous season, was airtight against a talented Texan offense.
The confidence gained on both sides of the ball in Week 2, when the Jets faced the New England Patriots in the Meadowlands. With Bill Belichick coming to town, the intensity ratcheted up several notches. Ryan, meanwhile, had upped the ante by trash-talking about the Pats and their coach from the day he was hired. Jets fans arrived in East Rutherford hoping for the best but expecting the worst—basically a typically game against New Engalnd.
What fans saw in the first half was a jittery rookie playing the shadow of Tom Brady. The Jets managed a mere three points, but theywere also getting to Brady, keeping him from mounting sustained scoring drives. At halftime, all New England had to show for its effort was nine points.
Mark came out gunning nn the second half. He looked like a different player. Mark put the Jets in front early in third quarter with a three-play, 56-yard drive the ended with a nine-yard strike to Dustin Keller. The Jets added a pair of field goals and made key stops the rest of the way, winning 16–9. Mark finished 14 for 22 for 163 yards and a touchdown.
After the game, the fans and press were ready to anoint Mark the next Joe Namath. But he knew better than to fall into that trap. It was a special moment, he said, but he knew the feeling would only last for a couple of hours before everyone had to start thinking about the team's next battle. It came against the Tennessee Titans and, once again, Mark did what the team needed to stay in the game. The Jets turned a 17–14 second-half deficit into a 24–17 won on a short TD pass from Mark to Cotchery and a Jay Feely field goal. The defense held the Titans scoreless in the fourth quarter. It marked the first time since the NFL-AFL merger that a rookie quarterback had opened a season 3–0.
The New York defense was good again in Week 4 against the Saints, but Mark was not. New Orleans won 24–10, and two of the Saints' touchdowns were hand-delivered by Mark. The first was a 99-yard TD return of an interception by Darren Sharper. The second came on a fumble by Mark in his end zone after a sack. Two more close losses followed until Mark righted the ship with a 38–0 blowout of the Oakland Raiders.
Three more losses, with Mark was playing inconsistently in each one. The Jets were basically running on the first two downs of eery series and then looking to Mark to complete passes on third down. Most plays were play-action, directed away from the middle of the field. With six losses in seven games, some questioned whether the Jets should have signed a veteran backup as opposed to Kellen Clemens.
Clemens did see action in December, after Mark hurt his knee. He played in a win over the Tampa Bay Buccaneers and a loss to the Atlanta Falcons that dropped New York's record to 7–7. Coach Ryan reinserted Mark for the season's final two games, against the undefeated Indianapolis Colts and playoff-bound Cincinnati Bengals. Neither opponent put its best team on the field, and the Jets were able to pull out a pair of victories to finish the year 9–7. Mark gained confidence in each win, and because the Jets got some help in the standings, he would be able to show what he'd learned in the playoffs, as the Jets snared a Wild Card berth.
Mark has the skill, confidence and charisma to own New York if he continues to develop. He may not be the next Broadway Joe, but it also may not be long before Jets fans will start guaranteeing themselves a Super Bowl victory.
MARK THE PLAYER
Mark was groomed from childhood to be a drop-back passer, and he all but mastered that position while in college. In USC's pro-style offense, he developed amazing poise and confidence—perhaps more than any Trojan quarterback in recent memory.
Mark's footwork, vision, and football intelligence are rare for a newly minted NFL starter. His leadership skills have yet to be tested, but even in defeat he has shown he knows what to say and do to keep his teammates focused and positive.
Thus far the Jets have been delighted to see that Mark is able to move and throw without panicking. He has also show the ability to avoid the traps set by opposing defenses when he is flushed out of the pocket. Rex Ryan brought in Joe Girardi to teach his young passer proper sliding technique. The Jets hope he will be less injury prone when he scrambles in the future.
Although Mark drew comparisons to Tom Brady coming out of college, the difference between the two is clear. While Brady's effectiveness is often diminished by throwing on the run, Mark's is enhanced. Defensive coordinators will surely look at hours of tape on him to find the best ways to combat him.
EXTRA
* Mark's first pass as a varsity quarterback for Margarita High School was a 55-yard TD strike.
* The Mission Viejo Diablos lost only one of 28 games when Mark was the starter.
* As a high school senior in 2004, Mark was named Parade's and Super Prep's All-American Player of the Year.
* Mark was so good as the quarterback on USC's 2005 scout team that he won the Service Team Offensive Player of the Year Award.
* In 2007, Mark wore a mouth guard in the national colors of Mexico.
* Mark's 34 TD passes in 2008 were second in USC history to Matt Leinart's 38 in 2003.
* Mark was named First Team All-PAC 10 in 2008.
* Mark was the Jets' first first-round quarterback selection since Chad Pennington in 2000.
* Mark threw his first NFL touchdown pass to Chansi Stuckey in New York's 2009 opener against the Houston Texans. Hewas later named Rookie of the Week.
* In 2009, Mark became just the second rookie quarterback to beat a Bill Belichick team. The first was Ben Roethlisberger in 2004.
* Mark is not the first NFL quarterback with Mexican roots. Among the most famous are Jim Plunkett, Joe Kapp, Tony Romo, Jeff Garcia, J.P. Losman and Marc Bulger.
* Although his father tried to prepare him for the attention, Mark was caught off guard when he became a Latino celebrity at USC. He had been attending school and playing sports with other Hispanics his entire life. He resisted the role at first but later embraced it.
* Mark was a Communications major at USC. He completed his degree in the spring of 2009.
* Mark is an excellent cook. In college, he worked summers in the kitchen at Phil Trani's in Long Beach.
* Mark's high school coach, Bob Johnson, is the father of former NFL star Rob Johnson.
Read more
Latest headlines