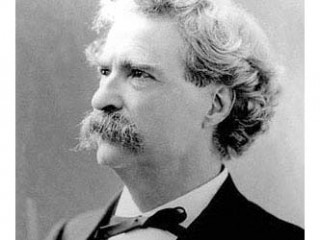 Mark Twain biography
Date of birth : 1835-11-30
Date of death : 1910-04-21
Birthplace : Florida, Missouri, USA
Nationality : American
Category : Arts and Entertainment
Last modified : 2010-05-24
Credited as : Novelist/Author and humorist, Adventures of Huckleberry Finn , Adventures of Tom Sawyer
Samuel Langhorne Clemens
(November 30, 1835 – April 21, 1910), well known by his pen name
Mark Twain
, was an American author and humorist. Twain is noted for his novels
Adventures of Huckleberry Finn (1884)
, which has been called
"the Great American Novel"
, and
The Adventures of Tom Sawyer (1876)
. He is extensively quoted. Twain was a friend to presidents, artists, industrialists, and European royalty.
Twain was very popular, and his keen wit and incisive satire earned praise from critics and peers. Upon his death he was lauded as the "greatest American humorist of his age", and William Faulkner called Twain "the father of American literature".
Although the origin of the pen name of Mark Twain has always been under debate, what is important is how Samuel Clemens lived, breathed, and wrote literature of consequence and satire, while using keen observations, wit, and humor that would forever impact literature worldwide.
Born in Florida, Missouri, Twain had an ideal childhood of exploration and adventure once he moved to Hannibal. Much like his tales of Huckleberry Finn and the Adventures of Tom Sawyer, he spent long days beside the always busy, always interesting banks of the Mississippi River. However, upon the death of his father, who was a lawyer, young Samuel Clemens had to quit school and work as a typesetter in order for his family make ends-meet.
The issue of slavery, ethics, and morals are apparent in his works of literature and nonfiction. This is most likely attributed to the fact that Missouri had become a slave state, and being along the Mississippi would have given Twain exposure to the hard labor the slaves contributed to the growth of lower, Mid-West America.
Mark Twain then became a pilot just before the start of the American Civil War. He earned a decent living, but once the war broke out, he first gathered friends and formed a small confederate militia group, which only lasted two weeks. Following, he decided to move out west with his brother who had been appointed as governor of the new territory of Nevada. His trip west with his brother inspired much of Twain's later work entitled, Roughing It.
Twain was also an inventor and patented a few of his useful inventions. However, he did lose a lot of money on some bad investments, especially the sum of around $200,000 to a new type of printing press that didn't work well at all. Later, he joined the American Anti-Imperialist league and spoke out over the United States seeking out other territories, namely in the Philippines. Twain's works are still read today in classrooms across the globe. Even though attempts to ban his literature have sometimes been agreed on, his works have been found to not only live beyond a certain time period, but are also able to remind readers where they come from and where they are going.
Much of Twain's work is autobiographical in nature as it answers some questions on how the artist felt about certain societal issues. Although he didn't publish a lot of nonfiction at the time, except for some magazine work that helped him to have a cash flow, he continued writing fiction that seized the attention of America. With his great skill at capturing the colloquial speech of the day, along with his clever and sharp wit, Twain was one of the most famous Americans to emerge after the Civil War and is still seen by many as the first true pioneer in American Literature.
Legacy
Twain's legacy lives on today as his namesakes continue to multiply. Several schools are named after him, including Mark Twain Elementary School in Houston, Texas, which has a statue of Twain sitting on a bench, and Mark Twain Intermediate School in New York. There are several schools named Mark Twain Middle School in different states, as well as Samuel Clemens High School in Schertz, near San Antonio, Texas. There are also other structures, such as the Mark Twain Memorial Bridge.
Mark Twain Village is a United States Army installation located in the Südstadt district of Heidelberg, Germany. It is one of two American bases in the United States Army Garrison Heidelberg that house American soldiers and their families (the other being Patrick Henry Village).
Awards in his name proliferate. In 1998, The John F. Kennedy Center for the Performing Arts created the Mark Twain Prize for American Humor, awarded annually. The Mark Twain Award is an award given annually to a book for children in grades four through eight by the Missouri Association of School Librarians. Stetson University in DeLand, Florida sponsors the Mark Twain Young Authors' Workshop each summer in collaboration with the Mark Twain Boyhood Home & Museum in Hannibal. The program is open to young authors in grades five through eight. The museum sponsors the Mark Twain Creative Teaching Award.
Buildings associated with Twain, including some of his many homes, have been preserved as museums. His birthplace is preserved in Florida, Missouri. The Mark Twain Boyhood Home & Museum in Hannibal, Missouri preserves the setting for some of the author's best known work. The home of childhood friend Laura Hawkins, said to be the inspiration for his fictional character Becky Thatcher, is preserved as the "Thatcher House".In May 2007, a painstaking reconstruction of the home of Tom Blankenship, the inspiration for Huckleberry Finn, was opened to the public. The family home he had built in Hartford, Connecticut, where he and his wife raised their three daughters, is preserved and open to visitors as the Mark Twain House.
Actor Hal Holbrook created a one-man show called Mark Twain Tonight, which he has performed regularly for 50 years. The broadcast by CBS in 1967 won him an Emmy Award. Of the three runs on Broadway (1966, 1977, and 2005), the first won him a Tony Award.
Additionally, like countless influential individuals, Twain was honored by having an asteroid, 2362 Mark Twain, named after him.
Often, Twain is depicted in pop culture as wearing a white suit. While there is evidence that suggests that, after Livy's death in 1904, Twain began wearing white suits on the lecture circuit, modern representations suggesting that he wore them throughout his life are unfounded. There is no evidence of him wearing a white suit before 1904; however, it did eventually become his trademark, as illustrated in anecdotes about this eccentricity (such as the time he wore a white summer suit to a Congressional hearing during the winter). McMasters' "Mark Twain Encyclopedia" states that Twain did not wear a white suit in his last three years, except at one banquet speech.
Timeline
* (1867) The Celebrated Jumping Frog of Calaveras County (fiction)
* (1868) General Washington's Negro Body-Servant (fiction)
* (1868) My Late Senatorial Secretaryship (fiction)
* (1869) The Innocents Abroad (non-fiction travel)
* (1870–71) Memoranda (monthly column for The Galaxy magazine)
* (1871) Mark Twain's (Burlesque) Autobiography and First Romance (fiction)
* (1873) The Gilded Age: A Tale of Today (fiction, made into a play)
* (1875) Sketches New and Old (fictional stories)
* (1876) Old Times on the Mississippi (non-fiction)
* (1876) The Adventures of Tom Sawyer (fiction)
* (1876) A Murder, a Mystery, and a Marriage (fiction); (1945, private edition), (2001, Atlantic Monthly).
* (1877) A True Story and the Recent Carnival of Crime (stories)
* (1877) The Invalid's Story (Fiction)
* (1878) Punch, Brothers, Punch! and other Sketches (fiction)
* (1880) A Tramp Abroad (travel)
* (1880) 1601: Conversation, as it was by the Social Fireside, in the Time of the Tudors (fiction)
* (1882) The Prince and the Pauper (fiction)
* (1883) Life on the Mississippi (non-fiction (mainly))
* (1884) Adventures of Huckleberry Finn (fiction)
* (1889) A Connecticut Yankee in King Arthur's Court (fiction)
* (1892) The American Claimant (fiction)
* (1892) Merry Tales (fiction)
* (1892) Those Extraordinary Twins (fiction)
* (1893) The £1,000,000 Bank Note and Other New Stories (fictional stories)
* (1894) Tom Sawyer Abroad (fiction)
* (1894) The Tragedy of Pudd'nhead Wilson (fiction)
* (1896) Tom Sawyer, Detective (fiction)
* (1897) How to Tell a Story and other Essays (non-fictional essays)
* (1897) Following the Equator (non-fiction travel)
* (1898) Concerning the Jews (non-fiction)
* (1898) Is He Dead? (play)
* (1900) The Man That Corrupted Hadleyburg (fiction)
* (1900) A Salutation Speech From the Nineteenth Century to the Twentieth (essay)
* (1901) The Battle Hymn of the Republic, Updated (satire)
* (1901) Edmund Burke on Croker and Tammany (political satire)
* (1901) To the Person Sitting in Darkness (essay)
* (1901) To My Missionary Critics (essay) The North Atlantic Review 172 (April 1901)
* (1902) A Double Barrelled Detective Story (fiction)
* (1904) A Dog's Tale (fiction)
* (1904) Extracts from Adam's Diary (fiction)
* (1905) King Leopold's Soliloquy (political satire)
* (1905) The War Prayer (fiction)
* (1906) The $30,000 Bequest and Other Stories (fiction)
* (1906) What Is Man? (essay)
* (1906) Eve's Diary (fiction)
* (1907) Christian Science (non-fiction)
* (1907) A Horse's Tale (fiction)
* (1909) Is Shakespeare Dead? (non-fiction)
* (1909) Captain Stormfield's Visit to Heaven (fiction)
* (1909) Letters from the Earth (fiction, published posthumously)
* (1910) Queen Victoria's Jubilee (non-fiction)
* (1912) My Platonic Sweetheart (dream journal, possibly non-fiction)
* (1916) The Mysterious Stranger (fiction, possibly not by Twain, published posthumously)
* (1922) The Writings of Mark Twain, 37 vols., Albert Bigelow Paine editor, Gabriel Wells, New York, 1922–1925, out-of-print definitive edition first edition.
* (1923) The United States of Lyncherdom (essay, published posthumously)
* (1924) Mark Twain's Autobiography (non-fiction, published posthumously)
* (1935) Mark Twain's Notebook (published posthumously)
* (1946) The Portable Mark Twain, Bernard DeVoto editor, Penguin Classics (2004),
* (1962) Letters from the Earth (posthumous, edited by Bernard DeVoto)
* (1969) No. 44, The Mysterious Stranger (fiction, published posthumously)
* (1992) Mark Twain's Weapons of Satire: Anti-Imperialist Writings on the Philippine-American War. Jim Zwick, ed. (Syracuse University Press) ISBN 0-8156-0268-5 (previously uncollected, published posthumously)
* (1995) The Bible According to Mark Twain: Writings on Heaven, Eden, and the Flood (published posthumously)
* (2009) Who is Mark Twain? (HarperStudio) (previously unpublished, published posthumously)
Read more
Latest headlines