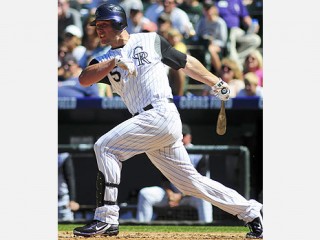 Matt Holliday biography
Date of birth : 1980-01-15
Date of death : -
Birthplace : Stillwater, Oklahoma
Nationality : American
Category : Sports
Last modified : 2010-10-29
Credited as : Baseball player MLB, outfield with the Colorado Rockies,
GROWING UP
Matthew Thomas Holliday was born January 15, 1980 in Stillwater, Oklahoma. His father, Tom, was an assistant baseball coach at Oklahoma State University. Baseball ran in the family's blood. Matt's grandfather, Donald, signed with the New York Yankees, but his career ended before it began when he was wounded during World War II.
Donald raised his family outside Pittsburgh. His sons, including Tom, were insane Pirates fans, When Bill Mazeroski's home run won the 1960 World Series for the Bucs, the Holliday boys were delerious with joy.
Tom was an excellent all-around athlete who inherited his dad's baseball talent. He actually made it to spring training with the Pirates, but never played in the majors. After getting released in 1976, Tom turned to coaching and eventually landed at OSU. As an assistant for 19 years and head coach for seven, Tom took the Cowboys to 10 College World Series. Among his better known recruits was Jeromy Burnitz.
Matt's older brother, Josh, was a good ballplayer, too. Matt, the quieter of the two boys, soaked up a lot of knowledge from his Josh and also by hanging around the OSU clubhouse.
Matt was the classic coach's kid. Big, fast and strong, he had an exceptional head for the games he played. As he acquired skill and experience, his aim was always to move forward, always to find some small way to improve. As a teenager, he devoted himself to weight training and nutrition. In high school, Matt often got up at 6:30 the morning for stretching and running, working with a strength and flexibility coach before school began.
It was at Stillwater High School that Matt began to realize his potential as an athlete. He played the infield for the baseball team and quarterback for the football team. He also played two years of basketball, ostensibly for flexibility, but he made the varisty in both his freshman and sophomore seasons. By Matt's junior year, it appeared that foottball was his best sport. By his senior year, at 6-4 and was a rock-hard 215 pounds, he already had the look of an NFL quarterback.
Tom had played football against veteran NFL coach Dave Wannstedt and prevailed upon his old friend to look at tapes of Matt. When asked to render a professional opinion, Wannstedt told Tom that his son was the real deal—Matt looked like a combination of Dan Marino and John Elway. Kansas City Chiefs executive Carl Peterson saw the same tapes and wrote Tom a letter urging him to keep Matt focused on football, saying he had the "carriage on an NFL quarterback."
After his senior football season, Matt was feted at several events in his home state and crossed paths with Troy Aikman, whose high-school records he had broken during his career at Stillwater. Aikman was very encouraging about Matt's football prospects. He told reporters that the teenager reminded him of Elway and Marino, confirming Wannstedt's analysis.
Considered one of the top three high-school quarterbacks in the country, Matt was basically in a position to write his own ticket. But he would only be happy at school that allowed him to play baseball, too. Oklahoma State wanted him for both sports. With his dad was now head coach of the baseball team, it was too good a deal to turn down. Matt committed to OSU, with the understanding that he could be a two-sport star.
Of course, there was still the baseball draft to consider. It went seven rounds before Matt's name was called, by the Rockies. Upset at first, he had envisioned himself as a first- or second-round pick. Then Matt began to look at his situation in a different light. In fact, it was no coincidence that Colorado chose him. His uncle Dave, who had been working as a scout for the team for a couple of years, was in the war room on draft day.
The Rockies took Matt knowing that he was leaning towards a two-sport career as a Cowboy, but an $840,000 bonus check—a record for a seventh-rounder—lured him away. Matt told his dad he wanted to play baseball, and he wanted to start right away. The deal he inked also stated that the Rockies had to offer him a Major League contract by August of 2001. That was the key. (As Matt's dad likes to joke, "the minute that happened I lost my four-hole hitter.")
ON THE RISE
Matt began his pro career as a third baseman in the Arizona Rookie League and led his team to the championship with a blistering .342 average. The Rockies were cautiously optimistic about their hot prospect. The team was well aware of its abysmal record developing position players. On top of that, Matt's feet hurt all the time. As it turned out, he was suffering from a real medical problem and would ultimately require two surgical procedures to relieve the pain.
All told, however, 1998 was a banner year for Matt. The top highlight came off the field. Set up on a blind date, Matt met his future wife, an OSU co-ed named Leslee.
Matt moved up to Class-A Asheville in 1999. He had a decent year at the plate with the Tourists, clouting 16 home runs and 28 doubles. Though his batting average sagged to .264, the Rockies liked what they saw from Matt.
That same year, his brother Josh also earned a shot at the big leagues, after being drafted in the ninth round by the Toronto Blue Jays. He eventually left the organization and became a strength training coach at Georgia Tech.
The 2000 season was a bumpy one for Matt. He hit only seven homers for Class-A Salem of the Carolina League and committed 32 errors at third base. Matt often overthought in situations, which kept his natural talent from coming through. The most positive thing about the campaign was the experience of playing alongside several talented teammates, including Chone Figgins, Josh Bard, Juan uribe, Choo Freeman, Aaron Cook, and Jason Jennings. All were headed for the majors.
Matt was back at Class-A Salem for the 2001 campaign, but was moved to the outfield from third base. The team was stacked at hot corner, with Jeff Cirillo signed to a big contract and Garrett Atkins tracking quickly toward the big leagues. Matt worked hard with his manager, former All-Star Dave Collins, to learn his new position.
Matt settled into left field and was hitting .275 with good power before a torn muscle in his elbow ended his season after 77 games. When the pain started, Matt switched to DH and carried the team for several weeks with his slugging. Tommy John surgery eventually became inevitable. There was some consolation when Matt was named Carolina League Player of the Month.
Come July of the '01 season, the Rockies had to make a decision about Matt's contract at a very difficult time. The team did the right thing, signing him to a six-year deal and ending all speculation that Matt might return to football. The Colorado brass felt that he was on schedule to become an impact player—no doubt knew that Miami and Tennessee had been trying to tempt him back to the gridiron. Matt's injury probably would not have kept him from returning to football that fall.
Matt was fully healed by the beginning of the 2002 campaign, which was spent entirely with Carolina of the Class-AA Southern League. He was named a mid-season All-Star but finished sluggishly, hitting just .235 in a playoff loss to Jacksonville.
Matt returned to Class-AA ball in 2003 with the Rockies' new farm team in Tulsa, with the plan to promote him to Colorado Springs once he found his stroke. He pressed early and his numbers dropped. Matt was getting himself out as often as opposing pitchers were. The expected promotion never came.
In the second half, with input from manager Marv Foley, Matt began making some key adjustments to his approach at the plate, including closing his stance and staying back on the ball more. The most important change, however, was the decision to stop fiddling with his stance on his own and stick with the advice of Foley.
Though Matt hit with more authority down the stretch, a lot of line drives found gloves. His final average of .253 was not where he wanted it to be after six pro seasons—nor the Rockies for that matter. The Colorado brain trust now wasn't sure what to think of Matt. The team had gone to the bank twice to keep him, but his numbers didn't justify the investment. For his part, Matt claimed that stats were unimportant—he was just looking for ways to improve. Still, he could feel the pressure.
Needing a boost, Matt got one during '03 post-season after the Rockies sent him to Arizona to polish his skills. He hit .333 for the Mesa SolarSox and led the AFL in steals. Matt also acquitted himself well in center field. His work caught the eye of Team USA coach Frank Robinson, and he soon found himself a member of the national team—without a tryout.
A few months later in December, Matt and Leslee had their first child, a son named Jackson. The storm clouds were finally lifting.
MAKING HIS MARK
Slated for one more season in the minors, Matt followed his impressive fall with an eye-opening spring in 2004. Injuries to Larry Walker and Preston created a hole that Matt was asked to fill just two weeks into the season. He was called up after six games at Triple-A.
Matt was penciled into the lineup for the first time as a Rockie against the St. Louis Cardinals in Busch Stadium. He was walked by Matt Morris in his first plate appearance, and then went hitless the rest of the way. He also booted his first chance in left field. After taking another oh-fer against Jason Marquis the following day, he broke through with a 3-for-3 against Woody Williams in the series finale. From that day on, Matt never looked back.
Matt hit well his first month in the majors, ranking among the leading rookies in homers and RBIs. He survived a mid-season slump with advice from his new friends and mentors, Todd Greene and Mark Sweeney—both good, professional hitters. Matt finished with a .290 average—his highest ever in a full season as a pro—along with 31 doubles, 14 homers and 57 RBIs.
Again, Matt's season ended prematurely, this it was a sprained his elbow suffered while diving for a ball. He sat out Colorado's final 20 games in September. For Rockies fans, Matt's trip to the DL was no great surprise. The team had been bitten by the injury bug all year long. Colorado's season actually started going South in spring training, when manager Clint Hurdle opted to go with a four-man rotation. The result was a depleted bullpen, which is not the recipe for success in Coors Field. The Rockies had a particularly poor record at home and limped to the finish line with 94 losses—their worst showing since the team's first season in 1993.
Matt entered spring training in 2005 with the inside track on a starting outfield job and a more significant slot in the batting order. He nailed down both. The real fun that March was watching former minor league teammates Atkins, Clint Barmes, J.D. Closser and Brad Hawpe make positive impressions on Hurdle. No one had figured Matt would be the first of this group to earn an everyday job in Colorado. When he did, he became as an inspiration to others in the organization.
Matt got off to a decent start in '05, with 13 RBIs in his first 18 games. More important, he showed he could adjust to different pitching patterns. Whereas Matt had been willing to wait for hittable pitches as a rookie, he now looked for something earlier in the count. Nearly a third of his homers came on the first pitch he saw.
A broken finger sidelined Matt for most of June. In the second half, however, Hurdle inserted him into the cleanup spot, behind Todd Helton. Matt flourished and finished his season with a September to remember, knocking in 33 runs—including eight in one game. He ended the year with 19 homers, 87 RBIs, 14 steals, a .307 average and a .505 slugging percentage.
As for the Rockies, they also heated up late in the year. That was a good thing, because for much of the campaign they had an outside shot at eclipsing the New York Mets' 1962 record for futility. Colorado simply could not win on the road. And the team wasn't much better at home, either. The Rockies had 67 losses with two months to play, but recovered some of their pride by finishing 67–95.
Matt began the 2006 season as Colorado's cleanup hitter—and that is where he stayed. His average hovered in the mid .200s until May, when he had a pair of two-homer games in the span of a week. From there, he went on a tear that found him third in the National League with a .345 average—and leading the majors in total bases—at the All-Star Break. He was selected to play in the Midsummer Classic in his dad's old hometown, Pittsburgh, and went 0-for-3. Matt played right field in the game, something he had never done as a pro.
The Rockies had more to celebrate than Matt's All-Star stint. The team was tied for first place in the lackluster NL West on July 5, and Colorado fans allowed themselves to dream of a winning record and perhaps even a return to the playoffs. Unfortunately, both possibilities evaporated during a dreadful August.
As the calendar turned to September, Matt's final numbers seemed headed for a healthy uptick. Then he put the pedal to the metal and had an even better stretch run that the year before. He homered in eight of the final 14 games at Coors Field and drove in 34 runs on the month to top the majors. He was a machine.
Ironically, Matt's average actually dropped slightly during the month as he looked to yank balls to left, but his power surge more than made up for it. He finished with a .326 average, 34 home runs, 45 doubles, 110 RBIs, 119 runs, and a .585 slugging average.
After years of coming up empty on homegrown position players, the Rockies are starting to look like a team that knows how to pick 'em. Matt was the first of a group that should hold the fort for several seasons, including Atkins, Hawpe, Troy Tulowitzki and Chris Ianetta. Add some live and fearless young arms, a decent closer, and a good bench, and it wouldn't be surprising to see Matt leading the team into the playoffs come October.
MATT THE PLAYER
Matt goes to the plate with an attacking mindset. Earlier in his career, he took a fair number of pitches and often hit with two strikes. He has since realized that the balls he wanted were often coming early in the count. It will be interested to see if pitchers alter their patterns against him.
Matt has home run power. He is most successful when he looks for pitches he can drive and uses the middle of the field. With this approach, it matters little whether he is facing a righty or lefty. Indeed, 30 of his 2006 homers came off righthanded hurlers.
Matt combines strength and bat speed like only a handful of other major leaguers. Balls make a different sound when they come off his bat. This is most obvious in batting practice, where he will sometimes thrill the early arrivals with a homer-hitting flurry.
Mentally, Matt has become very sound. He does not take one bad game into the next—it is rare when he goes hitless two days in a row.
In the field, Matt moves as well as most left fielders in the NL, and he has a strong and accurate arm. On the basepaths, he is aggressive going bag to bag and can steal a base when needed.
Matt is as laid back as they come, but the intense competitor peeks out from time to time. He'll lose his cool and everything stops for a second as his teammates try and process what they have just seen. Then everything is okay again. Matt is a workout junkie—a remnant from his quarterback days. He logs countless hours in the weight room, in the outfield, and in the batting cage.
EXTRA
# Matt's first major league hit was an infield single against the St. Louis Cardinals.
# Matt hit his first major leaguer homer off of Jose Lima of the Dodgers.
# Matt finished fifth in the NL Rookie of the Year voting in 2004.
# Matt's 64 RBIs after the 2005 All-Star break were second only to Chase Utley's 65.
# Matt set a club record with 33 RBIs in September of 2005.
# Matt's first multi-homer game included back-to-back blasts with Jeromy Burnitz. He first met Burnitz when his father coached him in college.
# Matt's 34 RBIs in September of 2006 were the most by an NL player in that month since Gary Carter knocked in 34 for the New York Mets in 1985.
# In a 2006 game against the San Francisco Giants, Matt was plunked by fireballer Matt Cain. In his next at bat he clubbed a 478-foot home run.
# Matt earned a Silver Slugger Award for his 2006 season.
# Matt's father is the pitching coach for the University of Texas. His brother, Josh, is the hitting coach at Georgia Tech.
# Matt's mother was in the stands in St. Louis for his Major League debut.
# Matt and Leslee's son, Jackson, was diagnosed with scoliosis. He has avoided spinal surgery thanks to successful therapy.
Read more
Latest headlines