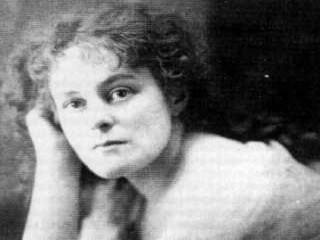 Maud Gonne biography
Date of birth : 1865-12-19
Date of death : 1953-04-27
Birthplace : Tongham, England
Nationality : English
Category : Historian personalities
Last modified : 2011-11-21
Credited as : nationalist leader, Irish Joan of Arc, The Cooks
Nationalist leader, Maud Gonne was called the "Irish Joan of Arc," for her activities on behalf of Ireland's independence movement.
Born in England to English parents, Maud Gonne was the daughter of Edith Frith Cook and Thomas Gonne. Her mother was a member of the distinguished and wealthy Cook family, who manufactured silk, linen, woolen, and cotton goods and sold them throughout the world. The Cooks were also a military family, with younger sons joining the queen's service and daughters marrying officers. Edith Cook was no exception, for Thomas Gonne was a captain in the 17th Light Dragoons when they were married on December 19, 1865. It has been suggested that Maud was born the following day, or very soon thereafter. No record exists of her birth. Since it was illegal not to record the birth of a child, it is assumed that her parents wanted to hide the date. While Maud was often vague about her birthdate, she was quoted in an unpublished Dublin newspaper article as saying that she was born "near Aldershot Camp in 1865." Aldershot Camp, approximately 40 miles from London, was the military base at which her father was stationed.
In 1868, when Captain Gonne was assigned a post in Ireland, Maud and her younger sister Kathleen lived with their mother in a small fishing village north of Dublin Bay, while their father visited from the nearby army base on weekends. The girls did not attend school; instead, they spent their time climbing rocks on the coast and playing with the poor Irish children who lived a world apart from the wealthy English Gonnes. While the local children went off to school each day, Kathleen and Maud amused themselves under the watchful eye of their nurse.
The family moved to Donnybrook, a Dublin suburb. In 1871, Edith Gonne became ill with tuberculosis. Since the Irish climate was terrible for someone suffering from this disease of the lungs, Thomas Gonne soon decided to move his wife to Italy. But her illness had progressed too far, and she died during the trip. Gonne would later recall a comment of her father's, at the time of her mother's wake in London that had a profound effect: "You must never be afraid of anything," he told his six-year-old daughter, "not even of death."
Thomas Gonne left his daughters in the care of their mother's aunt for a short time, but Aunt Augusta was not the person to be raising two small girls. He then received notice of a posting to India and found a home and a nanny for the children in the south of France. The Frenchwoman who cared for them taught the girls French, history, and literature, as well as cooking skills; she also imbued them with an interest in art and radical politics.
But Maud did not become a child of the French countryside. She spent her summers in Switzerland and her winters in Italy. When her father became a military attache, traveling throughout Europe, Gonne often met him in various cities. She had a truly cosmopolitan upbringing. Her independence and defiance of the norms were probably rooted in her unconventional youth and her exposure to places, people, and ideas that young English ladies rarely experienced.
As Gonne grew into her teens, it also became obvious that she was going to be stunningly beautiful. As an adult, she was six feet tall, and her figure, face, and wavy red hair classed her among the great beauties of the age. An aunt, the Comtesse de la Sizeranne, took great pride in showing her off and introducing her to Parisian high society. Gonne received several marriage proposals before she was 18; legend has it that when King Edward VII of England was the Prince of Wales, he saw her at a dance and longed to marry her.
By 1884, when Thomas Gonne was permanently posted to Dublin and his daughters joined him, Maud assumed her absent mother's role as hostess of the household. She held parties and teas to help her father's career, impressing higher-ranking officers and their wives. But this family life was not to last: Thomas Gonne contracted typhoid fever in the winter of 1886 and died within a week. His body was taken back to England for burial next to his wife, and Kathleen and Maud—now orphans—were taken in by relatives.
The next several months were stormy ones. Scheming relatives, aware of the large inheritance the girls were about to receive, wished to become their guardians in order to gain legal control over it. They informed the girls that their father had left them nothing, and that they would have to accept being adopted by an aunt. But the girls were determined to earn their own living. Kathleen decided to become a nurse, and Maud trained to be an actress. Neither succeeded in their plans, but their activities kept them busy until their father's will was probated in the spring of 1887 and each became financially independent. With the greedy relatives left behind, Gonne returned to her aunt, the Comtesse, in Paris.
It was there that Gonne met and eventually fell in love with Lucien Millevoye, a French political activist. Since Millevoye was already married, their relationship remained secret throughout her life. It was sharing in his political interests, however, that shaped Gonne's life more than their romantic liaison. Millevoye's passion for his homeland corresponded to his equally deep hatred for England. He urged Gonne to get involved in Ireland's independence movement as a way to strike at the English. She took him up on this and eagerly began spending time in Ireland, traveling through the countryside to see firsthand the oppression that the Irish were suffering under their English landlords. Witnessing the eviction of tenants who were asking for a fair rent and the starvation of those suffering during famines, she quickly got involved with famine relief efforts and the Land League, an organization dedicated to reforming tenancy laws. Gonne gave speeches, rallying the Irish and influencing the decisions and lawmaking of their English overlords.
Becoming involved in Irish politics meant meeting quite a circle of revolutionaries and leaders in Dublin. Gonne's most famous and influential acquaintance— though she didn't know it at the time—was William Butler Yeats, whom she met in 1889. Not yet the world-renowned poet but only a nondescript young man who wrote a bit of poetry, "Willie" Yeats failed to impress her. Though they became friends, her heart was in Paris with Millevoye. Yeats, on the other hand, was totally taken with Gonne's beauty, spirit, and passion for Ireland, and his love for her inspired much of his poetry.
In 1889, Gonne had her first daughter by Millevoye. Named Georgette, the child survived only three years. Devastated by her daughter's death, Gonne threw herself with renewed vigor into her work for Ireland. She founded lending libraries in remote rural areas of the country, thus promoting the cultural revival then going on. During most of English rule of Ireland, Gaelic (the native Irish language) had been suppressed: children were taught only English, English literature, and English history in the state-sponsored schools, and often learned nothing of the language, history, or literary heritage of their own land. The cultural revival of the Gaelic language and literature was a key element in Ireland's becoming a free state.
In 1896, Gonne had a second daughter by Millevoye, this one named Iseult. Shortly after, Gonne left Millevoye. The break became final in 1898, when she discovered that he had fallen in love with someone else. Iseult Gonne was raised by Maud as a niece.
Gonne traveled to the United States in an effort to raise money for Irish causes and to work for international condemnation of England's continued rule of Ireland. It was during one of these speaking tours that she met John MacBride, a veteran of the Boer War and an Irishman from County Mayo, who was also traveling through the U.S. on behalf of the Irish. In 1903, the two married, which was seen by many as a terrible mistake. MacBride's conservative, rural Irish background clashed terribly with Gonne's cosmopolitan ways: a quiet, homebound, obedient wife was something she could never be. By the time their son Sean was born the following year, the couple's problems had already begun. MacBride was a heavy drinker, and it was rumored that he abused his wife when he was drunk. It is also possible that he discovered that Iseult was Gonne's child. In 1905, in a separation agreement drawn up in France, Gonne was awarded custody of Sean, but she was forced to avoid Ireland almost completely for the next 11 years, fearful that if she brought her son there his father could take him away. She was also afraid to leave him for long in France due to his fragile health. In addition to worries about Sean, there was also the fact that many of the Irish people were appalled that she had left her husband. Ireland was a profoundly conservative Catholic country, and marriage was nothing to be trifled with. Shortly after the separation, when Gonne appeared in Dublin to speak, she was booed by those who had once adored her.
On Easter Monday in 1916, the Irish Republican Brotherhood attempted a revolution to rid the country of the English. The Easter Rising was a failure. When the English executed many of the captured Irish revolutionaries, John MacBride, now a martyr to the cause of Irish independence was among them. This meant that Gonne was free to stay in Ireland with Sean. She plunged once again into the work and agitation she had enjoyed in the past. In May 1918, Gonne was arrested, along with many other Irish nationalists, and imprisoned in England without charges being filed. Never extraordinarily healthy, having inherited her mother's tendency toward tuberculosis, Gonne did not adjust to prison life. By October, she was desperately ill. Rather than have another martyr on their hands, the English authorities released her. Despite the fact that she had been forbidden, Gonne returned to Ireland immediately.
Spending the 1920s in efforts to improve conditions for Irish political prisoners, she visited prisons, wrote letters to prisoners, and continued to speak out as often as possible. By now Gonne was a fixture in Irish politics: she had been an influential voice for over 40 years. In 1932, the country honored her for her years of service to the cause of Irish nationalism. It would seem a fitting end to a career—but Gonne was far from finished.
The year 1919 had seen the founding of an independent Irish parliament, but it wasn't until 1932, when Eamon de Valera was elected prime minister of the Irish Free State, that the most significant ties between Ireland and England were broken. Abolishing the oath of allegiance to the British Crown that all Irish officials were required to take, de Valera continued a unilateral revision of the treaty that established the relationship (and lack of one) between the two countries. Though Gonne had originally supported de Valera's efforts, she eventually decided that they were not radical enough. Despite the fact that her son Sean had worked for de Valera's election and was his secretary, Gonne began speaking against de Valera and his policies. She also continued to work tirelessly with the Women's Prisoners' Defense League and to agitate for free school lunches for children.
In 1949, the long process of wresting freedom from the English-piece by tiny piece—was finally over. On Easter Monday, when the Republic of Ireland was formally begun, Gonne was one of the great nationalists invited to the ceremonies in Dublin; she attended with her son, who was now an active figure in Irish politics. One of the last survivors of her generation, Gonne struggled through the next several years; age and illness were taking their toll. She wrote her memoirs and was interviewed several times for reminiscences about the glory days of the struggle for Irish freedom. On April 27, 1953, Gonne died quietly at home, with her daughter Iseult, her son Sean, and Sean's wife at her side.
Read more
Latest headlines