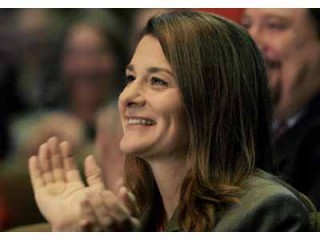 Melinda Gates biography
Date of birth : 1964-08-15
Date of death : -
Birthplace : Dallas, Texas, U.S.
Nationality : American
Category : Famous Figures
Last modified : 2010-07-16
Credited as : Philantropist and manager of Microsoft Corporation, wife of Bill Gates, administrator of The Gates Foundation
Melinda Gates
, also known as:
Melinda French Gates
born August 15, 1964 in Dallas, Texas, United States is an American philantropist, product manager and then general manager of Microsoft Corporation and now administrator of The Gates Foundation.
The richest woman in the world cannot be stereotyped. Down to earth and devoted to family, Melinda Gates is, in some ways, Everywoman. She cares about health care. She is invested in improving education. She does her own grocery shopping. She also puts her money where her priorities are. Along with her famous husband, Bill, co-founder and chairman of Microsoft Corporation, Gates oversees the multi-billion-dollar Gates Foundation, dedicated to improving the lives of people worldwide.
Born and raised in Dallas, Texas, Gates was the second of four children--she has an older sister and two younger brothers--born to Ray, an engineer in the space program at LTV, and Elaine, a homemaker who regretted not attending college. The whole family worked together every weekend on the rental properties they owned to pay for college educations for the children. In addition to cleaning kitchens and doing yard work, Gates would help her father with the bookkeeping duties, an activity that led to her later interest in business and economics.
She attended the private, single-gender, Catholic Ursuline Academy of Dallas, graduating valedictorian. Part of her valedictory speech predicted her future adult life, as quoted in Fortune: "If you are successful, it is because somewhere, sometime, someone gave you a life or an idea that started you in the right direction. Remember also that you are indebted to life until you help some less fortunate person, just as you were helped." In fact, all Ursuline students were required to volunteer in some capacity, planting the seeds for Gates' later service.
Gates planned to attend Notre Dame, which had been her goal throughout her high school career, but changed her mind when she found out the school was diverting funds and resources away from the computer "fad." Gates went on to Duke University, majoring in computer science and economics. While an undergraduate, she was in the Kappa Alpha Theta sorority, on the Dean's List and the Freshman Advisory Council, and she led campus tours for prospective students.
After graduation in 1986, she did not go far, remaining at Duke to complete her Master of Business Administration degree from The Fuqua School of Business, which she earned in 1987. She would return to her alma mater in different capacities later, first as a member of the Alumni Admissions Advisory Committee from 1988 to 1991, and later as a member of the Duke University Board of Trustees, a position she held from 1996 until 2003 when her term expired.
After graduate school, Gates began work at Microsoft as a product manager, working principally on multimedia and interactive products. She met "the boss" in 1987, while at the PC Expo trade show in New York City. He was funnier than she expected he would be, given the corporate culture at that time. Some time later, Bill asked her out on a date scheduled for two weeks from the next Friday. She initially balked at the lack of spontaneity, but after hearing his schedule conflicts, she understood and agreed. Six years later, they were engaged. Bill surprised Melinda by landing a chartered plane en route from Palm Springs to Omaha so they could choose a ring from a Borsheim's jewelry store Warren Buffett arranged to have open for the occasion.
The couple married on New Year's Day, 1994, on Lanai, a Hawaiian island. Gates made the 18-mile-long island private for the wedding by renting every hotel room and chartering every helicopter so the couple and their guests would not be disturbed by any unwelcome visitors.
Gates, who did not "talk shop" with her husband, remained a Microsoft employee until 1996, when she stepped down from her position as general manager of information products--including Expedia, Cinemania, and Encarta--in order to devote herself to her philanthropic duties, especially the Bill and Melinda Gates Foundation.
The Gates Foundation began in the 1990s as a charitable organization dedicated to putting computers--and Microsoft products, of course--in many libraries across the country. With Melinda's involvement, however, the foundation began to grow and change exponentially, expanding its vision to make global change in education, poverty, and health concerns. According to the New York Times, Bill, "given his wealth and fame, will always be mentioned first," but Melinda's involvement and influence is at least as large, and perhaps larger, than his. When asked by Fortune if he would have given the foundation so many billions if it were not for Melinda's presence and influence, Warren Buffett replied, "That's a great question. And the answer is, I'm not sure."
This philanthropic involvement was spurred on by a vacation trip. Traveling with friends in Zaire, Africa, in 1993, Gates was deeply affected by the country and its people, which, much to her surprise, got "under your skin," as she told Newsweek. The barefoot women walking everywhere and selling their meager wares at market, and the boarded-up towns ruined by corruption, particularly remained in her mind.
A couple of years later, reading an article in the newspaper about the diseases most affecting children worldwide, Gates was struck by how comparatively rare such concerns were in the United States. As the Gates Foundation Web site puts it, "We couldn't escape the brutal conclusion that--in our world today--some lives are worth saving and other are not. We said to ourselves: 'This can't be true. But if it is true, it deserves to be the priority of our giving.'" These two stirrings opened up her involvement in the foundation, and, consequently, the involvement of the foundation's philanthropy on a more purposeful and global scale. Along with Buffett's more than $30 billion contribution, and their own $29 billion endowment, the foundation was poised to achieve great things and meet urgent needs.
The foundation approaches its giving as "no-nonsense," "strategic," and "results-oriented," according to the New York Times. Along these lines, Gates began to learn all she could about issues of global health, including hygiene and immunizations. Travelling throughout India and Thailand, Gates was given a glimpse into the unsanitary and unsafe practices of the poorest citizens, who washed dishes and bathed in the same waters in which they and their animals defecated.
As of 2009, the foundation's goal, as stated on Gates' biography on the French Family Association Web site, is "improving equity in four areas: global health, education, access to digital information via public libraries, and support for at-risk families in Washington State and Oregon." The Gates Foundation Web site describes its four steps in the philanthropy process. Step one is to develop a strategy; step two is to make the grants based on that strategy; step three is to measure the progress toward meeting the goal; and step four is to adjust the strategy as needed to suit the purposes. The process is a cyclical one, which is why it works. It continues to evaluate and adjust to ensure success "for as many people as possible." From the "safer" $1.5 billion in funding "to distribute proven vaccines to children in developing countries," according to U.S. News & World Report, to the "riskier" $450 million in funding of "research on new vaccines and technologies," the foundation partners with those it helps, accomplishing larger works than had been possible before.
The same thinking outside the box that was a good strategy in other parts of Gates' life has made this charitable success possible. According to Time in 2005, the year the Gates shared the magazine's title of "Persons of the Year" with none other than musician Bono, the foundation "spent the year giving more money away faster than anyone ever has, including nearly half a billion dollars for the Grand Challenges, in which they asked the very best brains in the world how they would solve a huge problem, like inventing a vaccine that needs no needles and no refrigeration, if they had the money to do it."
In addition to her work with the Gates Foundation, Gates is on the drugstore.com board of directors and is a previous co-chair of the Washington State Governor's Commission on Early Learning. Indeed, education has remained a significant issue for Gates. She told People that a good education is the foundation for a good and successful life, but "the public school system serves only about one-third of kids really well. We [speaking of Bill and herself] know how much we both benefited from an incredible education. That's something every kid ought to have." As the tagline for the Gates Foundation says, "All lives have equal value."
The intensely private Gates has devoted herself to giving her three young children--Jennifer Katharine, Rory John, and Phoebe Adele--as normal a life as possible in the town of Medina, on Lake Washington, outside Seattle, in a 40,000-square-foot mansion with such diverse elements as a 30-car garage, a trampoline room, and a stocked trout stream.
Normal is no small feat for the children, given the circumstances of their parents' fame and fortune. Gates' parenting approach is as purposeful as her foundation work; for example, the couple's three children are not set to inherit the bulk of the family fortune, but will instead be given just $10 million each so they are well-provided for and equipped for whatever life paths they choose, but the rest of the Gates money will be given away to make part of the world a better place in which they might live. In fact, the Gates Foundation Web site claims the goal of the foundation is to "spend all its money in the next 100 years." Gates told Fortune they would follow Buffett's advice that "a very rich person should leave his kids enough to do anything, but not enough to do nothing."
In her free time, Gates exercises five days a week, and has climbed the 14,410-foot tall Mount Rainier and competed in the Seattle Marathon. Big nights out with her husband are usually dinner and a movie, although they do try to make time to do this once a week. Family dinners at home are the norm, where the Gates clan will discuss current events, including work in which the foundation is involved, and books, or just what happened to them or what they thought about that day. Wednesday is swimming night and Friday is for family movie-watching.
By all accounts, Gates has managed to keep away from the worst of the burden of the money, which is becoming a slave to it or to the work that generates it. Instead, she gives money away and spends time building family relationships. There is no hired help on the weekends except security people and perhaps a babysitter. Without pretension, Gates takes her children to school herself and does her own grocery shopping, almost unheard of for a woman of such means and distinction, telling Newsweek she attempts "to keep a low profile so we can lead as normal a family life as possible.... As our children become older, I do envision increasing my role with the foundation. If a microbicide or AIDS vaccine comes along, if I feel I could really make a difference in furthering the distribution of these for the developing world in some way, I would likely give up even more anonymity to do so."
PERSONAL INFORMATION
Born Melinda French, August 15, 1964, in Dallas, TX; daughter of Ray (an engineer) and Elaine (a homemaker) French; married Bill Gates, January 1, 1994; children: Jennifer, Rory, Phoebe. Education: Duke University, B.S., 1986, M.B.A., 1987. Addresses: Office--Gates Foundation, PO Box 23350, Seattle, WA 98102.
CAREER
Product manager, then general manager, Microsoft Corporation, 1987-96; administrator, The Gates Foundation.
Read more
Latest headlines