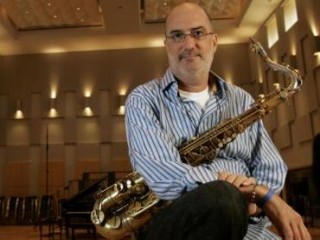 Michael Brecker biography
Date of birth : 1949-03-29
Date of death : 2007-01-13
Birthplace : Cheltenham, Pennsylvania, U.S.
Nationality : American
Category : Arts and Entertainment
Last modified : 2011-10-31
Credited as : Singer, saxophonist and composer, Down Beat Jazz Hall of Fame
Michael Leonard Brecker was an American jazz saxophonist and composer. Acknowledged as "a quiet, gentle musician widely regarded as the most influential tenor saxophonist since John Coltrane," he has been awarded 15 Grammy Awards as both performer and composer and was inducted into Down Beat Jazz Hall of Fame in 2007.
For nearly 20 years, fusion jazz superstar and "reedman" Michael Brecker left his mark on thousands of studio recordings and collaborations in jazz, pop, and rock & roll. The tenor saxophonist staked out a solo career beginning in the late 1980s to a welcoming round of applause. Yet even as he recorded on his own, he upheld family ties in 1992, to stand beside his elder sibling, trumpeter Randy Brecker, for a reunion album, Return of the Brecker Brothers,and for a series of live appearances. Michael Brecker, who was influenced largely by John Coltrane and mentored by Horace Silver among others, successfully achieved "crossover" status between fusion, post-bop, and contemporary jazz. For his first solo album he worked with Pat Metheny, Elvin Jones, and Charlie Haden, and as a solo artist and bandleader he toured with McCoy Tyner. Brecker worked with Adam Rogers, Clarence Penn, and Larry Goldings, and played with popular stars from Joni Mitchell and Paul Simon to Steely Dan. In 30 years, Brecker earned an impressive seven Grammy awards from the National Association of Recording Arts and Sciences.
A native of Philadelphia, Pennsylvania, Michael Brecker was born on March 29, 1949. For Brecker's father, attorney Robert Brecker, jazz was a way of life. The family owned an Hammond organ, and Brecker enjoyed playing with his father who doubled as a jazz pianist between courtroom gigs. Michael Brecker studied the clarinet and played some alto saxophone before settling on tenor saxophone in high school. His teenage years were a succession of jazz dreams come true for the boy. After school he spent free afternoons with his father listening to Coltrane records and playing drums and horns at home, or else making the rounds of Philadelphia clubs where Brecker jammed with professional musicians like Eric Gravatt. It was Gravatt who first taught Brecker the meaning of endurance.
Brecker followed behind his older brother in attending college at the University of Indiana in 1966. There Brecker majored in fine arts before moving to New York City in 1969, where he picked up session work and played in rehearsals. He recalled for Down Beatthe atmosphere in New York City when he first arrived there in the 1960s, "It was a special time to be in New York. That's when the so-called boundaries between what was then pop music and jazz were becoming very blurry."
In New York, trombonist Barry Rogers befriended Brecker and mentored him through the newness of living in the big city. From Rogers, Brecker learned about Cajun music, African rhythms, and Latin sounds. Together Michael Brecker, Randy Brecker, and Rogers founded a band called Dreams in 1969. Along with the main trio, Dreams included a strong rhythm section comprised of John Abercrombie, Billy Cobham, Don Grolnick, and Will Lee. Also during those early years Brecker joined with approximately two dozen others in an organization called Free Life Communication. The organization, comprised of performing artists, perpetuated their art by giving free concerts throughout the city.
In 1973 and 1974, Brecker and his brother joined Horace Silver's band, an experience that Brecker likened to attending college because there was so much to learn from Silver. After breaking with Silver's band, the brothers set out to forge their own identity, billing themselves generically as the Brecker Brothers. Thus Michael Brecker, in tandem with his brother, pioneered what was a new jazz form at the time, called fusion or electro-fusion jazz. The brothers performed together habitually between 1974 and 1979. They recorded six albums together for Arista, and reportedly the duo contributed instrumental accompaniment on more than 1,800 records. The brothers opened a club, called Seventh Avenue South, where the initial jamming took place for the Breckers' next band, called Steps (later known as Steps Ahead). That group featured Mike Manieri, Eddie Gomez, Don Grolnich, and Steve Gadd. Additionally there was a brief tenure with Bob Mintzer's band and some work with guitarist Mike Stern.
Throughout the 1980s, Brecker worked intensively as a session musician in New York. It was largely such studio work that kept him gainfully employed until the release of his solo debut album in 1986. By that time, Brecker was anxious to work independently, as he felt a need for greater artistic freedom, which might be achieved most readily in solo work. He staked out his proverbial territory as a solo artist and a bandleader, and he joined in collaborations with Joey Calderazzo around that same time. Brecker's efforts reached fruition with the release of Michael Breckerin 1986, his first solo album after a 20-year career as a sessions saxophone player and sideman. The recording, released on MCA/Impulse!, was nominated for a Grammy award as best solo jazz instrumental. In 1990, he released Don't Try This at Home on Impulse!, and he toured and recorded with singer and composer Paul Simon in 1991.
Brecker and his elder sibling, having achieved considerable success as an early fusion duo in the 1970s, kept the family tradition alive with a follow-up album in 1992. Return of the Brecker Brothers was a long-overdue sequel to their original Brecker Brothersalbum and their earlier collaborations. The brothers appeared together in live performance on a number of occasions following the release of their comeback album, including a performance to help christen the renovated Five Spot in Manhattan early in 1993. Newsday'sMartin Johnson welcomed the return of, "[t]heir hard-driving, expansive sound," and the funk and fusion reunion between the siblings gave fans and critics cause to cheer.
Brecker's "African Skies" took the Grammy as best instrumental composition of 1993. He was also a member of the 1994 Grammy-award-winning GRP All-Star Band under the direction of Tom Scott. Brecker's Grammy fever raged again in 1995, when Tales from the Hudson,a pairing with Pat Metheny, won two awards, including the award for the best instrumental solo performance for "Cabin Fever."
As Brecker's solo career solidified, a pairing between him and pianist McCoy Tyner made the bill at Yoshi's in Oakland, California. The booking, arranged by Jason Olaine, led to a Grammy-winning collaboration between Brecker and Tyner on their 1994 Impulse! release, called Infinity.Brecker assembled other impressive lineups as well, including Adam Rogers on guitar, Clarence Penn on drums, and Larry Goldings on organ. In 1997, Samuel Fromartz for Reuterscalled Brecker's solo work, "passionate but not pretty," and described a Brecker concert as a "feeding frenzy."
As a bandleader and solo artist in the late 1990s, Brecker led a quartet with Calderazzo on piano, James Genus on bass, and drummer Jeff "Tain" Watts. The dynamic foursome recorded a sizzling contempo-style album, Two Blocks from the Edge, only after a yearlong tour of performing and perfecting the material. The compilation, written largely by Brecker and with assistance from Calderazzo, went to market as Brecker's fifth on the Impulse! label in 1998 and included the popular Brecker composition, "Delta City Blues," that evolved into his personal theme song. University of Kentucky jazz professor Miles Osland said of the song in Down Beat, " ...[A] textbook example of exemplary musical artistry combined with superlative technical prowess." John Janowiak labeled the song more succinctly, as "down-and-dirty soul."
Creatively speaking, Brecker's muse went into overdrive in 1998. He debuted as a bandleader at the Catalina Bar & Grill in Los Angeles, California and played a spectacular solo concert in Italy's Dolomite Mountains. The Dolomite venue was accessible only by means of a one-hour hike from a depository chairlift landing preceded by a rugged hour-long drive. The performance lasted merely 60 minutes, but the spectacular view on the mountaintop justified the extreme conditions required to reach the site. The concert-goers, not surprisingly, harbored no anxieties for the music to stop, and Becker's performance ended in overtime.
Following his appearance in Rhode Island at the JVC Jazz Festival in August of 1998, Josef Woodard labeled Brecker as a "reluctant giant in music ... [a] preeminent and influential saxophonist of his generation, blessed with fearsome technical finesse as well as melodic charms ... [who] continues to pursue the path of greatest personal reward, not necessarily the greatest commercial good." The commentary appeared in Los Angeles Times.
As the 1990s wound to a close, Brecker released Time Is of the Essenceon Verve. The album, hailed as a long-awaited breakthrough, features Larry Goldings on organ, in complement to the piano styles of Pat Metheny. Also heard on the album are Jones, Tain, and Bill Stewart. Ted Panken said in Down Beat of Brecker's performances on that release, "Brecker plays with ... clarity, a hungry master searching for--and often reaching--the next level."
Brecker's work in 2000 brought additional reunions with Metheny, Jones, and Haden, with Brecker booked to perform at the Monterey Jazz Festival.
He went on tour in 2001 with a collaborative group, Hancock-Brecker-Hargrove. This tour was dedicated to jazz pioneers John Coltrane and Miles Davis. Brecker paid homage to Coltrane by performing Coltrane's signature piece, "Naima". This composition is a definitive work for tenor sax; its demanding solo enabled Brecker to show his complete mastery of the instrument. The live concert CD from the tour, Directions in Music, won a Grammy in 2003.
While performing at the Mount Fuji Jazz Festival in 2004, Brecker experienced a sharp pain in his back. Shortly thereafter in 2005, he was diagnosed with the blood disorder myelodysplastic syndrome (MDS). Despite a widely publicized worldwide search, Brecker was unable to find a matching stem cell donor. In late 2005, he was the recipient of an experimental partial matching stem cell transplant. By late 2006, he appeared to be recovering, but the experiment proved not to be a cure. He made his final public performance on June 23, 2006, playing with Herbie Hancock at Carnegie Hall.
On January 13, 2007, Michael Brecker died from complications of leukemia in New York City. His funeral was held on January 15, 2007 in Hastings-on-Hudson, NY.
Michael Brecker was awarded two posthumous Grammy awards for his involvement on his brother Randy's 2005 album Some Skunk Funk.
On May 22, 2007, his final recording, Pilgrimage, was released receiving a good critical response. It was recorded in August 2006 with Pat Metheny on guitar, John Patitucci on bass, Jack DeJohnette on drums and Herbie Hancock and Brad Mehldau on piano. Brecker was critically ill when it was recorded but the other musicians involved praised the standard of his musicianship.Brecker was again posthumously nominated and subsequently awarded two additional Grammy Awards for this album in the categories of Best Jazz Instrumental Solo and Best Jazz Instrumental Album, Individual or Group, bringing his Grammy total to 15.
Selected discography:
Solo
-Swish , EWCD, 1980.
-Smoking' in the Pit (with Steps Ahead), NYC Records, 1980.
-Cityscape , Warner Brothers, 1983.
-Michael Brecker , MCA/Impulse!, 1986.
-Don't Try This at Home , MCA/Impulse!, 1987.
-Now You See It... Now You Don't ,Impulse!, 1990.
-All Blues (with GRP All-Star Band, Tom Scott leading), GRP, 1994.
-Live In Tokyo (with Steps Ahead), NYC Records, 1994.
-Infinity (with McCoy Tyner Trio), Impulse!, 1994.
-Tales from the Hudson (with Pat Metheny), Impulse!, 1995.
-Two Blocks from the Edge (with Calderazzo, Genus, and Watts), Impulse!, 1998.
-Time Is of the Essence , Verve, 1999.
Brecker Brothers:
-Brecker Brothers , One Way, 1975.
-Back to Back , One Way, 1975.
-Blue Montreux , Bluebird, 1978.
-Heavy Metal Be-Bop , One Way, 1978.
-Don't Stop the Music , One Way, 1980.
-Straphangin' , One Way, 1980.
-Detente , One Way, 1980.
-Return of the Brecker Brothers , GRP, 1992.
-Out of the Loop , GRP, 1994.
-Electric Jazz Fusion , Jamey Aebersol, 1999.
Read more
Latest headlines