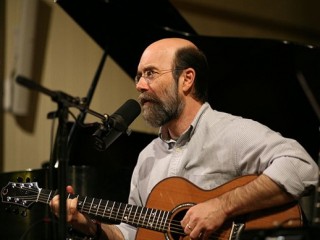 Michael Card biography
Date of birth : 1957-04-11
Date of death : -
Birthplace : Madison, Tennessee,U.S.
Nationality : American
Category : Arts and Entertainment
Last modified : 2011-11-01
Credited as : Singer, Christian Music, A Sacred Sorrow
Michael Card is an American Christian singer-songwriter, musician, author, and radio host. He is best known for his contributions in Contemporary Christian Music, which couple folk-style melodies and instrumentation with lyrics that stem from intensive study of the Bible. Since his debut in 1981, he has sold more than 4 million albums and has written 19 number one singles. He has also authored several books, including Gold Medallion Book Award winner A Sacred Sorrow.
A major contributor to Contemporary Christian music, Michael Card is also respected as an author, educator, and theologian. Praised as a talented songwriter--he described his Bible-based lyrics in Christianity Today as being about "people's struggles and God's truths"--he creates melodic story songs based in acoustic folk with black gospel, alternative rock, and Celtic influences. He is also an exceptional musician, playing nine instruments including guitar, piano, violin, banjo, and dulcimer. Card sings in a clear tenor reminiscent of recording artist Dan Fogelberg.
As an author, Card has written devotional literature, memoirs, and informational books for adults as well as picture and story books for children; some of his works have been released as both books and recordings. During his 20-year career, Card has sold over four million records and more than 400,000 books; his songs "El Shaddai" and "Immanuel," are modern classics that have been recorded by such notable artists as Amy Grant. Card has had 19 number-one records on the Christian charts and has received several Dove Awards, the Gospel Music Association's top prize.
All of Card's works are informed by his Christian beliefs. Through his art, which often centers on a single book of the Bible or on a central biblical theme, Card attempts to bring his audience to a better understanding of God and a closer relationship with Jesus Christ. At the same time, he is a forceful critic of current Christian music, which he fears is becoming too commercial and competitive.
Born in Madison, Tennessee, Card comes from a family rooted in both music and religion: his father, a doctor, is also a jazz trombonist, his mother is a classical violinist, and his grandfather was a Baptist preacher. In an interview with James Long in Contemporary Christian Music, Card revealed, "I was something of a crisis pregnancy. My mom was 46 and had lost two children before me.... When my grandfather learned of the pregnancy, he started praying for me, something he continued every day. I think that, more than anything else, has made the difference.... That is my foundation."
Card began studying piano and guitar at an early age. As a small boy, he saw little of his father, who would come home from his practice and close himself in his study. Michael would push drawings and wiggle his fingers under the door to attract his father's attention. Card later included a song about this, "Underneath the Door," on his live album Scribbling in the Sand. Card has said he believes that God used this painful childhood experience to inspire his drive to communicate. Writing on his website, Card noted that speaking to people underneath the door "is still my M.O."
At the age of eight Card became a Christian. At 14 he met an elderly woman in his church, a blind Bible scholar who taught from memory. Through his studies with her, Card decided to become a Bible teacher as well. In high school, however, Card was a real "chucklehead," as he told Long--who played guitar in bands with Randy Scruggs, a musician who later would become Card's first producer as well as a solo artist. Card was also disappointed with the quality of his high-school courses. As a junior and senior, he attended school only three days a week; the rest of the time he hiked in the Tennessee mountains. Despite this rather unorthodox schedule, Card graduated in the top two percent of his class. Around this time, he decided to join the Jesus People, an evangelical movement with a mixed reputation among mainstream Christians. Card told Shawn McAniff of the Voice Online, "The church wouldn't have us. My church in Nashville wouldn't let me play. They told me it was demonic."
After graduating from high school, Card went to Western Kentucky University (WKU), a school in Bowling Green. Initially, he majored in wildlife management in order to work in forestry, a job that appealed to him because of its solitary nature. However, when Card met his mentor William L. Lane, a professor and biblical scholar at WKU who held a Ph.D. from Harvard, he convinced Card to switch his major to Bible studies and to write songs about his Christian beliefs. In 1979 Card received his bachelor's degree from WKU and stayed on to pursue his master's degree, teaching physics and astronomy at the school; he continues to be an amateur astronomer.
Card wrote his first song during this period as a favor to his pastor, Scotty Smith; in 1997, the two collaborated on Unveiled Hope: Eternal Encouragement from the Book of Revelation, a volume that seeks to demystify the complex book while describing the hope that is contained in the Apocalypse. Card continued to write songs while he worked on his master's degree. He complained to Lane, however, about the lack of integrity in the Christian music industry. The advice that Lane gave to him, Card recalls in Contemporary Christian Music, is now his motto: "Let the excellence of your work be your protest."
In 1988 Lane and Card collaborated on The Life, a self-published book of devotional literature. When Lane was diagnosed with terminal cancer, he gave one last lesson to Card, showing him how a Christian man dies. In 2001 Card produced The Walk: A Moment in Time When Two Lives Intersect, a memoir detailing his 20-year relationship with Lane.
Card received his master's degree in biblical studies in 1980. The following year he released his debut album, First Light, on the Milk and Honey label. The album was produced by Card's high-school friend Randy Scruggs, who, with his partner John Thompson, had taken a demo tape of Card's music to the label as an example of their production techniques; the executives at Milk and Honey insisted, however, that the pair would be signed as producers if they recorded an album of the music on the demo.
In 1983 Card married his wife Susan. The couple now have four children, one of which has a condition similar to autism, a situation that led his parents to decide to educate their children at home; in 1997, they produced The Homeschool Journey, a book that provides information on home schooling from a Christian perspective.
With the release of Known by the Scars in 1983, Card began to achieve measurable success in Christian music. His box set The Life, a trilogy released in 1988 that contains Known by the Scars, Scandalon, and The Final Word, is a groundbreaking work that interprets the Gospels in a particularly original manner. In 1989 Card published his first book for children, Sleep Sound in Jesus, a collection of original lullabies that was nominated for the C. S. Lewis Children's Book Award; the book shares its title with an album of his that earned gold sales certification in 1994. In 1996 Card collaborated with John Michael Talbot, a popular singer/songwriter who is a Franciscan monk, on the album Brother to Brother. This work, on which Card and Talbot play each other's material, stirred controversy for pairing Roman Catholic and Evangelical Christian artists.
Card has recorded, performed, and toured with a number of well-known Christian musicians, including Steve Green, Phil Keaggy, Sara Groves, and Kirk Whalum; Card, Green, and Keaggy are members of Empty Hands Fellowship, a men's study group that was led by Bill Lane before his death. Card also hosted a radio program, Joy in the Journey, which was revamped as In the Studio with Michael Card. He uses the Internet to run streaming video of sessions by the Tuesday Night Bible Study, a group that he leads from Franklin, Tennessee. In addition, Card has partnered with the Bible League, an organization that provides Scriptures and training throughout the world, on Share the Word, a project that delivers Bibles to those who need them.
Throughout his career, critics have praised Card both as an artist and an individual. Although he is occasionally faulted for the uneven quality and lack of excitement of his music and the demanding nature of his writing, Card generally is lauded for his timeless, meaningful songs and books that offer historical, cultural, and personal insight; he is also respected for his principles and his honesty. J. Robert Parks of the Phantom Tollbooth called Card "one of the deepest thinkers in music" before concluding that he "has challenged conventional notions both of how we read the Bible and what it means to be a Christian." Calling Card "one of the most important Christian artists in the history of the genre," Russ Breimeier of Christianity Today noted that he tackles "deep theological matters head-on and express[es] them with simplicity and poetry." Writing in Christian Discipleship's Book Works online, Jean LeStourgeon termed Card "a gift of God to Christian music. In centuries past, there were hymn writers like Charles Wesley, Isaac Watts, and Fanny Crosby. In this age, we have Michael Card."
Writing on his website, Card commented, "The purpose of my music, books, and concerts is to focus in on and worship Christ. The songs and writings are just vehicles to accomplish this purpose." He told Christian Hamaker of Crosswalk.com. "I really believe I'm called to do this," noting that while this is satisfying, it is not always easy. He told Shawn McAniff, "I'm the red-haired step-child of the Christian music industry. Some people say, `You're like the broccoli of Christian music.' People don't really like it, but they know they need to listen to what you say. I want to be the banana split ice cream with the chocolate sauce on it." However, Card added that his biggest joy is when "I connect with individuals, and I find that God has used me to help someone. When people say nice things to me, I always say, `I hope it's helpful to you.' That's the payoff for me. That's the joy."
Selected discography:
-First Light , Milk and Honey, 1981.
-Known by the Scars , Sparrow, 1983.
-Legacy , Milk and Honey, 1983.
-All the Best (compilation), Milk and Honey, 1984.
-Best of Michael Card (compilation), Milk and Honey, 1985.
-Scandalon , Sparrow, 1985.
-The Final Word , Sparrow, 1987.
-The Life (box set; includes Known by the Scars, Scandalon , andThe Final Word ), Sparrow, 1988.
-Present Reality , Sparrow, 1988.
-Sleep Sound in Jesus , Sparrow, 1989.
-The Beginning , Sparrow, 1989.
-The Way of Wisdom , Sparrow, 1990.
-Early Works (compilation), Sparrow, 1991.
-The Promise: A Celebration of Christ's Birth , Sparrow, 1991.
-The Word: Recapturing the Imagination , Sparrow, 1992.
-Come to the Cradle , Sparrow, 1993.
-The Ancient Faith (box set; contains The Beginning, The Way of Wisdom , and The Word ), Sparrow, 1993.
-Joy in the Journey: Ten Years of Greatest Hits (compilation), Sparrow, 1994.
-Poiema , Sparrow, 1994.
-(With John Michael Talbot) Brother to Brother , Myrrh, 1996.
-Close Your Eyes So You Can See , Myrrh, 1996.
-The Early Years (compilation), Myrrh, 1996.
-Unveiled Hope , Myrrh, 1997.
-Starkindler: A Celtic Conversation Across Time ,Myrrh, 1998.
-Signature Songs (compilation), Myrrh, 1999.
-Soul Anchor , Myrrh, 2000.
-Scribbling in the Sand (live album), M2.0 Communications, 2002.
Selected writings:
-(With William L. Lane) The Life , Mole End Publishing, 1988.
-Sleep Sound in Jesus: Gentle Lullabies for Little Ones (children's book), illustrated by Catherine McLaughlin, Harvest House, 1989.
-Immanuel: Reflections on the Life of Christ (devotional literature), Thomas Nelson, 1990.
-The Promise: A Celebration of Christ's Birth , illustrated by Nancy Nimoy, Sparrow Press, 1991.
-Come to the Cradle , Chordant Distribution, 1993.
-The Name of the Promise Is Jesus: Reflections on the Life of Christ , Thomas Nelson, 1993.
-The Parable of Joy: Reflections on the Wisdom of the Book of John , illustrated by Keith Mueller, Thomas Nelson, 1995.
-Joy in the Journey , calligraphy by Timothy R. Botts, Thomas Nelson, 1996.
-Close Your Eyes So You Can See: Stories of Children in the Life of Jesus , illustrated by Stephen Marchesi, Harvest House, 1996.
-(With Susan Card) The Homeschool Journey , Harvest House, 1997.
-(With Scotty Smith) Unveiled Hope: Eternal Encouragement from the Book of Revelation , Thomas Nelson, 1997.
-Tell Me Why: Eternal Answers to Life's Timeless Questions , illustrated by Ron DiCianni, Crossways Books, 1998.
-A Violent Grace , Multnomah, 2000.
-The Walk: A Moment in Time When Two Lives Intersect , Thomas Nelson, 2001.
-Scribbling in the Sand: Christ and Creativity , InterVarsity Press, 2002.
-(With Dale and Sandy Larsen) Scribbling in the Sand: Study Guide , InterVarsity Press, 2002.
Read more
Latest headlines