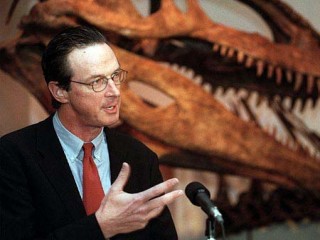 Michael Crichton biography
Date of birth : 1942-10-23
Date of death : 2008-11-04
Birthplace : Roslyn, Long Island, U.S.A.
Nationality : American
Category : Famous Figures
Last modified : 2010-08-27
Credited as : Author of science fiction novels and medical novels, producer of tv series ER, wrote The Andromeda Strain
Dr. John Michael Crichton
(born October 23, 1942 - died November 4, 2008) was an author and film producer. His best-known works are science fiction: novels, films and television programs. His genre can be best described as techno-thriller which is usually the marriage of action and technical details. Many of his novels have medical or scientific underpinnings, reflecting his medical training and science background.
"Sidelights"
Michael Crichton
had a number of successful careers--physician, teacher, film director, screenwriter--but he is perhaps best known for pioneering the "techno-thriller" with novels such as
and Congo and for creating and producing the hit television series ER. Whether writing about a deadly microorganism, brain surgery gone awry, or adventures in the Congo, Crichton had the ability to blend the tight plot and suspense of the thriller with the technicalities of science fiction, making him a favorite with a variety of readers. Summing up Crichton's appeal in the Dictionary of Literary Biography Yearbook: 1981, Robert L. Sims wrote: "His importance lies in his capacity to tell stories related to that frontier where science and fiction meet. ... Crichton's best novels demonstrate that, for the immediate future at least, technological innovations offer the same possibilities and limitations as their human creators."

Crichton's first brush with literary success occurred during medical school. To help pay for tuition and living expenses, he wrote paperback thrillers on the weekends and during vacations. One of these books, A Case of Need, became an unexpected hit. Written under a pseudonym, the novel revolves around a Chinese-American obstetrician who is unjustly accused of performing an illegal abortion on the daughter of a prominent Boston surgeon. Critical reaction to the book was very positive. "Read A Case of Need now," urged Fred Rotondaro in Best Sellers; "it will entertain you; get you angry--it will make you think." Allen J. Hubin, writing in the New York Times Book Review, similarly noted that the "breezy, fast-paced, up-to-date first novel ... demonstrates again the ability of detective fiction to treat contemporary social problems in a meaningful fashion."

Also published while the author was still in medical school, The Andromeda Strain made Crichton a minor celebrity on campus (especially when the film rights were sold to Universal Studios). Part historical journal, the novel uses data such as computer printouts, bibliographic references, and fictional government documents to lend credence to the story of a deadly microorganism that arrives on Earth aboard a NASA space probe. The virus quickly kills most of the residents of Piedmont, Arizona. Two survivors, an old man and a baby, are taken to a secret government compound for study by Project Wildfire. The Wildfire team--Stone, a bacteriologist, Leavitt, a clinical microbiologist, Burton, a pathologist, and Hall, a practicing surgeon--must race against the clock to isolate the organism and find a cure before it spreads into the general population.

The mix of science and suspense in The Andromeda Strain brought varied reactions from reviewers. While admitting that he stayed up all night to finish the book, Christopher Lehmann-Haupt, writing in the New York Times, observed that he felt cheated by the conclusion. Richard Schickel, writing in Harper's, was more concerned with a shortage of character development: "The lack of interest in this matter is ... amazing. Perhaps so much creative energy went into his basic situation that none was left for people." Not all critics were as harsh in their evaluation of the novel, however. "The pace is fast and absorbing," claimed Alexander Cook in Commonweal. He added: "The writing is spare and its quality is generally high; and the characters, if not memorable, are at any rate sufficiently sketched in and have been given little personal touches of their own."

Crichton also used the world of science and medicine as a backdrop for The Terminal Man. The title refers to computer scientist Harry Benson who, as the result of an automobile accident, suffers severe epileptic seizures. As the seizures grow in intensity, Benson has blackouts during which he commits violent acts. At the urging of his doctors, Benson undergoes a radical procedure in which an electrode is inserted into his brain. Hooked up to a packet in the patient's shoulder, the electrode is wired to locate the source of the seizures and delivers a shock to the brain every time an episode is about to occur. Something goes wrong, and Benson's brain is overloaded. As the shocks increase, Benson becomes more irrational, dangerous, and eventually, murderous.

John R. Coyne in the National Review found The Terminal Man "one of the season's best." He added: "Crichton proves himself capable of making the most esoteric material completely comprehensible to the layman. ... Even more important, he can create and sustain that sort of suspense that forces us to suspend disbelief." And, in an Atlantic review of the novel, Edward Weeks remarked that Crichton has "now written a novel quite terrifying in its suspense and implication."

In The Great Train Robbery, Crichton moved out of the realm of science and into the world of Victorian England. Loosely based on an actual event, the book explores master criminal Edward Pierce's attempt to steal a trainload of army payroll on its way to the Crimea. "The Great Train Robbery combines the pleasures, guilt, and delight of a novel of gripping entertainment with healthy slices of instruction and information interlarded," observed Doris Grumbach in the New Republic. Lehmann-Haupt enthused that he found himself "not only captivated because it is Mr. Crichton's best thriller to date ... but also charmed most of all by the story's Victorian style and content."

Congo marked Crichton's return to the field of science and technology. In the novel, three adventurers travel through the dense rain forests of the Congo in search of a cache of diamonds with the power to revolutionize computer technology. The trio is accompanied by an intelligent, linguistically trained gorilla named Amy, the designated intermediary between the scientists and a band of killer apes who guard the gems. The small band's search is hampered by cannibals, volcanoes, and mutant primates; it is also marked by a sense of desperation, as the team fights to beat a Euro-Japanese rival company to the prize. In a review of Congo for Best Sellers, Justin Blewitt termed the novel "an exciting, fast-paced adventure. It rang very true and at the same time was a terrific page-turner. That's a rare combination. ... [ Congo is] really a lot of fun."

A scientific--and monetary--search is also the emphasis of Sphere. An American ship laying cable in the Pacific hits a snag; the snag turns out to be a huge spaceship, estimated to be at least three centuries old. An undersea research team investigates the strange craft from the relative safety of an underwater habitat. Among the civilian and military crew is psychologist Norman Johnson, whose apprehension about the entire project is validated by a number of increasingly bizarre and deadly events: a bad storm cuts the habitat off from the surface, strange messages appear on computer screens, and an unseen--but apparently huge--squid attacks the crew's quarters.

"Crichton's new novel ... kept me happy for two hours sitting in a grounded plane," wrote Robin McKinley in the New York Times Book Review, adding that "no one can ask for more of a thriller. ... Take this one along with you on your next plane ride." Michael Collins, writing in the Washington Post Book World, noted that "the pages turn quickly." He urged readers to "suspend your disbelief and put yourself 1,000 feet down."

Crichton also authored the blockbuster Jurassic Park, in which he brings the dinosaurs back from extinction. Jurassic Park chronicles the attempts of self-made billionaire John Hammond to build an amusement park on a remote island off the coast of Costa Rica. Instead of roller coasters and sideshows, the park features actual life-size dinosaurs bred through the wonders of biotechnology and recombinant DNA. There are some problems before the park opens, however: workmen begin to die in mysterious accidents and local children are attacked by strange lizards. Fearful that the project's opening is in jeopardy, Hammond calls together a team of scientists and technicians to look things over. Led by a paleontologist named Grant, the group is initially amazed by Hammond's creation. Their amazement quickly turns to horror when the park's electronic security system is put out of commission and the dinosaurs are freed to roam at will. What ensues is a deadly battle between the vastly underarmed human contingent and a group of smarter-than-anticipated tyrannosaurs, pterodactyls, stegosaurs, and velociraptors.

Time correspondent John Skow considered Jurassic Park the author's "best [techno-thriller] by far since The Andromeda Strain." Skow added that Crichton's "sci-fi is convincingly detailed." In a piece for the Los Angeles Times Book Review, Andrew Ferguson remarked that, "having read Crichton's fat new novel ... I have a word of advice for anyone owning real estate within ten miles of the La Brea tar pits: Sell." Ferguson criticized the novel, saying its "only real virtue" lies in "its genuinely interesting discussion of dinosaurs, DNA research, paleontology, and chaos theory." Gary Jennings in the New York Times Book Review was more appreciative, arguing that the book has "some good bits. ... All in all, Jurassic Park is a great place to visit."

Crichton left the world of science in Rising Sun, a political thriller revolving around the murder of a young American woman during a party for a huge Japanese corporation. The case is given to detective Peter J. Smith, who finds himself up against an Asian syndicate with great political and economic power. As Smith gets closer to the truth, the Japanese corporation uses all its influence to thwart his investigation--influence that includes corruption and violence. John Schwartz in Newsweek recognized that Crichton had "done his homework," but the critic still felt that Rising Sun is too full of "randy propaganda instead of a more balanced view" to be effective.

If Rising Sun was criticized as having a xenophobic view of the Far East, Disclosure, Crichton's 1994 best-seller, opened a whole new vista for debate and discussion. A techno-thriller with a twist, Disclosure opens as a computer company executive named Tom Sanders discovers that he has been passed over for a promotion in favor of a female executive with whom he had once been romantically involved. When he arrives at his new boss's office, she makes a pass at him. Now happily married, Sanders dodges the boss's advances, only to find within days that he has been named as the aggressor in a sexual harassment suit. How Sanders digs his way from beneath the spurious charges--while simultaneously unearthing wider corruption in the computer company--forms the core of the novel.

While critics duly observed the theme of sexual harassment in Disclosure, they tended to dwell more upon the thriller aspect of the novel. In New Statesman and Society, Douglas Kennedy commended Disclosure as an "acidic glimpse into the nasty gamesmanship of U.S. corporate life," adding: "Sexual harassment becomes a minor consideration in a narrative more preoccupied by the wonders of virtual reality and the vicious corporate battlefield." People magazine reviewer Susan Toepfer found that by casting the woman as the wrongdoer, "Crichton offers a fresh and provocative story," but contended he did not sufficiently explore the situation's possibilities. National Review contributor Michael Coren likewise noted of the novel: "This is provocative stuff, for to question the racial or gender exclusivity of self-awarded victim status is to kick at the very foundations of modern liberalism."

Disclosure, Rising Sun, and Jurassic Park were all produced as feature films, the latter proving to be one of the top-grossing movies of all time. Perhaps the vast success of Jurassic Park as a book and a film inspired Crichton to revisit his scheming raptors and vicious tyrannosaurs in The Lost World. Also set on an island off the coast of Costa Rica, The Lost World follows the adventures of another team of scientists--with a return appearance by mathematical theorist Ian Malcolm--as they try to escape the clutches of the dinosaurs and thwart the ambitions of some egg-stealing opportunists. Noted Susan Toepfer in People, "Characteristically clever, fast-paced and engaging, Michael Crichton's ... work accomplishes what he set out to do: offer the still-harrowing thrills of a by-now-familiar ride."

In his 1996 thriller, Airframe, Crichton "produces a taut, absorbing suspenser," according to Booklist reviewer Ray Olson, about the state of international air travel. The novel focuses on the trials and tribulations of Norton Aircraft, producers of the airframe, that is, the wings, tails, and fuselage, of a passenger jet that was almost involved in a tragic accident. Norton executive Casey Singleton tries to get to the bottom of the incident, in which one of the company's planes alternately dove and climbed rapidly, before their sale to the Chinese is jeopardized. Olson felt that Crichton fills the novel "with interesting detail on airliner construction, aerodynamics, the international trade in commercial aircraft, and air safety." Entertainment Weekly reviewer Tom DeHaven found the mystery at the core of the book to be "tame and familiar," but went on to comment: "The satire of TV journalism that kicks in to energize the novel's second half is brutal and fresh and very funny." Cynthia Sanz, writing in People, had higher praise for Airframe, noting: "The pacing is fast, the suspense nonstop." Similarly, Time reviewer James Collins observed that the novel is "so camera ready, it might be poured directly onto the screen."

Crichton's Timeline, from 1999, looks at time travel. This work focuses on a group of historians who use quantum teleporting to reach back into fourteenth-century France in search of art and manuscript treasures. These they hope to bring back to their sponsor, an impossibly rich and rather mad collector. But the intrepid time travelers land smack in the midst of the Hundred Years' War, and very quickly wish to return to modern days. For a Booklist contributor, this novel was a "thrilling time-travel rescue adventure," while Jeff Ayers, writing in Library Journal, noted that the "plot is intriguing, and [Crichton's] well-researched history and science [are] certain to prompt discussions." Similarly, a Publishers Weekly contributor felt that Timeline "engages as no Crichton tale has done since Jurassic Park, as it brings the past back to vigorous, entertaining life."

In Prey, Crichton exposes the sinister in nanotechnology--tiny machines less than half the thickness of a human hair with the ability to reproduce, learn, and evolve. The story centers on Jack, a stay-at-home parent of three children and his workaholic wife's top-secret career, which turns out to be developing dangerous nanotechnology for the military. In true Crichton form, the book is a page-turning adventure, extrapolating pages of both current and speculative science and technology into a best-selling novel. Critics had mixed reviews for the book, especially in comparison to Crichton's earlier successes. A Kirkus Reviews contributor described Prey as "nanotechnology [gone] homicidal" and considered the book a "disappointing effort from an author who simply refuses to change an old, tired template." Michael Hilzik, writing in the Los Angeles Times, called Prey lean of drama, tension, and peril and "decidedly lesser Crichton." New York Times reviewer Jim Holt, however, described it as "irresistibly suspenseful" and commented that he "turned the pages feverishly."

In 2004 Crichton published State of Fear, a controversial work in which the validity of global warming is questioned and ecoterrorism exists. Critics felt strongly about Crichton's "work of thinly disguised political commentary," as Chris Mooney described the book in Skeptical Inquirer. Mooney called the main character "a vessel into which Crichton can pour his agenda-driven reading of the scientific evidence" and concluded that "such writing is pure porn for deniers of global warming." Bruce Barcott, writing for New York Times Book Review, commented that " State of Fear is so over-the-top ... that it wouldn't take much to turn it into a satiric parable of a liberal coming to his conservative senses." Andrew Stuttaford, reviewing the book for the conservative National Review, felt differently. He pointed out that the book is "packed with graphs, scientific discussion, footnotes, a manifesto, and an extensive bibliography," all elements that make for "a good, solid, exciting read." This debate was rekindled in 2006 when the American Association of Petroleum Geologists gave Crichton its Journalism award for, among other works, State of Fear. This prompted critics and scientists to claim the petroleum geologists had done so because the book is a denial of global warming and therefore makes their job--finding and producing oil for automobiles, which in turn creates greenhouse gases--that much easier.

Crichton's ability to mesh science, technology, and suspense is not limited to novels. Many of the films that the author has directed, such as Westworld and Runaway, feature a struggle between humans and technology. In his popular, award-winning, and long-running television series, ER, which Crichton created and produced, he also displays a blend of technology and drama. Based on his own days in a Boston emergency room, the series was an unexpected hit when it debuted in 1994. Though it was launched in a Monday time slot opposite Monday Night Football, it still garnered an audience of twenty-four million, and within a month the show was listed in the top ten television shows. "Audiences were adrenalized by the hyperkinetic pilot that featured no fewer than fifty-seven speaking parts and thirty-three story lines," according to Clarissa Cruz, writing in Entertainment Weekly. Cruz described the show as a "bubbling cauldron of medical suspense, workplace politics, and romantic quandaries." Additionally, the ever-productive Crichton entered the video and computer game business with his Timeline Computer Entertainment, whose first release was a video adaptation of his novel Timeline. As Jeff Zaleski noted in Publishers Weekly, "While Crichton brings his finely tuned sense of storytelling to the interactive medium, he also brings cinematic expertise."

Crichton's 2006 novel, Next, returns to safer ground for the novelist, that of genetic science and cloning, In his scenario, the next big developments in such cloning are Gerard and Dave. The former is a parrot purposely mutated with human genes to be able to communicate with humans on topics from math to current movies, while the latter is a mixture of human and chimp. Crichton employs loosely related stories of the patenting of the human genome and the biotechnology industry to explore themes of "genetic engineering, genetic tampering, cross-cultural gene experiments, and stem cell research," as Library Journal reviewer Joseph L. Carlson noted. The book has numerous subplots and settings, from California to Paris. Entertainment Weekly reviewer Gregory Kirschling found these intersecting storylines less than successful, noting: "[Crichton] goes Crash on us, intersecting multiple stories and more than three dozen named characters in a book that rambles all over the place as it demonstrates what genome manipulation might have in store for us." Lev Grossman, writing in Time magazine, had a similar complaint: "The many plots ... are linked together by a collection of coincidences so haphazard and unbelievable that it's almost shocking to read them under the byline of a novelist as seasoned as Crichton." Grossman went on to observe: "This kind of messiness doesn't suit him at all."

For a Christian Science Monitor reviewer, "Crichton raises plenty of potentially fascinating ethical questions" in the course of his long novel. However, the critic felt Crichton was "so busy bouncing from character to character that no individual strand gets wound up in a satisfying way." National Review critic Ronald J. Bailey, however, had a higher assessment of the novel, writing: "Despite its considerable narrative flaws, Next is still a compulsively readable beach book about the dawn of the biotech revolution." Similarly, Carlson found Next "one of the most important fiction books of modern time."

PERSONAL INFORMATION

Surname is pronounced "cry- ton"; born October 23, 1942, in Chicago, IL; died November 4, 2008, in Los Angeles; son of John Henderson (a corporate president) and Zula Crichton; married Joan Radam, January 1, 1965 (divorced, 1970); married Kathleen St. Johns, 1978 (divorced, 1980); married Suzanne Childs (marriage ended); married Anne-Marie Martin, 1987 (divorced); children: (fourth marriage) Taylor (daughter). Education: Harvard University, A.B. (summa cum laude), 1964, M.D., 1969. Memberships: Academy of Motion Picture Arts and Sciences, Aesculapian Society, Authors Guild, Authors League of America, Directors Guild of America, Mystery Writers Guild of America (West), PEN, Phi Beta Kappa.

AWARDS

Edgar Award, Mystery Writers of America, 1968, for A Case of Need, and 1979, for The Great Train Robbery; writer of the year award, Association of American Medical Writers, 1970, for Five Patients: The Hospital Explained; George Foster Peabody Award, 1995, and Emmy Award for Best Dramatic Series, 1996, both for ER; Modern Library Association Best Fiction List, 2001, for Timeline; Journalism award, American Association of Petroleum Geologists, 2006. New ankylosaur named in Crichton's honor, Crichtonsaurus bohlini, 2003.

CAREER

Author and physician, 1969-2008. Salk Institute for Biological Studies, La Jolla, CA, postdoctoral fellow, 1969-70; visiting writer, Massachusetts Institute of Technology, Cambridge, 1988.

Director of films and teleplays, including Pursuit (based on his novel Binary), American Broadcasting Companies, Inc. (ABC), 1972, Westworld, Metro- Goldwyn-Mayer (MGM), 1973, Coma, United Artists (UA), 1978, The Great Train Robbery, UA, 1979, Looker, Warner Bros., 1981, Runaway, Tri-Star Pictures, 1984, Physical Evidence, Columbia, 1989, and The Thirteenth Warrior (also known as Eaters of the Dead), Buena Vista, 1999. Executive producer of film Disclosure, Warner Bros., 1994; producer of films, including Twister, Warner Bros., 1996, Jurassic Park III, 1997; Sphere, Warner Bros., 1998, and The Thirteenth Warrior, Buena Vista, 1999. Creator and executive producer, ER (television series), National Broadcast Company, Inc. (NBC), 1994-2008.


WRITINGS:
NOVELS

* The Andromeda Strain, Knopf (New York, NY), 1969.
* (With brother, Douglas Crichton, under joint pseudonym Michael Douglas) Dealing; or, The Berkeley-to-Boston Forty-Brick Lost-Bag Blues, Knopf (New York, NY), 1971.
* The Terminal Man, Knopf (New York, NY), 1972.
* Westworld (also see below), Bantam (New York, NY), 1974.
* The Great Train Robbery (also see below), Knopf (New York, NY), 1975.
* Eaters of the Dead, Knopf (New York, NY), 1976.
* Congo, Knopf (New York, NY), 1980.
* Sphere, Knopf (New York, NY), 1987.
* Jurassic Park (also see below), Knopf (New York, NY), 1990.
* Rising Sun (also see below), Knopf (New York, NY), 1992.
* Disclosure, Knopf (New York, NY), 1994.
* The Lost World (also see below), Knopf (New York, NY), 1995.
* Airframe, Knopf (New York, NY), 1996.
* The Lost World, Jurassic Park: The Movie Storybook, (based on the motion picture and the novel), Grosset & Dunlap (New York, NY), 1997.
* Timeline, Knopf (New York, NY), 1999.
* Prey, HarperCollins (New York, NY), 2002.
* State of Fear, HarperCollins (New York, NY), 2004.
* Next, HarperCollins (New York, NY), 2006.
* Pirate Latitudes, Harper (New York, NY), 2009.

Numerous juvenile fiction adaptations have been made from Jurassic Park and Congo, both the novel and screenplay, and written by a variety of authors.

NONFICTION

* Five Patients: The Hospital Explained, Knopf (New York, NY), 1970.
* Jasper Johns, Abrams (New York, NY), 1977, revised and expanded edition, 1994.
* Electronic Life: How to Think about Computers, Knopf (New York, NY), 1983.
* Travels (autobiography), Knopf (New York, NY), 1988.

SCREENPLAYS

* Extreme Close-up, National General, 1973.
* Westworld (based on novel of same title), Metro-Goldwyn-Mayer, 1973.
* Coma (based on novel of same title by Robin Cook), United Artists, 1977.
* The Great Train Robbery (based on novel of same title), United Artists, 1978.
* Looker, Warner Bros., 1981.
* Runaway, Tri-Star Pictures, 1984.
* (With John Koepp) Jurassic Park (based on novel of same title), 1993.
* (With Philip Kaufman and Michael Backes) Rising Sun (based on novel of same title), 1993.
* Twister, Warner Bros., 1996.

UNDER PSEUDONYM JOHN LANGE

* Odds On, New American Library (New York, NY), 1966.
* Scratch One, New American Library (New York, NY), 1967.
* Easy Go, New American Library (New York, NY), 1968, published as The Last Tomb, Bantam (New York, NY), 1974.
* Zero Cool, New American Library (New York, NY), 1969.
* The Venom Business, New American Library (New York, NY), 1969.
* Drug of Choice, New American Library (New York, NY), 1970.
* Grave Descend, New American Library (New York, NY), 1970.
* Binary, Knopf (New York, NY), 1971.

UNDER PSEUDONYM JEFFERY HUDSON

* A Case of Need, New American Library (New York, NY), 1968.

Contributor to periodicals, including Wired and Washington Monthly.

MEDIA ADAPTATIONS

The Andromeda Strain was filmed by Universal, 1971; A Case of Need was adapted as the film The Carey Treatment (also known as Emergency Ward) and filmed by Metro-Goldwyn-Mayer, 1972; Binary was filmed as Pursuit, ABC-TV, 1972; The Terminal Man was filmed by Warner Brothers, 1974; Jurassic Park was filmed by Steven Spielberg and released in 1994; Congo was filmed by Frank Marshall and released by Paramount, 1995; Disclosure was filmed and released in 1995; The Lost World: Jurassic Park was released by Universal, 1997; Sphere was adapted for the screen and released by Warner Brothers, 1998; The Thirteenth Warrior was released by Buena Vista, 1999; Timeline was filmed by Paramount Pictures, 2003. Timeline was also adapted as a computer game.

Read more
Latest headlines