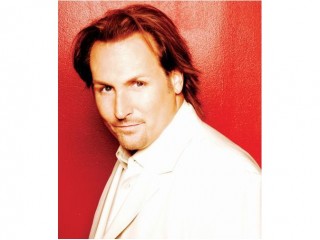 Michael English biography
Date of birth : 1963-04-12
Date of death : -
Birthplace : Wallace, North Carolina,U.S.
Nationality : American
Category : Arts and Entertainment
Last modified : 2011-11-11
Credited as : Singer, Christian Music, The Gaither Vocal Band
Michael English is an American Christian singer. Initially, he was a member of his family's singing group, and is currently a member of The Gaither Vocal Band. During his solo career, he recorded eight studio albums. English's highest-charting solo single was "Your Love Amazes Me", which reached No. 10 on the Adult Contemporary chart in 1996.
From prodigal son to pariah and back again, Michael English has been successful in both the contemporary Christian and pop music industry. English's success in these two different industries made him a rarity in the music business, whose strict divisions between its music categories usually blocks any attempts for such crossover success. Yet it was how English entered the pop music world, not his crossover success that made him famous.
Michael Dewayne English was born in 1962 in Kennansville, North Carolina. Before English was big enough to be seen from its pews, he began singing with his father, Aubine and his brother, Biney in their Pentecostal Church in Wallace, North Carolina. By the age of 13, English and Biney became members of The Singing Samaritans, a southern gospel quartet. After graduating high school, English toured professionally for two years with the gospel group, The Singing Americans. In 1982, English continued his singing career by joining another gospel group, The Goodmans. According to his online web page biography, English said that "singing with The Goodmans was a dream come true [because] Vestal Goodman is my favorite singer in the whole world. When I get to Heaven, I want her voice." In 1986 English was asked to join the respected gospel group, The Gaither Vocal Band and for the next five years they recorded the albums 1 X One, Wings,, and Homecoming.
During these years, though, English was not just professionally singing, he was also battling a panic disorder. As Lyla Akouri noted in his online web page biography, English suffered from panic attacks that were "brought about by years of internalized stress and sense of worthlessness." Some of these attacks became debilitating to the point where he would experience heart palpitations, shortness of breath, and tunnel vision. When English lost his voice for seven months, he sought help from a familiar source. "Michael turned to God to help him through a time when he says he was 'out of hope'," wrote Akouri. By "turning to God," English regained his hope and took a giant step forward and began his solo contemporary christian music career.
In 1991, Christian record label Warner Alliance Records released English's first solo album, Michael English. This album, with such hits as "Do You Believe in Love", "Mary Did You Know", and "Heaven" won English two Gospel Music Association (GMA) Dove awards. By the end of 1992, Michael English was also the thirteenth best selling album on Billboard's Contemporary Christian album chart. In 1993, English released his second album Hope. The GMA awarded Hope and English six Dove awards including Contemporary Album of the Year in 1994. Hope was also the fifth best selling record on Billboard's Contemporary Christian album chart for 1993. As People's Cynthia Sanz stated, English had "secured a place among gospel's most successful singers." The spotlight of fame and success had finally shone brightly on English perhaps a little too brightly.
On May 6, 1994, English and Warner Alliance announced in Billboard magazine that English "would be withdrawing from the Christian music industry because of mistakes he has recently made." The spotlight that had so brightly shone fame and success on English was now about to illuminate a public scandal-his affair with Marabeth Jordon, the married singer of the gospel group First Call. Two days before the Dove Awards, English had learned that Jordon was expecting his child (she later miscarried). English admitted his affair to his wife, Lisa, then one week later moved out of their house. English also admitted the affair to Warner Alliance. According to Sanz, Warner Alliance record executives then "stopped promotion of his music and pushed him to make a public confession." English also returned his half-dozen Dove awards to the GMA.
Although English had planned to simply retire without an explanation, he honored his record company's wishes and publicly confessed to the affair. Sanz wrote that, as a result of this public confession, "Christian radio stations stopped playing English's music, and some Christian bookstores pulled his tapes and CDs from their shelves." Warner Alliance, as stated in Christianity Today, then announced that it had decided to "dissociate itself from English due to his actions that were contrary to the very ideals he had been espousing." Thus, just three years after his first solo album, English had been dropped by his record label, had been shunned by Christian radio stations and bookstores, and had left his home.
However, English's fans had not left him. Newsweek reporters Paul O'Donnell and Amy Eskind said that these fans "made a distinction between English's sin and his songs." O'Donnell and Eskind also noted that fans had "snatched up any of his albums still on the racks," and barraged radio stations with "nasty calls" against banning English's music. Nashville's WNAZ radio disc jockey Mark DeYoung told Newsweek that "they [fans] were more angry with us [radio stations] than with Michael English. They weren't condemning him at all." Yet, despite continued fan support, English told Sanz: "I felt as if scandal was written across my forehead. I was depressed and sick. I thought my life was over."
Healing
In May of 1994, English told Newsweek that "I grew up singing Christian music and Christian music is where my heart is. I'd like to sing [Christian] music again, but I don't know if I will be allowed to." Yet a mere seven months later, Billboard reported that the contemporary Christian music industry had "urged English to return ... to share his tribulations and potentially reach an even larger Christian audience." English told Billboard that he would not return to the industry because, "I'd have to talk about it [the affair], preach about it, testify about it for Lord knows how long, and I choose not to do that. I choose not to have a tool like that to make myself huge in the Christian industry. I think that's ridiculous. I think that's nasty, and I think that's dirty. I don't have a gimmick. I've just got a voice, and I just want to use that voice."
English chose to use his voice by signing with Curb Records, a secular music label who had offered English a record deal the same day he was dropped by Warner Alliance. Curb chairman Mike Curb told Billboard, "I feel he's one of the greatest artists I've ever heard, and I feel his artistry should be allowed to continue." In October of 1994, Curb Records released English's first pop single, "Healing". This song, a duet with country singer Wynonna Judd, was featured on the Silent Fall movie soundtrack. In 1995 Curb released Healing, a compilation of previously released material along with two new songs.
In July of 1994, English fully declared his freedom from the constraints of the contemporary Christian music industry by debuting his first mainstream pop album, Freedom. He told Billboard that pop music allowed him, "the freedom to sing and not worry if this [song/album] is going to offend anyone. I'm free to say whatever I feel there is to say. I hope people feel the pain that I have been through and the freedom of expression I have in these songs." Most of the original songs on Freedom have a common lyrical theme-freedom. In "Freedom Field", which English co-wrote, he sings: AOld man religion, I've got your name; the best part of my years were wrapped up tied up in your thang." English explained to Billboard that the idea for this song came from a "recurring dream that I've had of that place, the freedom where all my dreams come true, the place where everything is right and everything that is wrong is made right." However, English had not totally severed his ties with the contemporary Christian music industry. He produced albums and wrote songs for southern gospel artists such as J.D. Sumner and the Stamps, the Gaither Vocal Band, and The Martins. English acknowledged in Billboard that "Christian music will always be part of my life, because that's how I grew up.... I'm never going to shut the door on it."
The doors for English's return to contemporary Christian music was opened in 1996 by his friend, Sumner. Sumner and his band The Stamps were performing at the National Quartet Convention when he asked English to join him on stage, and asked him "to forgive those times when he was judged by the church." English, genuinely honored, sang "I Bowed On My Knees," his signature and classic contemporary Christian song.
In May of 1997, the contemporary Christian music industry's door opened even wider for English when he was asked to be a guest on Trinity Broadcasting Network's (TBN) popular religious TV program, Praise The Lord. English thought hard about performing, fearing that Christian audiences would still not accept him, but eventually decided to do it. Afterwards he told The U.S. Gospel News, "I'm overwhelmed with gratitude. [People] have been gracious enough to forgive, and now I want to give something back to them."
Struggled for Re-acceptance
The controversy surrounding English's return to contemporary Christian music led to the establishment of two internet web sites devoted to English. Robin Parrish, General Editor of one web site, told Jill Doss-Raines from The Dispatch that the Christian media and mainstream media had ignored English, even in the wake of his comeback attempt. Writing for the second web site, Akouri agreed with Parrish. In an editorial, Akouri stated that there were "radio stations who still refuse to play his music; one we know of requiring an apology in person before they will do so." Similarly, music product buyer for Berean Christian Stores, Rick Anderson told Carol Chapman Stertzer of Contemporary Christian Music (CCM) Update that stores " have a responsibility to our customers and, more importantly, to the Lord, to carry product that is recorded by artists whose lifestyles are examples of what Christ wants for us: lives of self-control." Therefore, Anderson had not yet decided whether the Berean Christian Stores would carry English's forthcoming Christian album.
English was aware of the hostility over his return to Christian music, telling Stertzer that "there have some down times dealing with radio stations that won't play my music and say they never will. But I'm not bitter or angry about those things anymore. I'm just thankful for the ones that do play my music." Not to mention the Christian retail stores who never stopped selling English's music. "I felt Warner went overboard," explained Joe Oakley of Family Christian Stores, to Stertzer. "I understand the need to discipline the guy, but to pull everything off the shelves because he sinned? That is tantamount to pulling Psalms out of the Bible because David sinned." Or as Ken Farley, program director at Oklahoma City's KOKF-FM, told Stertzer, "If the criteria for playing a song or stocking a CD was based purely on whether an artist had sin in his or her life, then we'd have nothing to play or sell." Thus, it seemed that English had found some acceptance for his return to contemporary Christian music.
As for why he decided to return to his Christian music, English told Sertzer, "[I] felt a tugging to go back in and do what I know that God has called me to do. I've gone through the fire and made it, so I have something to tell. I'm just me now-there's nothing to hide. People accept me, or they don't."
In March 2000. English recorded a new album, Heaven to Earth, which was released by Curb Records. Premiering his album on Trinity Broadcasting Network's Praise the Lord, English gave a powerful testimony of what God had brought him through and shared his story about his addiction to painkillers and subsequent treatment and rehab.In 2009, English rejoined the Gaither Vocal Band—making it a quintet—singing lead.On March 4, 2010, Michael English underwent surgery on the spinal column in his neck. While he was recovering, Marshall Hall came back to fill in for two months, and Reggie Smith filled in for one month. With an emotional concert return, English sang again with the vocal band on August 1, 2010.
Selected discography
-Michael English , Warner Alliance, 1991.
-Hope , Warner Alliance, 1993.
-Healing , Curb Records, 1995.
-Freedom , Curb Records, 1996.
-Gospel (Curb),1998
-Heaven to Earth (Curb),2000
-A Michael English Christmas (Curb),2003
-Michael English Greatest Hits: In Christ Alone (Curb),2006
-The Prodigal Comes Home (Curb),2008
with The Singing Americans
-Hymntime , 1983.
-Live and Alive , 1984.
-Something Old, Something New , 1984.
-Black and White , 1985.
with The Gaither Vocal Band
-1 X One , 1986.
-Wings , 1988.
-A Few Good Men , 1990.
-Homecoming , 1991
-Peace of the Rock , 1993
-Can't Stop Talking About Him , 1995.
Read more
Latest headlines