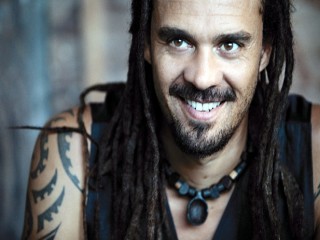 Michael Franti biography
Date of birth : 1966-04-21
Date of death : -
Birthplace : San Francisco, California,U.S.
Nationality : American
Category : Arts and Entertainment
Last modified : 2011-11-15
Credited as : Singer, composer, Michael Franti & Spearhead
Michael Franti is an American poet, musician, and composer. He is the creator and lead vocalist of Michael Franti & Spearhead, a band that blends hip hop with a variety of other styles including funk, reggae, jazz, folk, and rock. He is also an outspoken supporter for a wide spectrum of peace and social justice issues.
Michael Franti emerged as one of the most provocative and talented members of the crowded rap/hip-hop universe in the early 1990s. A musician with a chameleonlike ability to reshape his musical style from album to album, Franti first garnered attention with an avant-garde funk outfit known as the Beatnigs. He then moved on to the Disposable Heroes of Hiphoprisy, a fiery, politically charged group drenched in a booming industrial rap sound. After the Disposable Heroes folded, Franti reinvented his sound once again and in 1994 founded the group Spearhead. Critics and fans alike were bowled over when their first effort, Home, was released. As reviewer Ken Capobianco remarked in The Tab, "Nothing in Disposable [Heroes of Hiphoprisy] prepares you for Franti's new brain-child, Spearhead, a diverse mix of organic hip-hop, pop and Franti's vivid verse filled with both potent politics and a newfound warmth and whimsy."
Michael Franti was born in 1966 in California. Put up for adoption as an infant, he spent his first months of life in a number of foster homes. When he was still a toddler, he was adopted by a white family that moved around to various California locales throughout his childhood. Years later Franti searched for and found his birth parents--his mother was white, his father black--but he recognized that "when it's all over, it's the people who raised me who are my parents. You know what I'm saying? They loved me and looked after me all those years," he said in an interview with Mike Greenblatt for Right On! "So as I've gotten older, digested the information, thought about it, talked about it, written about it, I have an understanding about who I am as an individual and where I fit in with my feelings."
After completing high school in northern California, Franti ambled down to San Francisco. He attended college at the University of San Francisco, having secured a scholarship to play basketball. A rangy, six-and-a-half footer who loved to play the game, Franti nonetheless found himself drifting increasingly to music. He soon picked up a bass guitar from an area pawn shop and began doodling around. At the same time, Franti became acquainted with Dr. Harry Edwards, a sociologist at the Berkeley campus who, back in 1968, had organized the politically motivated protests by African American athletes at the Olympics in Mexico City. Edwards urged Franti to study and investigate the world around him.
Franti subsequently quit the university's varsity team, on which he was a starter, devoting his energies instead to his newfound passions for music and social issues. He eventually became part of a band called the Beatnigs, which recorded an album on Jello Biafra's Alternative Tentacles label. "We started throwing these underground parties in abandoned warehouses," recalled Franti in a Musician interview with Mark Rowland. "We were combining African drums with poetry and African and hip-hop dancers, garbage-can stuff." The group attracted some critical attention, but it eventually broke up.
As memory of the Beatnigs faded, Franti and another member of that band, Rono Tse, formed the Disposable Heroes of Hiphoprisy. The new group began releasing singles in 1991, and it quickly became clear that Franti and Tse were a twosome that demanded to be heard. Westword reviewer Michael Roberts recalled that "their opening blast, 'Television, the Drug of the Nation,' was an immensely powerful warning shot fired across popular culture's bow--and there were plenty more to follow."
The hip-hop duo received almost universal critical accolades from reviewers who hailed Franti's "articulate, politically provocative and subtly nuanced raps," wrote Rowland. The Detroit Metro Times summarized the critical buzz around the band, noting, "Whereas other rap artists indulge the genre in all its gangsterish trappings, the Heroes use their dense, dense rhythms as an accessible and confrontational platform for their dense, dense politics," which included uncompromising stands against the Gulf War, racism, anti-gay violence, and other issues.
After the release of their album Hypocrisy Is the Greatest Luxury on the 4th & Broadway label, Franti and Tse further consolidated their standing with a series of memorable concerts. Soon the Disposable Heroes of Hiphoprisy were asked to tour with music giants Arrested Development and U2. Ultimately, though, the Heroes fell by the wayside. "When I started Disposable Heroes, it wasn't intended to be a group. It was just a concept. The truth is that Disposable Heroes wasn't even a record I would listen to at home," Franti told Rolling Stone contributor David Wild. "The big problem with Disposable Heroes was that it was a record people listened to because it was good for them--kind of like broccoli."
After lending a songwriting assist to Hal Wilner in the creation of William Burroughs's Island Red label release Spare Ass Annie and Other Tales, Franti and Tse got together to record their second album. They soon realized, though, that the musical paths they wished to explore had diverged. The Disposable Heroes of Hiphoprisy, a group that had blasted into the music world like a comet, thus disappeared with similar speed, leaving a trail of incendiary and challenging music behind.
After the Disposable Heroes disbanded, Franti turned for inspiration to the music he'd listened to while growing up--acts like Marvin Gaye, Earth, Wind & Fire, Bob Marley, and Parliament. His next project, Spearhead, reflected those influences. "This time around," he explained to URB Magazine contributor Jazzbo, "I wanted to make music that you could bounce your head to, that you could enjoy putting on and chill with at your house." Still, Franti's desire to comment on the world around him had not waned. "It wasn't that I didn't want to make statements anymore," he told Roberts. "But when I was a kid, I got into the music first, and then later, after I'd listened to the songs for awhile, I started hearing what the artists had to say. And that's what I wanted to do."
Franti gathered together a diverse range of musical talent to form Spearhead. He recruited Mary Harris and Ras I Zulu to share the vocal chores, then rounded out the group's lineup with instrumentalists Liane Jamison, Keith McArthur, James Gray, and David James. The new group then entered the studio to record their first album, Home, a work that Jazzbo called "vibrant and aware seventies soul for today, a sound that is as powerful as it is seductive." The 13 songs on the album run the gamut both stylistically and lyrically. A seamless fusion of hip-hop, funk, reggae, and jazz, Home features pointed political commentary next to easygoing affirmations of the simple pleasures of home and family. Critics note that party songs of a decidedly funky bent, such as "Red Beans and Rice," complement rather than neutralize powerful militant numbers like "Dream Team."
Other tracks were hailed as well, among them "Positive," a song described by Vibe columnist Tricia Rose as "the tension-ridden, soul jazz journey of a young man who's finally decided to be tested for AIDS," and "Hole in the Bucket," Franti's intriguing version of a bouncy Jamaican folksong popularized by Harry Belafonte a generation before.
Home enjoyed almost universal critical praise upon its release. West County Times reviewer Tim Goodman wrote, "When you come across an album of this magnitude, there's a danger of slipping around in the critical slobber." He added, "Consider Home to be the nineties version of Marvin Gaye's classic, What's Going On. It's that great." New York Newsday's Ira Robbins agreed, calling Spearhead's debut album "smart, funny, funky, and glowing with humanity."
Other critics focused on Franti's insights into what it means to be a black man in America in the 1990s. "Home explores a range of ways to be a black man by going where vulnerability, fire, rage, and love hide out," commented Rose. "Michael Franti and Spearhead get around sermons and government statistics to present a masculinity infused with political passion, exorcised pain, earthy pleasure, and the strength we gain from taking risks, again and again."
Ironically, a chief strength of Home--the album's diverse mix of soul, hip-hop, and jazz--hindered its acceptance by the niche-oriented radio industry, which was unable to pigeonhole Spearhead into a single musical category. But while Franti wanted Spearhead to be heard, his primary concern was being true to his musical vision.
"When I write songs, I write about human emotion and feelings which everybody has. It doesn't matter if you're black, white or brown," Franti told extreme writer Chris Sanderson. "We live in a time and place where my generation has to deal with AIDS, violence, police brutality and death." Other musical artists shy away from such topics, but Franti told Jazzbo, "I feel as an artist you have some responsibility to elevate the consciousness of your listener. I know that not everybody feels that way. Some artists felt that their motivation is to make people dance and that's cool. But for my music, I feel I have responsibility."
Franti also acknowledges the role that his son Cappy, who was born in 1988, has had on his lyrics. "I want to be able to make records that Cappy can listen to 15 years from now and see that they weren't just records of me holding my dick, no matter how much money it makes," Franti told Rowland in Musician. "I want to say, here's a record that has some ideas. So that's how I gauge the decisions I make in the music."
Clearly, Franti's decisions have been on target. As Goodman indicated in the West County Times, "Franti is the complete package. In fact, he shouldn't be lumped in as strictly a bright light in the hip-hop scene--he's an intellectual wordsmith towering above most in the current pop-rock world."
In 1994, Franti formed a new band called Spearhead with a few studio musicians, including mainstay Carl Young, and announced the dissolution of Disposable Heroes of Hiphoprisy. Their first release, Home, in September 1994, was a departure from the politically charged rap of the Disposable Heroes and drew more from funk and soul music. The song "Positive", also from the album Home, appeared on the Stolen Moments: Red Hot + Cool compilation album by the Red Hot Organization. In 1998, Spearhead recorded "I Got Plenty 'o Nuthin" with Ernest Ranglin for the Red Hot Organization's compilation album Red Hot + Rhapsody.
Their follow up album Chocolate Supa Highway was released in March 1997, with several changes in band members between releases. This album featured a return to hip hop elements and a pronounced reggae influence and included guest appearances by notables like Stephen Marley and Joan Osborne.
Michael Franti & Spearhead released Stay Human in 2000 under their own label Boo Boo Wax in alignment with indie music label Six Degrees Records. The album's central theme was the unjust nature of the death penalty and other major themes included mass media monopolization, the prison-industrial complex and corporate globalization.
Everyone Deserves Music was released in 2003. Franti composed many of the songs from his guitar and, like fellow 21st century cultural globalists Manu Chao and Ozomatli, continues to synthesize his eclectic influences. In a departure from the industrial sounds of the Beatnigs and Disposable Heroes, and the minimalism of early Spearhead, Franti's affirming lyrics are now set to swelling rock chords, while keeping a world-wise groove nodding towards reggae, dancehall, bossa nova, Afrobeat, and funk.
Also in 2003, Franti released a mostly acoustic album, Songs from the Front Porch containing rearranged versions of older songs from Chocolate Supa Highway, Stay Human and Everyone Deserves Music as well as a couple of new tracks.
On July 25, 2006, Michael Franti & Spearhead released Yell Fire!, inspired by Franti's trip to Israel, Baghdad, the West Bank, and the Gaza Strip. In an effort to share his experiences from his trip and to explore the human cost of war, Franti produced a movie entitled I Know I'm Not Alone, using the songs from his album Yell Fire! as a soundtrack. "One Step Closer To You" from Yell Fire! features Pink on backing vocals.
The album All Rebel Rockers was released on September 9, 2008 and was largely recorded in Jamaica at the Anchor studio in St Andrew. The band worked with ubiquitous rhythm team Sly and Robbie and featured multi-talented vocalist Cherine Anderson on the set which entered the Billboard 200 pop chart in September at number 38.
Franti announced the release of The Sound of Sunshine on his official website in July 2010. It features 12 tracks including two versions of the title track, the new hit single, "Shake It", and staples of his recent live performances including "Hey Hey Hey", "Anytime You Need Me", "The Thing That Helps Me Get Through", and the anthemic arena-rock ballad "I'll Be Waiting". The album originally was originally set to be released on August 24, but was pushed back to September 21 to give the album "more runway."
Discography
Studio albums:
1994: Home
1997: Chocolate Supa Highway
2001: Stay Human
2003: Everyone Deserves Music
2006: Yell Fire! #125 US
2008: All Rebel Rockers #39 US
2010: The Sound of Sunshine
Solo:
2000: Live at the Baobab
2003: Songs from the Front Porch
Live albums and compilations:
1994: Stolen Moments: Red Hot + Cool
1998: Red Hot + Rhapsody
2005: Weeds (Music from the Original TV Series)
2005: Live in Sydney
2005: Love Kamikaze (Singles and Remixes)
2005: Live: Alaska
2005: Power to the Peaceful Festival 2005 (CD & DVD)
2006: Snakes on a Plane: The Album
2007: Yell Fire! Live
2008: CLIF GreenNotes Protect the Places We Play
2008: The Wire: And All the Pieces Matter -- Five Years of Music from The Wire
Read more
Latest headlines