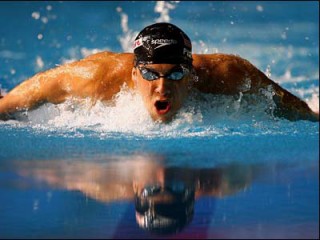 Michael Phelps biography
Date of birth : 1985-06-30
Date of death : -
Birthplace : Baltimore, Maryland, U.S.
Nationality : American
Category : Sports
Last modified : 2010-06-22
Credited as : Olympic swimmer, ,
Michael Phelps
born June 30, 1985 in Baltimore, Maryland, United States is an American swimmer.
Michael Phelps
, the youngest man to break a swimming world record, knew by 2001 that, as part of his career, he wanted to change the way that people looked at the sport of swimming. Over the course of two Olympics--Athens in 2004 and Beijing in 2008--Phelps broke a series of records that brought him an enormous amount of media attention. That spotlight has allowed Phelps to bring swimming into greater prominence in the American sports world.
At the 2008 Beijing Olympics, Phelps broke the record for most gold medals won at a single Olympics, winning a total of eight, one more than his predecessor, swimmer Mark Spitz, received in the 1972 Munich Olympics. Phelps has won a total of 16 Olympic medals: eight gold at the Beijing Olympics, and six gold and two bronze at the Athens Olympics of 2004. In 2000, Phelps placed fifth in his single event in the Sydney Olympics, a rank that he strove to improve. Only five months after the 2000 Olympics, Phelps broke the world record for the 200 meter butterfly event, beginning a trend for record breaking that has marked his entire career.
Born in Baltimore, Maryland, Phelps joined the North Baltimore Aquatic Club when he was seven years old. Phelps took to swimming, finding that some of his normal awkwardness, caused by being hyperflexible, vanished in the water. Phelps was not the first swimmer in his family; his sister Whitney tried out for the Olympics, and his other sister Hillary was a member of the swimming team at the University of Richmond. Though learning to swim was a big moment for his young life, the same year was a difficult one at home. Phelps was diagnosed with attention deficit hyperactivity disorder, and his family life changed shape as his parents divorced. The three Phelps children moved to Baltimore, with their mother, from their country home, making it easier for them to get to swim training.
At eleven, Phelps began training with Bob Bowman, who saw immediately that Phelps had Olympic potential. "You saw a kid who couldn't wait to get in the water. A kid who pushed himself beyond where you tried to push him," Bowman explained to Brian Cazeneuve of Sports Illustrated for Kids. Bowman said that he tried "not to get too excited, even as I wondered how good he could be." Bowman began discussing long-term plans with Phelps's mother, Debbie. "I'm thinking, This man is crazy," Debbie told Alice Park in Time. "This is my eleven-year-old baby, and you're projecting 2012?"
Phelps' competitive streak was easy for Bowman to pick out. "What I noticed about him was that he was fiercely competitive in everything he did, whether it was swimming a race or playing a game at the pool," Bowman told Park. In the same article, Phelps admitted, "I hate to lose. I absolutely hate to lose. I can't stand it." Bowman encouraged Phelps to train to a degree where he could watch the 2000 Olympics, but Phelps pushed himself harder. At 15, Phelps placed in the Olympic trials and became the youngest member of the American team for the Sydney Olympics.
Despite achieving a place on the team at such a young age, and placing fifth in his only event, Phelps was frustrated with his performance. "I was disappointed walking away from Sydney with nothing," he told Park in the same Time article. "People were saying [fifth is] good, and I was saying, 'No, it's not. I want more.' It's something that's been with me ever since." Phelps continued to push himself, setting his first word record five months after the Sydney Olympics, and winning his first world championship four months later. At 16, Phelps became the youngest American male swimmer to become a professional. In the 2003 World Championships, Phelps won six medals, broke five world records, one of them the one he set in 2001, and was named the Swimmer of the Meet due to his performance.
In the 2004 Olympic trials, Phelps became the first swimmer to qualify in six individual Olympic events. "He is really redefining our expectations of swimming excellence," two-time Olympian Pablo Morales told Alice Park of Time as the Athens Olympics approached. "He is blazing his own trail now, and there is probably a whole global army of young swimmers who are looking up to him." Given the intensity of the scheduling, Phelps chose to participate in only five events, racing 17 different times, creating the opportunity for him to challenge Mark Spitz's record of seven gold medals in one Olympics. As a professional swimmer, Phelps had already received a number of endorsements from companies including Visa, AT&T, and Speedo, who offered Phelps a million dollar bonus if he broke Spitz's record. At his first event, the results were promising: Phelps won the 400 meter individual medley by a full three-and-a-half seconds, setting a world record.
But breaking the gold-medal record at the 2004 Olympics was not to be. The American team placed third in the 4x100 freestyle relay, and Phelps took a bronze in the 200 meter freestyle, losing to Australian Ian Thorpe, who had beaten him in the 100 meter butterfly at the 2003 World Championships. Thorpe had belittled Phelps's goal of breaking Spitz's record, saying it couldn't be done. Phelps responded, in Time magazine, "He's saying he doesn't think it's possible for him to do that. I don't think I would say it's impossible." Even after his close run, with six gold and two bronze medals in Athens, Phelps continued to nurture his goal, determined to make another go at it in 2008.
When Bowman took the head coach position for the University of Michigan's swimming team after the 2004 Olympics, Phelps went with him, enrolling for classes and continuing to train with him in Ann Arbor. Due to his status as a professional, he was unable to race for the university, and instead served as a volunteer assistant coach under Bowman. Phelps won six medals--five gold and one silver--at the 2005 World Championships, where he broke one championship record. At the 2007 World Championships in Melbourne, Phelps met the seven gold medal goal, matching but not breaking Spitz's record for gold medals in an international meet. This made him the most successful swimmer ever at the World Championships; he might have made the attempt for eight gold medals at that meet, but he missed the opportunity when he and his teammates were disqualified in the 400 meter medley relay. Phelps continued to train all 365 days of the year--including Christmas morning--typically swimming between 7 and 12 miles per day. In July of 2008, just one month before the Olympics, Phelps placed second in the 100 meter breaststroke, long his worst event. Beaten by less than four tenths of a second, Phelps showed that he had gotten over having a weak stroke. "That's one of the most impressive things I've ever seen him do," Bowman told Susan Casey of Sports Illustrated.
As in 2004, at the Games in Beijing, Phelps raced 17 times in nine days, taking the gold medal in all eight of the events he raced and succeeding in his goal of breaking Spitz's record as well as tying the record of gymnast Aleksander Dityatin for eight medals at a single Olympics. He competed in five individual events and three team events, allowing him to tie the record for individual gold medals won at a single Olympics, which had been set by Eric Heiden in the 1980 Winter Olympics. The American team also set a world record in the 4x100 meter medley relay. The games brought Phelps' career totals of world records to four individual world records and two team world records.
The record winning streak at the Beijing Olympics marked the sports world. "Michael is the biggest thing that sport has ever seen," Phelps' teammate Brian Hansen told New York Times reporter Karen Crouse. "Not swimming, but sport in general. He just made the pressure putt to win the U.S. Open. He just won the Tour of France. He just knocked out Muhammad Ali. And he did it in one week." But despite his fame--and the 4,000 text messages he received during the 24 hours after he won his eight golds--Phelps expressed hope to have his life return to normal. "I'm going to live my life the way I always have," he told Crouse, admitting that the one exception he'd make would be meeting two of his inspirations: Tiger Woods and Michael Jordan. He expressed hopes to have as big an impact on swimming as Woods and Jordan had on golf and basketball, respectively.
In addition to his record-breaking career, Phelps has won many successful sponsorships. Before the 2008 Olympics, Phelps had endorsements worth about five million dollars. After Beijing, not only did Phelps win the million dollar bonus from Speedo for breaking Spitz's record, but analysts put his potential value at 700 million dollars over his lifetime. Phelps' agent, Peter Carlisle, was aware of Phelps' desire to make swimming a sport that merited greater attention, and cultivated sponsorships that would not only increase Phelps' image, but also the image of swimming. "Every sponsor I've had has been something that fit my lifestyle, fit my personality," Phelps told Mike Beirne in Brandweek. "The big thing is, is it something I'm comfortable with, something I use and something I like to use? So I think if it meets all that, then it fits my personality." In addition to sponsorships, Phelps' celebrity garnered him guest spots on the Oprah Winfrey Show, the MTV Video Music Awards, and Saturday Night Live.
To enhance the visibility of swimming, Phelps founded a social networking site, SwimRoom.com. The site offers "an opportunity for swimmers from all over the world to have a special bond with one another," he told Cynthia Wang of People. "I think swimmers are a different breed, and I think just being able to interact with people and kids from all over the world is something that the sport has never seen." Phelps is also the founder of the Michael Phelps Foundation, which he funded with the million dollar bonus he received from Speedo upon winning his eighth gold medal at the Beijing Olympics. The foundation promotes health and activity, primarily for children, through the sport of swimming. "I just want people to get involved," Phelps told Karen Crouse in an interview for the New York Times. "My whole goal is to change the sport of swimming in a positive way. I think it can go even farther. That's where I hope to take it." Phelps intends to continue staying active in the sport, and hopes to compete in the 2012 Olympics in London, England. Asked in Time what he would do once he was no longer competing as a swimmer, Phelps replied, "I definitely want to stay in sports, but I'm not sure what field I want to go into. And no, I'm not dreading it. There is going to be a time when I'm ready to retire. But definitely not yet."
AWARDS
Sullivan Award for best amateur athlete in United States, Amateur Athletic Union, 2003; American-International Athlete Trophy, International Amateur Athletic Association, 2003; six gold medals, two bronze medals, Olympics, Athens, Greece, 2004; eight gold medals, Olympics, Beijing, China, 2008.
CAREER
Professional swimmer, 2001--.
Read more
Latest headlines