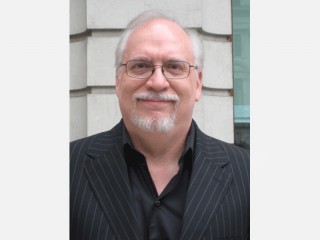 Michael Straczynski biography
Date of birth : 1954-07-17
Date of death : -
Birthplace : Paterson, New Jersey, United States
Nationality : American
Category : Arts and Entertainment
Last modified : 2010-07-12
Credited as : Writer and author, ,
Joseph Michael Straczynski
, born July 17, 1954, known professionally as
J. Michael Straczynski
and informally as Joe Straczynski or JMS, is an American writer and television producer. He works in films, television series, novels, short stories, comic books, and radio dramas. He is a playwright, a former journalist, and author of The Complete Book of Scriptwriting. He was the creator and showrunner for the science fiction TV series Babylon 5, and its spin-off Crusade, and Jeremiah. Straczynski wrote 92 out of the 110 Babylon 5 episodes, notably including an unbroken 59-episode run through the third and fourth seasons, and all but one episode of the fifth season. He wrote the four Babylon 5 TV movies produced alongside the series.
In 2009, Straczynski was nominated for the BAFTA Award for his screenplay Changeling.
Straczynski is a long-time participant in Usenet and other early computer networks, interacting with fans through various online forums (including GEnie, CompuServe, and America Online) since 1984. He is credited as being the first TV producer ("showrunner" in Hollywood parlance) to directly engage with fans on the Internet, and have their comments affect the look and feel of his shows (see Babylon 5's use of the Internet). Two prominent areas where he had a presence were GEnie and the newsgroup rec.arts.sf.tv.babylon5.moderated.
Straczynski is a graduate of San Diego State University (SDSU), having earned a BA with a double major in psychology and sociology (with minors in philosophy and literature). While at SDSU, he wrote for the student newspaper, The Daily Aztec, at times penning so many articles that the paper was jokingly referred to as the "Daily Joe." Straczynski resides in the Los Angeles area.
Early years
Straczynski (pronounced stra-zin-ski) was born in Paterson, New Jersey, the son of Evelyn (née Pate) and Charles Straczynski, a manual laborer. He was raised in Newark, New Jersey; Kankakee, Illinois; Dallas, Texas; Chula Vista, California, where he graduated from high school; and San Diego, California. Straczynski's family was Catholic and of Belarusian, as well as Polish, ancestry. His grandparents fled Belarus to America from the Russian Revolution; his father was born in the US, but lived in Germany, Poland and Russia.
Straczynski was living in San Diego working for San Diego Magazine and The San Diego Reader as well as writing scripts for the radio drama Alien Worlds, when he landed a contract with Writer's Digest to write a non-fiction book about scriptwriting.
He and Kathryn M. Drennan (whom he met at San Diego State) moved to Los Angeles on April 1, 1981 (they would marry in 1983). He worked on his book while planning a transition to television. The book's first edition was published in 1982. In Los Angeles he worked for The Los Angeles Herald-Examiner, The Los Angeles Times, The Los Angeles Reader, TV-Cable Week, and People Magazine. He quit journalism after working for People, and in 1983, he wrote a spec script for the show He-Man and the Masters of the Universe and the producers of He-Man bought it as well as other scripts and then hired Straczynski as a staff writer.
According to the jacket bio for the first edition of his scriptwriting text (see Print below), Straczynski had a play produced when he was 17, a sitcom produced when he was 21, and sold his first movie script when he was 24. By 28, his credits included television and film scripts, radio scripts for Alien Worlds and the Mutual Broadcasting System, a dozen plays, and more than 150 newspaper and magazine articles. He taught his craft for years at lectures and seminars in California and elsewhere.
He spent five years from 1987 - 1992 co-hosting the Hour 25 radio talk show on KPFK-FM Los Angeles with Larry DiTillio.
Television and radio
Straczynski started in television in 1983, working on animated shows and then in live action, working his way from staff writer to executive producer, culminating in his most famous television work, Babylon 5, which won two Emmy Awards, back-to-back Hugo Awards, and dozens of other awards. He wrote 92 out of Babylon 5's 110 episodes, as well as the pilot and five television movies. The character-driven space opera is notable for its five year story arc, emphasis on realism, and its pioneering, extensive use of CGI for its special effects. Straczynski was creator and executive producer of B5's thirteen-episode sequel series, Crusade, for which he wrote 10 of the 13 episodes. He ran Jeremiah, loosely based on the Belgian post-apocalyptic comic of the same name, writing 19 of the 35 episodes.
A partial chronological list of Straczynski's other television credits:
* He-Man and the Masters of the Universe - Staff Writer; specifically writing 9 episodes
* She-Ra: Princess of Power - Staff Writer, specifically writing 8 episodes
* Jayce and the Wheeled Warriors - Staff Writer, specifically writing 13 episodes
* The Real Ghostbusters - Story Editor; writer of 21 episodes and one Special
* Captain Power and the Soldiers of the Future - Executive Story Editor; writer of 13 episodes
* The New Twilight Zone - Story Editor; writer of 11 episodes
* Jake and the Fatman - Executive Story Editor; writer of 5 episodes
* Murder, She Wrote - Co-Producer; writer of 7 episodes
* Walker Texas Ranger - Supervising Producer; writer of 1 episode (left show to do B5)
Straczynski was involved in Spiral Zone, from which he removed his name and used the pseudonym Fettes Grey (derived from the names of the grave robbers in The Body Snatcher). He wrote an episode of CBS Storybreak (an adaptation of Evelyn Sibley Lampman's The Shy Stegosaurus of Cricket Creek).
In 1991, executive producer David Moessinger brought Straczynski aboard the hit mystery series Murder, She Wrote as a producer in an effort to shore up the series' ratings. Together, they moved the protagonist, Jessica Fletcher, from the sleepy Maine town of Cabot Cove to New York City to revitalize the show. The move effectively brought the show back into the top ten from the mid-thirties where it had fallen. Straczynski made Jessica an instructor in writing and criminology, and he is widely held to have most emphasized her role as a working writer, with all the deadlines and problems involved in that profession.
In 2004, Straczynski was approached by Paramount Studios to become a producer of the Star Trek: Enterprise series. He declined, believing that he would not be allowed to take the show in the direction he felt it should go. He did write a treatment for a new Star Trek series with colleague Bryce Zabel.
In 2005, Straczynski began publishing his Babylon 5 scripts. This process ended in June 2008, with the scripts no longer being available from the end of July of that year. His scripts for the television movies were published for a limited time in January 2009. He has written for radio drama, including the series Alien Worlds for the Mutual Radio Network, The City of Dreams for scifi.com and an original 20-part radio drama series entitled The Adventures of Apocalypse Al for the Canadian Broadcasting Corporation that was to debut in 2007.
Film
Straczynski worked on feature film and television movies. He wrote the award-winning adaptation of Robert Louis Stevenson's The Strange Case of Dr. Jekyll and Mr. Hyde for the Showtime network and a Murder, She Wrote movie, Murder, She Wrote: A Story to Die For, which he produced.
In 2006, Straczynski was hired to write a feature film based on the story of King David for Universal by producers Erwin Stoff and Akiva Goldsman.
Straczynski announced on February 23, 2007 that he had been hired to write the feature film adaptation of Max Brooks's New York Times-bestselling novel World War Z for Paramount Pictures and Brad Pitt's production company, Plan B.
In June 2007, it was announced that Straczynski had written a feature screenplay for the Silver Surfer movie for Fox, the production of which would depend on the success of the Fantastic Four: Rise of the Silver Surfer. Additionally, he has written a script for Tom Hanks' Playtone Productions and Universal Pictures called They Marched into Sunlight based upon the Pulitzer nominated novel of the same name and an outline by Paul Greengrass, for Greengrass to direct, should it get a greenlight.
In June 2008, Daily Variety named Straczynski one of the top Ten Screenwriters to Watch. They announced Straczynski was writing Lensman for Ron Howard (to whom he had sold a screenplay entitled The Flickering Light), that he was selling another spec, Proving Ground, to Tom Cruise and United Artists.
In 2008, Straczynski wrote a draft of Ninja Assassin for Joel Silver (which he completed in just 53 hours). The film was produced by the Wachowski Brothers and released on November 25, 2009.
In 2008, Universal Pictures and Imagine Entertainment premiered Straczynski's feature thriller Changeling, starring Angelina Jolie. The film was directed by Clint Eastwood, since originally slated director Ron Howard declined due to scheduling conflicts.
Changeling was one of 20 films placed in competition at the 2008 Cannes Film Festival, and subsequently received eight nominations for the BAFTA Award, including a nomination for Best Original Screenplay.
In October 2008, it was announced that Straczynski was engaged to pen a remake of the science fiction classic Forbidden Planet.
In the fall of 2009, it was reported that Straczynski was writing a movie titled Shattered Union for Jerry Bruckheimer and Disney. The screenplay, based on the video game of that name, concerns itself with a present-day American civil war.
Novels, short stories and nonfiction
Straczynski is the author of three horror novels — Demon Night, Othersyde, and Tribulations — and nearly twenty short stories, many of which are collected in two compilations — Tales from the New Twilight Zone and Straczynski Unplugged. He wrote the outlines for nine of the canonical Babylon 5 novels, supervised the three produced B5 telefilm novelizations (In the Beginning, Thirdspace, and A Call to Arms), and is the author of four Babylon 5 short stories published in magazines, not yet reprinted .
Straczynski has been a journalist, reviewer, and investigative reporter, publishing over 500 articles in such publications as the Los Angeles Times, the Los Angeles Herald-Examiner, Writer's Digest, Penthouse, San Diego Magazine, Twilight Zone Magazine, the San Diego Reader, the Los Angeles Reader and Time.
Straczynski wrote The Complete Book of Scriptwriting , often used as a text in introductory screenwriting courses, and is now in its third edition.
Comic books
Straczynski has long been a comic fan, and began writing comics in the late 1980s. His work in comics includes:
* Teen Titans Spotlight #13 (DC, 1987)
* The Twilight Zone #2 (NOW, 1991)
* Star Trek #16 (DC, 1991)
* Babylon 5 #1 (DC, 1993)
* Babylon 5: In Valen's Name mini-series (DC, 1998)
In 1999 he created Rising Stars for Top Cow/Image Comics. Eventually he worked mostly under his own imprint - Joe's Comics - for which he wrote the Midnight Nation miniseries, and the illustrated fantasy parable Delicate Creatures. Marvel Comics then signed him to an exclusive contract, beginning with a run on The Amazing Spider-Man, from 2001-2007. He has since written for Marvel titles including Fantastic Four.
Marvel Comics
* The Amazing Spider-Man - from vol. 2, #30 (= vol. 1 #471) to vol. 1, #545 (including issues of Friendly Neighborhood Spider-Man and The Sensational Spider-Man as part of crossovers)
* Supreme Power - 2003 reboot of the Squadron Supreme
* Strange: Beginnings and Endings - limited series, 2004
* Fantastic Four - #527-541
* Dream Police - with Mike Deodato, one-shot, Icon Comics imprint, 2005
* The Book of Lost Souls - with Colleen Doran, 6-issue limited series, Icon Comics, 2005-2006
* Bullet Points - with Tommy Lee Edwards, 5-issue limited series, 2007
* Silver Surfer: Requiem - with Esad Ribic, 4-issue limited series, 2007, tpb, hardcover, December 2007, ISBN 0-7851-2848-4, softcover, July 2008, ISBN 0-7851-1796-2
* Thor - July 2007-November 2009
* The Twelve - with Chris Weston, 12-part limited series, January 2008–Present The Twelve #9 has been canceled and will be re-solicited at a later date. Recently, art for issue #9 has been released.
Read more
Latest headlines