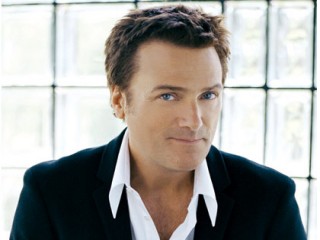 Michael W. Smith biography
Date of birth : 1957-10-07
Date of death : -
Birthplace : Kenova, West Virginia, U.S.
Nationality : American
Category : Arts and Entertainment
Last modified : 2012-02-08
Credited as : Singer-songwriter, Composer, Grammy Award winner
Michael Whitaker Smith is a Billboard top ten Billboard Hot 100 recording artist and Grammy Award-winning American singer-songwriter, composer, and actor. He is one of the best-selling and most influential artists in Contemporary Christian music. Smith also has achieved a considerable amount of success in the mainstream music industry.
Smith is a three-time Grammy Award winner, and has earned 40 Dove Awards. Over the course of his career, Michael W. Smith has sold more than 13 million albums and recorded 29 No. 1 Hit songs, fourteen gold albums, and five platinum albums. Smith is an American Music Award recipient; he was also named one of People magazine's "Most Beautiful People".
Called a "true Renaissance [man] of contemporary Christian music" by Billboard, gospel singer Michael W. Smith gained popularity with mainstream audiences as well. His beautiful ballads and dance songs featuring a driving rock beat have, in fact, attracted a diverse body of listeners. As one young teen told him at a record store promotion, according to the Wall Street Journal, "I don't believe in religion ... but hey, that's cool. I still like your song."
Smith was born on October 7, 1957, and grew up in a small West Virginia town, singing in the church choir and playing in a few local rock bands. After graduating from high school, he tried college for a couple of years but did not find what he was looking for and returned home. In 1978 he discovered his calling when a Nashville music publisher showed some interest in a few of his songs. He packed his bags and moved to Tennessee.
At first, Smith's move was not all that he'd hoped. "I went off the deep end and got into drugs, which messed me up for a while," he confided to the Wall Street Journal. He was using marijuana, LSD, and cocaine until one day in 1979, when, he said, "I hit the floor in my apartment face down and cried like a baby for two hours. I got up, said a prayer to God to turn me around and its been different ever since.... I regret that I did drugs, but it has helped me relate to others with similar problems due to drugs and low self-esteem."
Indeed, life turned around for Smith--personally and professionally. He met his future wife, Deborah, in Nashville and wrote several songs with her that were so successful that in 1981, Meadowgreen Music hired him as a staff writer. He then proceeded to write several big hits for gospel superstars Sandi Patti and Amy Grant, and in 1982, he began playing keyboards for Grant and touring in her band. After he released his first album, Michael W. Smith Project, in 1983, he started opening for Grant with his own act.
Numerous honors have accompanied Smith's growing popular success. In 1983, one of his songs, "How Majestic Is Your Name," was a hit for Patti, received a Dove Award nomination (the gospel music equivalent of the Grammy), and he was himself nominated for a Grammy for Best Gospel Performance for his first album. The following year, he received three Dove nominations and won the Grammy for Best Gospel Performance, for his second album, Michael W. Smith 2.
After his sophomore release, Smith began touring on his own, performing his own material. Although he enjoyed writing songs for and performing with Grant, his own career beckoned. "I've got to start hanging on to some of these good songs," he reasoned in the Los Angeles Times. His writing style began to change. "I have a new lyric vision," he revealed to Bob Darden of Billboard. "I think I'm aiming more of my writing for kids, young people, teenagers.... I think musically it is going to be more rock 'n' roll, more on the edge, riskier ... because that's what the kids are listening to."
To be sure, Smith's lyrics soon encompassed secular issues of concern to a younger audience. His third album, The Big Picture, included songs like "Wired for Sound," which discusses media brainwashing, "The Last Letter," about teen suicide, and "Old Enough to Know," a depiction of the sexual pressures facing teenagers. Smith's album i 2 (Eye) was noted by music critics as something new in gospel music. Smith also wrote his first book about teen pressures titled, like the song, Old Enough to Know. Billboard's Darden expressed his belief that the record "may be the first inspirational album with a legitimate shot at capturing a mainstream audience." Darden's assessment proved prophetic, for this was Smith's first gold record.
Smith was undeniably interested in going mainstream, taking his message to a wider audience, but he knew he had a fine line to tread. "I can't imagine radio playing songs that overtly talk about 'Jesus is the answer,'" he allowed in the Los Angeles Times, "but on the other hand, I think there is room on pop radio for songs that are very spiritual." Smith's manager, Michael Blanton, agreed. "Listeners are tired of being hit over the head with dance and rap in recent years," he told the Wall Street Journal. "Now they're looking for melodies that they can sing to and [that] have meaning."
In 1991 Smith got help in his effort to go mainstream when his label, Reunion Records, signed a distribution deal with Geffen Records, one of the hottest rock labels in the business, featuring a roster that includes such supergroups as Guns N' Roses and Aerosmith. Once under Geffen's wing, Smith received dual marketing, with different strategies for the secular market and the more traditional Christian market. The approach worked; both of his Reunion/Geffen efforts, Go West Young Man and Change Your World, quickly went gold.
While he has been financially and artistically successful, Smith's courting of the pop market has been criticized by some fans as too secular. One fan who was quoted by the Wall Street Journal wrote Smith to complain of her worries "that he will throw away his message and lose his ministry to make it in the secular market." A few Christian book stores and radio stations have pulled his material. One bookstore owner told the Journal, "Mr. Smith may lose some Christian fans by going this route. He must be willing to pay that price."
Still, Smith does not feel that he has sacrificed his religious message, and he believes his music has something to offer everyone. As a mainstream pop artist, he told Billboard, "I've got an incredible platform--what a great opportunity to help somebody." Certainly, his songs maintain a strong Christian orientation. "When the Evil Goes East, Go West," for instance, from Go West Young Man, urges listeners to avoid the dangers of temptation, while "For You" sings the praises of friendship.
Smith told Billboard that he has made a conscious effort not to change his message just to appeal to more people. "I had to be careful that I not get swayed into thinking that 'I had a Top Five hit, now we've got to write a pop record....' I had to be careful that that didn't distract me from who I really am." He claims that Geffen did not want him to change his music either. "John Kalodner [of Geffen] just said 'Be yourself, man. Be who you are, continue to do what you do.'" But Smith also admitted to Billboard, "I don't feel that all of my songs have to be about God." After all, he told the Wall Street Journal, "I'm not an evangelist, I'm a singer."
Whatever the proportions, Smith's mix of the secular and the sacred has flourished. He has been cited by Keyboard magazine as a top rock keyboardist, has earned several Grammy nominations and Dove awards, and has hit the top of Billboard's charts. Geffen's Robert Smith characterized Smith's appeal in Billboard in 1992, explaining, "With Michael it's really about an honesty of presentation, and he's a sincere, well-meaning, and gifted artist." The fans, an ever-increasing number of which are coming from traditional rock and pop backgrounds, seem to agree.
In 1995, Smith released I'll Lead You Home. The album won a Grammy Award for Best Pop/Contemporary Gospel Album. Rocketown Records was founded in 1996 when Smith joined forced with Reunion Records executive Don Donahue. Their goal, according to Smith's website, was to be "part of a label where great songs were the focus, where artists, not acts, were developed." Their first signing was Chris Rice.
Smith worked on developing his writing career, and in 1997, released two books, called It's Time to Be Bold, and Friends Are Friends Forever. The following year, the book Your Place in this World was released.
Smith's 1999 album This is Your Time was born out of the tragedy that happened in Littleton, Colorado, when two students shot twelve students and a teacher at Columbine High School in 1999. The Governor of Colorado asked Smith to sing at the memorial service. Smith was very moved by the story of student Cassie Bernall, who had answered "Yes, I believe in God," right before she was shot and killed. Smith wrote the song "This is Your Time" about her. The album won multiple Dove awards.
In 2001, Smith hit a grand slam with his album, Worship. The album was advertised through Time-Life television commercials, and became a huge hit. The followup album Worship Again soon followed in 2002, and the two were often sold as a set.
Smith was then approached about a new kind of project. He was asked to be the reader for an audio called The Gospels Come to Life. Smith was hesitant at first, but was persuaded, and the CD box set narration of the four gospels was released in 2003.
Also, in 2003, Smith released The Second Decade: 1993-2003. The album showed the maturity and growth in his music since The First Decade. Smith explains the new depth in his music for Christianity Today, "Your priorities change when you get older and have kids. You find out what's important." He adds, "That album is my favorite thing I've ever done. I think it's the truest reflection of who I am as a musician."
Smith's album, Healing Rain, was released in 2004 and debuted at No. 11 on the Billboard Hot 200 Chart. The title track rose to No. 1 on the Radio & Records Charts and a music video for the song was released. The album nominated for a Grammy Award for Best Pop/Contemporary Gospel Album, combines the pop style of his previous recordings with the religious feel of his two releases in that genre. A new album, Stand, was released in November 2006.
In October 2007, he released It's a Wonderful Christmas. On June 20, 2008, Smith recorded his third live Worship album at the Lakewood Church in Houston, Texas, titled A New Hallelujah. It was released in October 2008. That same month he began a tour with Steven Curtis Chapman. In September 2010, he released Wonder, and in October started touring with Third Day, tobyMac, and Max Lucado on the "Make a Difference" tour.
Discography:
-The Michael W. Smith Project (1983)
-Michael W. Smith 2 (1984)
-The Big Picture (1986)
-i 2 (EYE) (1988)
-Christmas (1989)
-Go West Young Man (1990)
-Change Your World (1992)
-I'll Lead You Home (1995)
-Live the Life (1998)
-Christmastime (1998)
-This Is Your Time (1999)
-Freedom (2000)
-Worship (2001)
-Worship Again (2002)
-Healing Rain (2004)
-Stand (2006)
-It's a Wonderful Christmas (2007)
-A New Hallelujah (2008)
-Wonder (2010)
-Glory (2011)
Read more
Latest headlines