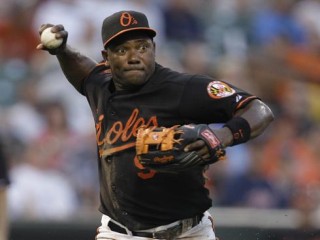 Miguel Tejada biography
Date of birth : 1976-05-25
Date of death : -
Birthplace : Bani, Dominican Republic
Nationality : Dominican
Category : Sports
Last modified : 2010-11-11
Credited as : Baseball player MLB, firts base with the San Diego Padres,
Miguel Odalis Tejada was born on May 25, 1976, in the Dominican Republic, although there is some dispute about his age. Hospital records unearthed some three decades later suggested he might have been born in 1974.
Miguel's mother's name was Mora, his father's name was Daniel. The youngest of 11 children, he grew up in the town of Bani, population about 100,000. The town is an hour or so southwest of the capital of Santo Domingo. In 1979, the family's small home and all their belongings were swept away by Hurricane David, which devastated the island. They were forced to retreat to the slums that lined the fringes of the city, where they lived in a rickety three-room shack. There was no running water or electricity.
As soon as he was old enough, Miguel went to work. He was begging at age three, shining shoes at age six, and later helped his father on construction jobs. When his mother died in 1988, Miguel went to work in a garment factory, making a few cents an hour so the family could survive.
Miguel spent his afternoons playing baseball. He learned the game from his brother, Juansito, a marvelous player who might have signed a pro contract were it not for a broken leg that was set improperly. Miguel was a strong hitter and a good fielder, despite using a glove fashioned from old milk cartons.
Baseball was all Miguel thought about. Sometimes he dreamed about playing professionally, of becoming a big league shortstop. However, he was not like the other boys who played the position. Though he carried himself with confidence, he was not a graceful athlete. Nor could Miguel skitter around the infield the way they did—a fact that was constantly pointed out to him by those who claimed he should quit. A friend, Rafael Lugo, always managed to talk him out of it.
Miguel sensed that the boys who drew the scouts' attention did something to make themselves stand out. He decided this was a good way to get noticed, and perhaps get offered a contract. As luck would have it, he met a man named Enrique Soto, a former minor league\r who had failed to reach the majors because he lacked the fundamentals. He told Miguel that most young Dominicans failed for this same reason. They decided the best way for Miguel to succeed was to concentrate on the "little things" and show coaches he was eager to learn.
Miguel put this information to work. After an agonizingly long wait, he eventually caught the eye of his country's greatest baseball hero, Juan Marichal. Migue was 17. A scout for the Oakland A's, Marichal signed the teenager for the princely sum of $2,000. He recalls feeling like it was all the money in the world.
Miguel entered Oakland's Dominican academy as one of many boys hoping to become a shortstop in the majors. The star of the camp was actually an outfielder, Mario Encarnacion, a monstrous talent whom the other kids watched in wide-eyed wonder. Compared to Encarnacion, Miguel barely registered on the team 's radar. But unlike most of his peers, he understood the value of practice and embraced repetition instead of disdaining it as menial or insulting. He hungered for the kind of information that would give him an edge or reveal new facets of his game.
Miguel was also just plain hungry. For the first time in his life, he was getting enough nourishment, and he was beginning to fill out in ways that excited baseball scouts. When Marichal signed him, Miguel had a strange body—thick and powerful on the bottom butincredibly skinny on top. After a few months at the academy, he gained weight and strength in his upper body. He was now a rock-solid 5-9 with explosive power in his arms and legs. When Miguel threw the ball, it hummed across the infield; when he hit it, it jumped off his bat. Slowly but surely, he rose up the charts and surpassed the boys whom he had once looked up to.
Miguel's first taste of top-flight competitive ball came in 1994, when he began playing regularly in the Dominican Summer League. He played second base (alongside the A's top shortstop prospect, Jose Castro) and competed against the likes of Jose Jimenez, Timo Perez and Carlos Febles—all future major leaguers. Miguel hit a solid .294 with 18 homers and 62 RBIs in 74 games. His performance vaulted him to the top of the list in Oakland's Dominican complex, and the team decided to send the 18-year-old to the U.S. for the 1995 season.
Miguel's first year in the minors found him in the Class-A Northwest League. He stayed with a local family, Bobbi Naumes and her son, J.P., in southern Oregon. MIguel was amazed at how well Americans lived. He and J.P. got along like brothers. He picked up the English language by watching cartoons. One thing Miguel did not like much about life with the Naumes was their food. Often he fixed himself plates of rice and beans.
Miguel found it interesting that other Latino players on the club did not share his single-minded drive to improve. They seemed satisfied to go to the ballpark during the day and have fun at night. The A's were better than most organizations at motivating their Spanish-speaking players, but like most teams the club tended to view Latinos in the low minors as "warm bodies" to fill out rosters. One or two might pan out, and the rest would be cut—there was always a fresh supply being trained back in the Caribbean. Those released from the team were given a plane ticket home, but most cashed it in and simply melted into the general population, living illegally in the States, playing ball on the weekends, and trying to make a new life.
Miguel's 1995 campaign was a good one. He proved a dangerous hitter and a solid fielder, leading the league in putouts, assists and total chances. He was voted the loop's best prospect over the much ballyhooed Jose Cruz, Jr.
In 1996, Miguel was in Oakland's minor league training camp when he was asked to hustle over to the big league complex. The team was short a shortstop and needed him for an exhibition game. Never one to let an opportunity slip through his fingers, Miguel homered in his first at-bat.
A few weeks later, Miguel was assigned to Modesto of the California League, a talented team featuring some of the A's best prospects, including Ben Grieve, Jose Ortiz, D.T. Cromer, and Emil Brown. Miguel's stats—.279, 20 homers, 72 RBIs—were good, but they only hinted at the rapid development he was making. At the plate, he was handling everything pitchers threw at him. He could drive fastballs to all fields and didn't flinch in the face of nasty breaking stuff. In the field, he had major league range and a cannon for an arm. At season's end, the league's managers voted Miguel the circuit's top prospect, and the A's honored him as the #1 prospect in the entire organization.
The 1997 season found Miguel in a Huntsville uniform. The plan was to give him a full year in the Class-AA Southern League, where he could gain experience at the plate and polish his skills at shortstop. Next, the A's would promote him to their top farm team in 1998.
ON THE RISE
That timetable was accelerated in '97, thanks to another exceptional year by Miguel. He rocked Southern League pitching to the tune of 22 homers and 97 RBIs. The A's were now entertaining the possibility that he might be good enough to become their starting shortstop as early as 1998.
A cup of coffee was in order, and Miguel got the call after rosters expanded. He played in 26 games for the A's that September, batting .202 in 99 at-bats and slugging a couple of home runs. Miguel was initially overwhelmed by righties, but he seemed to gain confidence with each plate appearance. He played fearless, sometimes over-enthusiastic defense, flashing enough leather to convince the club that he was ready to be an everyday player.
Oakland was in the midst of a rebuilding campaign, and Miguel was a major piece in the puzzle. A shortstop that hits for power gives a manager options at other positions, and skipper Art Howe needed all the options he could get. Working without a big payroll, he and GM Billy Beane cobbled together a respectable lineup featuring rookies at five positions—third baseman Eric Chavez, outfielders Ryan Christenson and Grieve, catcher A.J. Hinch, and Miguel at shortstop. The team's lone star was first baseman Jason Giambi. Howe and Beane wanted to develop these players, pick up the odd veteran here and there, and then wait for their minor nleague pitching to start bearing fruit at the major league level.
The A's could not afford to sign multi-talented major leaguers. Instead, they looked for players who did one or two things really well. Beane believed that players who took a lot of pitches and then hammered the ball when they got a pitch they liked were the easiest to find—and the easiest to develop. Howe cooperated by building an offensive strategy around this type of personnel.
Miguel did not exactly fit Beane's profile. Despite being tutored in the "A's way," he was still a free swinger who chased a lot of bad pitches. Nevertheless, he was given a chance to beat out Kurt Abbott at shortstop in 1998. The experiment was going well in spring training until Miguel broke the middle finger of his right hand. The injury kept him out until late May. When he returned he took over the starting job, but he had a hard time getting untracked, struggling to keep his average above .200.
Still, when Miguel got a pitch he could handle, he murdered it. He worked hard to improve his pitch selection and strike zone judgement, but old habits die hard. While he whiffed only 86 times on the season, he often got himself out before he saw three strikes. On defense, he showed very good range and a strong arm, but he made an alarming number of errors—most on routine grounders. For every botched play, however, he made three that took your breath away.
The A's took a step toward respectability, winning 74 games in '98. They seemed headed for at least a .500 season until a July swoon sent them reeling. Miguel finished the year at .233, but more than a third of his 85 hits went for extra bases.
The 1999 A's started slowly but finished strong. Beane's insistence on patience at the plate and Howe's patience with his young studs finally began to pay off. The team was first in the American League in walks and won a lot of games late. By elevating opponents' pitch counts, Oakland got deep into enemy bullpens, and Howe did a masterful job creating batter-pitcher matchups that swung the odds in his team's favor.
Among the players who stepped up were Giambi, who led the team in almost every offensive category, and oft-injured journeyman John Jaha, who stayed healthy and had a big year. He and Giambi combined for 68 homers, 234 RBIs and 206 walks. Rightfielder Matt Stairs had his second good year in a row, and second baseman Randy Velarde batted .317 with 200 hits.
With this kind of firepower, the pressure was off Miguel. Though he still got eaten up by righthanders, he was making headway in other areas. He kept his average around .250 all year and finished with 21 homers and 84 RBIs. He clubbed three homers in one game against the Los Angeles Dodgers. For a couple of weeks in August, he was Oakland's best clutch hitter, keeping the A's in the Wild Card race longer than anyone could have imagined.
The A's finished 87-75, missing the playoffs by three wins. Among the many positives to be found in the '99 season was the emergence of Tim Hudson, who went 11-2 in 21 starts. Hudson was the first of several pitching prospects to make an impact on the big league level. Still on the horizon were Mark Mulder, the #2 pick in the 1998 draft, and Barry Zito, the #9 pick in the 1999 draft. Both had advanced to Class-AAA Vancouver in '99.
For the A's, 2000 was a year of breakthroughs. Infused with confidence, the offense tore it up. Giambi had an MVP season with 43 home runs and 137 RBIs, Chavez chipped in 26 homers, Grieve added 27 long balls, and rookie Terrence Long had a nice year with 56 extra-base hits and 104 runs. In all, the A's belted 239 round-trippers and walked 750 times, which produced a whopping five runs per game.
The breakthrough of the year, however, belonged to Miguel—who signed a four-year deal with the A's that April that made him a wealthy young man. Following the lead of his teammates, he began taking pitches he used to hack at. To his astonishment, he saw increasingly better pitches, particularly against righthanders, who no longer bedeviled him. When Miguel worked the count to 3-1, he hit a robust .545. With the A's in more close games, he found himself in more pressure situations. He responded by batting .364 in the clutch. This was the best mark on the team and eighth highest in the league.
Miguel was promoted to the #2 spot in the order and finished the year with 30 homers and 115 RBIs. His biggest contribution came in July, when a shoulder injury sapped Giambi's strength. The team needed a lift, and Miguel provided it. He pounded eight homers during that stretch, enabling the A's to stay in the hunt for the AL West title.
Oakland's young pitching also helped them through tough times. Hudson had an astonishing year, going 20-6. Zito got called up and proceeded to handcuff the league down the stretch. Combined, the pair went 10-1 in September. Mulder, the third jewel in Oakland's pitching crown, was having a great final month as well, before he was shelved for the year by a back injury. Luckily, the team had veterans Gil Heredia and Kevin Appier on the staff, along with closer Jason Isringhausen. In a thrilling race, Oakland edged the Seattle Mariners to win its first division crown since 1992.
The A's took on the big, bad New York Yankees in the Division Series and were simply dazzling. They beat Roger Clemens in the opener behind Heredia, and then shutout the Bronx Bombers in Game 2. Needing just one win to close out the series, the A's went to New York looking like a lock. But Hudson and Zito could not finish the job, and the Yankees battled back to knot the series. The teams returned to Oakland for the decisive game, and the A's unraveled in the first inning, letting six Yankees score. Oakland fought back but lost 7-5. Miguel batted .350 in the series, reached base nine times, and played flawless defense.
With a maturing and battled-tested nucleus, the A's were favored to take the flag in 2001. But an 8-18 start, coupled with the record pace set by Seattle, ended any hope of another division crown by June. Howe, who had built a lot of trust with his young stars, convinced them everything would be okay if they focused on playing the game the best they could. The Oakland manager was correct. The A's put their heads down and finished with 102 wins—the first time in major league history a team won 100 after being so far under .500.
Newcomers Johnny Damon and Jermaine Dye had good years, Chavez blossomed into a dangerous hitter, Giambi had another MVP-caliber season, and catcher Ramon Hernandez became an important contributor. The pitching came through, too. Mulder, fully recovered, went 21-8. Zito finished at 17-8 and was unhittable in the last two months. And Hudson was nasty all year, posting an 18-9 record.
As for Miguel, he proved 2000 was no fluke, producing virtually identical numbers—31 home runs, 113 RBIs, 107 runs scored, .476 slugging, and a .267 batting average. Early in the season, he was matching his teammates hit-for-hit and homer-for-homer. His power numbers tailed off in the second half, but he hit better in the clutch, driving in 58 runs with 74 hits.
The A's nailed down the Wild Card and once again faced the Yankees in the Division Series. Mulder pitched a gem in the opener and Oakland won, 5-3. Hudson slammed the door on the Yanks the next night to put the A's within a win of the ALCS for the second year in a row. This time, the series was headed to Oakland, where fans were sure their A's would finish off the New Yorkers.
Zito was in command in Game 3 until Jorge Posada belted a long home run. Mike Mussina and Mariano Rivera made the lead stand up for a 1-0 victory. Game 4 got away from the A's early, as Bernie Williams knocked in five runs in a 9-2 romp. In this game, Dye fouled a ball off his leg and broke it, leaving Oakland without its cleanup hitter.
Game 5, in New York, started well for the A's, who took a 2-0 lead in the second inning. Alfonso Soriano tied it up for the Yanks, and then a series of fielding miscues opened the door to three more runs. Miguel, who hammered out four hits in the do-or-die game, tried to lead a comeback, but all the A's could muster was one more run. The Yankees rose from the dead once again, winning 5-3.
Miguel went home after a second straight postseason disappointment and thought long and hard about what was coming. The A's were going to lose some important players, most notably Giambi, who was later signed by the Yankees. That meant that Miguel would have a lot more pressure on him.
Miguel watched endless hours of videotape on himself. It was obvious that he would have to develop more discipline at the plate, or he would never see decent pitches to hit. A slow, subtle transformation started in winter ball and continued into spring training.
Miguel was surprised by the attention focused on him during training camp. He reported a couple of pounds heavier, which started whispers about his weight, which led to questions about his commitment, which dredged up old stories about how his attention wandered at times. It was true that Velarde sometimes had to help him keep his head in the game, but those days were in the past. As far as Miguel was concerned, he was locked in and ready to have a monster season.
The departure of Giambi had not only focused more attention on Miguel, it would test the A's to their very core. The lefty slugger had been Oakland's signature player, both on and off the field. To make up for Giambi's production, Beane went to work plugging holes. First he looked across the infield to his two young Latino stars, Miguel and Chavez. They were coming into their prime years, and were thoroughly professional hitters at this point.
Auditions for first base began in spring training, with rookie Carlos Pena and free-agent pickup Scott Hatteberg in competition for most of the playing time, and utilityman Olmedo Saenz available against tough lefties. Hatteberg eventually won the job thanks to his willingness to take pitches, and Pena was dealt to Detroit. Another important development was the acquisition of closer Billy Koch from the Toronto Blue Jays. It cost the A's a major prospect, Eric Hinske, but the deal had to be done because Isringhausen had signed with the St. Louis Cardinals. Hinske was expendable because he played the same position as Chavez. Damon departed via free agency too, so Long moved over to play centerfield.
The new chemistry took a while to work. Unfortunately for Oakland, the Mariners got off to another fast start. By late May, Seattle had 10 games on the A's, who were sitting in last place. Leftfield and second base were unexpected problem spots. Beane solved the outfield dilemma by trading away stone-fingered Jeremy Giambi and installing a three-way platoon between David Justice, Adam Piatt and Eric Byrnes. Second base duties eventually fell to rookie Mark Ellis.
Oakland's pitching was inconsistent early in the year. Zito was great, but everyone else stunk. Mulder and Hudson sported ERAs above 5.00, Cory Lidle couldn't buy a win, and the finishing trio of Koch, Jim Mecir and Chad Bradford were blowing a full third of their save opportunities.
Oakland fans were worried but not panicked. Chavez was hitting a ton and Miguel—inserted into Giambi's old #3 spot in late May—was batting over .300. He made the All-Star team and went 1-for-2 in the game.
As the season passed the midway point, the A's righted their ship and cut the Seattle lead in half. Miguel went on a 24-game hitting streak after the All-Star break and began driving in big runs. Mulder and Hudson turned things around, Zito—who would go on to win the Cy Young Award—established himself as the league's top starter, and Koch was closing games without incident. Meanwhile, Beane was picking up spare parts in the form of John Mabry, Ted Lilly and Ray Durham for what promised to be a compelling stretch run. Not even the most avid A's fan, however, could have guessed just how compelling a run it would be.
MAKING HIS MARK
In mid August, the A's began stringing together timely hitting and clutch pitching, and started a winning streak that grew well into double-digits by the end of the month. Day in and day out, Miguel was the man. After a torrid July, he continued to pound the ball in August. At the start of September, he found himself among the league leaders in batting and had 110 RBIs. He was also being mentioned in the same breath as MVP front-runners Alfonso Soriano, Giambi and Alex Rodriguez. With Seattle in a deep swoon, the A's passed the Mariners to grab first place.
On September 1, Miguel blasted a dramatic three-run homer in the bottom of the ninth against the Minnesota Twins to give Oakland its 18th straight win. A victory over the Kansas City Royals the following afternoon would tie them with the 1947 Yankees and 1906 White Sox for the AL record of 19. Playing at home in front of 26,000 fans, the A's looked like a sure thing with Zito on the mound going for his 20th win.
The normally hapless Royals roughed him up, however, and took a 5-0 lead after four innings. Miguel muffed a grounder that could have ended a rally and kept the score close. The A's battled back, and the game went into the bottom of the ninth tied 6-6. After a leadoff triple by Long, the Royals intentionally loaded the bases, hoping to set up a force at the plate. Hatteberg obliged with a ground ball to second, forcing Long.
Miguel strode confidently to the plate and took the measure of Kansas City veteran Jason Grimsley. The Royals brought their outfielders in, using one as a fifth infielder. Grimsely's first delivery was knee-high on the outside corner. Miguel knew the pitch was coming, kept his hands back, and lined it over second base for the game-winner.
The record-setting 20th win came two days later, and for the third time in a row, it came the hard way. The A's staked Hudson to an 11-0 advantage, only to watch the biggest lead in Oakland history evaporate. Once again, Miguel botched a double-play ball that ignited a Royal rally. In the bottom of the ninth, with score tied 11-11, Hatteberg came up as a pinch hitter against Grimsley, who was on the mound again for KC at crunch time. The lefty drilled the ball into the seats for the victory.
The A's lost their next game, and then fought the pesky Anaheim Angels the rest of the way to win the AL West. There were more thrilling one-run victories and more game-winning hits for Miguel, who finished the year with a flourish—batting .308 with 204 hits, 34 homers and 131 RBIs. His also cut down on his strikeouts, whiffing five times less despite significantly more plate appearances than in 2001.
The A's figured they had caught a break when they drew the Twins in the Division Series. After opening a big lead early in Game 1, however, Oakland's bullpen floundered and Minnesota won 7-5. The pitching held in the next two games, as the A's won both. Miguel homered against ace Eric Milton in Game 4 to stake the A's to a 2-0 lead, but the Twins exploded for 11 runs against Hudson and Lilly to knot the series. Game 5 was a nail-biter for eight innings, but the Twins were a run better in the end, hanging on to win the series. Miguel managed just three hits in the five games and watched with the rest of his teammates as the Angels scored an amazing World Series win over the cross-bay San Francisco Giants.
A couple of weeks later, the MVP voting was announced. Miguel received 21 first-place votes to ARod's five and took home the award. Soriano, Garrett Anderson and Giambi rounded out the Top 5. Miguel was honestly shocked. He figured all along that Rodriguez's league-leading 57 homers and 142 RBIs would make the MVP a no-brainer. But the baseball writers used their heads and gave Miguel a clear victory. He had important at-bats all year and came through time and again.
Despite the hardware that said he was the best, Miguel's thirst to improve remained unquenched. As the team's leading player, he hoped to take the A's deeper into the postseason. With Hudson, Zito, and Mulder all under contract, Oakland's window of opportunity was still wide open.
It didn't happen in 2003, however. Oakland went on one of its typical second-half tears, storming back in the AL West to overtake the Mariners and capture the division with relative ease. But in the ALDS, the A's went flat after going up 2-0 on the Boston Red Sox. With three chances to win the series, they couldn't seal the deal. Their defeat in Game 5, on their home turf, was a bitter pill to swallow. Miguel was as frustrated as anyone. He collected just two hits in 22 at-bats, drove home only two runs and made a bonehead play on the basepaths in Game 4.
In retrospect, given the team's inconsistent pitching in '03, Oakland's first-place finish was amazing in and of itself. While Hudson was sensational, Zito was up and down, and Mulder got hurt and missed the last two months of the year. But rookie manager Ken Macha pushed the right buttons and also benefitted from a great performance by closer Keith Foulke, who more than filled the void for the departed Koch.
Miguel once again had an important hand in Oakland's fortunes. Few would have believed it after the way he started the season. Burdened by new types of pressure—he was set to become a free agent in 2004—Miguel fell into a dangerous trap. Charged with carrying the A's offensively and hoping to prove he was worth a mega-million-dollar deal, he tried to do too much at the plate. Normally a lethal hitter to all fields, Miguel looked to yank every pitch into the leftfield stands. By the end of April his average had plummeted to .167, and he had just 13 RBIs.
As Miguel slowly began to awake from his slump, the A's focused on just treading water. Chavez gave the team at least one consistent bat, Hernandez matured into an effective hitter and role players like Hatteberg, Ellis and Byrnes chipped in when needed.
In August, Miguel kicked it into overdrive. During the campaign's final two months, he sizzled at the plate. By year's end, his stats—a .278 batting average, 42 doubles, 27 homers and 106 RBIs—only hinted at his struggles early on.
Miguel's lackluster performance in the '03 playoffs, however, had some wondering about his value as a free agent. As expected, he hit the market in the offseason, and initially the interest in him was moderate. The Tigers and Mariners made offers, but Miguel was looking for a bigger payday. Enter the Baltimore Orioles, whose fans had grown accustomed to having a power guy at short. The O's inked him for six years at a reported $72 million.
With a new manager in Lee Mazilli and a shaky rotation, the odds were against the '04 Orioles, who had to compete with the beefed-up Yankees and Red Sox in the AL East. Miguel was acutally one of several big offseason acquisitions by Baltimore, which also signed slugging catcher Javy Lopez and starter Sidney Ponson.
The Orioles and their new shortstop started the season well, with Miguel batting over .300 and driving in runs in bunches. On the first of June, they were 24-24, six games in back of New York. That was as close as Baltimore got. By the end of the month, the team was out of the race.
Miguel, however, never stopped swinging. At the All-Star break, he was asked to replace Giambi in the Home Run Derby at Houston's Minute Maid Park. The event included an array of proven sluggers, including Barry Bonds. But it was Miguel who stole the show. In the second round, he ripped a record 15 homers, and then faced off against hometown favorite Lance Berkman in the final. Still going strong, Miguel won easily.
He continued to hit in the second half, never allowing the Orioles to give up on the season. In fact, a hot finish left them with a final record of 78-84.
In most other seasons, Miguel would have been a leading MVP candidate. But big years from Gary Sheffield, Manny Ramirez and Vladimir Guerrero made him no more than an also-ran. That being said, he had an outstanding campaign. Miguel batted .311, smashed 40 homers and drove in 150 runs. He was just the 25th player in big-league history to reach this plateau.
Miguel turned in another terrific season in 2005. Although his homers and RBIs dropped, he led the league with 50 doubles and batted over .300 again. His .515 slugging average was the second highest of his career. The Orioles struggled to reach .500 despite adding Sammy Sosa to their lineup. The starting pitching failed to develop as hoped, and the only bright spot was in the bullpen, where B.J. Ryan was lights-out in his first season as a full-time closer.
The highlight of the year for Miguel came mid-year, when he was voted the starting shortstop on the All-Star team. He and Brian Roberts formed an all-Oriole DP combination. Miguel led off the second inning with a home run off John Smoltz and drove in the AL's second run with a ground out. He was named MVP after the AL's 7–5 win.
The lowlight of the season came in September, after teammate Rafael Palmeiro tested positive for steroids. Palmeiro claimed Miguel had given him a supplement that may have contained the performance-enhancing substance. Miguel was exonerated after a brief investigation by Major League Baseball, which blasted the press for building a major story around a baseless claim. Miguel's name popped up a few more times over the next three years in steroid and HGH investigations. Jose Canseco, among others, stated that he thought Miguel was on the juice. Ultimately, he would be unable to escape the shadow of these allegations.
In the meantime, Miguel focused on making it back to the postseason. Prior to spring training in 2006, he became vocal about the team's culture of losing. When asked if he was demanding a trade, he said no. But later he admitted he wouldn't mind being dealt away. His preference, he claimed, was to stay in Baltimore until the end of his career—if the team brought in winning players.
Alas, the Orioles weren't any better in '06, going 70–92, but Miguel was on fire. He rapped out 214 hits, scored 99 runs, drove in 100 and batted .330 with 24 home runs. He was third in hits in the AL and finished fourth in the batting race behind Joe Mauer, Derek Jeter and Robinson Cano. The performance was good for another All-Star nod. Miguel backed up Jeter and saw action in the AL's ninth-inning comeback victory.
Jermaine Dye and Miguel started the inning by grounding out to changeup specialist Trevor Hoffman. But a single, double and then a triple by Michael Young turned a certain 2–1 defeat into a rousing 3–2 victory.
The 2007 season was Miguel's last in Baltimore. Another 90-loss campaign was the last straw. It didn't help that a broken wrist landed him on the DL. Miguel had played in 1,152 consecutive games before that, a streak he took great price in. Miguel finished with 18 homers, 81 RBIs and a .296 average. After the season, the Orioles traded him to the Houston Astros for a package of players that included Luke Scott.
Houston fans were expecting Miguel to transform the offense. With his power bat in their homer-happy stadium, there was no telling what kind of destruction he might do. Miguel hit the ball hard, as always, but the long ball just wasn't there. He finished his first National League season with only 13 home runs and 66 RBIs. Miguel was a big improvement over light-hitting Adam Everett, however, and it showed in the team's winning record. Defense was another matter; at 34, Miguel was just a borderline shortstop.
The drop-off in power may have been due to more than advanced age. Over the winter, Miguel was presented with evidence that he had lied to Congress during the 2005 steroid investigation. He admitted his guilt and was given a year probation.
Miguel settled into a better groove in 2009. He led the Astros with 199 hits and a .313 average. His homer and RBI production improved somewhat, and he topped the league with 46 doubles. Miguel was becoming a different kind of hitter. Rather than blasting 400-foot homers, he was concentrating on hitting line drives and keeping his average up. He was rewarded at season's end with a handful of MVP votes.
Miguel was still a productive player, but he was no longer worth the $15 million a season he had been commanding with the Astros, a team that was starting to rebuild. Houston granted him free agency after the '09 season, and he signed a one-year deal with Baltimore and agreed to move to third base.
Miguel's return to the Orioles was less than a rousing success. He had his average up around .300 in May, but it sank close to .270 after that. Camden Yards did not revive Miguel's power stroke, and the team let it be known that he would be available to a contender for a quality prospect. The San Diego Padres stepped to the plate with minor league pitcher Wynn Pelzer.
At the beginning of the year, even the most optimistic San Diego fans figured their team would be sellers at the trade deadline, but great pitching plus just enough hitting had them in contention in the NL West. Miguel was thrilled to find himself in a pennant race and vowed to play whatever role the team needed. The left side of the Padres' infield was inconsistent in the first half of 2010, particularly shortstop Everth Cabrera. With second baseman David Eckstein injured, Miguel was an option on the right side, too.
When the last out of 2010 is made, Miguel will have played in 2,000 major league games without ever reaching the World Series. Four times from 2000 to 2003, he competed in the Division Series, and all four times his A's failed to advance. Wouldn't it be something if Miguel and the Padres both made it to the Fall Classic?
MIGUEL THE PLAYER
Miguel is the kind of hitter who knows he can beat a pitcher on his best pitch. The difference between the Miguel of 2010 and the Miguel of old is that he recognizes that if he waits he'll see something much better. He can yank an inside pitch 400 feet or flick his bat at an outside offering and line it to the rightfield wall. Committed to improving himself at the plate, Miguel has a firm grasp on what it takes to win the cat-and-mouse game between pitchers and hitters.
IIn the field, Miguel still suffers lapses in concentration. He routinely makes spectacular plays, but he also has a tendency to botch routine grounders. On the bases, Miguel no longer possesses great speed, but he knows when to take an extra base.
Miguel continues to play with the swagger of an MVP, even if his skills have diminished. Winning is his top priority late in his career. He will do whatever it takes to get to the Wolrd Series and win a championship.
Read more
Latest headlines