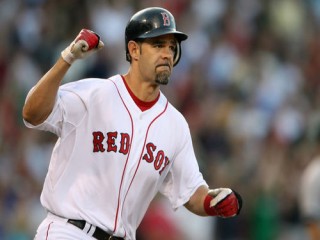 Mike Lowell biography
Date of birth : 1974-02-24
Date of death : -
Birthplace : Puerto Rico
Nationality : Puertorican
Category : Sports
Last modified : 2010-11-04
Credited as : Baseball player MLB, third baseman for the Boston Red Sox,
Michael Averett Lowell was born February 24, 1974 in Puerto Rico. He was one of three children,along with brother Carlos and sister Cecelia. Mike's father, Carl, was a Cuban of German descent who moved to Puerto Rico as a boy when Castro took over in 1960. He played for the Puerto Rican national baseball team and was a member of the club that once beat Cuba in the Pan Am Games. Carl later became a dentist. For many years, neighbors wondered whether Mike might follow in his dad's footsteps.
The Lowells eventually relocated to Miami, where Mike was raised as a boy. He was known to friends and family as "Mikey." An excellent student and superior athlete from a young age, he spoke English and Spanish fluently and was a whiz with numbers. As a youngster, he would count his Halloween candy and portion it out so that it lasted until Christmas. He has often said that if sports hadn't panned out as a career, he probably would have become an accountant or investment advisor.
When Mike was still young, Cecelia was involved in accident that cost her virtually all of her eyesight. Mike was devastated. But he also greatly admired his sister. Cecelia learned to live with her disability, with the help of her family.
For Mike, watching his sister overcome her loss of vision provided important lessons. He became a very focused and disciplined child. Each night, he would lay his school clothes out for the next day. When he slept, he barely disturbed the covers.
Mike also loved baseball. His favorite player as a kid was Mike Schmidt of the Philadelphia Phillies. He also followed Jose Canseco closely. No one, however, could really compare to his dad, who preached that a player should find every way possible to maximize his talent—and never waste it. Carl coached Mike and Carlos thoughout their youth league careers. Mike was good enough to make the local Little League All-Star teams, including one that co-starred Alex Rodriguez.
In 1988, Mike enrolled at Christopher Columbus High School. He went out for the baseball team and sat on the bench for the Explorers. Mike was just too short and skinny to play. With little hope of cracking the CCHS starting lineup, he got his parents' permission to switch schools and transfer to Coral Gables Senior High School. It was a tough decision—the Lowells preferred the Catholic education he was receiving to a public school education. Mike was ranked #3 in his class, but baseball was just as important to him.
Mike soon became one of the best players on the Coral Gables baseball team. He played second base and shortstop for the Cavaliers.
While at Coral Gables, Mike met and later married a girl named Bertica. She was a member of the school's nationally known dance team—and would one day become its coach. Bertica's family was also Cuban. Her father spent 15 years as a political prisoner for failing to endorse the Castro regime. She also had a cousin who died in a Cuban jail under similar circumstances.
Despite his lack of size, Mike matured into an excellent player at Coral Gables. He was scouted by several local colleges and earned a scholarship to Florida International Universit. There, he continued to develop his skills on the baseball diamond, drawing All-Conference honors as a second sacker three times. Mike hit the ball hard but not far—he had just three homers in his college career.
FIU enjoyed its best season with Mike on the team in 1995. That year, the Panthers won 50 games and finished in the Top 25. Mike batted .338.
ON THE RISE
That spring, Mike was drafted by the Yankees in the 20th round. He joined Class-A Oneonta after the college season and his .260 in 72 games. The new York brass decided he would be better suited to play third base and moved him there. It was a tough summer in the field, but eventually he made the necessary adjustments.
In 1996, Mike began to add some muscle to his frame and show some power. Splitting the year between Greensboro and Tampa, he led all Yankee farmhands with 38 two-baggers. Hitting coach Gary Denbo was instrumental in Mike's evolution—he kept Mike's swing the same but changed his thought process. In turn, Mike began using his body more and taking advantage of his budding power.
In 1997, Mike earned the organization's Player of the Year award after hitting a combined .315 with 30 homers and 92 RBIs between stops at Double-A and Triple-A. Mike's .360 average for the Norwich Navigators led the Eastern League.
The following spring, Mike received an invitation to spring camp with the big club. He kept a close eye on Derek Jeter and Paul O'Neill. Their leadership and quiet work ethic made an impression on him.
Mike remained on the farm for the yanks in 1998 and had another great season, clouting 26 homers and batting .311 in 126 games for the Columbus Clippers. He was rewarded with a September call-up and got a hit off Kelvim Escobar of the Toronto Blue Jays in his first game. Mike had a three-hit game a week later as the Yankees rolled to the division title with an astounding 114 wins.
Mike did not make the post-season roster, but he watched in awe as the Yankees demolished their opponents in the playoffs and World Series. The MVP of their sweep of the San Diego Padres was third baseman Scott Brosius. His fine play seemed to signal that Mike's future lay somewhere in another organization.
Indeed, despite his solid season in '98, Mike was not really being groomed as the heir apparent to Brosius. New York, however, realized that he was major-league ready. The Yankees offered Mike around and found willing takers in the Florida Marlins, who unloaded three mid-level pitching prospects on New York.
A few weeks after the trade, doctors discovered a suspicious lump in Mike's groin area during a routine physical. He was diagnosed with testicular cancer and underwent surgery and radiation therapy. Mike did not return to the diamond until the end of May. A few days later, he clouted his first big-league homer off of Darren Oliver.
Thanks to a September hot streak, Mike finished with respectable numbers in his first year with the Marlins. In 97 games, he batted .253, with 12 HRs and 47 RBIs. Florida, having completed a salary dump after its 1997 World Series title, sank to the bottom of baseball with 98 losses.
There was nowhere to go but up for Mike and the Marlins in 2000. The teamimproved by 16 games thanks to a nucleus of hitters that included Mike, Derrek Lee, Preston Wilson, Cliff Floyd and Kevin Millar. Luis Castillo, a veteran of the championship club, topped the NL with 62 stolen bases. Ryan Dempster led a young pitching staff that featured prospects A.J. Burnettt and Brad Penny, while Antonio Alfonseca established himself as one of the league's top closers.
Mike boosted his average to .270 and added 22 home runs and 91 RBIs. He fielded his position well and was unfazed in pressure situations. The Marlins could not have asked for a better season from him. Mike, by contrast, was just glad to be cancer-free.
The Marlins had another so-so year in 2001, with essentially the same club as the year before. Mike, however, took another step forward as a player, reaching the 100-RBI plateau. In a league full of hard-hitting third basemen, Mike's productive season flew under the radar. His fielding also went unnoticed, even though he set a club record for fewest errors by a third baseman. Mike was one of the league's hottest hitters through the All-Star break, but wrist and thumb injuries cooled him off. He finished the year with a .283 average and 18 home runs.
Mike finally began to gain the recognition he deserved in 2002, when he was named to the All-Star team for the first time in his career. Overall, he batted .276 with 44 doubles, 24 homers and with 92 RBIs. Once again, he started strong and cooled off a bit as the season wore on. A strong September helped his final numbers.
The Marlins, meanwhile, languished below the .500 mark. New manager Jeff Torborg was working with the same group of starting players, but the team had bolstered its bench with role players Andy Fox and Eric Owens. Burnett stayed healthy and led the pitching staff, while Penny, Josh Beckett and Carl Pavano demonstrated the potential for brilliance in abbreviated seasons.
Even with a nucleus of emerging stars, no one was expecting much from the Marlins in 2003. But the young pitching staff came together with the addition of meteoric Dontrelle Willis, and teenager Miguel Cabrera gave new life to the offense when he was called up from Double-A. With Juan Pierre installed as the new leadoff man and Ivan Rodriguez handling catching duties, the Marlins had a formidable lineup.
A sluggish Florida start was cured by a managerial change after 38 games, and new skipper Jack McKeon rode his players all the way home to the Wild Card. Mike was one of the few Marlins who had a good first half—in June, he was actually tied for the major-league lead in home runs. Mike went on to set team records for homers and RBIs before the All-Star break.
Unfortunately, a sore back and groin strain hampered his power numbers in the second half.Then a hand injury took him out for almost the entire month of September. He watched from the bench as his teammates powered past a group of Wild Card contenders to finish with 91 wins. Cabrera manned third base in Mike's absence and did a fine job at his new position.
MAKING HIS MARK
Mike's swing had not yet returned when then playoffs started. Before too long, however, he got into a nice groove and showed a flair for playoff heroics. Mikee went hitless against the San Francisco Giants in the first round, but Florida didn't need his bat to win the series. In the NLCS against the Chicago Cubs, Miike came off the bench in the 11th inning to blast a home run that won the game 9–8. He returned into the everday lineup in Game 2, and Cabrera shifted to the outfield. Mike was a key contributor the rest of the way, as the Marlins made their famous comeback and claimed the pennant in seven games.
In the World Series, Mike hit safely in four of the six games against his old Yankee teammates and also played solid defense. He collected two hits, including a double, in the decisive Game 6 in New York. Beckett, who threw a 2-0 gem to deliver Florida's second championship, was named series MVP.
Mike enjoyed another solid season in 2004, hitting 27 homers and 44 doubles to go with a career-high .293 average. He was an All-Star for the third year in a row and cemented his reputation as a clutch hitter with 18 game-winning RBIs—more than 20 percent of his team's 83 victories. The Marlins, however, never really got it going and finished third in the NL East.
Mike's final year in Florida was 2005. Though he captured his first Gold Glove it was an otherwise disappointing season. Mike slumped at the plate all year, finishing at .236 with just eight home runs. With the Marlins out of the playoffs again and Cabrera itching to play third base, the writing was on the wall for Mike.
Because Mike was making decent money, the Marlins would not be able to move his contract easily. In the end, they included him as a throw-in with Beckett on a trade with the Red Sox that brough back Hanley Ramirez and Anibal Sanchez. Boston was looking for an answer at third, where former batting champ Bill Mueller was showing his age. The team knew Mike's glove would be an asset at the hot corner and hoped the change of scenery would reawaken his bat. That would solve another problem for the Red Sox as they searched for someone to hit behind David Ortiz and Manny Ramirez.
Mike gave the Red Sox just about what they expected in 2006. He poted the second-best fielding average in the majors and hit .284 with 47 doubles and 20 homers. He was particularly effective against righthanders, reversing his stats from the season before. Mike's year was not enough to push the Red Sox into the postseason, however. The team faded to 86 wins and fell out of Wild Card contention by the end of August.
The 2006 season was a different story for both Mike and the Bosox. Often fearful of Big Papi and Manny, opponents opted to face Mike with the big guys on base—and he made them pay. Mike boosted his average to a career-best .324 and drove home baserunners in bunches. His other numbers were at their normal standards (37 doubles, 21 homers and 79 runs scored), and he ended up leading all third basemen (except A-Rod) in RBIs and finished with 191 hits.
The Red Sox and Yankees battled all year in the AL East, with Boston opening up a big lead early and New York threatening late in the summer. Boston ultimately captured the division. In the Division Series, the Sox demolished the Los Angeles Angels in a three-game sweep. Mike batted .333 with three RBIs.
The Cleveland Indians proved to be a more troublesome opponent in the ALCS. The Tribe won three of the first four games before the Red Sox came roaring back to win the pennant. Mike was again a big part of the picture. In 27 at-bats versus Cleveland pitching, he picked up nine hits and eight RBIs. With Ortiz and Ramirez also swinging hot bats and Beckett pitching lights out, Boston had the look of a championship club.
The team's opponent in the World Series, the Colorado Rockies, went quietly, falling in four uneventful games. Mike's seventh-inning leadoff homer in Game 4 proved the difference in a 4–3 victory. He had previously doubled and scored.
Had Colorado won just once, Beckett would have had a second start and probably have taken home the MVP. As it was, Mike got the nod for his .400 average and fine work in the field. The poise of youngsters Dustin Pedroia and Jacoby Ellsbury combined with Colorado's dilemma of how to deal with Ortiz and Ramirez actually ended up focusing attention on the veteran. Mike thrived with the spotlight on him.
After the series, Mike said all the right things. A free agent, he proclaimed his desire to stay with the Red Sox. His teammates talked about how much they wanted him back. The ball was in Boston's court—and the team responded with a three-year, $37.5 million deal.
Enjoying the apex of a very good career, Mike has had no trouble putting his accomplishments into perspective. His second World Series ring is a nice bookend to his first, but the greatest victory of his life was his comeback against cancer. And as Mike will tell you, all of that is pretty good for a throw-in.
MIKE THE PLAYER
For people who consider third base a defense-first position, Mike is a treat. He is a remarkable fielder, making both the easy plays and the hard ones with little flair or drama. Though Mike's arm is only average, it rarely hurts him. That being said, he has long admired players like Scott Rolen and Adrian Beltre, who can blow the ball across the diamond with such ease.
Mike is a good contact hitter. When he gets a pitch he can drive, he either pulls it down the line or powers it into the gaps. Mike does not walk very often, but he doesn't strike out much either. Mike loves low fastballs and usually makes a pitcher pay for a mistake at the knees. As a baserunner, Mike is slow, but that doesn't stop him from taking an estra bag when an outfielder is lazy.
Mike's fluency in Spanish and English makes him a leader in the clubhouse, where he can converse casually with all of his teammates. His work ethic and ability in the clutch also add to this leadership abilities.
EXTRA
* Mike was a late bloomer. He did not grow to six feet until he was 18 and only reached 185 pounds in his third year of minor league ball.
* In 1997, Mike was named the Eastern League's top batting prospect by Baseball America. At Triple-A that year, he became the first Columbus Clipper to hit for the cycle.
* In 1999, Mike was given the Tony Conigliaro award for overcoming cancer and returning to the diamond.
* Mike hit a game-tying grand slam against the San Francisco Giants during an August 1999 game. It was one of a record five grand slams hit that night. His bat went to the Hall of Fame.
* Mike started the 2001 season as one of the NL's hottest hitters. He drove in 12 runs in his first seven games and had 62 RBIs by the All-Star break.
* Mike was second in the NL to Bobby Abreu in doubles with 44 in 2002.
* Mike was just the second Marlin to hit three home runs in a game. He connected off Eric Milton, Tim Worrell and Billy Wagner in a 2004 game against the Phillies.
* In 2005, Mike was just the second third baseman in NL history to make it through a season with only six errors.
* At the end of the 2007 season, Mike had the highest fielding percentage of any third baseman in baseball history.
* Mike was one of four Red Sox who hit consecutive homers against the New York Yankees in an April 2007 game.
* Mike's hit in the 2007 All-Star game boosted his average in the Midsummer Classic to .571. He was named to the AL team on the players' ballot.
* In 2007, Mike broke Butch Hobson's record for most RBIs by a Red Sox third baseman.
* Mike says John Smoltz was the toughest pitcher he faced during his years with the Marlins.
* Mike was just the 14th major league to hit 40 doubles with teams in both leagues. Bill Buckner was the only other Boston player to accomplish the feat.
* Mike has used the hidden ball trick to catch runners napping off third base. Among his NL victims were Luis Terrero and Brian Schneider.
* Mike was just the fourth Marlin to be named an All-Star in back-to-back seasons. The first was Jeff Conine.
* Mike was Randy Johnson's 3,000the strikeout victim.
* Midway through 2007, Mike got a scare when doctors thought that his cancer had returned. Further tests revealed that he was still cancer-free. A freckle on his hip had shown up on an x-ray.
* Mike and Bertica have two children, Alexis and Anthony.
* Mike is a fan of reggae music. He loves Bob Marley.
Read more
Latest headlines