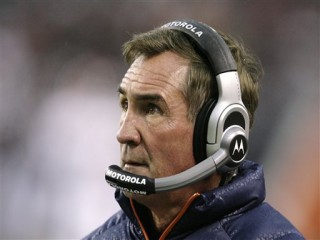 Mike Shanahan biography
Date of birth : 1952-08-24
Date of death : -
Birthplace : Oak Park, Illinois
Nationality : American
Category : Sports
Last modified : 2010-10-19
Credited as : Football coach NFL, head coach foe the Washington Redskins, Super Bowl
Mike Shanahan was hired as the
Washington Redskins
Executive Vice President/Head Coach on Jan. 6, 2010. He is the 28th head coach in franchise history.
Shanahan's 146 regular season wins as an NFL head coach are the 17th-most in history and the second-most among active coaches, trailing only Bill Belichick's 148. Including eight postseason victories, Shanahan's 154 overall wins are tied for 16th all-time and are also second among active coaches to Belichick's 163. In 16 seasons as a head coach with the Denver Broncos (1995-2008) and the Los Angeles Raiders (1988-89), Shanahan has a regular season winning percentage of .598 (146-98) and an overall winning percentage of .615 (154-103).
During his tenure with the Broncos, Shanahan guided the franchise to two Super Bowl victories, three conference championship game appearances, seven postseason berths and nine winning seasons. Along with Vince Lombardi, Don Shula, Chuck Noll, Jimmy Johnson and Belichick, he is one of six coaches with back-to-back Super Bowl championships.
During his 25-year NFL coaching career, Shanahan has been a part of teams that have played in 10 AFC or NFC Championship Games. He has coached in six Super Bowls, including five with Denver and Super Bowl XXIX with San Francisco. In his nine seasons coaching at the collegiate level, Shanahan's teams participated in eight bowl games and won two national championships (Oklahoma -- 1975 and Eastern Illinois -- 1978).
Shanahan, 57, led Denver to 138 regular-season victories in 14 seasons, a win total that marks the 10th-most by a head coach with one franchise in NFL history. Among the nine coaches who have more wins with one club than Shanahan, all eight who are eligible for the Pro Football Hall of Fame have been honored with membership.
Over his last 16 years (1995-2008 in Denver and 1992-94 in San Francisco), Shanahan's offenses have finished No. 1 in the NFL four times, No. 2 three times, No. 3 three times and No. 4 once. In his 14 seasons in Denver, the Broncos led the NFL in total yards (83,771), rushing yards (30,993) and first downs (4,678) and ranked third in points scored (5,449).
Shanahan's 138 regular season wins, 146 overall wins, .616 winning percentage in the regular season and overall are all the best by a head coach in Denver history and include an 83-29 (.741) home record in regular-season play.
In Shanahan's 118 home regular-season and playoff games tenure with the Broncos, Denver scored 30 or more points 47 times and 20 or more points 94 times. Including road games, in his 221 overall games as Denver's head coach, the Broncos have scored 30 or more points 83 times and 20 or more points 169 times. Denver's record in the 83 games in which it has scored 30 or more points under Shanahan is 79-4 (4-0 in playoff competition), including a 46-1 mark (2-0 in postseason) at home.
Shanahan was hired as Denver's head coach on Jan. 31, 1995, and later added the responsibilities of Executive Vice President of Football Operations in 1998. Under his guidance, the Broncos became one of the most accomplished franchises in the NFL. Some of their achievements are included below:
-- Became one of three clubs in the NFL (New England, Pittsburgh) to win multiple Super Bowls since 1995, with back-to-back victories in Super Bowl XXXII and XXXIII (1997-98).
-- Shanahan's 138 regular-season wins with Denver from 1995-2008 were most by an NFL coach over that span and gave the Broncos the league's fourth-best record (138-86/.616) during that time.
-- Established the record most wins in pro football history in a two-year period with33 from 1997-98 (New England since won 34 from 2003-04).
-- Posted the most wins in pro football history in a three-year period (46 from 1996-98).
-- Won the most playoff games in pro football history over a two-year period with seven from 1997-98.
-- Won 18 consecutive games, including playoffs, from 1997-98 to tie a then all-time NFL record for consecutive victories (New England won 21 in 2003-04). The Broncos went undefeated for a calendar year during that streak from Dec. 15, 1997, until Dec. 13, 1998.
-- Went undefeated at home for three consecutive regular seasons (1996-98), becoming just the second team ever to be undefeated and untied at home in three consecutive years.
-- Posted a 22-2 record in their final 24 games during the back-to-back title years.
-- Had an offense ranked in the top five in the NFL in nine of 14 seasons.
-- Totaled the most overall yards in the NFL (83,771 yds., 374.0 ypg.).
-- Recorded the most rushing yards in the NFL (30,993 yds., 138.4 ypg.).
-- Recorded seventh-most passing yards in the NFL (50,067 yds., 223.5 ypg.).
-- Scored the third-most points in the NFL (5,449 pts., 24.3 ppg.).
-- Registered the best home record in the NFL during regular-season play (83-29/.741).
-- Posted a 79-4 (.952) record when scoring 30 or more points (4-0 in postseason), a total that includes a 46-1 (.979) mark in home games (2-0 in postseason).
-- Totaled a 110-30 (.785) record when registering an even or positive turnover ratio, including a 40-4 (.909) mark with a turnover ratio of +2 or better.
In Shanahan's final season in Denver in 2008, the Broncos led the AFC and finished second in the NFL in total offense, averaging 400.4 yards per game. They were third in the league in passing yards with 4,471, while ranking second with a 4.8-yards per rush average. Denver 8.3 yards per play average was the best in the NFL.
In 2006, Shanahan coached through his 200th career regular-season game, and his 125 wins at that milestone are tied for the fourth-most by a coach in the Super Bowl era (since 1966). The year also marked Denver's fifth consecutive winning season (9-7), a total that tied a franchise record.
From 2003-05 Shanahan's Broncos qualified for the playoffs all three seasons, winning at least 10 games all three season, including a league-best 13-3 mark in 2005. That club earned a first-round bye in the playoffs and defeated defending champion New England in the divisional round, before falling to eventual Super Bowl champion Pittsburgh in the AFC Championship Game.
In 2004, Shanahan joined the exclusive club of head coaches to post 100 wins in his first 10 seasons with one club, finishing the campaign and decade tied for fourth on this list of 12 coaches, seven of whom are in the Pro Football Hall of Fame.
From 2000-02, Denver had a combined record of 28-20 and never had a losing campaign. Its offense ranked in the top three in the NFL in two of those three seasons.
In his third and fourth seasons at the helm of the Denver Broncos in 1997 and 1998, Shanahan led the Broncos to their first Super Bowl victories and in 1998 became the only coach in NFL history to fashion seven postseason wins in a two-year period.
In 1998, the defending world champions stormed to their second consecutive title with an offense that scored 501 points and finished third in the NFL in total yards. During the Broncos Super Bowl run, their defense allowed just 25 points and two touchdowns while sparking a remarkable +12 turnover ratio (13 takeaways, 1 giveaway) in the playoffs.
The 1998 Broncos set team records with 14 regular season and 17 overall wins, starting off with a 13-0 record and marking Denver as a team that went an entire calendar year without a loss. The club produced 596 regular season and postseason points for the seventh-highest mark in league annals at the time (currently ninth all-time). With Shanahan coordinating their offense, the 1994 World Champion San Francisco 49ers set a then-NFL record with 636 points for the regular season and playoffs, a total that now stands second to the New England Patriots' 655 points scored in 2007.
Ten Broncos were named to the Pro Bowl following the 1998 season and Shanahan was named AFC Coach of the Year by the Kansas City 101 Club and by the Touchdown Club of Columbus (his second time to be honored by each organization).
In the historical 1998 season, Shanahan became the first coach in history to win two Super Bowl titles in his first four years coaching a team and is the only coach to have directed two different teams to a 500-point season (the 1998 Broncos scored 501 points, and Shanahan helped San Francisco in 1994 score 505 points as offensive coordinator). The 500-point mark has only been reached 12 times overall in pro football history.
In 1997, Shanahan directed a Denver offense that scored a total of 583 points (29.2 per game) during the entire 1997 season, the fifth-highest total in NFL history at the time (currently 10th all-time) and the second-highest total in AFC history at the time (currently fourth all-time) for a combined regular season and postseason. Shanahan led his team to a 12-4 regular season record, marking the first time in franchise history that the Broncos won 12 or more games in back-to-back seasons.
His high-powered offense reached 30 points a franchise-record nine times during the 1997 regular season and twice in the postseason. Denver also broke the franchise record for most points in a season (previously 391 in 1996) in just its 13th game of 1997 and broke the record for most touchdowns in a season (previously 47 in 1996) in just its 14th game that year.
Shanahan led his 1996 club to a franchise and NFL-best 13-3 record, earning both NFL Coach of the Year (Touchdown Club of Columbus) and AFC Coach of the Year (Kansas City 101 Club) honors that season. Denver led the entire NFL in total offense in 1996.
That year, the Broncos were undefeated in October and November as they ultimately built their record to 12-1 in clinching their division title and playoff berth on Dec. 1, thus becoming one of the earliest teams to clinch in NFL history.
In his first season as the Denver Broncos' head coach in 1995, Shanahan improved the team to a .500 record (8-8) and contention in the very competitive AFC West. He immediately stamped his signature as the Denver offense became the most productive unit in the AFC and finished third in the entire NFL. The unit set team records in points scored (388), total yardage (6,040), total passing yardage (4,260), first downs passing (205) and highest average gain per play (5.7) while tying the team records for touchdown passes (27) and average gain per rush (4.5). At the same time, the Broncos' defense improved 13 positions, from last in the NFL the previous year to 15th under Shanahan's leadership.
Shanahan arrived in Denver from the World Champion San Francisco 49ers, where he served as offensive coordinator for three seasons (1992-94).
The 49ers' offense reached unprecedented levels under his leadership. San Francisco's three-year offensive averages under Shanahan's direction were the most productive in the history of pro football. His three-year averages included being number one in the NFL in total points (469.7 per year), total touchdowns (60.3), rushing touchdowns (23.7), passing touchdowns (31.7), third-down efficiency (48.5%), total offense (6,230 yds.) and average yards per play (6.2).
His three-year period as offensive coordinator included the 49ers setting numerous team records during that time, including the first time ever that San Francisco led the NFL in total offense in consecutive seasons (1993 and 1994). It also set records for most touchdowns (66), passing yards (4,302), total offense (6,435 yds.), first downs (372), completion percentage (70.3) and average yards per play (6.3).
San Francisco quarterback Steve Young re-wrote many NFL passing records and was named the NFL Most Valuable Player twice in his three years under Shanahan's guidance in addition to throwing for six touchdowns and earning Super Bowl XXIX Most Valuable Player honors.
A driving force behind the Broncos' offense for all three of their Super Bowl appearances in the 1980s (following the 1986, 1987 and 1989 seasons), Shanahan first came to Denver in 1984 as the club's wide receivers coach and served as offensive coordinator from 1985-87.
He then returned to Denver as quarterbacks coach on Oct. 16, 1989, after serving as head coach of the Los Angeles Raiders in 1988 and through the first four games of the 1989 campaign. Shanahan inherited a Raiders team that was 5-10 in 1987 and improved it to 7-9 his first season. He was dismissed after starting 1-3 the following year.
Shanahan began his coaching career as an offensive assistant at Oklahoma from 1975-76. The Sooners won the national championship in his first year on its staff.
Shanahan was Northern Arizona's backfield coach in 1977 at the age of 24, and the Lumberjacks averaged a school-record 391.1 yards per game that season. A year later, Shanahan returned to Eastern Illinois as offensive coordinator and helped guide his alma mater to the Division II title. The year before Shanahan's arrival, the team was 1-10. In 1979, he served as offensive coordinator at Minnesota, where he implemented the run-and-shoot offense to help the Golden Gophers set 40 school offensive records.
Shanahan became the offensive coordinator at Florida the following year, inheriting the second-poorest offense in Division I football as well as a team record of 0-10-1. In Shanahan's four years at Florida, the team broke many offensive school records and went to four consecutive bowl games. During his stint as a college coach, his teams had a combined record of 78-29-2 (.725).
A native of Oak Park, Ill. (born 8/24/52), Michael Edward Shanahan attended East Leyden High School in Franklin Park, Ill., where was voted athlete of the year as well as most valuable player in both football and track.
He received a scholarship to Eastern Illinois University, where he played quarterback before losing a kidney in the spring game of his junior year. He received his Bachelor's and Master's degrees at EIU.
Mike and his wife, Peggy, have two children -- son Kyle, and daughter Krystal. Kyle is a graduate of the University of Texas and is the Redskins' offensive coordinator. Krystal also is a graduate of the University of Texas.
Read more
Latest headlines