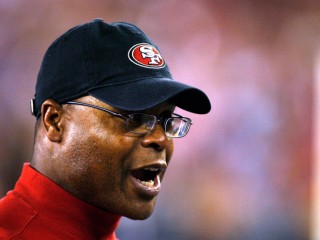 Mike Singletary biography
Date of birth : 1958-10-09
Date of death : -
Birthplace : Houston, Texas
Nationality : American
Category : Sports
Last modified : 2010-10-18
Credited as : Football coach NFL, head coach for the San Francisco 49ers, Super Bowl/NFL Draft player
Michael "Mike" Singletary is the current head coach for the
San Francisco 49ers
of the NFL. Before he became the coach of the 49ers in 2008, he spent his entire playing career as a linebacker for the Chicago Bears after starring in college at Baylor University. After playing with the Baylor Bears, Singletary was drafted by the Chicago Bears in the 2nd round of the 1981 NFL Draft and was known as "The Heart of the Defense" for the Chicago Bears' Monsters of the Midway in the mid-1980s. His nickname was Samurai Mike. He was inducted into the Pro Football Hall of Fame in 1998.
To Mike Singletary the 2009 season was all about giving the 49ers an identity. One they could point to when times got tough late in a game. Something at the core of each and every player's heart. Stitched to a tapestry in the team meeting room of the 49ers practice facility is their identity – Physical, Tough, Relentless, Disciplined, Smart.
As 2009 unfolded, those characteristics became more and more obvious. When training camp began with full-contact "Nutcracker Drills," players and observers alike questioned the method. But during those days, and more specifically those drills, the 49ers identity started to take shape.
"The thing I really want the guys to understand is the battle," said Singletary. "When you begin to talk about being a great team, about being a championship team, there are some things you need that you can't even explain what they are. You just know it and you just feel it."
The result of creating an identity was an 8-8 record, the 49ers best since 2002, which included a 5-1 record against NFC West foes. Singletary has helped to bring the best of his players, no more notable than TE Vernon Davis who posted one of the most prolific seasons by an NFL tight end in recent years. Davis joined four of his teammates – P Andy Lee, RB Frank Gore, DT Justin Smith and LB Patrick Willis – as participants in the 2010 Pro Bowl. It was the largest 49ers contingent at the NFL's annual All-Star game since 2002.
In numerous areas, the 49ers Faithful saw a marked improvement. Defensively, Singletary's team became one of the most-feared units in the NFL by season's end, having allowed the 4th-fewest points per game in the league. The unit was one of the biggest play-making squads as well, ranking tied for 5th in takeaways and 5th in turnover differential. The defense also finished the year with 44 sacks, tied for 3rd in the league, and with the 6th-ranked unit against the run.
Offensively, the 49ers encountered an up and down year. The unit endured a quarterback change, multiple injuries and various other personnel issues throughout the season. By the time the season started to wind down, starting quarterback Alex Smith began to get hot. As he settled into his role, he allowed his weapons - Gore, Davis and wide receivers Josh Morgan and Michael Crabtree - to do the heavy lifting.
When Singletary took over as the 49ers interim head coach midway through the 2008 season, he attacked the challenge with the same fervor he shared with opposing ball carriers throughout his Hall of Fame playing career. It was a welcome challenge that Singletary conquered as the 49ers went on to record five victories in the final seven games of the 2008 season, showing improvements in all three phases of the game.
Team President and CEO Jed York wasted no time and named Singletary the franchise's 16th head coach on December 28, 2008. Since the former All-World middle linebacker took hold of the 49ers reigns mid-way through the 2008 season, the 49ers have had a stellar home-field advantage posting a 9-2 record in the historic confines of Candlestick Park.
WHAT MAKES A MAN
While Singletary was known as a very resilient, tough football player, the early years of his life foreshadowed none of that. Born on October 9, 1958 in Houston, TX, Singletary was bedridden with bronchitis and pneumonia at a very young age, and was allowed to go outdoors sparingly. He was the youngest of 10 children and his father, a Pentecostal minister, left the family when Singletary was just enrolling in junior high. The family was obviously devastated, but Singletary's older brother, Grady, honorably stepped in and became the surrogate father. Tragically, he was killed by a drunk driver six months later.
At that point, 12-year-old Mike was at a crossroads in his life. His mother, Udell, knew her baby boy needed direction and an outlet to deal with the lack of a father figure in his life and the death of his brother. The family's religion frowned upon participation in sports, but Udell saw football as an opportunity for her son to deal with his emotions. At that same time, Mike was already realizing he needed to have goals in life. The youngster defined what he now calls his "vision statement," and it read as such: play football, graduate from high school, earn a football scholarship to college, become an All-American, graduate from college, get drafted into the NFL, become an All-Pro, go to a Super Bowl and own a business. Pretty lofty goals for a 12-year-old - but goals that Singletary has already seen come to fruition.
"I think when you go through things like that, certainly it makes you understand this is a game, even though I'm very passionate about it," Singletary says of football. "I'm very excited about the game of football, and it really has served as sort of a getaway from all the other things in life, and I have come to enjoy it for what it is."
SAMURAI MIKE
Long before Mike Singletary was enshrined into the Pro Football Hall of Fame in 1998, he starred at Evan E. Worthing High School in Houston, Texas. Singletary later enjoyed an outstanding career at Baylor University where he earned All-America honors in both his junior and senior years.
Known as a quiet and mild-mannered person off the field, he became one of the most ferocious players in all of college football, exemplified by the fact that he cracked 16 helmets during his stint in Waco. A two-time recipient of the Davey O'Brien Award, given to the most outstanding player in the Southwest Conference, Singletary averaged 15 tackles per game during his college career and established a team record with 232 tackles in 1978. He would later be inducted into the College Football Hall of Fame in 1995.
After dominating the NCAA ranks, Singletary was selected by the Chicago Bears in the second round of the 1981 NFL Draft with the 38th overall pick. In the seventh game of his rookie season, he earned a starting role and found his niche as the cornerstone of the Bears "46" defense. Chicago's then-defensive coordinator Buddy Ryan's trust in Singletary on the field was unwavering, but that was a trust that took time to develop.
"I was very vocal," said Singletary. "Sometimes that was good, sometimes it was bad. Buddy Ryan didn't like vocal guys in their first year. He wanted you to be quiet and learn, and I couldn't help myself most of the time. He really helped me get out of my own way because I needed to earn a little more respect before I was as vocal as I was. I remember he sat me down for several games until I had learned some humility and earned respect before I talked. I learned the hard way."
"Samurai Mike," as he was fondly called by his peers and fans, went on to enjoy a legendary career with the Bears, quarterbacking a defense that was feared for its tenacity. He was the leader of the renowned "Monsters of the Midway," and was often referred to as the original "Minister of Defense" for his on-field intensity, leadership and motivational speeches.
A two-time Associated Press Defensive Player of the Year award winner (1985 & 1988), Singletary was named to the NFL Team of the '80s after being selected to play in a team-record 10 consecutive Pro Bowls. The former Bears defensive captain was also named first-team All-Pro eight times (1983-89; 1991), second-team All-Pro twice and All-NFC nine times.
Singletary finished each of his final 11 seasons on Chicago's defense ranked either first or second in tackles and at the end of his career, had amassed 1,488 tackles, 885 solo tackles, 51 passes defensed, 12 fumble recoveries and seven interceptions. He also started a defensive team record 172 games for the Bears, trailing only running back Walter Payton's 184 career starts for the all-time lead.
KNOWING WHAT'S IMPORTANT
When Singletary retired from the Chicago Bears in 1993, coaching was something that greatly interested him. But after consulting several of his former coaches, he decided that the coaching lifestyle was too consuming to allow him to spend enough time with his family.
"I was very excited about the possibility of coaching, and in my last year in the NFL, I began to ask coaches around the league that I really respected how they balance the time between coaching and family, being a father, being a husband," Singletary said. "And they said you have to make a decision very early. You will not see your kids. You won't see your wife, so be prepared for that and based upon that, I knew that I would not be coaching. We have seven kids and I wanted to make sure my kids knew who their father was. I never considered winning Super Bowl trophies being more important than being a Super Bowl Dad, so it's hard work. Being out here, this is easy. Being a parent, that's difficult."
Singletary took time away from the game, but his leadership and inspirational roots followed him in all of his endeavors after football. One of the biggest sources of his strength is his deeply engrained Christian faith. Unlike most coaches in professional sports, Singletary displays his devotion every time he steps onto the field.
"I simply wear the cross to remind me of who I represent," said Singletary. "When I go out there, I can be on the verge of losing it and when I feel the cross, I just know, 'Don't go there. That's not who you are. That's not what you are about, and it brings me back.'"
In addition to his faith, Singletary is a leader in the community as well. In 2001, he won the Walter Camp "Man of the Year Award" based on his reputation for integrity and leadership within his profession and contributions benefiting his community, country and fellow man. He also co-founded Leadership Zone, a company that provides leadership training.
Singletary has worked as a motivational speaker and has authored three books: Singletary One on One, Calling the Shots and Daddy's Home at Last.
A CALLING TO COACH
Prior to the 2003 NFL season, Singletary with the help of his wife, Kim, came to the realization that coaching was his calling. As a player, his teammates and coaches all knew this would eventually be his path in life.
So Singletary set out on his journey into NFL coaching. One of the most important things he did along that path was develop a relationship with Hall of Famer and former 49ers head coach Bill Walsh. Singletary would do whatever he could to pick Walsh's brain, meeting him at Stanford, in hotels or even at airports. He became a sponge, soaking in everything Walsh was willing to share.
"I really, really liked and respected Bill Walsh," said Singletary. "Didn't like him when I had to play against him. But the thing he had, to me, he had the poise and he had the vision, not just to win a championship, but to win several. And he had the people around him to get it done, that he could trust. So Bill was always a step ahead of everybody else mostly. And it wasn't all him. As I learned more about him, he had key, strategically-planned people in place that really helped him. And he knew what his liabilities were and he had strengths around him everywhere."
Singletary's first opportunity came with the Baltimore Ravens as the team's inside linebackers coach, in 2003. Prior to his hiring, Singletary admits that some coaches were hesitant to hire him, but then head coach Brian Billick showed the utmost confidence in Singletary.
Singletary recalled joining Billick's staff fondly, "Brian brought me in and said, 'Hey, anything you want to know, anything I can help you with, anything you want to do, I am going to make everything accessible to you. Let's go.' And that is what I did. It was a tremendous blessing for me to have the opportunity to be a part of his staff. I learned a lot from him and the way he went about organizing the things he had to do. Of course I met Mike Nolan at the same time, so that just made it great all around."
In two seasons with Baltimore, Singletary led a prolific group of linebackers to even higher heights. In fact, All-Pro Ray Lewis earned NFL Defensive Player of the Year honors in 2003. During his tenure, Baltimore's defense ranked third in the NFL in 2003 and sixth overall the following year.
When Mike Nolan accepted the 49ers head coaching position in 2005, Singletary was his first hire as assistant head coach and linebackers coach. A year later he would be elevated to assistant head coach/defense. Under Singletary's guidance, 49ers linebacker Patrick Willis was named Associated Press Defensive Rookie of the Year in 2007 and set an unofficial NFL single-season record for tackles with 226. He became the first 49ers rookie defender to earn Pro Bowl honors since Ronnie Lott in 1981. In 2008, Willis enjoyed another Pro-Bowl selection and finished second in the NFL in tackles.
Heading into his first full season as head coach, Singletary has set no boundaries on the potential of his team, and asks the same of his players.
"That's my approach about everything I do in life," said Singletary. "I don't ever look at things in a finite matter. Everything I do, I do it until someone says 'that's enough' or until my body or my mind, or until my wife says 'that's enough'. That's my mentality, always has been, and that's just the way that I'm wired up."
INTENSE EYES FOCUSED ON THE FUTURE
"I just think the most important thing for me is to know who I am and what it is I want out of life and where I'm going," said Singletary. "I want to go to the Super Bowl. I want to win many Super Bowls. I want to win championships."
That vision as well as the confidence and direction that he shares with his team on a daily basis, has been welcomed by his players, coaches and the 49ers organization as a whole.
"This man is just something amazing,'' 49ers kicker Joe Nedney said of Singletary. "You want to play hard for him because you know that if you don't, he's going to give you that stare and burn a hole right through you."
His attitude as a player is already serving as a model for his coaching philosophy as he strives to bring a mental toughness to his team. Singletary is searching for the very same tough, hard-nosed, blue collar mentality that he witnessed in his own Bears teams of the '80s.
"We had a bunch of blue collar guys that were not afraid to work," said Singletary. "We were so hungry for a win and a championship that it didn't matter how much we worked. As a matter of fact, it became a challenge. 'Go ahead coach. I'm not tired. Is that the best you got?' We didn't say that too often. It's one of those things where our guys have to get to that second wind."
An extremely proud husband and father, Singletary and his wife, Kim, have seven children. His approach at home and at work has extremely close similarities. Singletary manages his players much like he does his own family … on a very personal level.
"It's just a very natural thing for me," said Singletary. "To me it's as natural as with your own kids, with your own family. It's very important to me, if I'm going to be the coach; I need to know how I am responsible for these 53 guys. At different times I'm going to establish a relationship with every one of them. That's very important to me. Relationships are what make everything go."
Read more
Latest headlines